On Sunday, AC Milan will play against Atalanta in an important Serie A clash at San Siro. Both teams are within the top six, separated by a narrow margin, and vying for a spot in next year's UEFA Champions League. The hosts are placed fourth with 44 points, whereas the visitors occupy the sixth spot with 41 points. In the last Serie A meeting between the two sides, AC Milan and Atalanta played out a 1-1 draw. This time, either team will be eager to get a definitive result by securing maximum points and boosting their chances of earning a European berth. Below, we look at the stats of both teams from the current season to comprehend how this matchup could play out.
Overall performance of the teams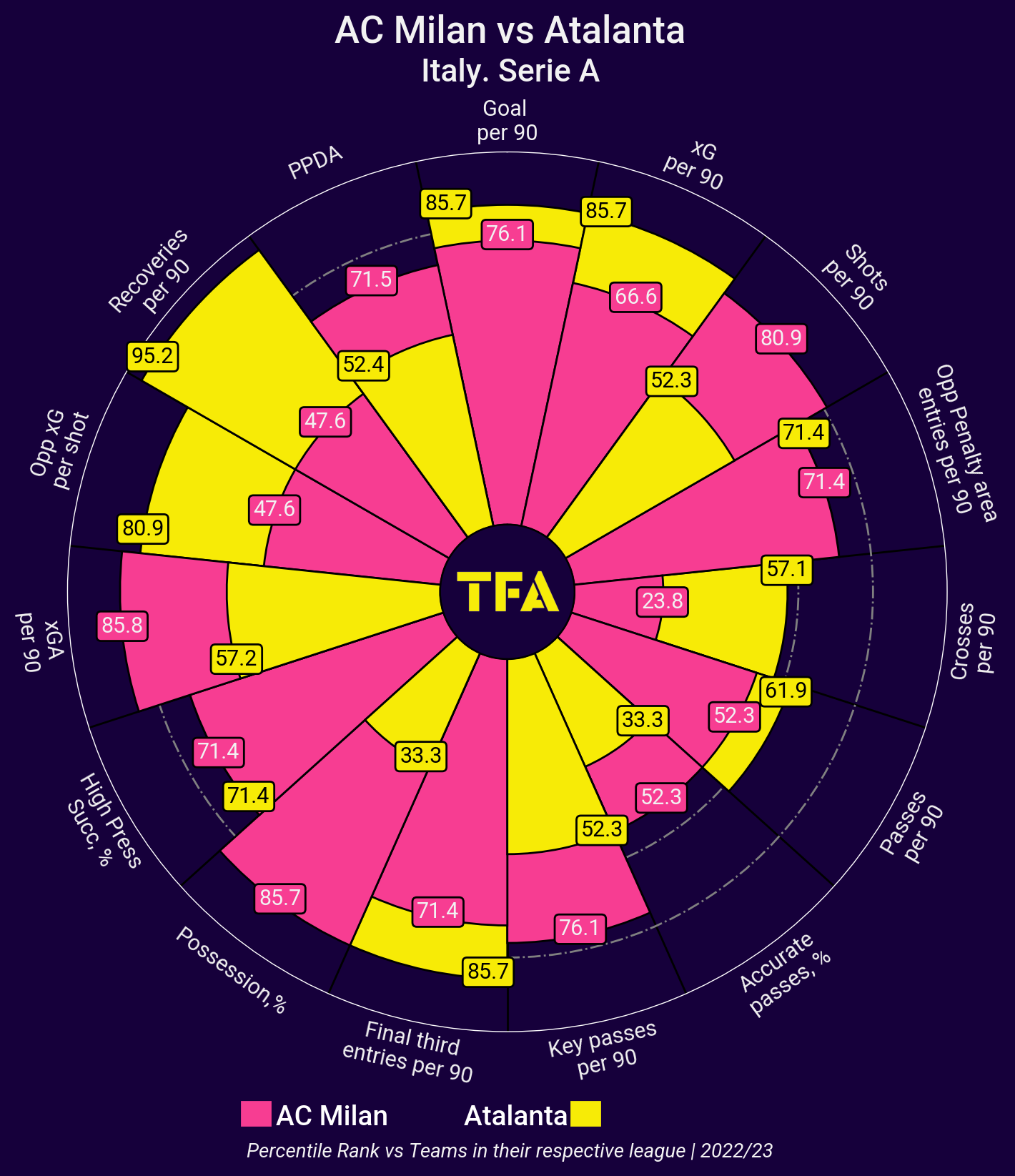 The above viz shows the percentile rank of both teams compared with each other as well as with other teams in Serie A 2022-23. It can be observed that both teams outperform each other in a few areas. AC Milan has a better ranking to show in indicators such as shots, key passes, possession rate, and xGA. Meanwhile, Atalanta fared better in terms of goals, xG, attempted passes, and recoveries.
In Serie A 2022–23, AC Milan have won 13, drawn five, and lost five matches. They have scored 39 goals against their opponents and average 1.65 xG per game. The defence has conceded 30 goals in return, with an average xGA of 1.18. Stefano Pioli's side has won the last two league outings as they recover from the slump in their form since the new year.
On the other hand, Atalanta have won 12, drawn five, and lost six out of 23 matches thus far. They have scored 46 goals and conceded 26 in total. The average xG rate of the team is 1.73, while their average xGA rate is 1.18. Gian Piero Gasperini's men are facing some troubles of their own, with two losses in their last three matches, but they have shown resilience against eminent opposition.
The efficiency of attacking moves

The two visuals above compare the two teams based on positional attacks and counter-attacking moves. Both teams are fairly close in terms of the efficiency of their attacking moves. While the teams are neck-and-neck in terms of efficient positional attacks, AC Milan is the more counterattacking team of the two with a higher efficiency of such plays.
AC Milan creates 30.22 positional attacks and 3.13 counterattacks per match. Meanwhile, Atalanta creates 31.87 positional attacks per match along with 2.61 counterattacks. The Rossoneri take 13.7 shots per match with an accuracy rate of 36.5%. Meanwhile, the Nerazzuri take 12.52 shots per match and have an accuracy rate of 37.5%.
Passing and defensive gameplay

Atalanta is the better passer of the ball compared to AC Milan, albeit they average less possession per match. They average 47.62% possession per match. The average number of passes per 90 minutes is 501, with an 82.7% accuracy rate. Alternatively, the hosts have a superior possession rate of 54.67% per match. They pass the ball 469 times per 90 minutes and have an 83.8% accuracy rate. It will be interesting to find out which team keeps more possession of the ball and dictates play in this fixture.

The viz above represents the ranking of teams in Serie A based on their percentage of defensive duels won. Both teams are ranked closely in yet another department, with AC Milan joint-second on the list with a 57% win rate in defensive duels. In contrast, Atalanta is joint third on the list, having won 56% of defensive duels. On average, the home team averages 71.7 defensive duels and 38.26 interceptions per 90 versus 43.57 interceptions and 74.48 defensive duels per 90 for Atalanta.
Key players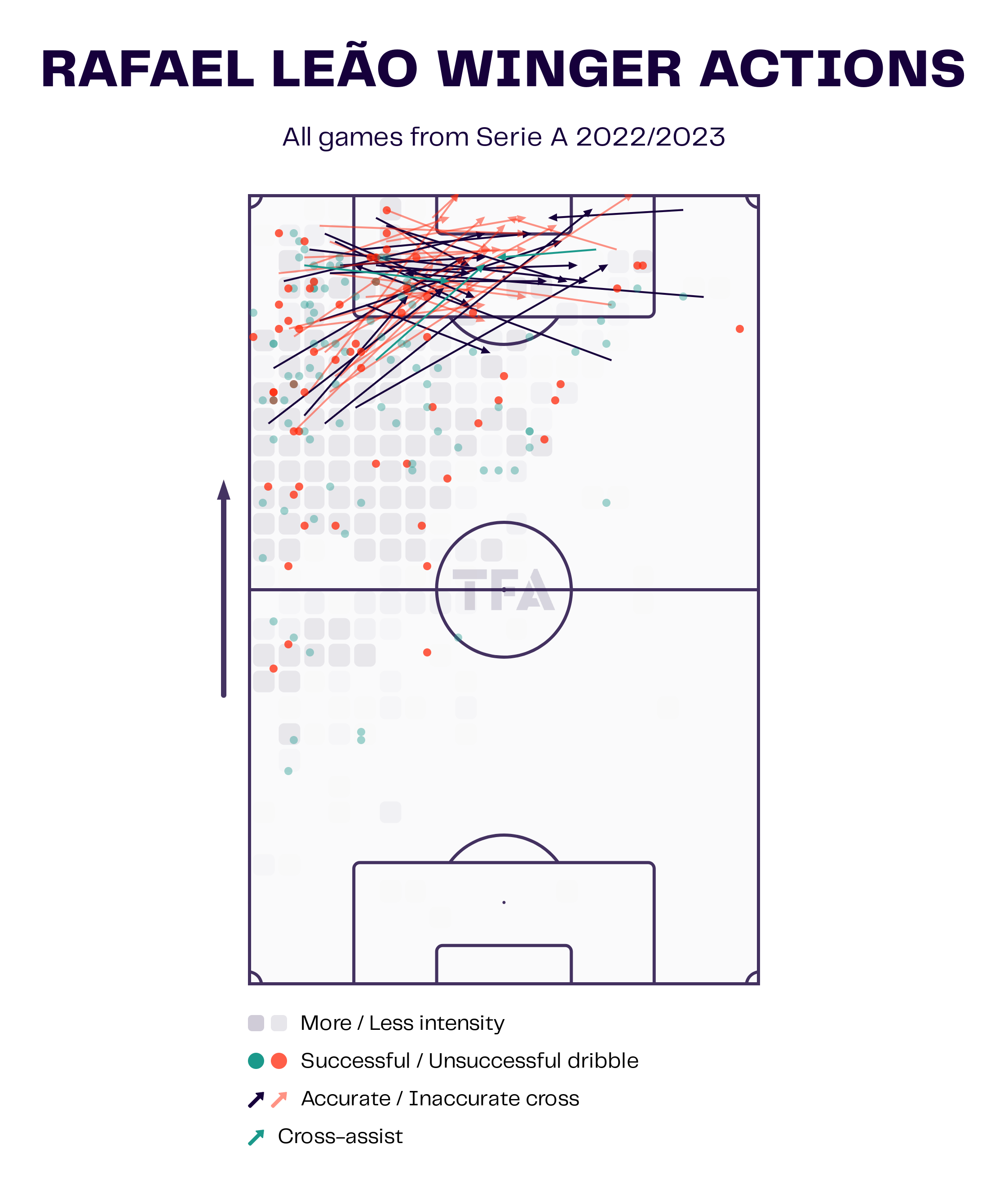 Rafael Leao has been one of the best players for the Rossoneri in the forward positions. He has scored eight goals and provided five assists in 22 league appearances this season. He poses a significant threat with his blistering pace, dribbling skills, and crossing ability. Atalanta players will be aware of his attacking prowess and will have the task of nullifying his presence in the final third.

Meanwhile, Ademola Lookman has been one of the key additions for Atalanta in the forward positions. He has scored 12 goals and provided four assists in 22 league appearances this season. If AC Milan wants to secure the maximum points from this fixture, their defenders will have to ensure the Nigerian forward does not have a good game.
Team news
AC Milan will be without the injured duo of Ismael Bennacer and Davide Calabria. Meanwhile, Atalanta will be without the services of Hans Hateboer, Duvan Zapata, and Mario Pasalic due to injury concerns, and Merih Demiral is suspended. Other than these players, the rest of the squads of both teams seem fit and ready to play.
AC Milan vs Atalanta will be one of the most intense matches of the weekend in Serie A. The stats indicate it is going to be an exciting contest, with both teams being good in their attacks and in keeping the ball. The motive for both teams will be to secure maximum points and consolidate their grip on a Champions League spot for next season.
Visuals via TFA data viz engine