The much-awaited UEFA Champions League action returns on Tuesday night when AC Milan plays host to Tottenham Hotspur at the San Siro. The Serie A giants finished second in Group E, collecting ten points from their six matches to progress to the knockout stages. This will be Milan's first appearance at the knockouts of the UEFA Champions League since 2013-14 when they faced Atletico Madrid and fell short 5-1 on aggregate, bringing an end to the nine-year-long wait. The visitors, on the other hand, qualified for the KO stage as the winners of Group D, taking 11 points in total.
Tottenham Hotspur's last appearance in the round of 16 ended disappointingly when they lost 4-0 over both legs to RB Leipzig under Jose Mourinho's reign in 2019-20. However, the Spurs have two big positives to look forward to going into this important clash. Firstly, Antonio Conte's record against AC Milan is excellent, having won eight of his last nine games as a manager versus the defending Serie A champions. Additionally, Tottenham Hotspur are unbeaten in all four previous meetings against Milan on the European theatre, winning two and drawing two. Below, we look at the stats of both teams from the current season to comprehend how this matchup could play out.
How have the teams performed in UEFA Champions League?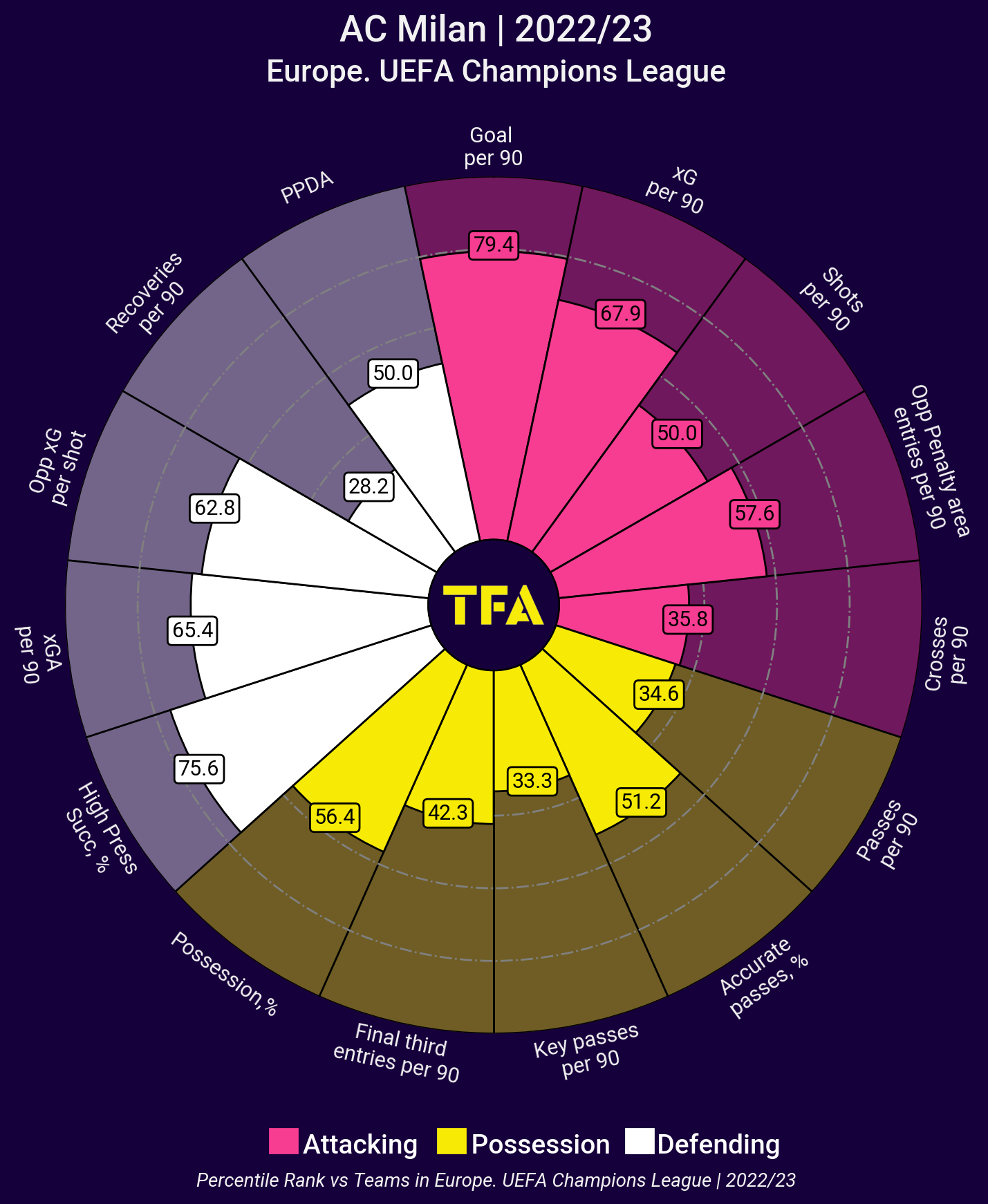 AC Milan won three, drew one, and lost two matches in the group stages of UCL 2022-23 against the likes of Chelsea, RB Salzburg and Dinamo Zagreb. They have scored 12 goals in total and conceded seven goals. Their best performances came against the latter two opponents in their last two matches, winning 4-0 on each occasion. The viz above compares the stats of the team against all other teams in the current season of UCL. It can be observed that Stefano Pioli's side has a greater rank in the attacking and defending departments compared to possession. Notably, they have a high rank in indicators like goals, xG, high pressing success rate, xGA, and opposition xG per shot. Meanwhile, the team ranks above average in terms of possession rate and accurate passes.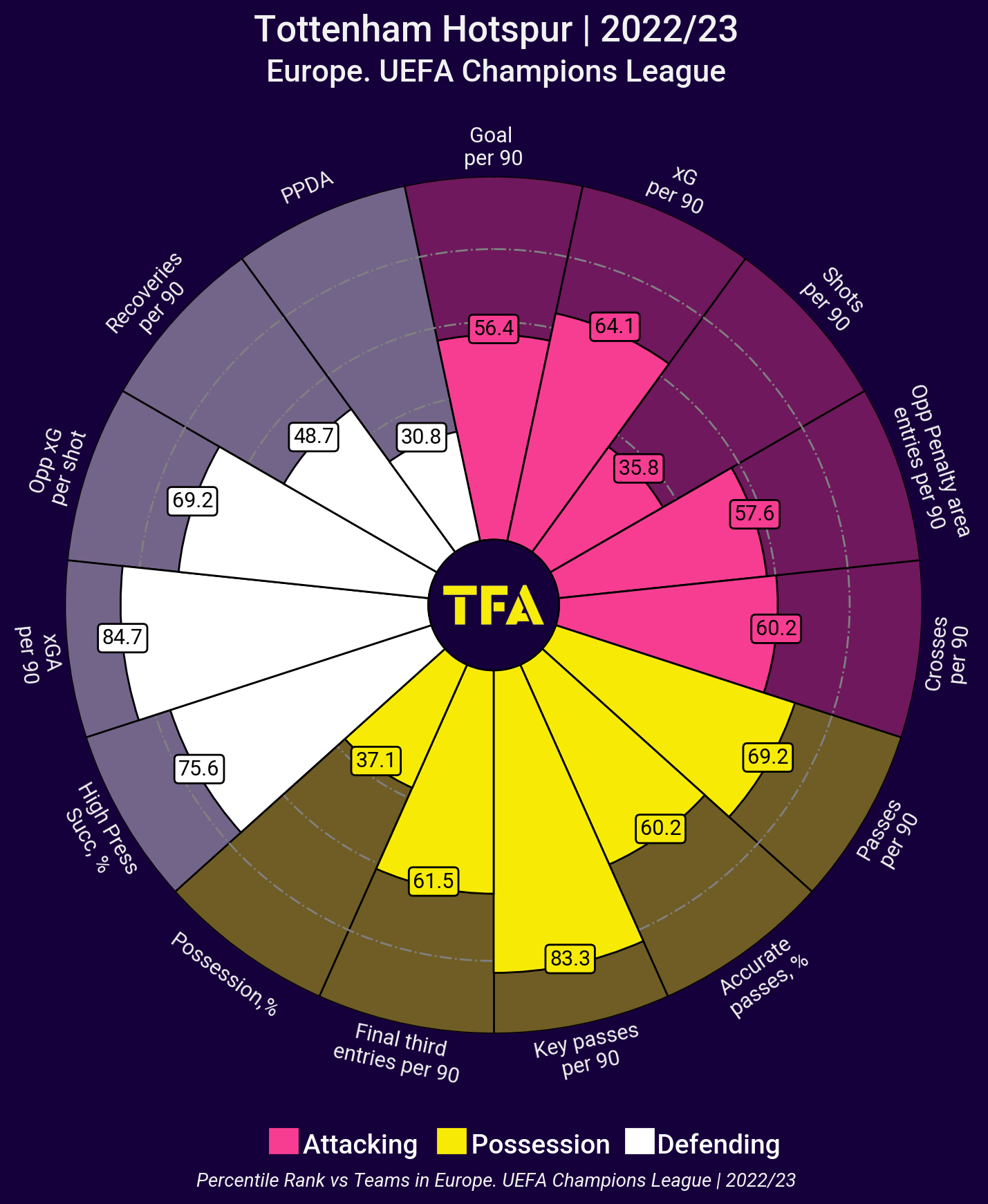 Tottenham Hotspur have won three, drew two, and lost one match in the group stages. They were matched against Eintracht Frankfurt, Sporting CP, and Marseille. They have scored only eight goals and have let in six. They defeated all three teams once but also dropped points in the reverse fixtures. From the viz above, it can be observed that Antonio Conte's side has overall better stats than their upcoming opponents in the possession and defending departments. Notably, they have a high rank in indicators like key passes, passes per 90, xGA, high pressing success rate, and opposition xG per shot. Meanwhile, the team can do better while going forward in terms of goal returns and shots.
Attacking stats
AC Milan have taken a total of 73 shots in six UCL matches and scored 12 goals. They scored all the goals from close range inside the penalty box accumulating 8.89 xG in total (excluding penalties). The xG map above shows that the Serie A side has attempted most of their shots inside the box but has also shown the desire to shoot from a distance. Milan have scored two goals per match, averaging an xG of 1.74. They take 12.5 shots per match with a 38.6% accuracy rate.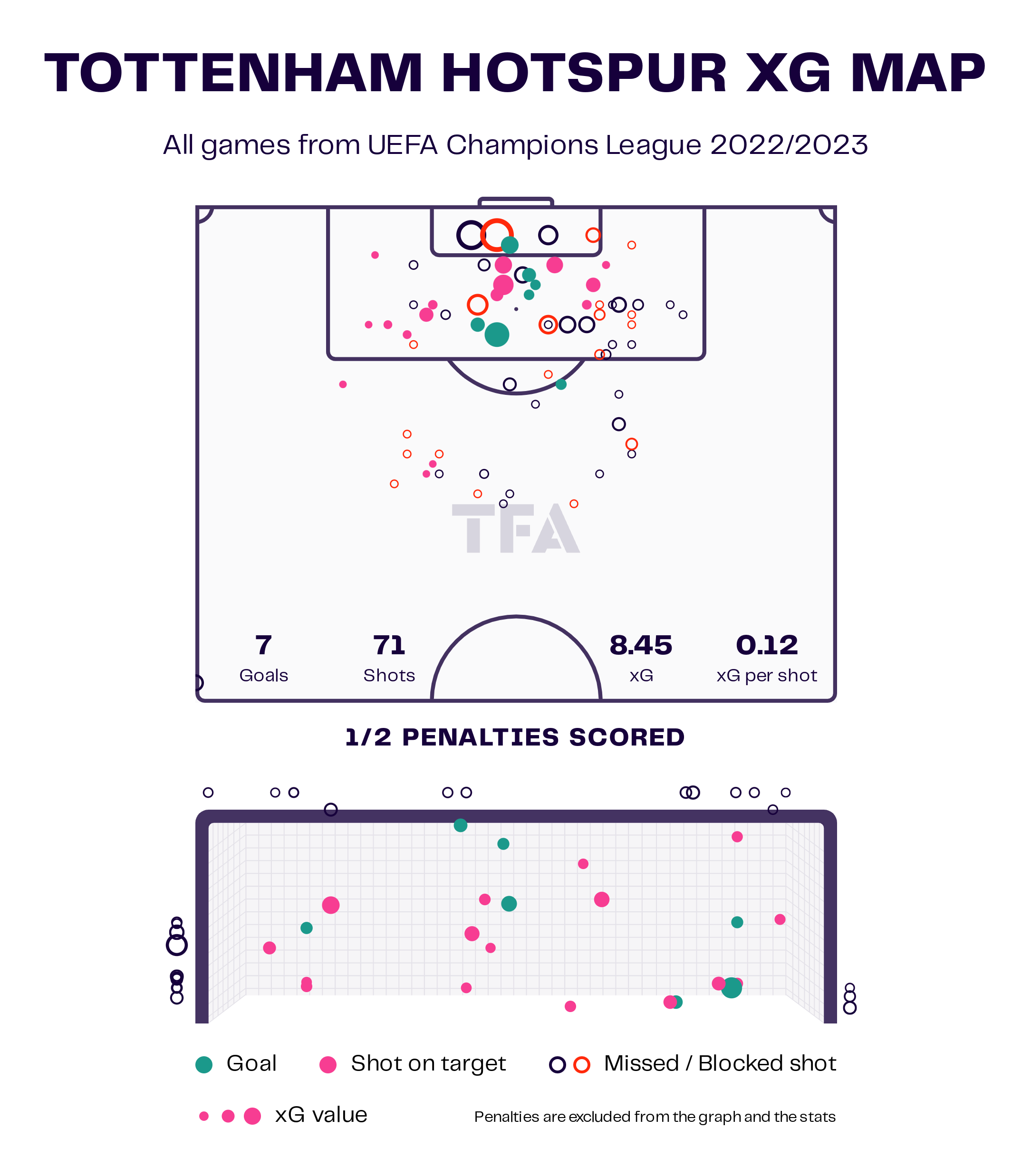 Alternatively, Tottenham Hotspur have taken 71 shots in total and scored only eight goals with an xG tally of 8.45 (excluding penalties). They have also missed one penalty. Antonio Conte's men scored one of the goals from inside the six-yard box and one right from the edge of the penalty area. They scored at the rate of 1.33 goals per match while averaging 1.66 xG. Spurs take 12.17 shots per match with 33% accuracy.
Passing the ball forward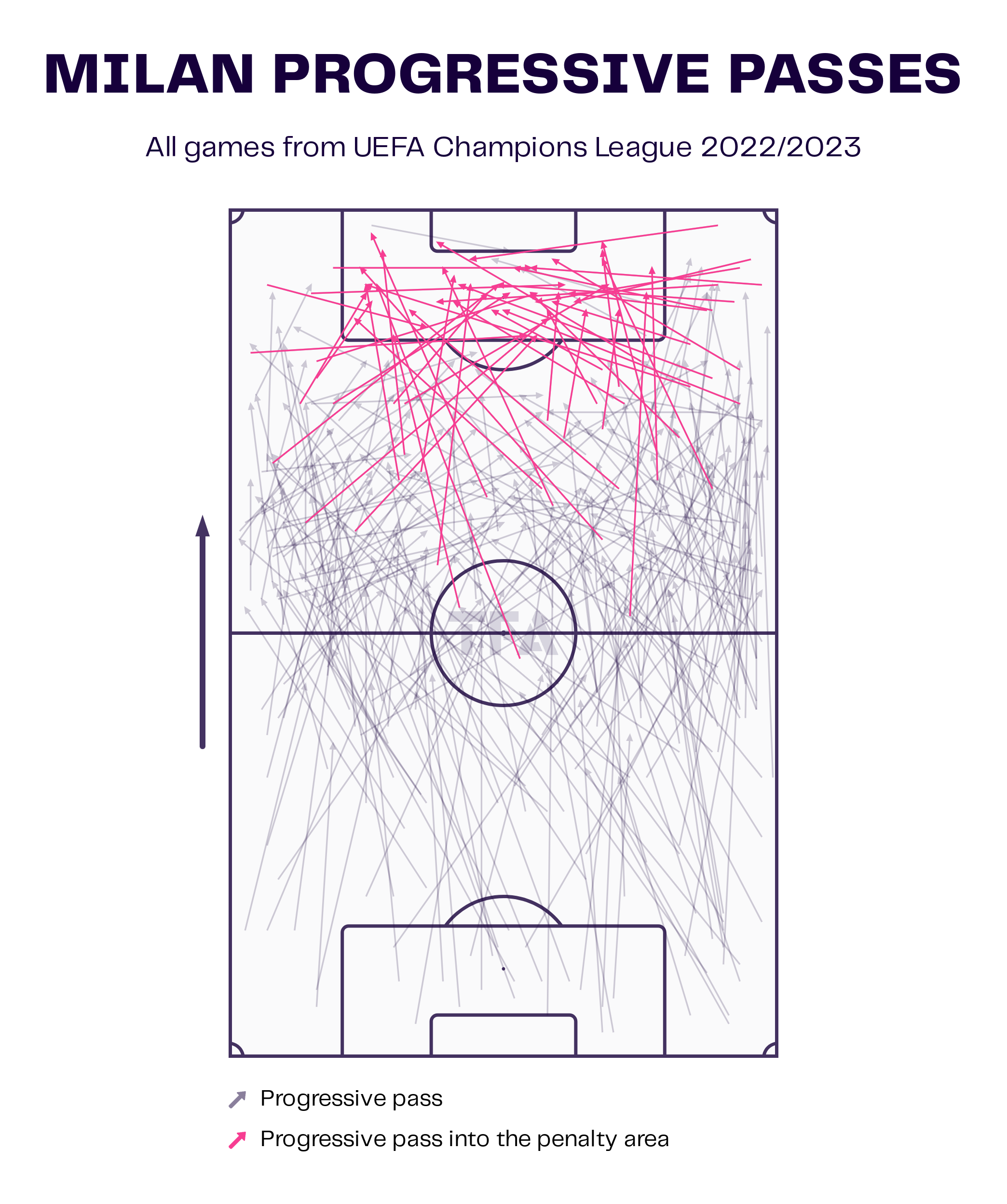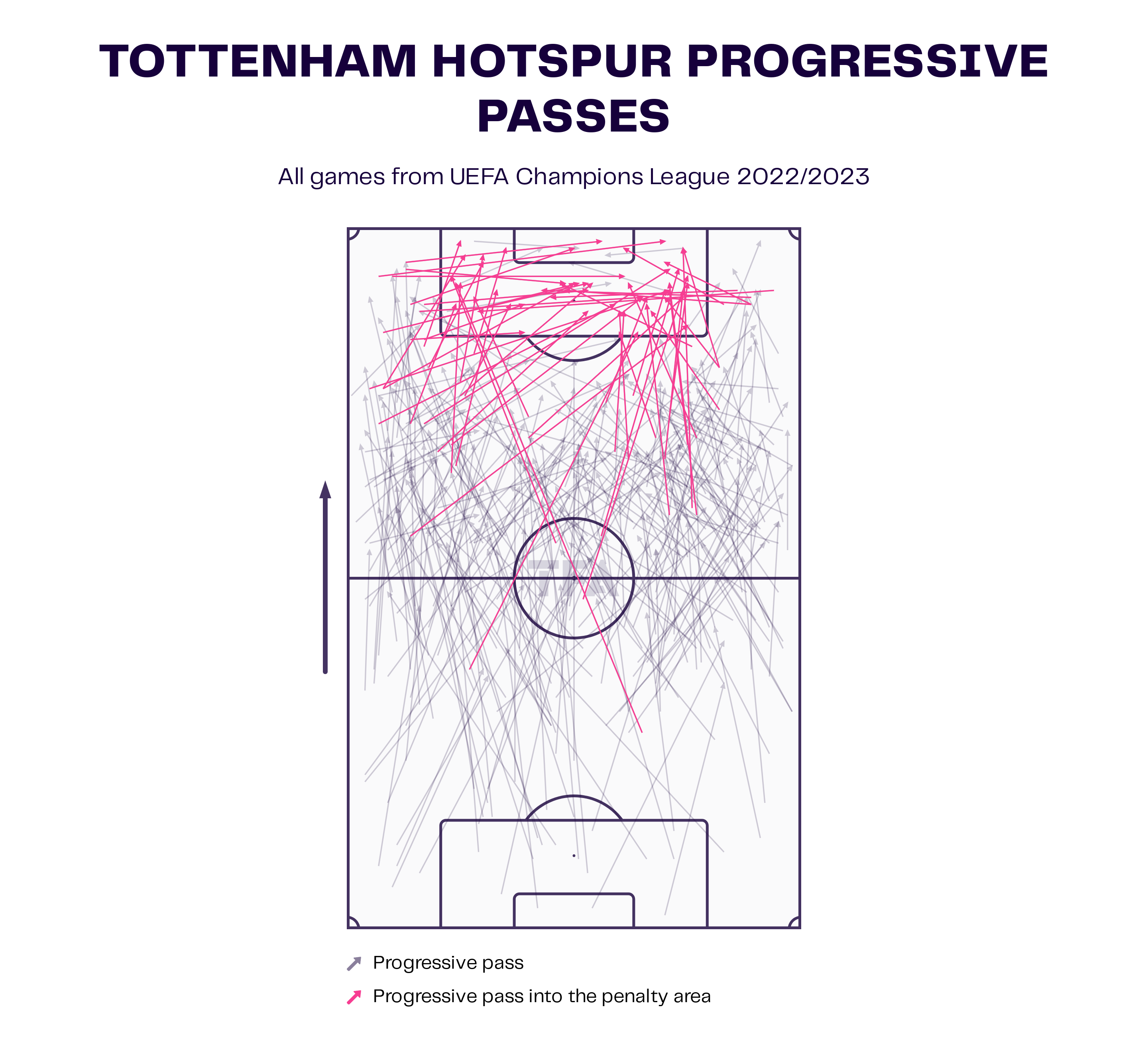 The two viz above compare both teams on the basis of progressive passes. While both teams use the flanks significantly to move the ball forward, Spurs deliver more forward passes and crosses into the box from the wide positions compared to Milan. The hosts average 45.33 passes to the final third with 75.4% accuracy compared to the 57.83 such passes with 70.3% accuracy by the visitors. However, Milan averages a slightly higher possession rate of nearly 51% compared to Tottenham's 49.6%.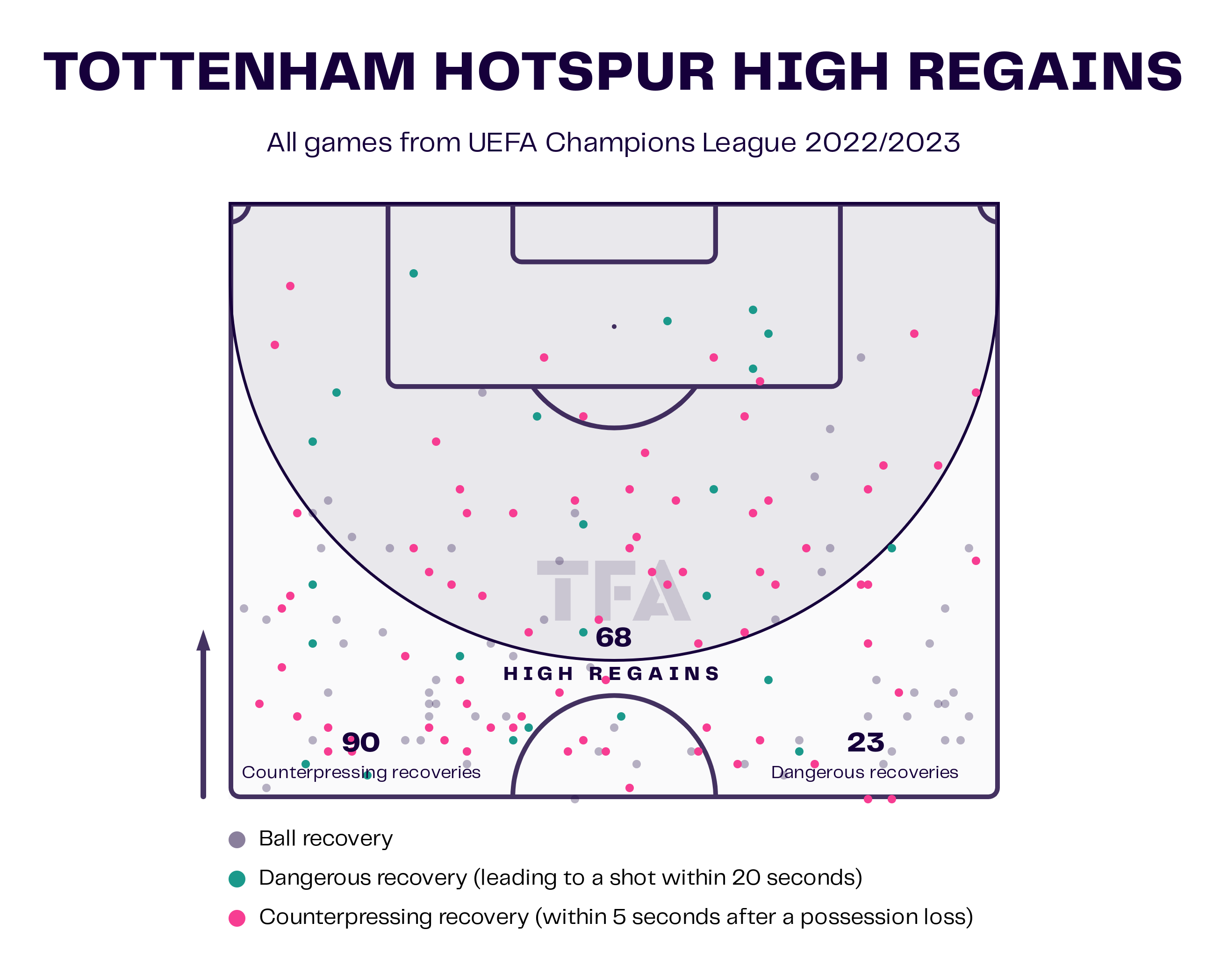 The two viz above compare both teams based on their ability to regain possession high up the pitch. Spurs have made 68 high regains compared to 49 high regains by Milan. The visitors have also made more recoveries inside the box compared to the hosts, with five of them leading to a shot eventually. Overall, Milan makes 74.83 recoveries per match, compared to the 82.83 recoveries made by Spurs.
Key players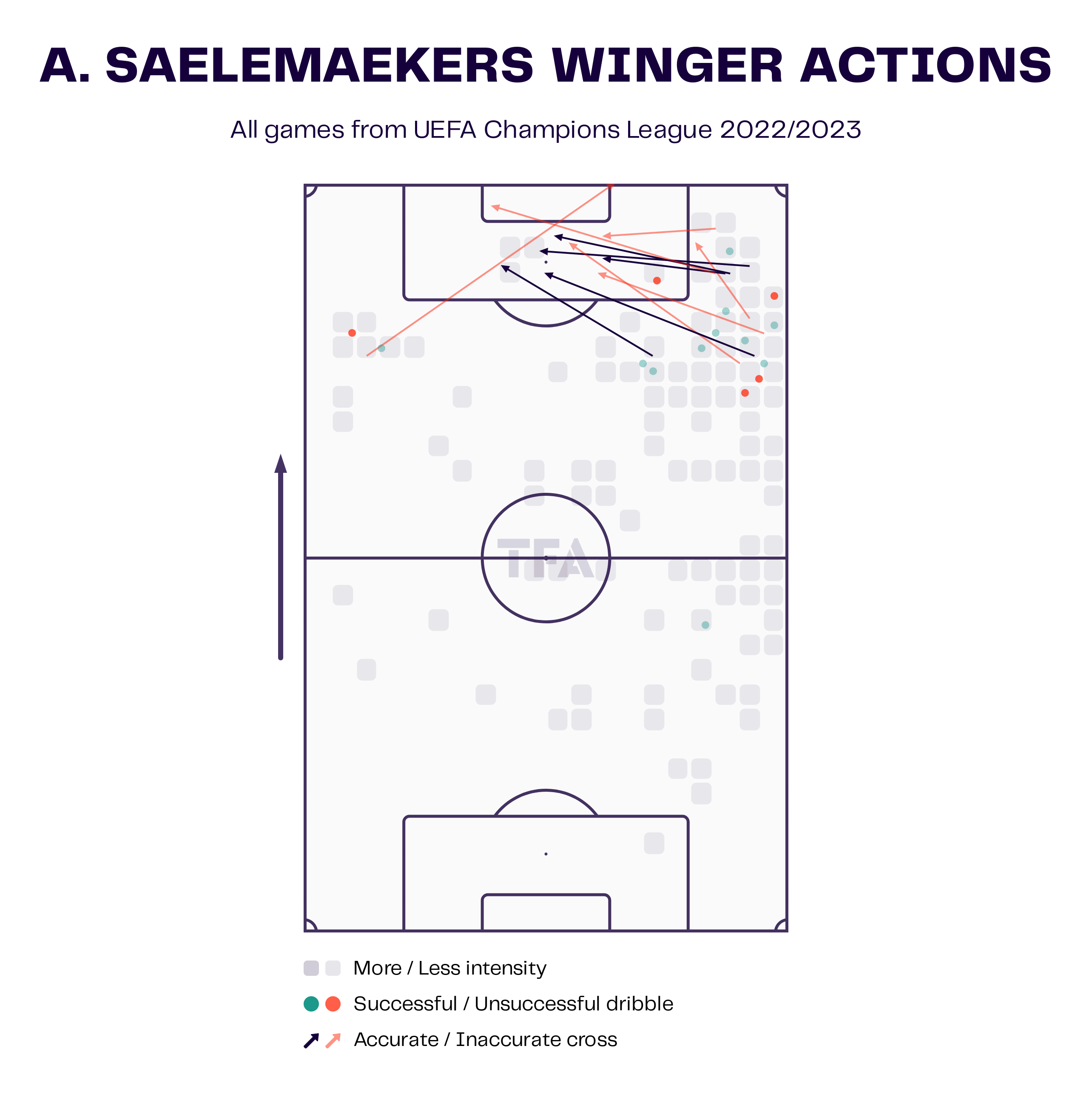 Alexis Saelemaekers has been one of the key players for Milan in the UCL 2022-23. Thus far, he has two appearances under his belt but has managed to score twice in this duration. The Belgian winger brings a genuine threat from the right flank as he delivers crosses and beats opposition players with his accurate dribbling. Tottenham's defenders will have the job to nullify Saelemaekers presence on the wing to achieve a positive result.
Although Heung-min Son has struggled to perform with the same consistency shown in recent seasons, he has scored two important goals for Tottenham Hotspur in the Champions League. On his day, he can be lethal against any team with his speed, ball control, and clinical finishing ability. Milan will be hoping it's not one of those days when they face off against Son's team.
Team news
AC Milan are expected to be without the injured trio of Alessandro Florenzi, Mike Maignan, and Sergino Dest. Meanwhile, Zlatan Ibrahimovic is ineligible to play. Apart from these four players, the remainder of the Milan squad should be ready to go.
Meanwhile, Tottenham Hotspur are likely to miss the services of Hugo Lloris, Ryan Sessegnon, and Rodrigo Bentancur through injury. Whereas, Pierre-Emile Hojbjurg will miss out through suspension. Other than these absentees, the rest of the Spurs players will be available for selection.
Milan vs Spurs will be one of the biggest matches of the UEFA Champions League round of 16. The stats indicate it is going to be an exciting and intense encounter, with both teams meeting for the first time since the 2010/11 season. Milan will have the advantage of playing at home in this first leg and will be motivated to register their first competitive win against the North London side. Tottenham, on the other hand, will give their maximum effort to carry forward a positive result from the San Siro into their return home fixture.
Visuals via TFA data viz engine