Atalanta's summer signing, Ademola Lookman, has taken Serie A by storm with his sublime performances. The 25-year-old forward joined the Serie A side on a four-year contract after gaining prominence during consecutive loan spells with Premier League clubs Fulham and Leicester City. The Nigerian international was quick to find his feet after arriving in Italy and is one of the best performers for Atalanta in his first season with the club. He has scored nine goals and provided two assists in 17 Serie A appearances. Some of these goal contributions have come against the likes of Inter Milan, Napoli, and Udinese. His crucial contributions helped Atalanta start the Serie A 2022–23 season strongly, as they currently lie in sixth place, a position much better than where they finished last season. Below, we look at some stats that bring Ademola Lookman's impressive performances in Serie A to light.
Ademola Lookman is a versatile attacker who is mainly a left winger by trade but can also play as a centre-forward or a right winger, based on the team's requirements. The above viz shows the percentile rank of the player's stats in comparison to similar attacking players in Serie A this season. It can be observed that Lookman's percentile rank is excellent for penalty area touches, expected goal contribution, and dribbles. Lookman further excels in areas like progressive passes, accurate passes, and his ability to find and receive passes. He also does decently in terms of attempting defensive duels.
Ademola Lookman in the attack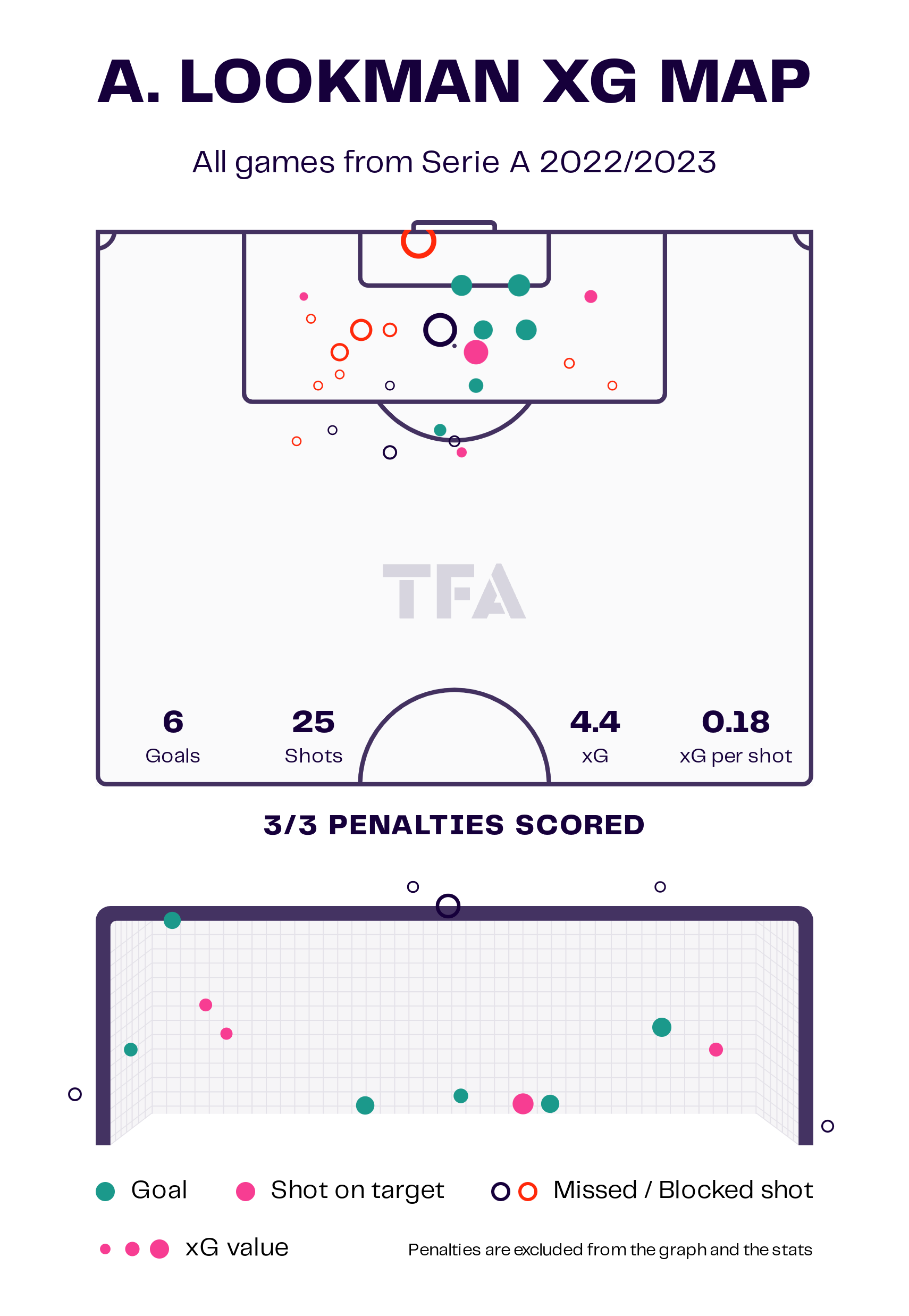 Ademola Lookman has scored nine goals for Atalanta in Serie A with an xG tally of 4.4 (excluding penalties). He scores at a rate of 0.77 goals per match while averaging an xG rate of 0.57. The above viz shows the attacker's shot map from the current season of Serie A. He has attempted 25 shots with an accuracy rate of 46.4%. Most of his shots have come from close range inside the penalty box. Moreover, all but one of his goals have also come from inside the box, which highlights his fine finishing ability. Lookman takes 2.38 shots per game and makes 5.53 touches in the penalty area.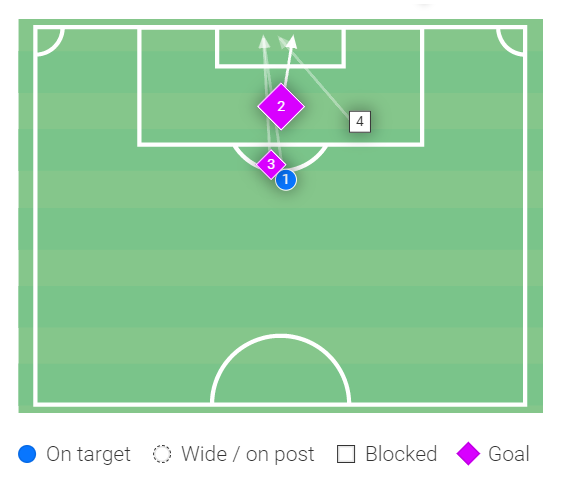 The above viz shows the xG map of Ademola Lookman from Atalanta's most recent 8-2 win against Salernitana. The Nigerian converted a first-half penalty and completed his first brace of the season early in the second half by shooting from outside the box into the left corner of the goal. He attempted four shots, with three on target, and also provided his second assist of the season. Lookman averaged 1.01 xG in the match, made two shot assists, and completed four out of seven dribbles.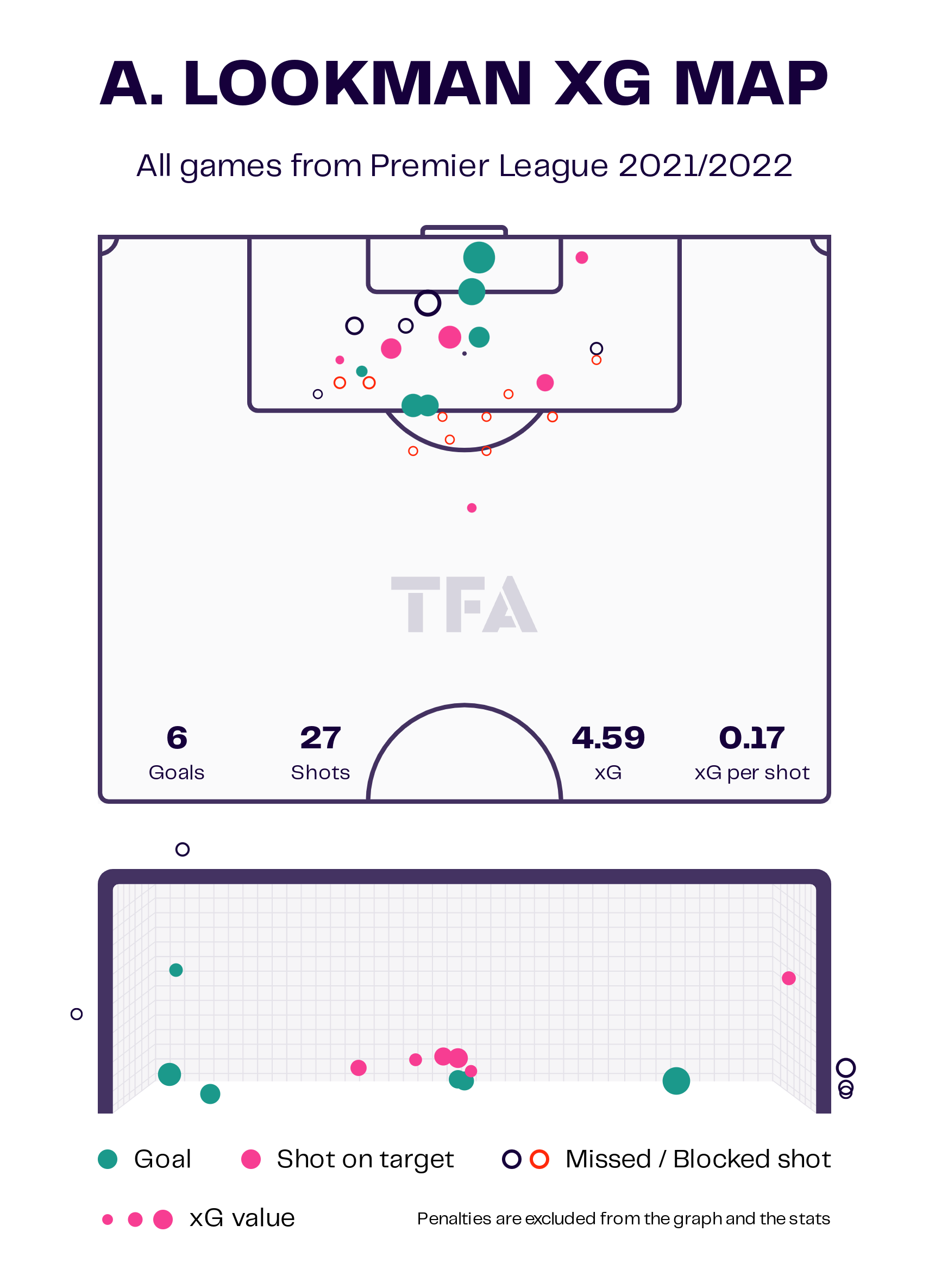 In comparison, Lookman scored six goals for Leicester City in the 2021/22 English Premier League season. Lookman made a total of 26 league appearances last season, starting in 16 matches. He scored at the rate of 0.35 goals per match while averaging 0.26 xG per 90 minutes. He took 1.56 shots per match with 44.4% accuracy and made 4.39 touches in the penalty area on average. At present, Lookman is recording his career's best goal-scoring season with Atalanta and also possesses improved attacking stats than last season.
Creative gameplay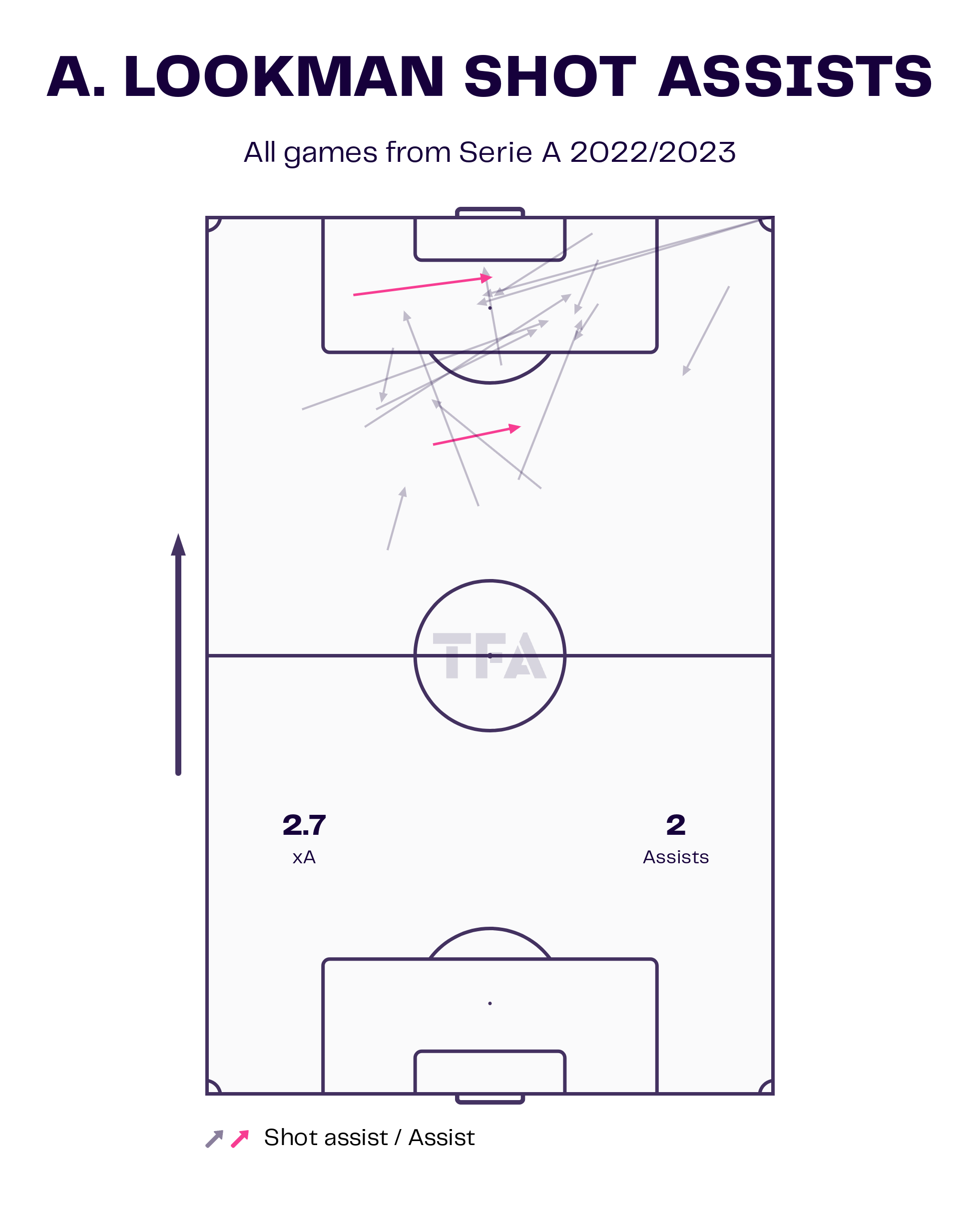 In addition to his attacking prowess, Lookman exhibits the ability to create scoring chances for others. He has provided two assists thus far for his Atalanta teammates, with an xA tally of 2.7. From the shot assist viz above, it can be observed that most of the assist attempts came from through balls and short passes delivered from the final third. Sometimes he has also been on corner-kick duty. At present, Lookman averages 0.17 assists per match while averaging an xA value of 0.23. He averages 2.89 passes to the penalty area and 1.45 shot assists per match.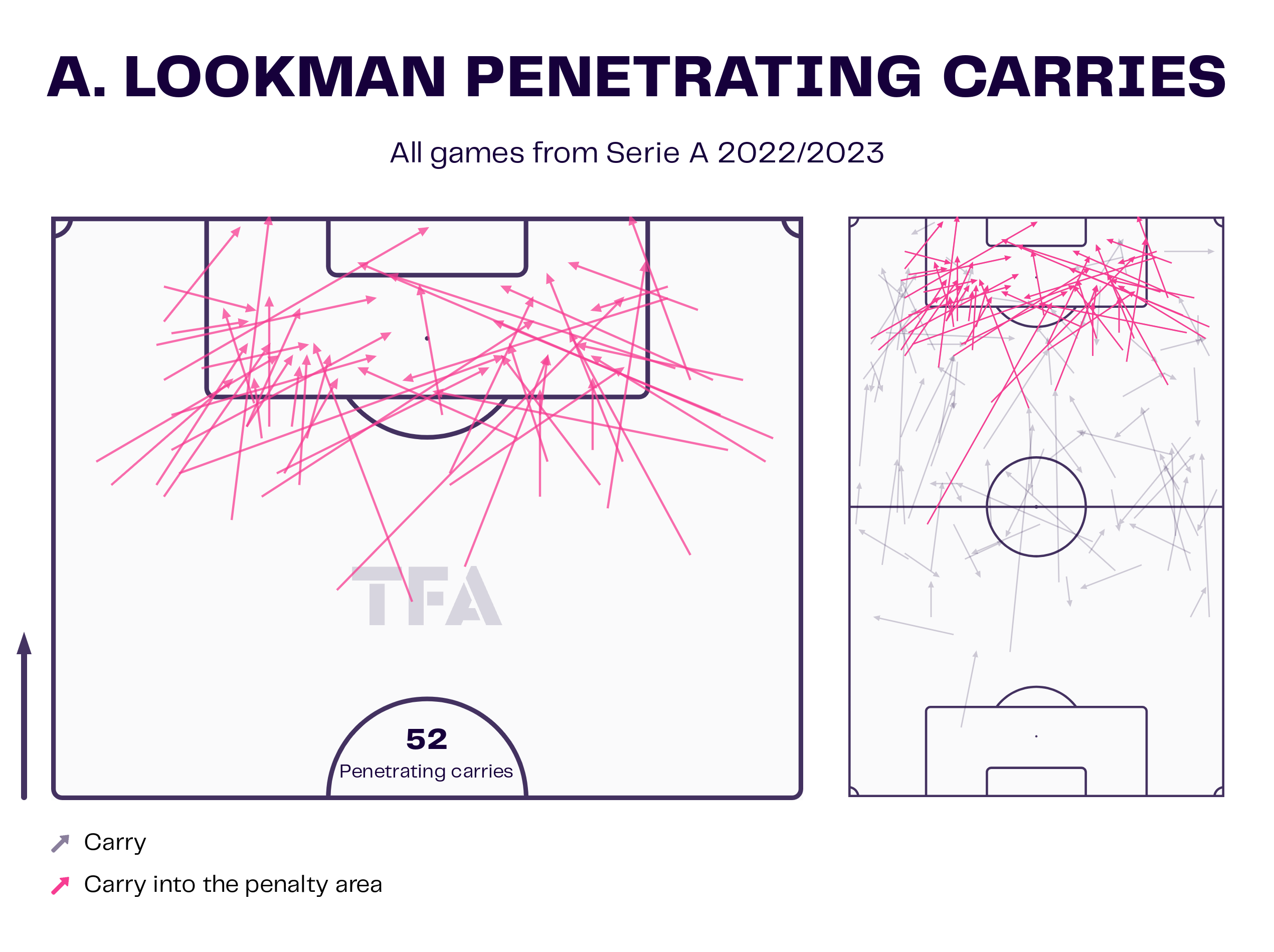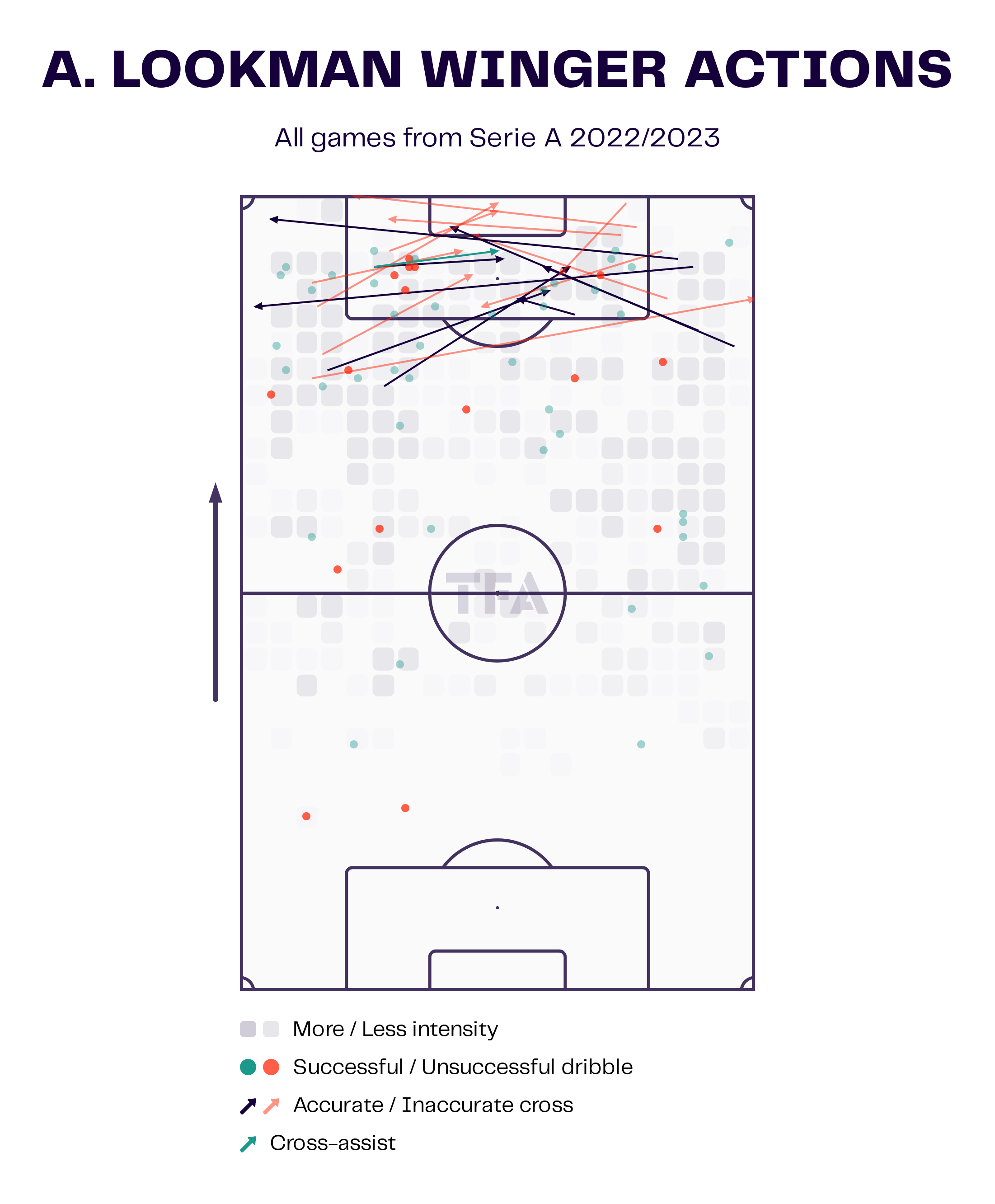 Ademola Lookman acts as a mobile forward in the advanced attacking areas. He can advance the ball into dangerous areas by performing attacking actions deep in the final third. He often gets into spaces in wide areas and inside the penalty area and tries to dribble past players or deliver a cross into the box. The Nigerian forward has shown 52 instances of making penetrating carries into the penalty box. Currently, he attempts 4.95 dribbles per match with an excellent 72.4% accuracy and delivers 1.96 crosses with 39.1% accuracy.
Atalanta and Gian Piero Gasperini will be delighted with the performance of their summer signing, Ademola Lookman. His fine goal-scoring record has contributed to Atalanta's strong start to the Italian Serie A season. The Nigerian forward will look to continue with the same intensity for the whole season, scoring goals for his team and leading from the front to help Atalanta qualify for European football next season.
Visuals via Wyscout and TFA data viz engine