Fiorentina took the decision to make Antonin Barak's loan move from Hellas Verona permanent during the recently concluded transfer window. With a reported valuation of €8.5 million, it was the most expensive deal to happen in Serie A in the 2023 winter transfer window. The Czech midfielder has years of experience playing for various Serie A clubs like Udinese, Lecce, and Hellas Verona. He has featured regularly in the Italian top flight and has evolved into a quality player. Ultimately, Fiorentina were able to convince Antonin Barak to accept a full-time transfer, after he impressed during his loan spell with the club. Below, we look at some of his stats from Serie A.
Performances in recent seasons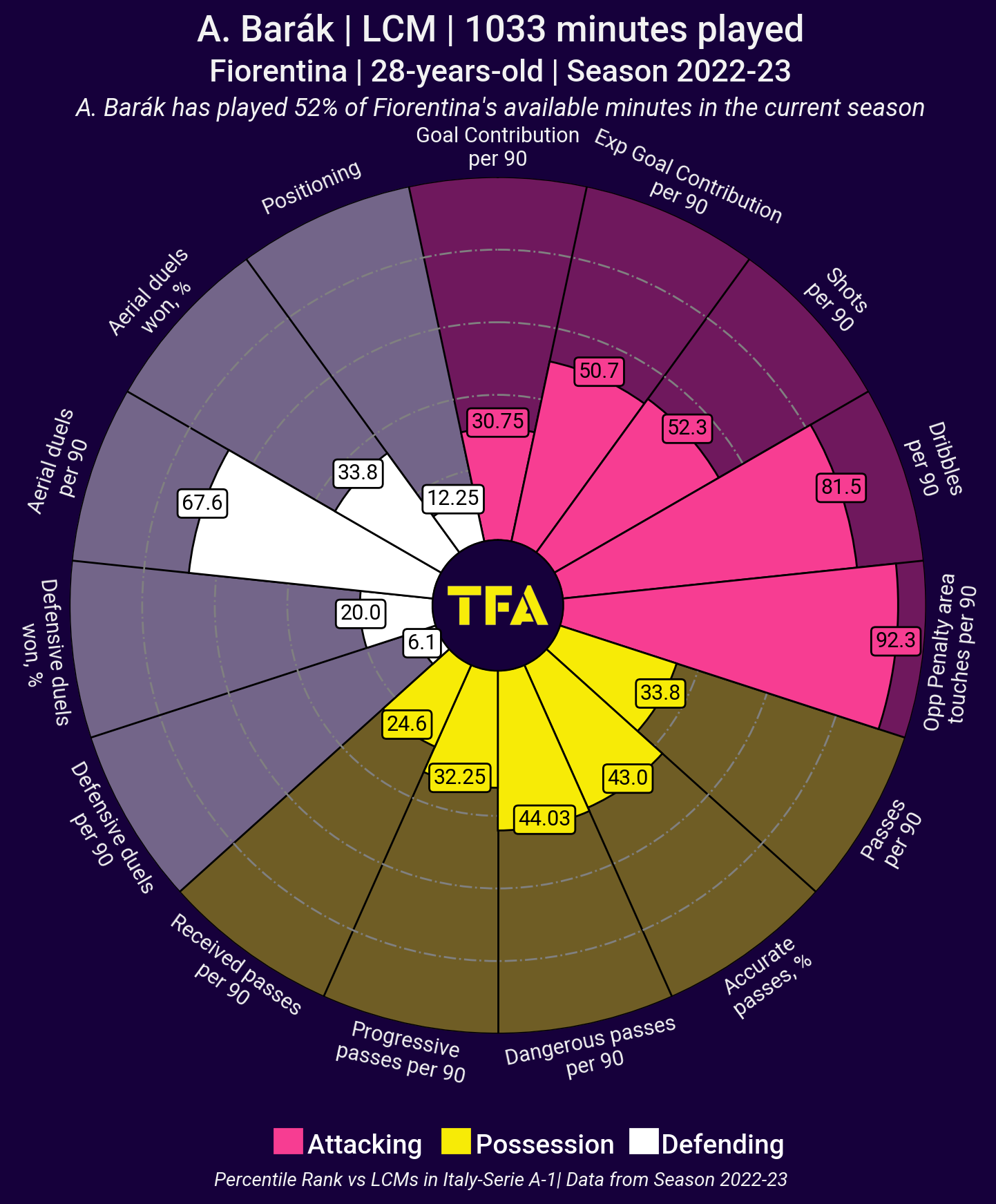 Antonin Barak has played in 18 matches for Fiorentina in Serie A, starting 11 of them. He has played in a deeper midfield role compared to last season. The above viz shows the percentile rank of the player in comparison to other centre midfielders in Serie A. It can be observed that Barak has contributed well in attack, with a high rank in indicators like dribbles, penalty area touches, and shots to show for it. In the possession department, he can do better in terms of passing and retaining the ball, but his ability to find dangerous passes stands out. In defence, the midfielder does well in terms of contesting aerial duels.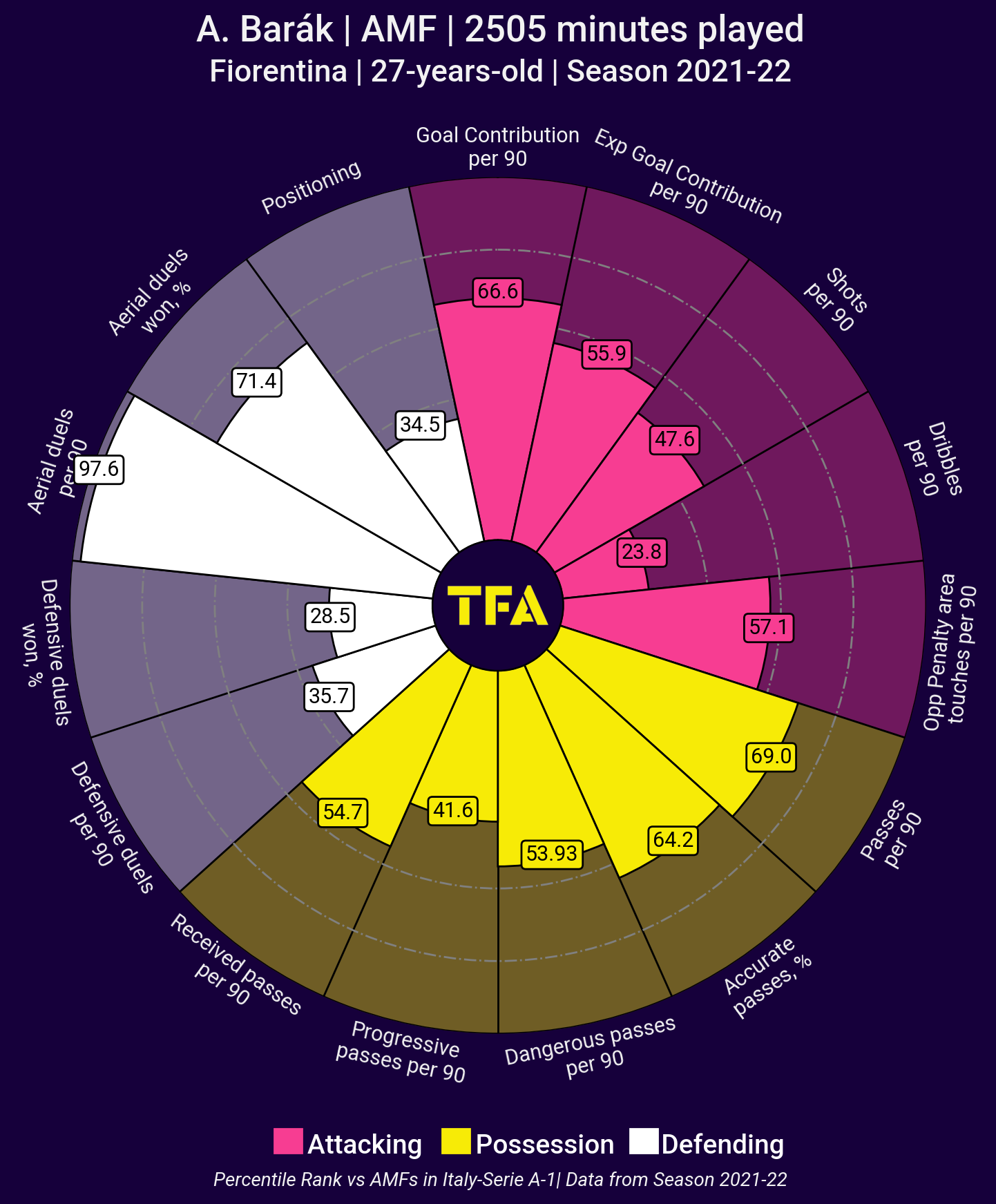 Last season, he played a more advanced midfield role for Hellas Verona. He made 29 appearances in Serie A, scoring 11 goals and providing four assists. It was his career's best season in terms of attacking returns. The above pizza chart shows that Barak had much more balanced stats across all attacking, possession, and defending departments last season. He was ranked at the top for aerial duels contests per 90 and the win rate for such duels.
Gameplay in possession
The above viz illustrates the player's heat map from the current season across all competitions. It can be observed that the midfielder shows high intensity in the final third as well as in the midfield. He covers the most ground in the opposing half and has a proclivity for wide positions on either flank. Currently, Barak averages 37 passes per match with 84.1% accuracy, along with 25.4 received passes. He also averages 2.9 touches in the opposition's penalty area per match and makes 1.31 progressive runs.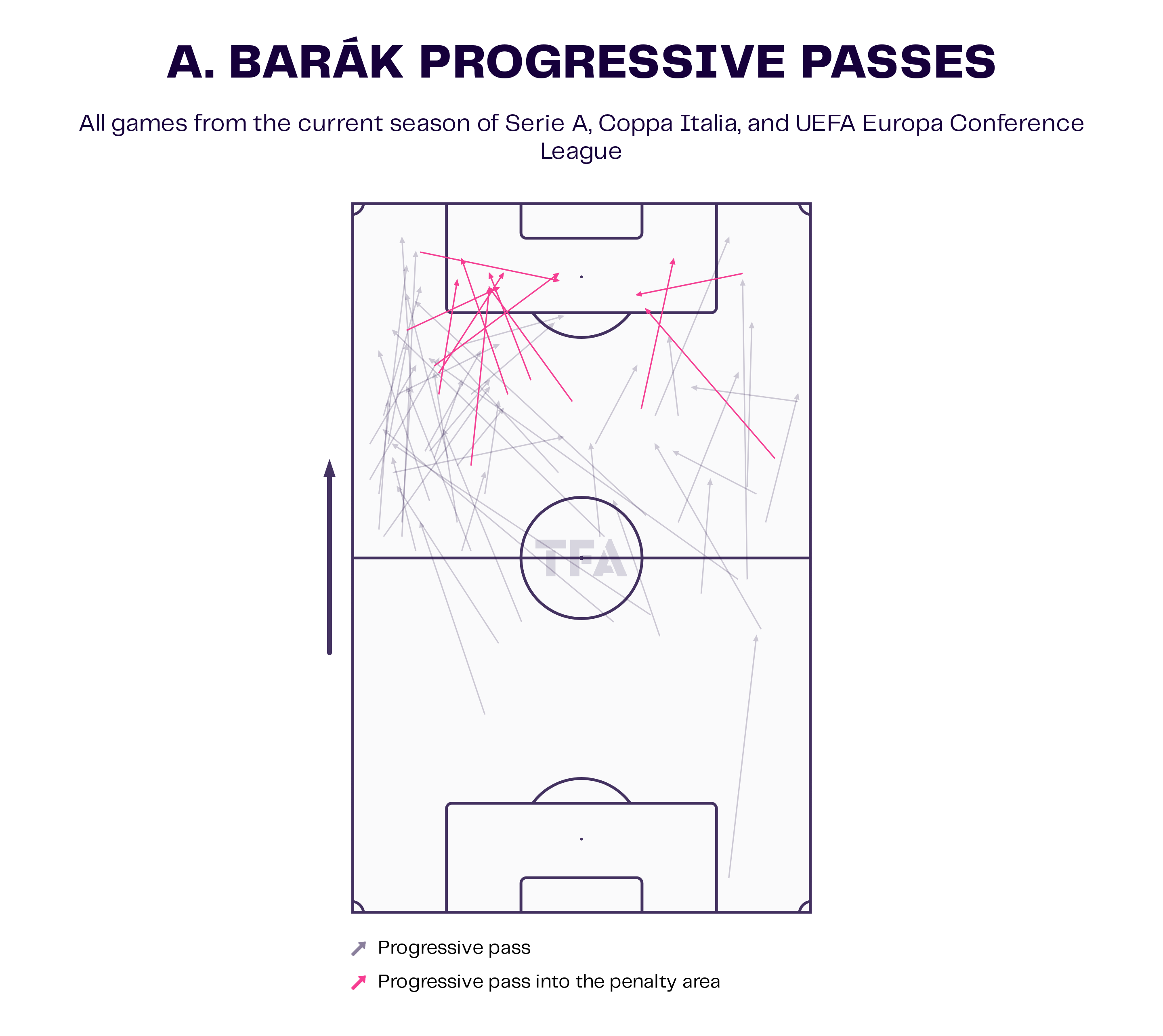 The 28-year-old Czech international has played an important midfield role for Fiorentina this season. He has made some crucial contributions in the final third and midfield by releasing lots of progressive passes down the wide channels and into the penalty box. Barak averages nearly 10 forward passes per 90 minutes and has a 73% accuracy rate. These include 5.31 passes to the final third with a 76.3% accuracy rate and two passes to the opposition's penalty box with a 44.4% accuracy rate. While he has yet to register any assists this season, he will be keen to contribute in that sector as well.
Contributions in the attacking half
Another area where the midfielder can contribute is in his ability to score goals. For Fiorentina, Barak has found the back of the net five times in all competitions this season, averaging 0.16 xG per match. The player averages 1.37 shots per 90 minutes and has an accuracy rate of 32%. The xG map above shows that Antonin has taken most of the shots inside the penalty box and scored all of his goals from inside the box too. This demonstrates his ability to get into some crucial goal-scoring positions and find the back of the net for his team.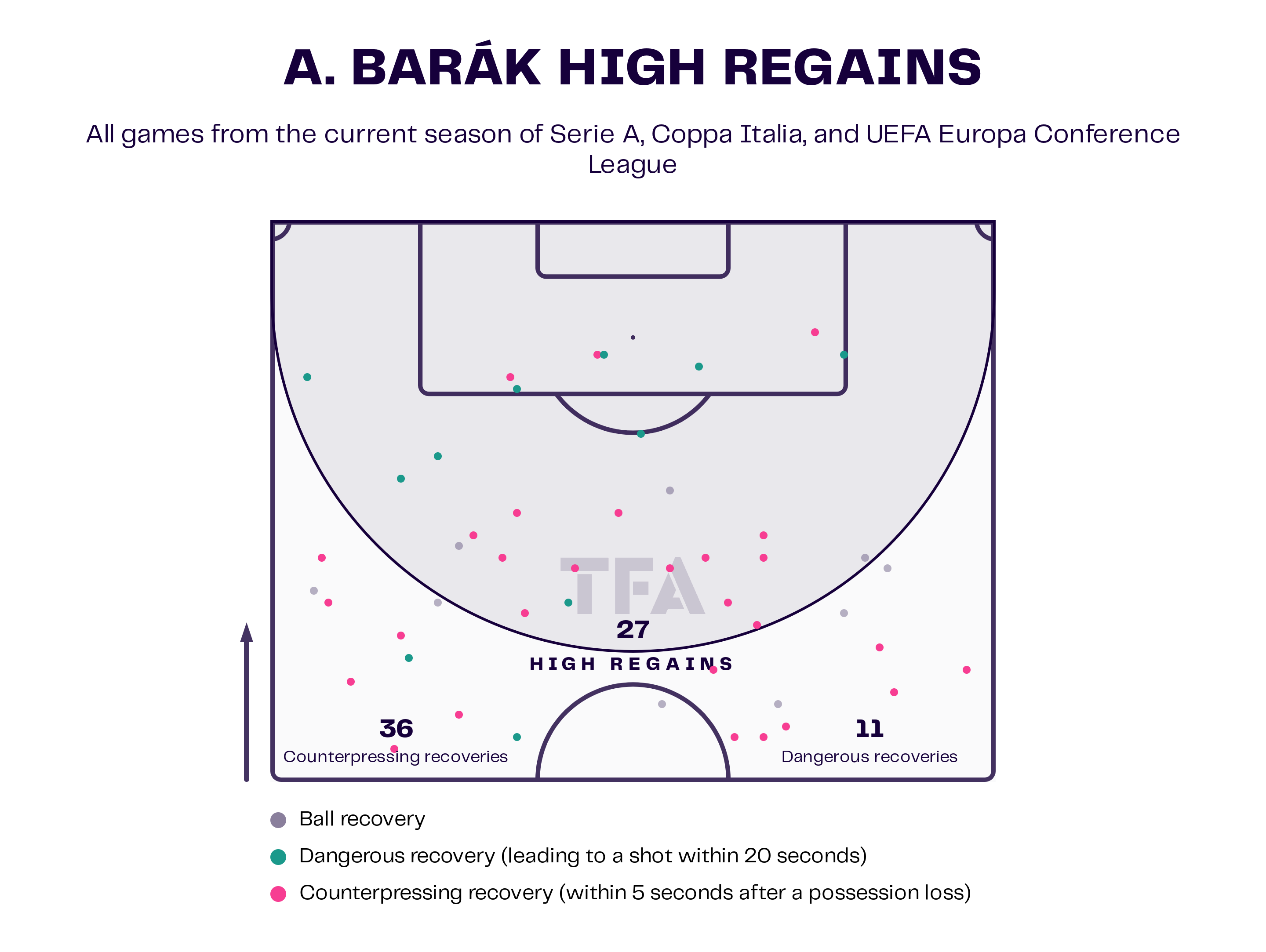 Another way in which Antonin Barak contributes to the team is by recovering the ball in the attacking half. The 28-year-old has an average of 4.54 recoveries per 90 minutes in the 2022–23 season. He has made 65.1% of these recoveries in the attacking half, including seven inside the opposition penalty box, three of which have led to a shot.
Barak is already proving to be an important midfield figure for Fiorentina this season, and the club responded by making his loan deal permanent. His addition to the starting eleven has brought more depth, creativity, and quality to the middle of the park. He is a midfielder who poses a threat going forward and also contributes with his creative and accurate passing.
Visuals via TFA data viz engine