Bologna FC have been playing in Serie A since the 2015-16 season and has finished in the bottom half most of the time. Their best placement in recent times came in the 2018-19 season when they finished tenth. Last season, Bologna finished 13th in Serie A with 46 points. This season, Bologna is enjoying a much more successful campaign thus far. They are currently placed seventh after collecting 35 points, one place short of a European berth.
How has Bologna performed this season?
In Serie A 2022/2023, Bologna have registered ten wins, five draws, and nine losses. They have shown impressive home form this season but have struggled on the road. The Rossoblue have six wins and four draws from 13 home matches so far, with a 46% win percentage. On the other hand, the team has lost six times while on their travels, winning four and drawing once. Below are some stats to access how Bologna's strong home record is contributing towards a successful Serie A 2022/23 campaign.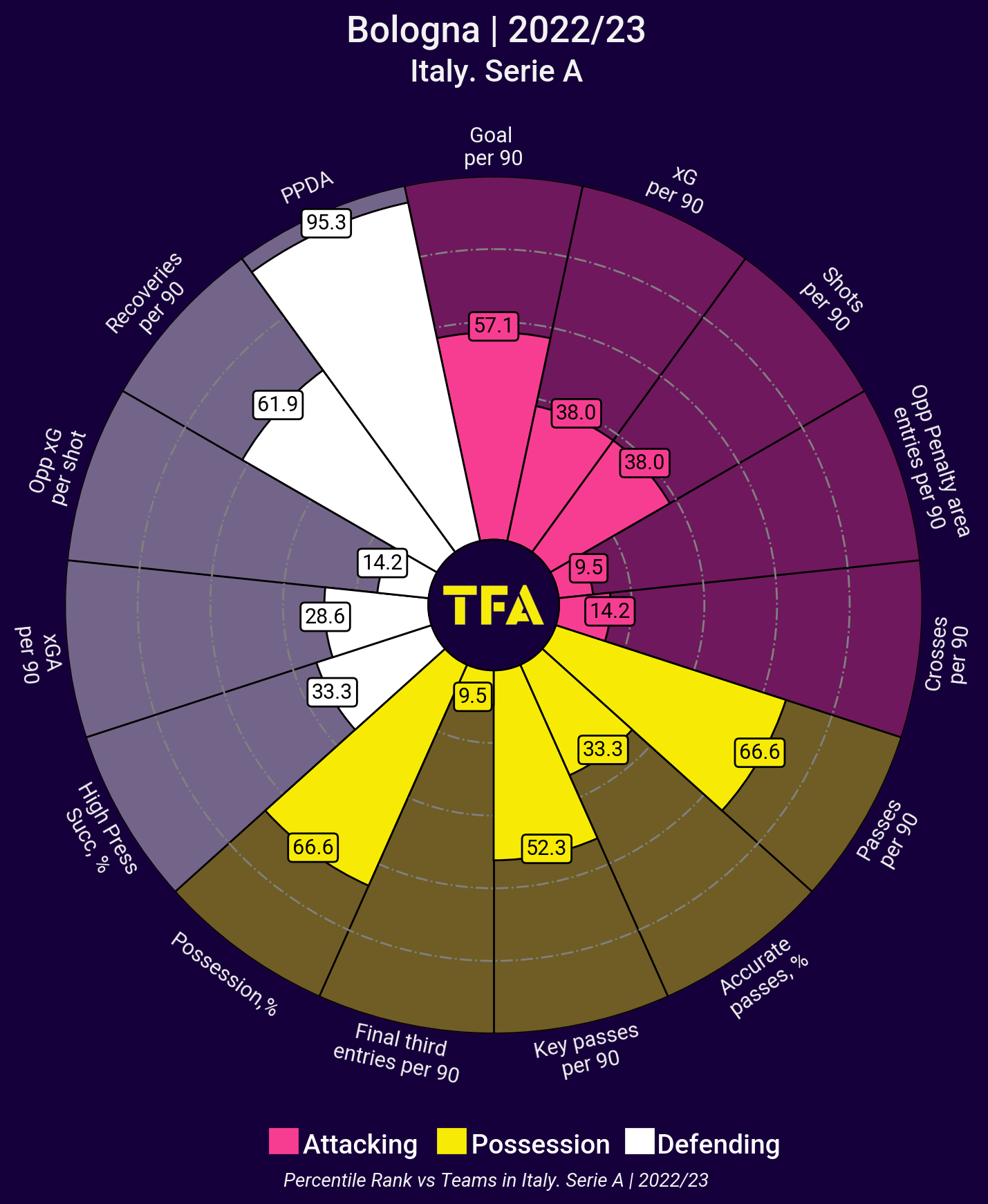 The above viz shows the percentile rank of Bologna's stats compared to other teams in Serie A in 2022/23. Thiago Motta's side likes to keep possession of the ball and does well in terms of attempting passes and finding key passes. They tend to pressurize the opponents inside their half, as indicated by their 95.3 percentile rank for PPDA and are able to make a decent amount of recoveries per 90 as well. They have a decent rank in terms of goals per 90, but a lower rank for xG rate and shots per 90.
Finding the back of the net
One of the reasons for Bologna's favourable position in Serie A is their ability to score goals when needed. They have scored 31 goals with an average xG rate of 1.33. At home, a total of 17 goals have been scored at a relatively high xG rate of 1.48. The Rossoblu create 29.54 positional attacks per match at home and attempt 12.31 shots (36.2% accuracy rate). In away matches, they create 23.09 positional attacks and attempt 10.64 shots (a 31.6% accuracy rate). This shows that Bologna attacks with more intensity in the home matches compared to the away fixtures.
In the last five home matches, Bologna have only scored five goals. They averaged more than 14 shots in these matches with a similar rate of accuracy. The above xG map shows that the Rossoblu have struggled to penetrate the six-yard box and have tried their luck from distance with decent accuracy. Going forward, the team would want to improve their shot conversion rate.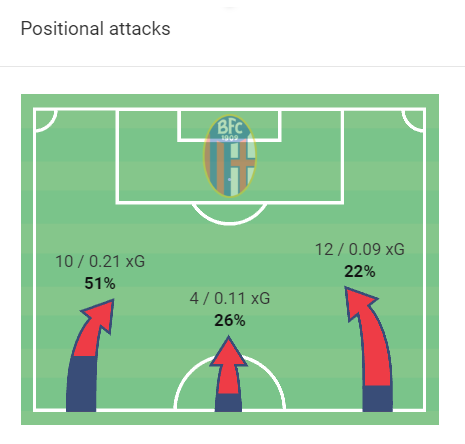 The viz above shows the attacking regions of Bologna from their most recent fixture against Inter Milan. Thiago Motta's side secured an impressive 1-0 victory thanks to a strike by the in-form Riccardo Orsolini in the second half. The hosts created 26 positional attacks in total and took five shots from them. They took 12 shots in total, with five on target, and ended the match with 1.06 xG. This hard-earned victory further complements Bologna's impressive home record this season.
Room for improvement in defence
Bologna have done reasonably well to find the back of the net, but their overall defensive record can improve to make it a successful campaign. They have conceded 33 goals thus far, the most among the top ten teams in Serie A. Thiago Motta's side concedes only 9.62 shots at home along with 1.15 xGA on average. During their travels, they average 2.19 xGA per match and give up 14.82 shots, which is more than what they take.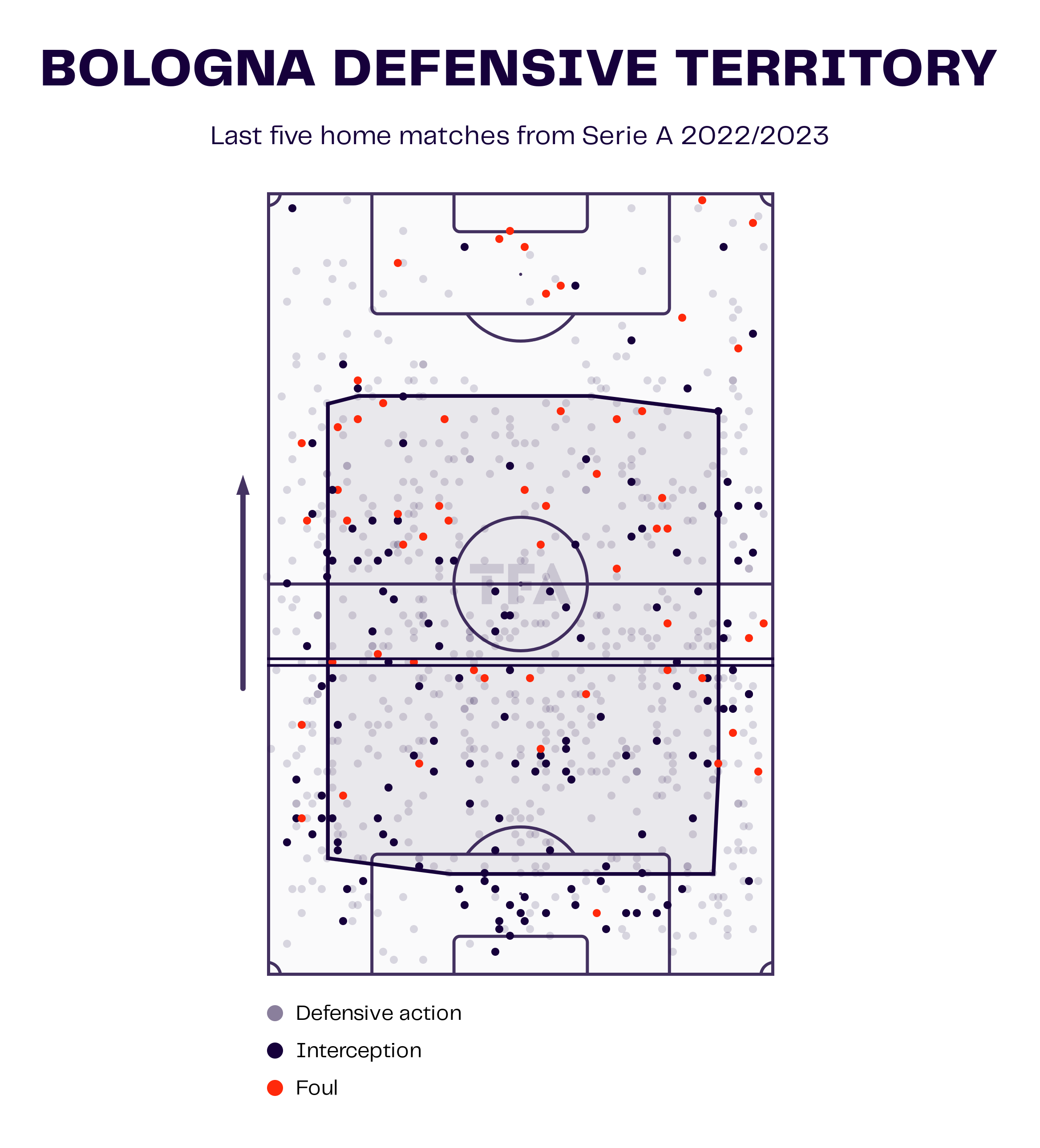 Bologna plays with a higher line in their home matches. They commit fouls higher up the pitch, and they defend well inside their penalty box. In the last five home matches, they have conceded four goals and committed one foul in the penalty box. At home, Bologna contests 72.73 defensive duels and 33.62 aerial duels and wins more of these contests compared to their opponents, unlike when they travel. The team also makes 43.54 interceptions and gives up 11.54 fouls, which are slightly lower figures compared to their opponents. This again shows that Bologna likes to play more on the front foot on home territory.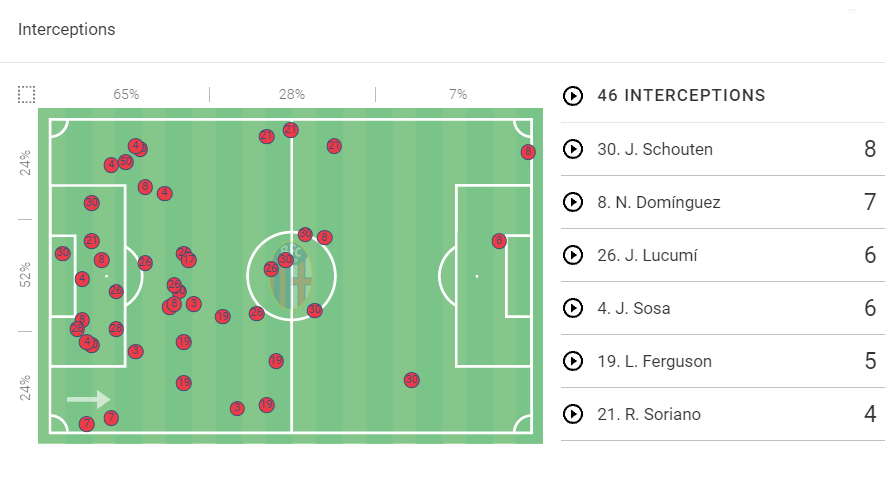 The viz above shows the interceptions made by Bologna players against Inter Milan. They made 46 interceptions in total and restricted their strong opponents to 12 attempts on goal, with only four on target. The team also made a few of these interceptions inside the penalty box, which proved crucial in keeping the clean sheet. Due to these valiant efforts, Inter Milan ended the match with a lower xG value of 0.87.
Bologna's strong run of form at home has placed them in the top half of Serie A. While securing the seventh spot will make it a successful campaign, they will have to clash with some of the Italian heavyweights to occupy a higher position. This is going to be a tough ask, and the team will have to continue their consistent run of results and perform better in the away fixtures to achieve the same.
Visuals via Wyscout and TFA data viz engine