Only seven points separate sixth-place Atalanta and ninth-place Fiorentina in the Serie A competition for the top-half finish. Vincenzo Italiano's Fiorentina are on the verge of yet another top-half finish in Serie A. They have won six, drawn five, and lost six games and have 23 points after 17 games. Fiorentina have won three games in their last five Serie A games. This start to the season has strengthened their expectations of another top-half finish. We will now look at stats demonstrating how Fiorentina have performed in the current Serie A season.
How have Fiorentina performed this season?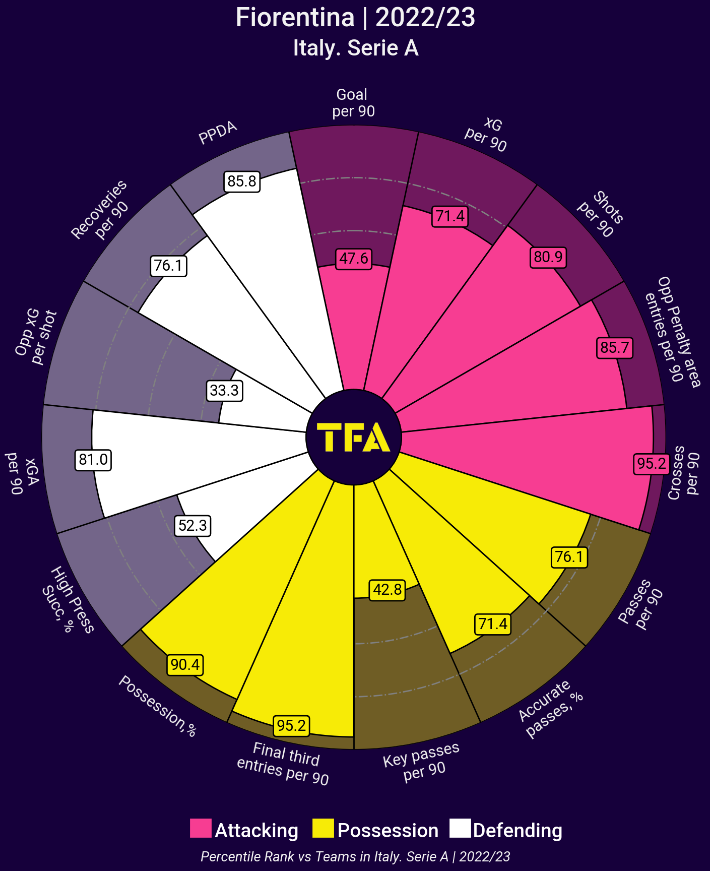 Fiorentina have won three, drawn one, and lost one in the last five Serie A games of the current season. In 17 Serie A games this season, Vincenzo Italiano's side has scored 21 goals and allowed 22. The above viz shows the team's percentile rank in attacking, defensive, and possession stats compared to other teams in the Italian Serie A. Fiorentina are ranked above average in possession numbers, particularly in final third entries per 90 and possession percentage. They have also ranked well in crosses per 90 and opponent penalty area entries per 90, indicating a solid start. Another stat in which they have excelled is shots per 90.
Sturdy Defence
The Fiorentina defenders have put their bodies on the line and blocked 44 shots. These blocks have been crucial and were made inside their 18-yard box. One of the players who has been consistent at the back is their Argentinian defender, Lucas Martinez Quarta. He has made 3.4 tackles per game, 3.1 clearances per game, and 1.9 interceptions per game this season in 14 Serie A appearances. This shows the players' assurance and commitment to the Fiorentina side.
The Fiorentina players have worked hard to recover the ball for them in the dangerous areas. Fiorentina players have managed 194 high regains this season in the final third. 73 of these 194 recoveries have been dangerous and led to a shooting within the next 20 seconds of the recovery. They have also made 267 counter-pressing recoveries in the current Serie A campaign. Fiorentina players make 11 recoveries in the opponent's half per game.
Domination in Possession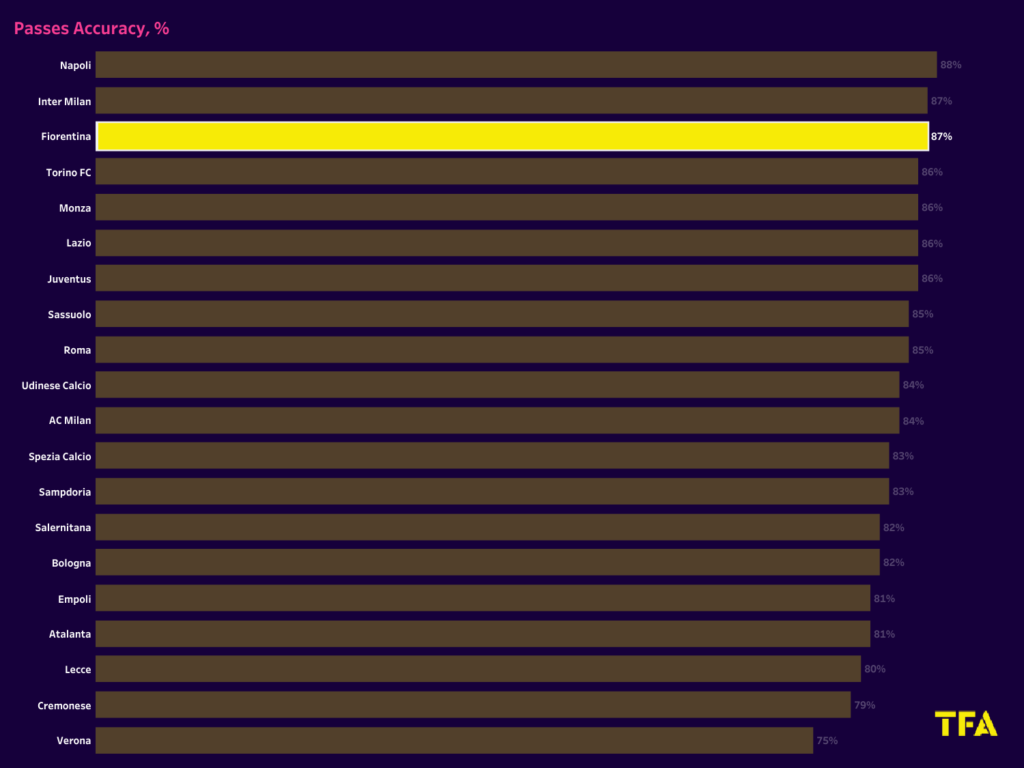 Fiorentina players attempt 544 passes per game during the Serie A 2022-23 campaign, with a passing accuracy rate of 87%. Fiorentina players make 142.76 forward passes per game and 70.24 backward passes per game. Fiorentina players attempt 59.47 passes to the final third and 79.59 progressive passes per game. Fiorentina players have created 29 big chances in the current Serie A season. Fiorentina players create 1.7 big chances per game on average. Fiorentina are ranked second in the ball possession percentage per game, averaging 57.8% ball possession.
Struggles in the Attack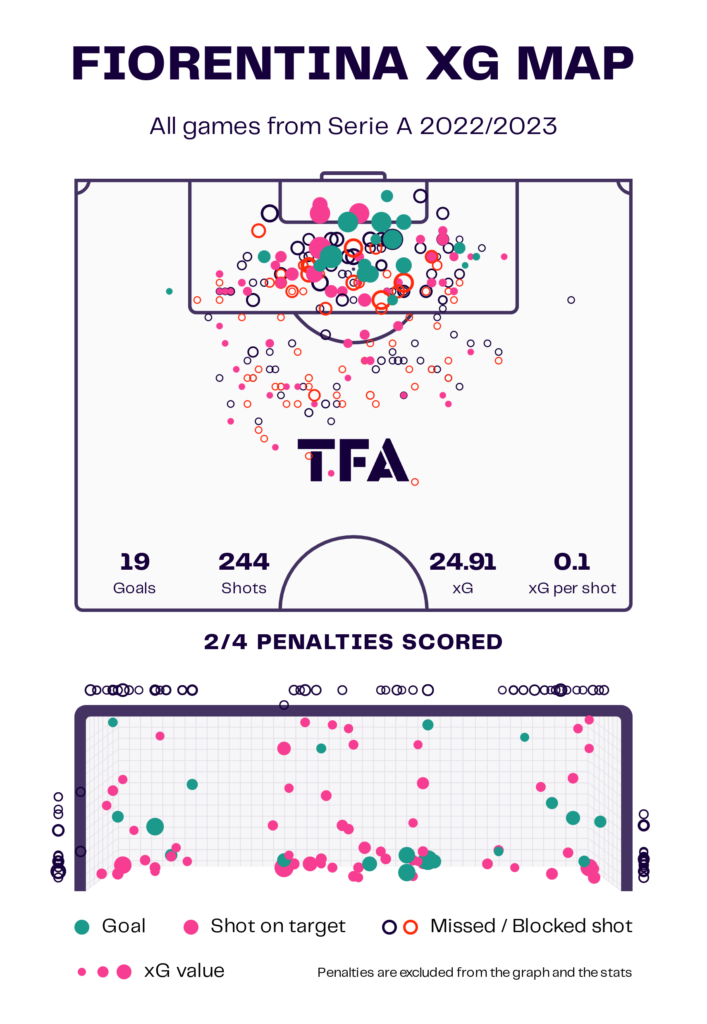 Fiorentina have scored 21 goals with an average of 1.23 goals per match, which is comparatively less than the other big Serie A clubs this season. The above viz shows the shot map of the team in the current season. We can observe from the above viz that the team has scored most of its goals from inside the box. Fiorentina players have massively underperformed their xG this season. They have already missed 21 big chances this season. Fiorentina have an xG of 1.93 per 90 and an average of 14.6 shots per 90. The xG is relatively high because Fiorentina players have taken most of the shots from the dangerous area inside the 18-yard box.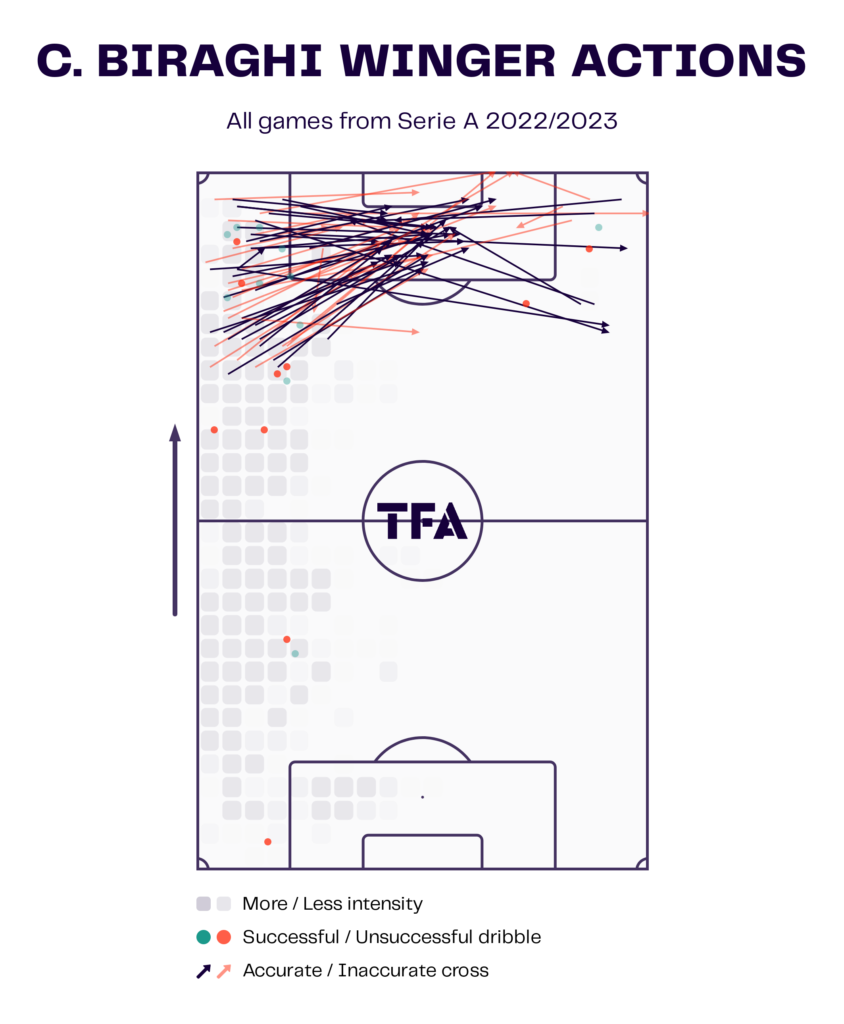 Cristiano Biraghi plays like a modern attacking full-back who crosses the ball into the 18-yard box and provides goal-scoring chances for the attackers whenever possible. Biraghi has been impressive for Fiorentina's defence as a left-back. He has provided two crucial assists for his teammates in his 16 Serie A appearances. He makes 3.44 key passes per 90 minutes, which creates key scoring chances for his Fiorentina teammates. Biraghi leads the chart for the most key passes in the current Serie A season and has created 50 key passes.
Fiorentina have been a hit-or-miss team in Serie A this season. Fiorentina's midfield and defence have been crucial to their strong start to the season; they currently lie in ninth place in Serie A, two points behind eighth-placed Udinese. Cristiano Biraghi and Lucas Martinez Quarta head Fiorentina's defence, while Giacomo Bonaventura leads the midfield and Christian Kouame directs the assault. Vincenzo Italiano will hope these players maintain their form consistently and help them reach another top-half finish in the current Serie A campaign.
Visuals via TFA data viz engine