After an absence of two years, Lecce returned to Serie A after winning the Serie B Championship in 2021-22 and securing promotion to the top flight. One of the key players in Lecce's successful campaign was Gabriel Strefrezza, who contributed significantly with his goals and assists. The Brazilian winger joined Lecce on a permanent deal in 2021 and had a dazzling first season with the club. With the Salentini now back competing in the Italian top flight, Strefezza has continued with consistency and become an integral part of their game plan. With eight goal involvements, he is currently the team's top goal contributor in Serie A. His contributions are proving indispensable as his team is 15th in the rankings, eight points from the relegation zone, as well as the tenth spot within the top half. We now look at some stats that show how the 25-year-old has impacted his team's performance in Serie A.
2022-23 season with Lecce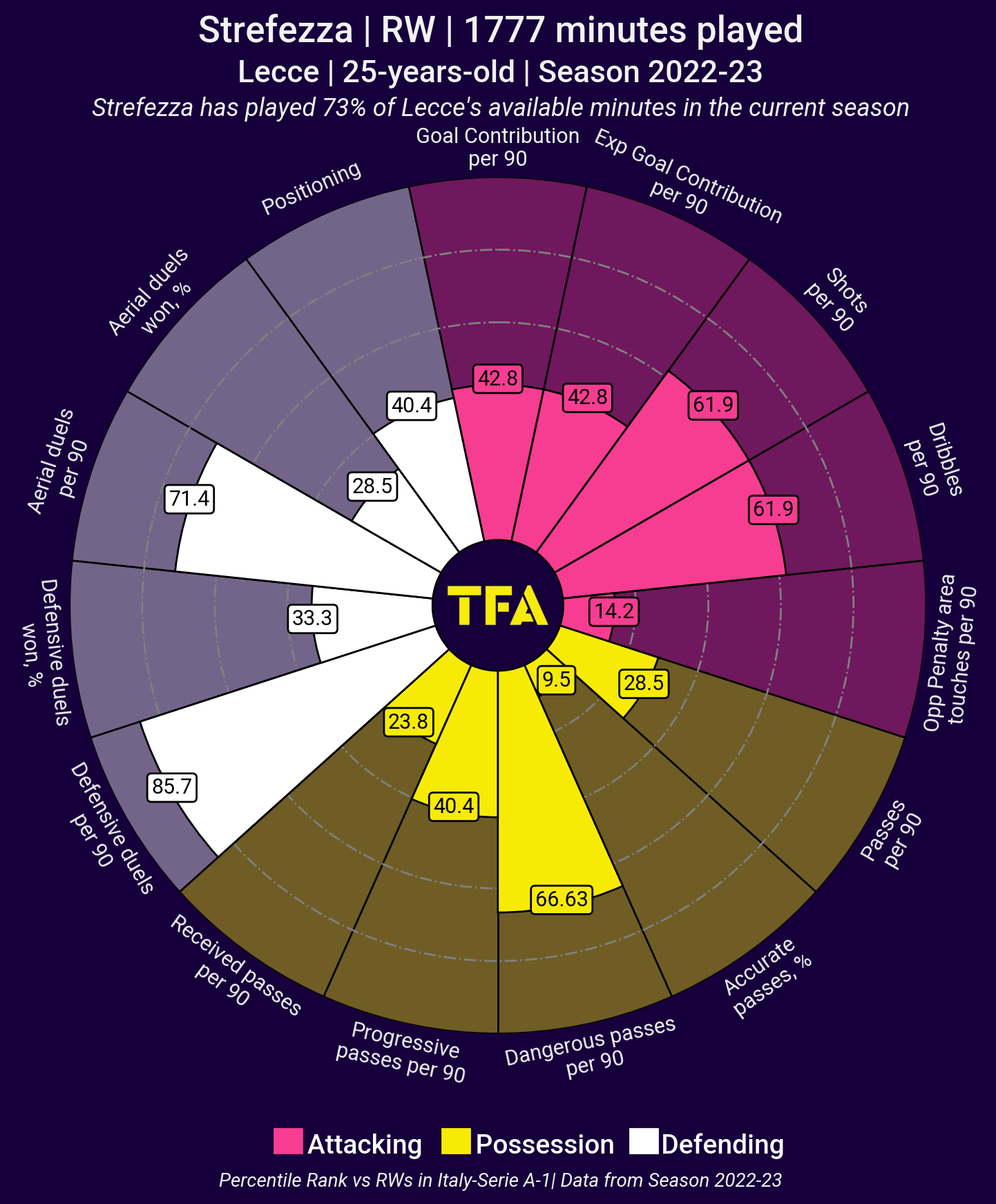 Gabriel Strefezza has appeared 24 times in Serie A for Lecce this season, starting 21 matches. The winger has scored seven goals and provided one assist. The above viz shows the percentile rank of the player's stats compared to other right-wingers. Strefezza's attacking strengths are highlighted by his high rank for shots and dribbles, and his ability to probe opposition defences is shown by his high rank for dangerous passes. He also has an impressive percentile rank for defensive and aerial duels contests per 90 minutes.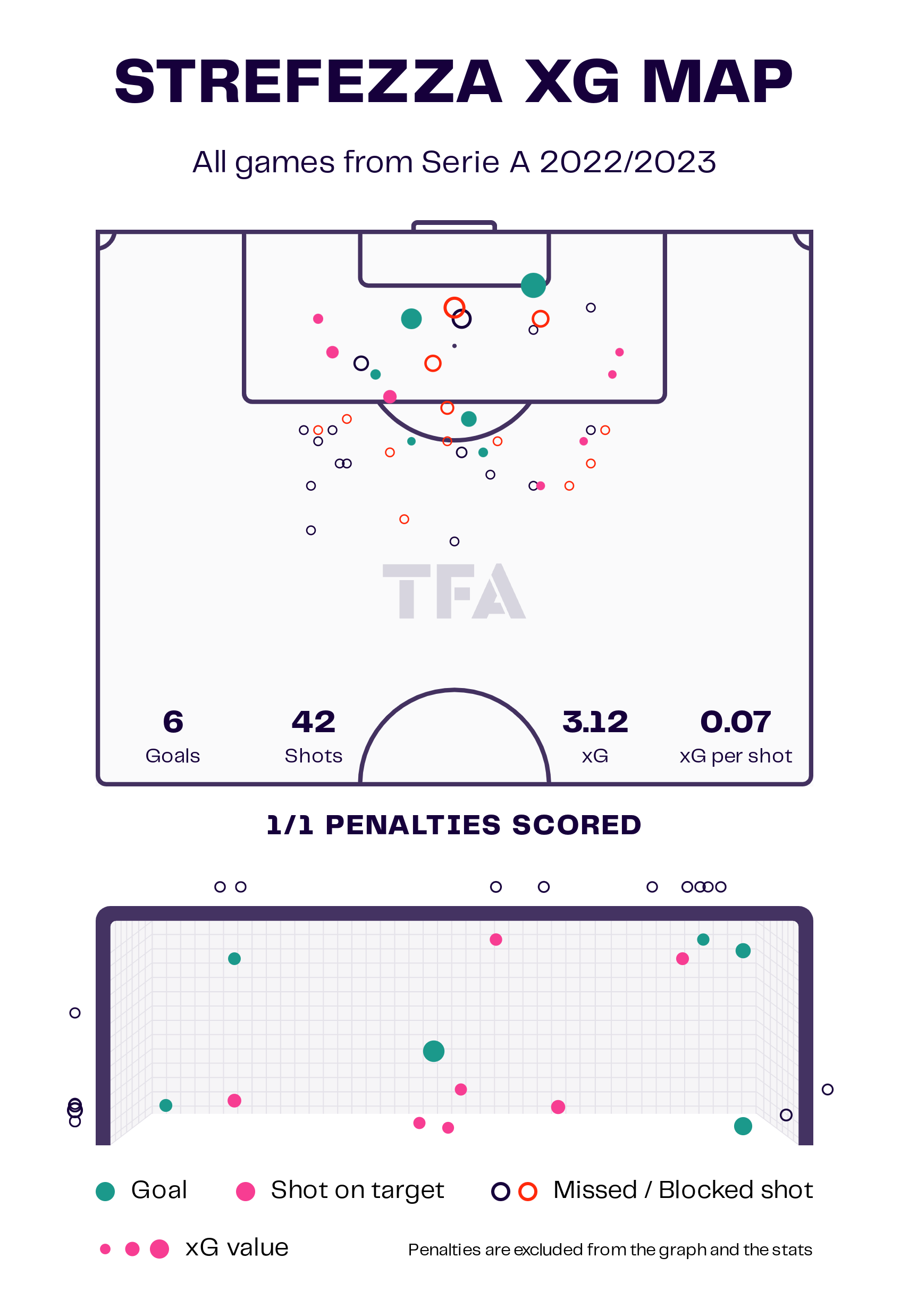 Gabriel Strefezza has found the back of the net seven times. Playing as the right winger, he has attempted 42 shots thus far and has an average of 2.18 shots per 90 minutes with a decent accuracy rate of 32.6%. The xG map of the player shows that Strefezza has found space inside the penalty box, but he has taken most of the shots from outside the box. This highlights his ability to shoot from a distance.
2021-22 season with Lecce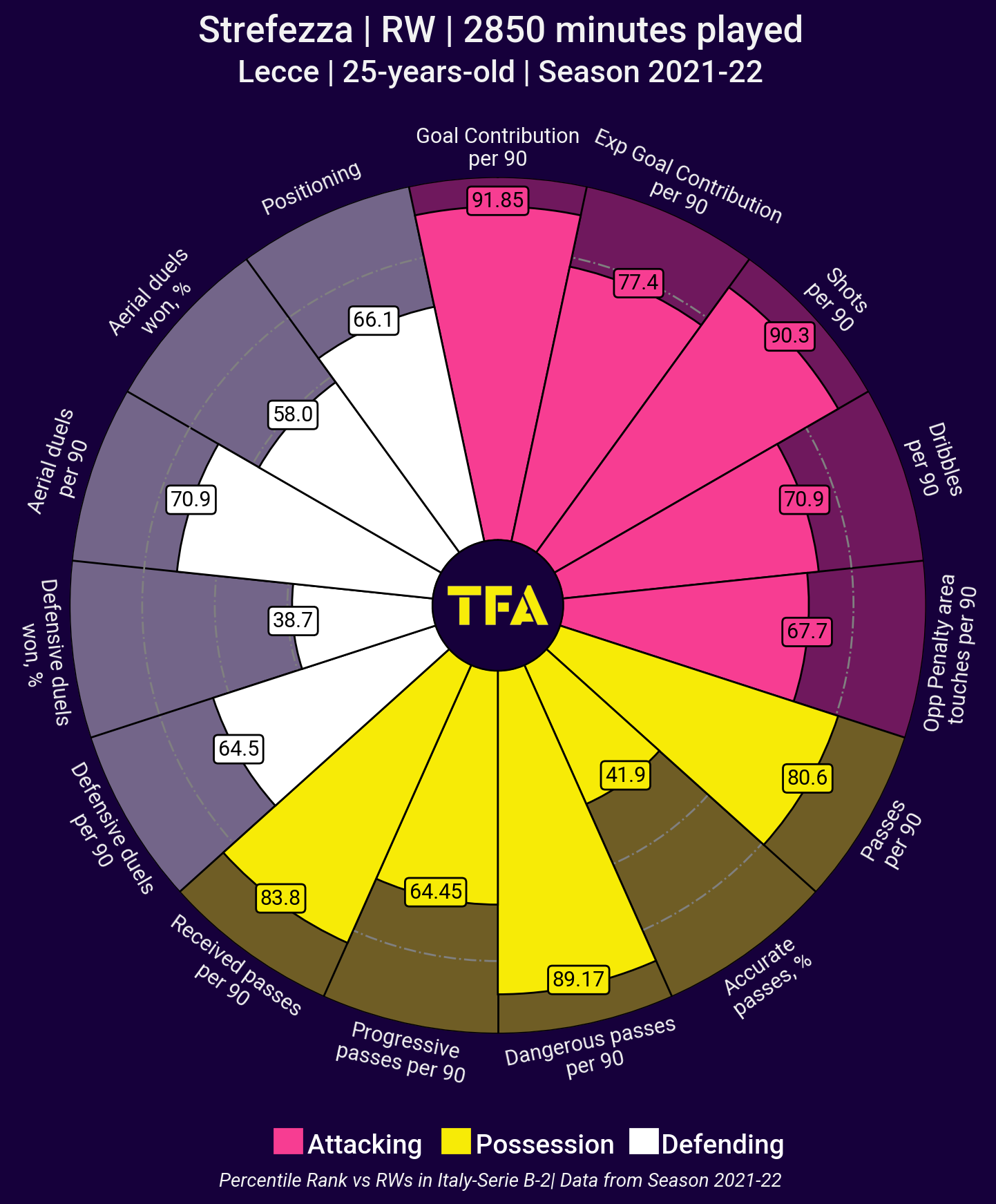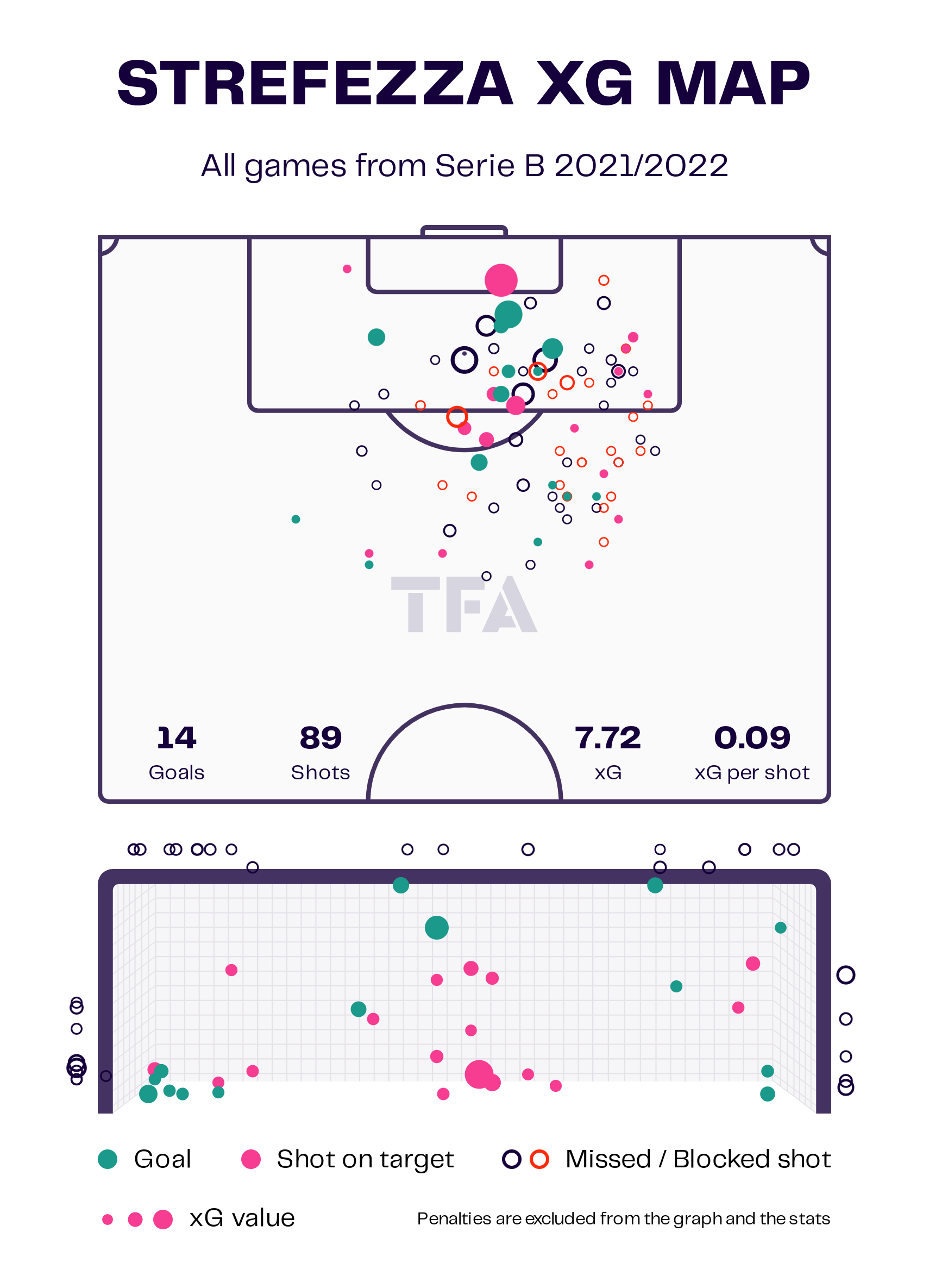 Last season, Gabriel Strefezza made 35 appearances in Serie B and started 33 matches. He took 89 shots, averaging 2.8 shots per match with an accuracy rate of 34.8%, and scored 14 goals. The pizza chart above provides an overview of his performances from last season in comparison with other right-wingers. Strefezza possessed a very high percentile rank in the attacking and possession departments amongst these wingers. He was even ranked highly for winning duels and his positioning on the field.
Creative gameplay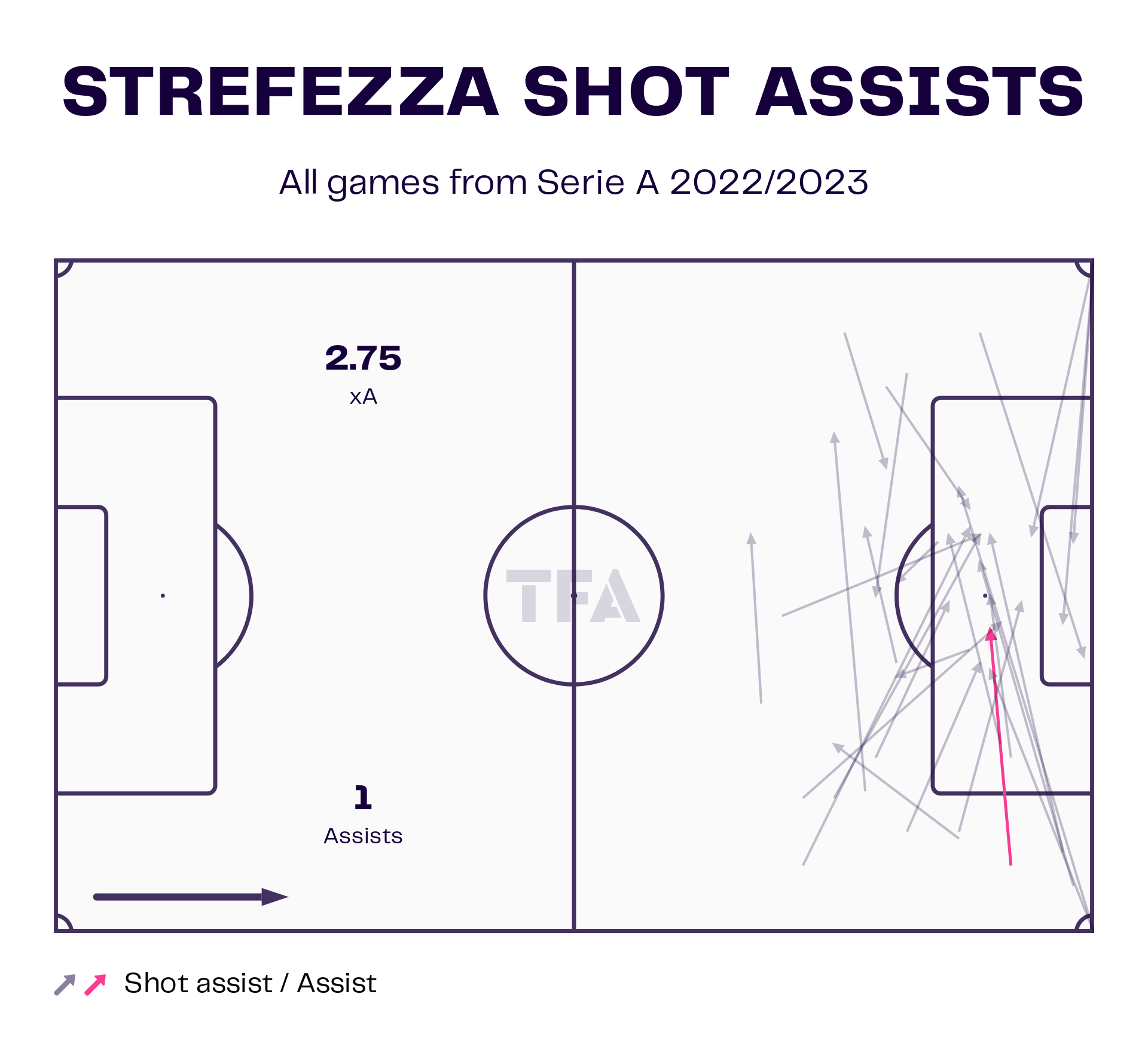 In addition to scoring goals, Strefezza creates scoring opportunities for others. Thus far, he has provided one assist despite accumulating an xA value of 2.75, whereas he had six assists last season. By looking at the above viz, we can observe that the winger likes to deliver key passes into the penalty box through cutbacks and from corners. Strefezza averages 1.37 shot assists per match currently, and these passes could have resulted in more goals for his team.
One of Gabriel Strefezza's responsibilities is to stretch the opposition's defence to create spaces for his team to attack. The first viz shows the winger's actions, and the second viz shows the penetration carries. Averaging 6.28 dribbles per 90 minutes, the Brazilian has a 52.4% success rate. We can observe that these successful dribbles have mostly been attempted on the flanks. He also delivers 3.44 crosses and 4.2 passes into the opposition's penalty box, often leading to a shot.
The second viz shows that Strefezza has a direct approach to entering the penalty box. He makes lots of diagonal runs and penetrates the box, particularly from the right side. These penetrating carries help create spaces inside the 18-yard box and eventually contribute to goal attempts.
Defensive contribution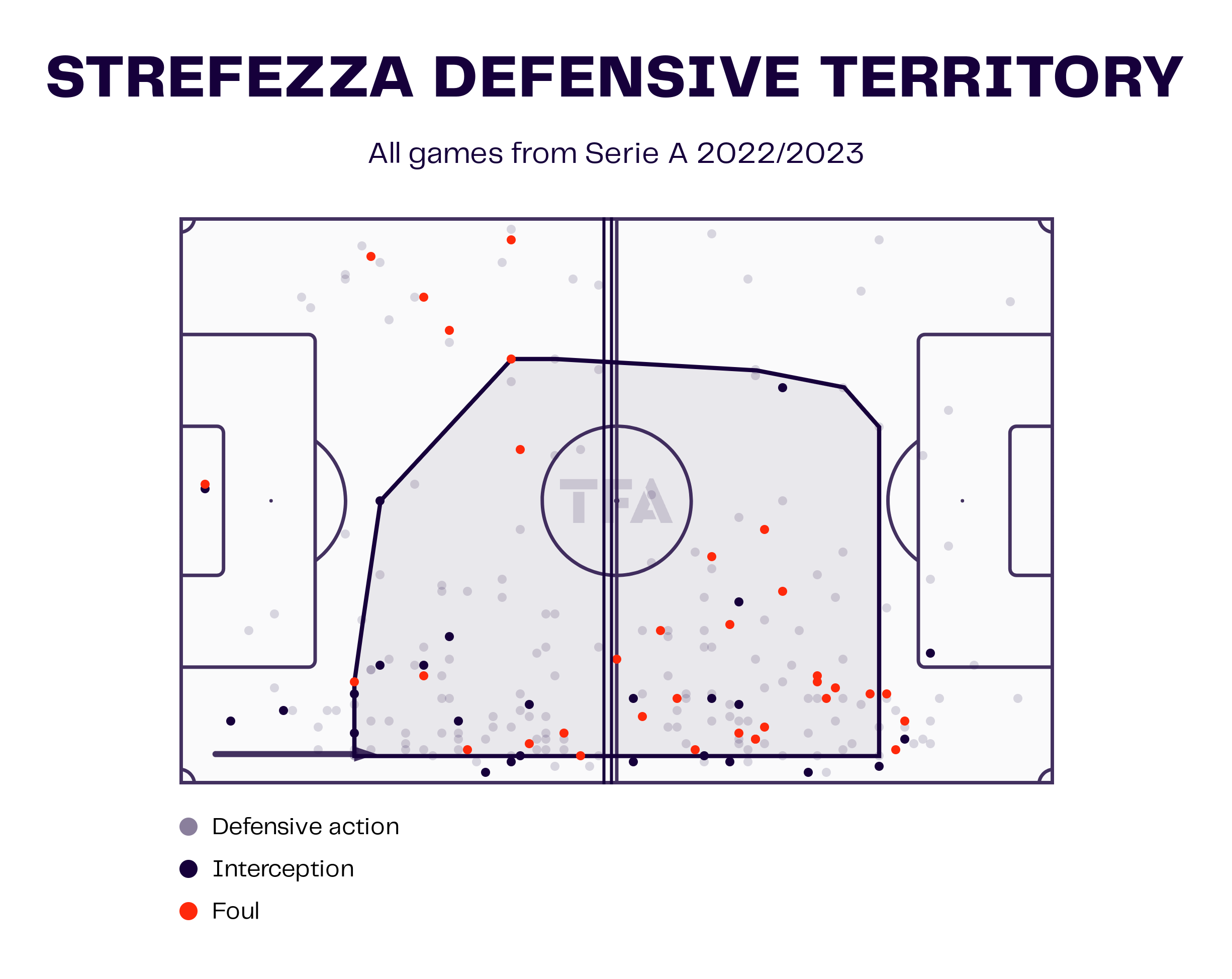 Aside from his attacking and creative attributes, Strefezza makes a good amount of defensive contributions. The viz above shows the player's defensive territory from this season, and we can see he positions himself near the half-line in the attacking half. The number of defensive actions committed throughout the right flank indicates the winger covers a lot of ground and works hard for his team.
Strefezza contests 27.4 duels per 90 minutes with a 42.5% win rate. He presses the opposition's midfield region and makes 2.68 interceptions alongside 4.46 recoveries per match. Furthermore, he contests 6.33 defensive duels and 2.18 aerial duels per match.
Gabriel Strefezza has been performing consistently for Lecce for the past two seasons. He is a talented winger with an eye for scoring and creating goals who also contribute out of possession. His team intends to extend their stay in Serie A, and the 25-year-old needs to remain on top of his game to help them achieve that.
Visuals via TFA data viz engine