Hakim Ziyech has been linked with a move away from Chelsea for quite some time. With the winter transfer window now in its last week, reports have emerged linking Serie A Roma with a potential transfer deal for the 29-year-old attacking midfielder. With Roma currently fifth in the Serie A rankings, the Italian club will be keen to bolster their squad in critical areas and deliver a strong second half of the campaign to secure a Champions League spot for next season.
The Moroccan attacker moved from Ajax to Chelsea in 2020. He experienced a couple of decent seasons with the London club, making some key goal contributions and helping the Blues win the Champions League. Ziyech also played for Morocco at the World Cup in Qatar and scored one goal and assisted another as his nation made the semi-finals in spectacular fashion. Below, we look at some stats to understand why Hakim Ziyech has drawn the interest of various clubs across Europe.
Ziyech at the World Cup
In the current season with Chelsea, Hakim Ziyech has found playing time hard to come by, accumulating just over 400 minutes over ten appearances in the Premier League. Despite his World Cup performances, the Moroccan forward has struggled to make it into Chelsea's starting lineup. Therefore, he has been the subject of a move away from Stamford Bridge, with potential suitors already aware of the calibre Ziyech possesses.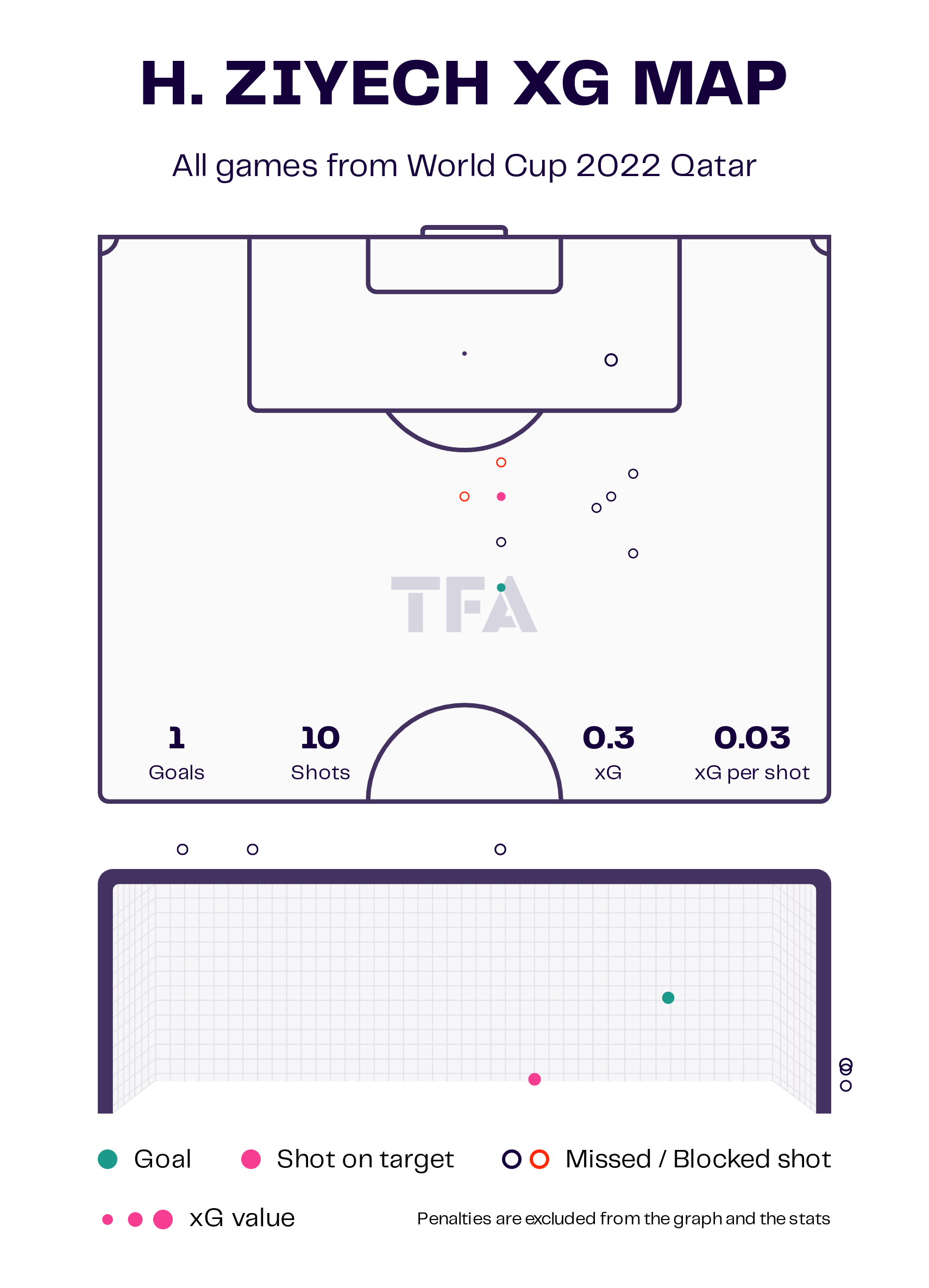 Over the years, Ziyech has been a great attacking option for Ajax, as well as Chelsea. In the 2022 World Cup, Hakim Ziyech played seven matches. He had three shots on target from a total of ten attempts and scored one goal. The 29-year-old also provided one assist and averaged a little more than one shot assists per match.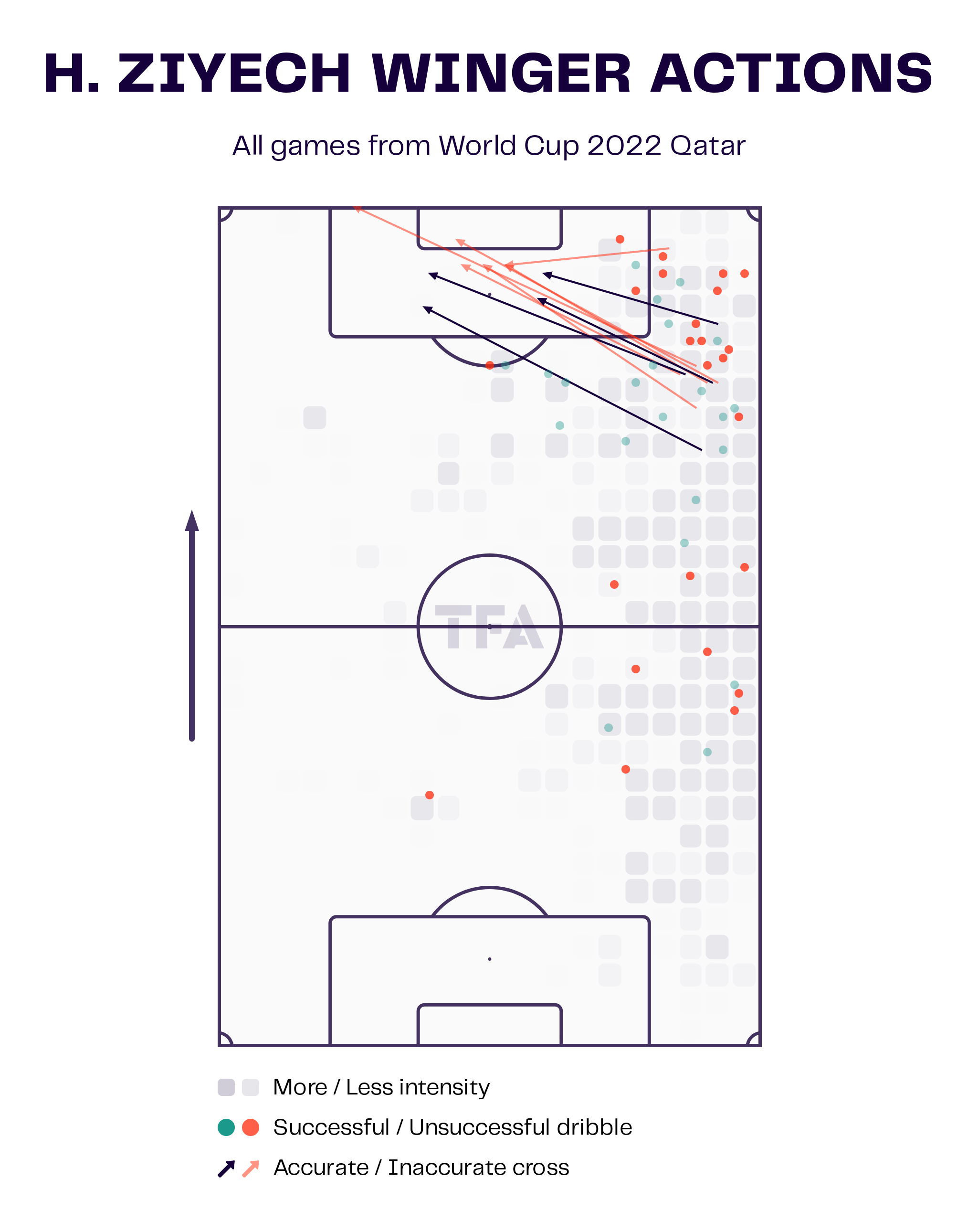 The above viz depicts Hakim's winger actions during the 2022 World Cup. Ziyech attempts dribbles in the defensive third as well as the final third. The number of successful dribbles is decent in his own half and goes on to increase in the final third. Ziyech completed 6.01 dribbles per 90 with a success rate of 49.2%. Additionally, he delivered 4.85 crosses per match with a 37% success rate and made 1.5 progressive runs on average.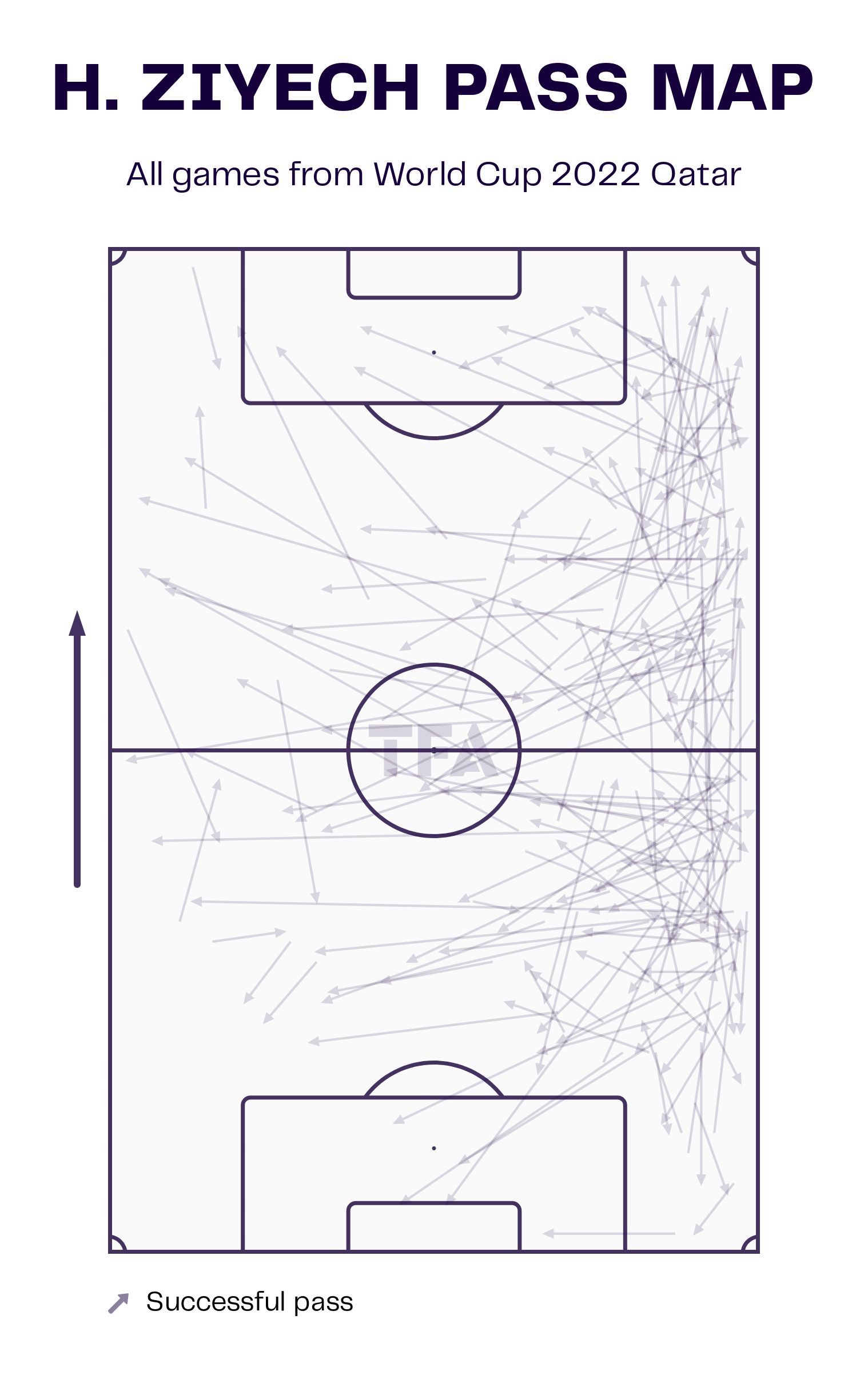 Hakim Ziyech makes most of his movement on the right flank. He is a constant attacking threat on the right wing and often moves into dangerous positions in the final third. The above viz is a representation of the passes made by the player in the World Cup. It can be observed that there are many successful passes into the box as well as cutbacks from wider areas. Hakim Ziyech averaged 34 passes per match with a completion rate of 80.1%. Furthermore, he made 5.64 passes to the final third and 2.68 passes into the penalty area.
Who could Hakim Ziyech replace at Roma?
If Roma decides to move for Hakim Ziyech, the Italian team could bring in the Moroccan as a replacement for the 23-year-old attacking midfielder Nicolo Zaniolo, who has been linked with a move away from the club. Ziyech will serve as a starting option in Roma's attacking positions while also imparting depth and experience to the overall squad.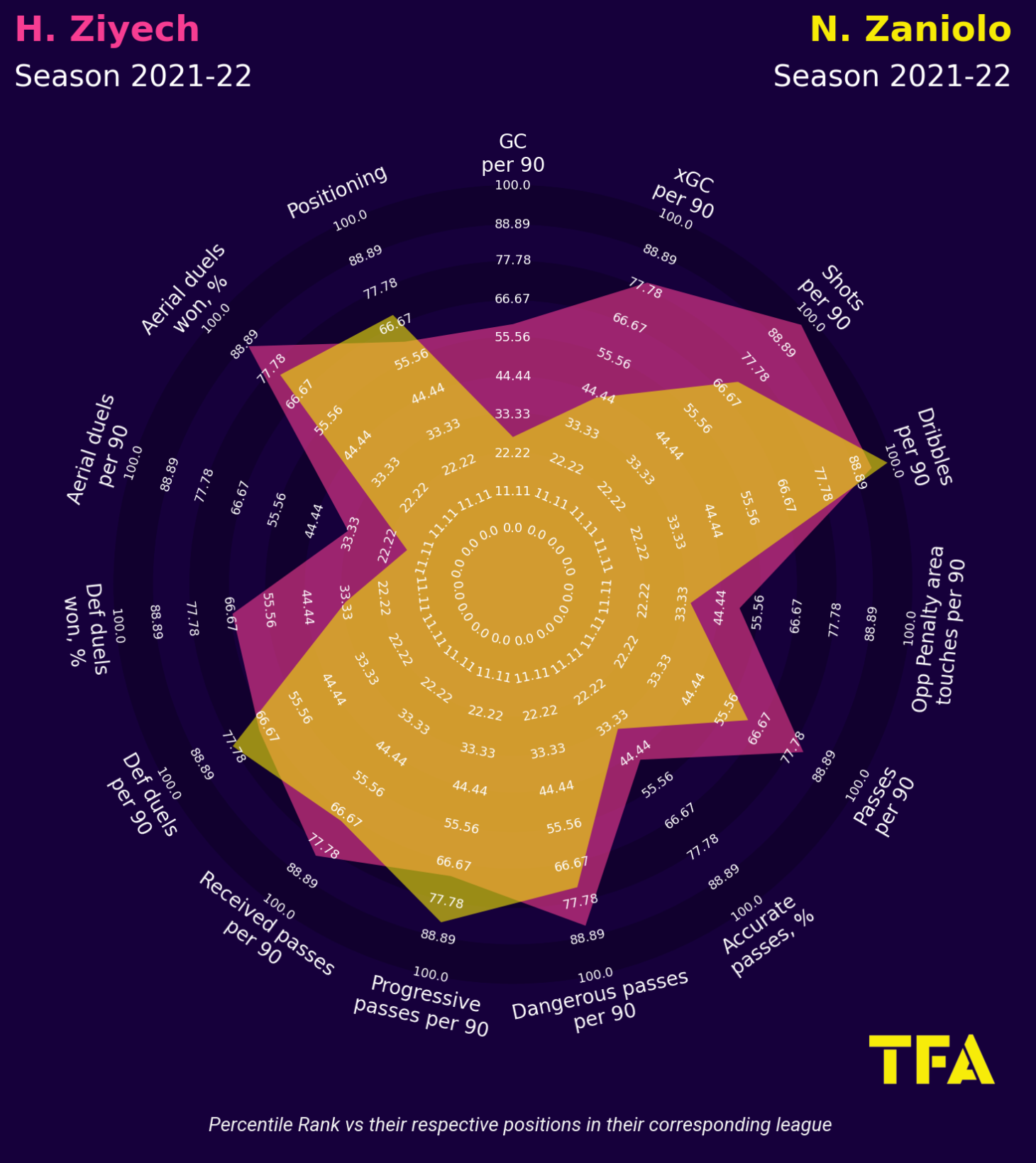 The viz above compares the performances of Hakim Ziyech and Nicolo Zaniolo in their respective leagues from last season. It can be observed that both players outperform each other in a few areas. Ziyech has better stats for expected goal contribution, shots, dangerous passes, pass attempts, aerial duels, and defensive duels win rate. While Ziyech scored four goals and provided three assists last season, Zaniolo scored and assisted two each. Ziyech's proven attacking prowess and vast experience of playing across Europe could ensure him a starting role at Roma if he decides to join the Italian side in the winter transfer window.
Hakim Ziyech could certainly move to Serie A for the next step in his football career. Roma is one of the potential destinations for the versatile player, who has demonstrated the abilities of a goal scorer as well as a provider. For now, we'll have to wait and see if the situation with Ziyech at Chelsea turns into a transfer race between other top European clubs.
Visuals via TFA data viz engine