Inter Milan spectacularly seized the Serie A crown in the 2020/21 season. It was a great achievement and considered a surprise as it was Juventus who was regularly dominating the league and was perceived as the favourites. Inter amassed an incredible 91 points that season, and only lost three matches. However, Inter have struggled to reach the same levels of consistency since then.
This season, Inter Milan are currently fourth in Serie A with 37 points from 19 matches. The team has won 12, drawn one, and lost six. They have dropped crucial points against some of the weaker opposition, which has contributed to their inconsistent performances. Simeone Inzaghi's side is 12 points behind table toppers Napoli and is in a crunch battle with other rival teams for a Champions League spot. Below is a comparison of stats from Inter Milan's current and previous seasons in the Italian top flight.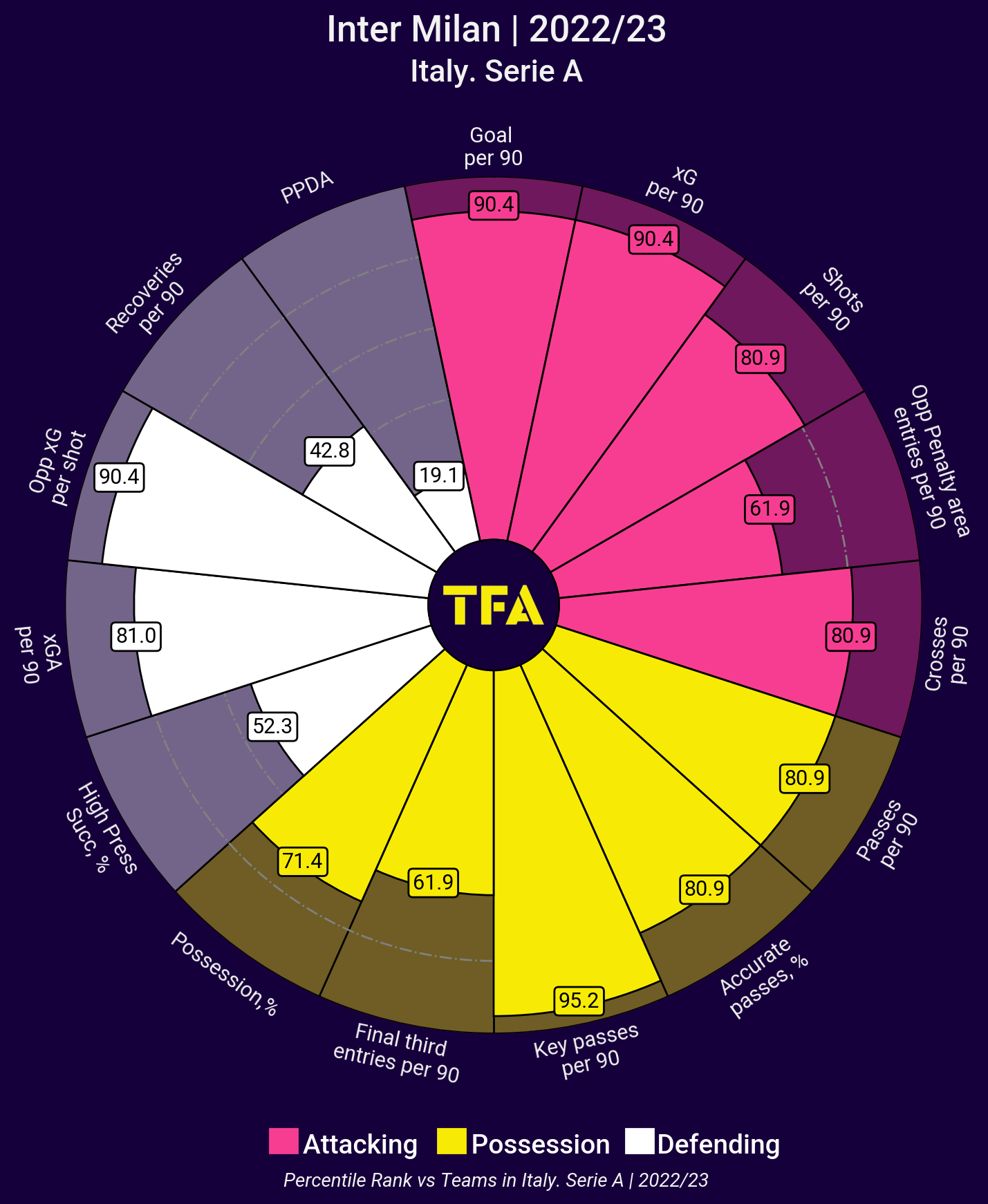 Inter Milan have won three of their last five games, drawing one and losing one. They have scored seven goals, allowed five during this span, and kept a clean sheet twice. The above viz shows the percentile rank of Inter Milan's stats compared to other teams in Serie A. We can observe that Inter are ranked at the top in attacking stats, especially for expected goals and shots per 90. Defensively, there is room for improvement in their gameplay in terms of high-pressure success rate and recoveries per 90. Meanwhile, they stand out in the possession department by ranking in the top 95.2 percentile for key passes. It is worth noting that Inter Milan's excellence in attack and defence helped them win the Serie A title during the 2020–21 campaign.
Inter's attack in the current season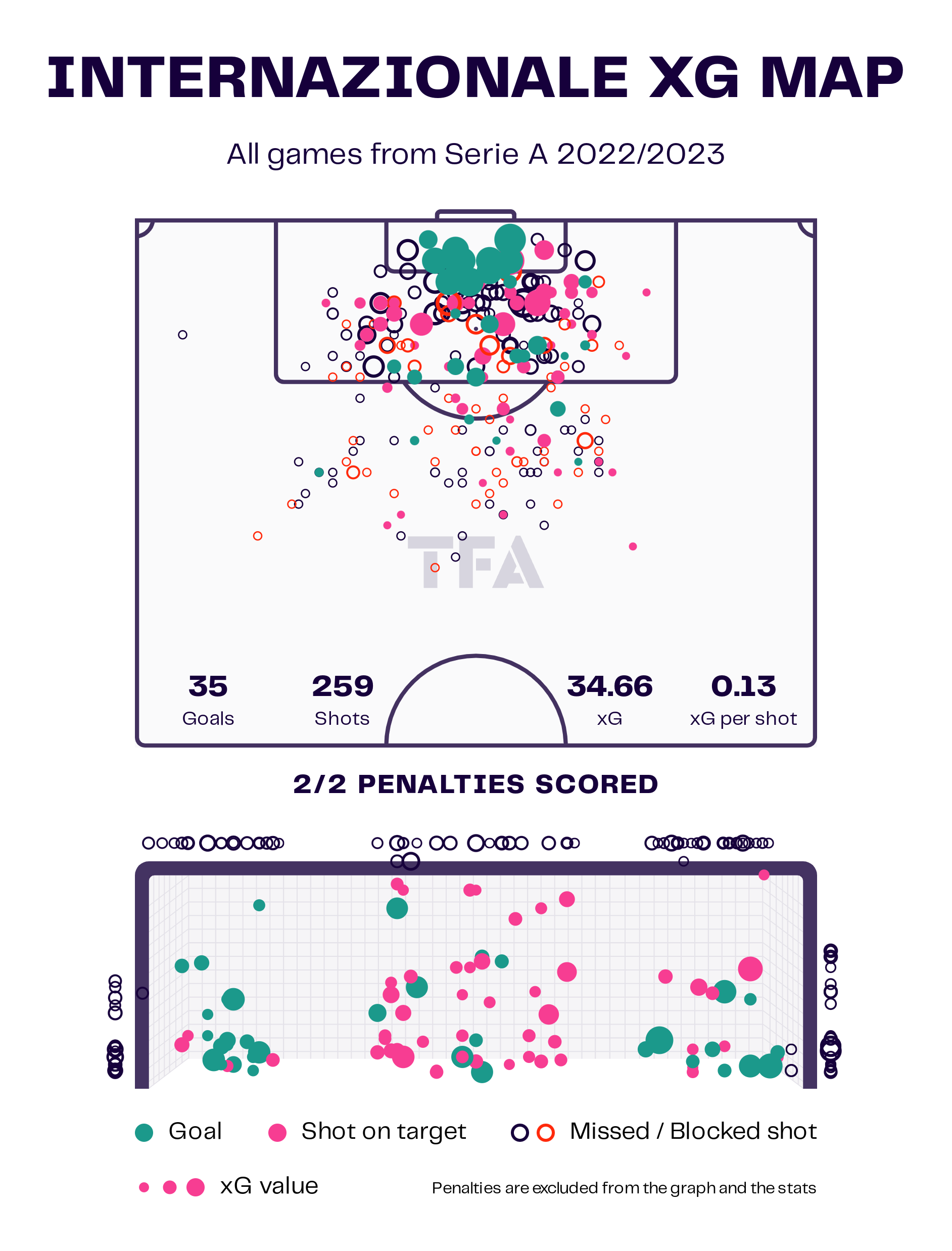 Inter Milan have scored 38 goals in Serie A 2022/23 with an xG total of 34.66 (excluding penalties). They have scored most of their goals from around the six-yard box and have also managed to keep quite a few attempts on target from outside the box. Inter have scored at the rate of two goals per game this season while averaging 1.9 xG. They take 13.75 shots per match with a shot accuracy rate of 34.1%.
Inter's attack as champions of Italy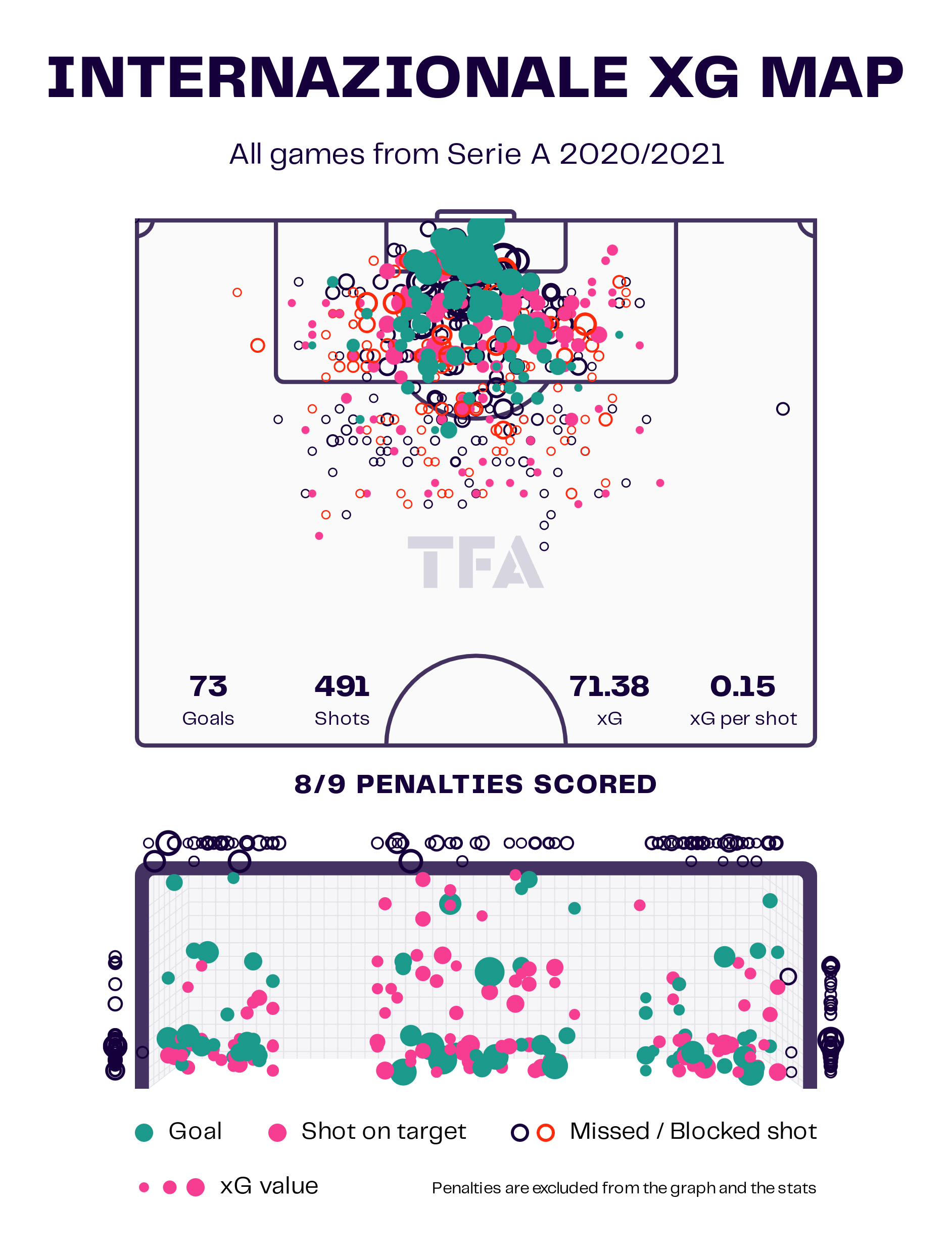 In their title-winning campaign, Inter scored a total of 89 goals, averaging 2.34 goals per match. The team finished the season averaging an xG of 2.17 per match. They had a shot accuracy of 38.3%, averaging 13.82 shots per 90 minutes for their 2020/21 Serie A campaign. The team scored most of their goals from inside the box and was the second-highest goal scorer in the league that season.
Inter's tactics in possession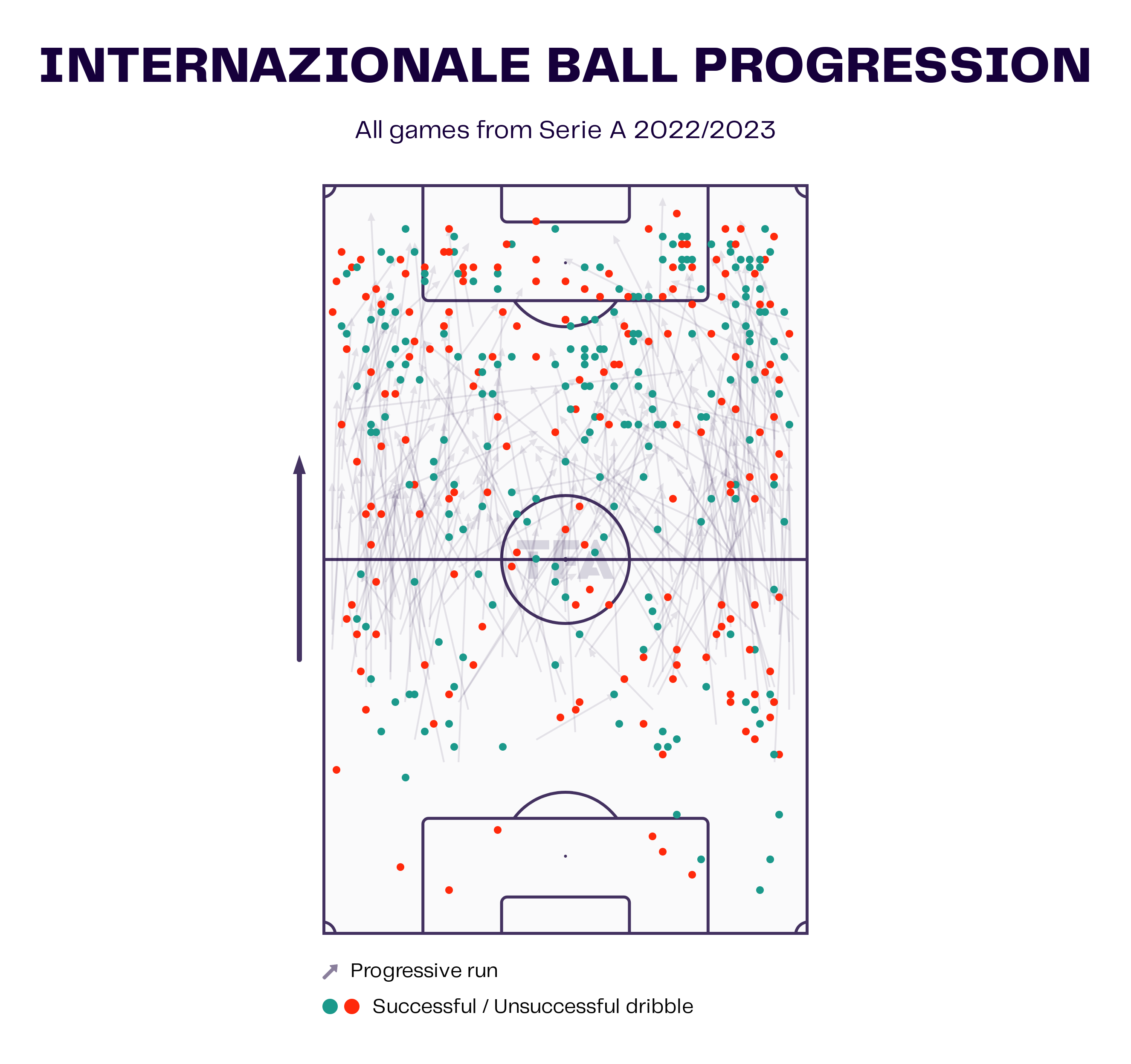 Currently, Inter tends to play out from the back in an attempt to lure the opposition press and exploit the space left behind the pressing players, allowing them to move the ball forward centrally. When Inter cannot progress the ball centrally, they tend to build up in the wide areas, as seen in the above map depicting the team's ball progression in Serie A in 2022/23. Simone Inzaghi's side currently makes 2.42 counterattacks per match, with almost 40% of them ending in shots. They also create 26.42 positional attacks per match, with 30.7% leading to shots. Additionally, they make 71.84 progressive passes on average with 75.2% accuracy.
Possession tactics as champions
The above viz shows the structure used by Inter to advance the ball up the pitch during their title-winning campaign. The wingbacks and wide forwards remained in the wide areas, often isolating the opponent's wide defenders. They then looked for spaces to move the ball into, create attacking moves, and maintain possession. That season, Inter created 30.37 positional attacks per match, with 25.5% ending in shots. The team was also making 3.61 counterattacks per match, with 38.5% of them ending in shots. Additionally, they made 77.6 progressive passes per game with 79% accuracy in the 2020–21 Serie A season.
Inter in the defence this season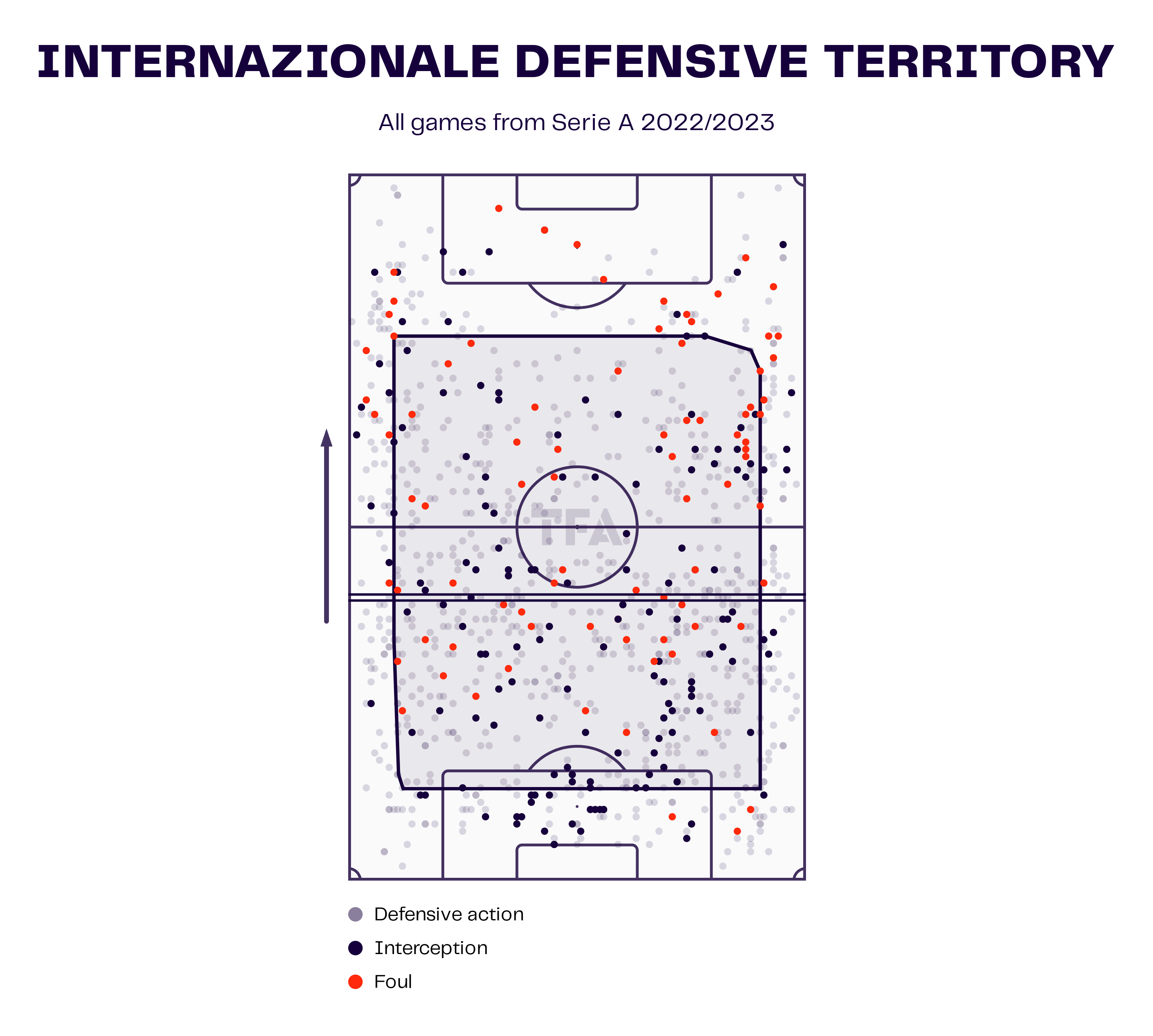 Inter Milan have already conceded 25 goals this season. The viz above depicts Inter's defensive territory in Serie A in 2022/23. It indicates that the team is involved in a lot of defensive actions in the defensive third. They average 37.74 interceptions and 77.47 recoveries per match. The team gives up 12.26 fouls on average and wins 60.5% of their defensive duels. Currently, the team concedes 1.32 goals on average, which is one of the reasons behind Inter's decline in defence.
The best defence in 2020/21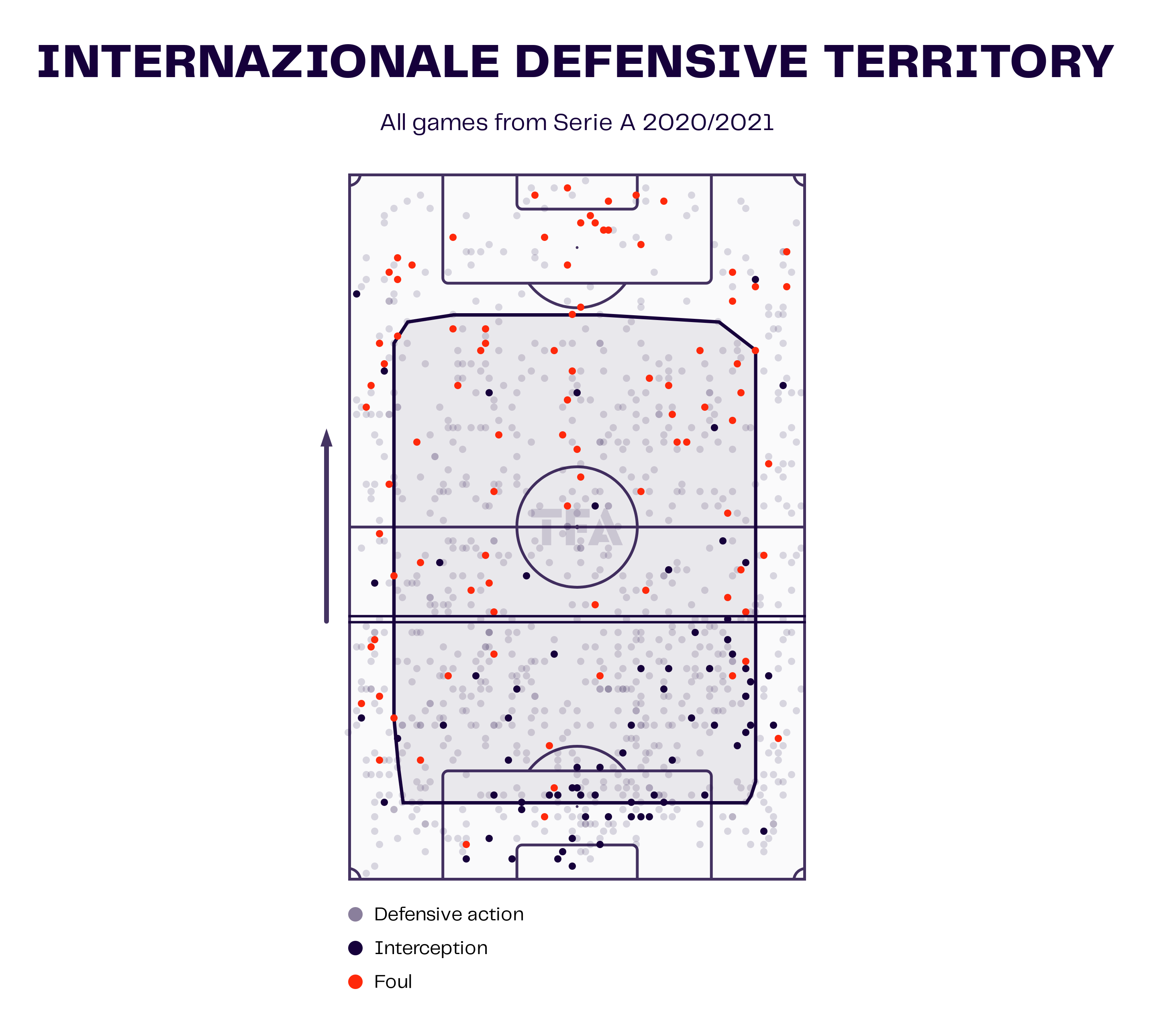 Compared to the 2020/21 season, Inter Milan had the best defensive record and conceded only 35 goals throughout the campaign, which was the lowest. The viz above depicts the stats for Inter's defensive territory in that season. They averaged 38 interceptions and 66 recoveries per match. They gave away 12.29 fouls on average and won 56.6% of their defensive duels. Inter finished their remarkable campaign by conceding a mere 0.92 goals on average and lifted the coveted trophy.
On a conclusive note, the Inter Milan team that was crowned champions was special. It was full of exciting players who played under a great manager, and each member contributed significantly to Inter's Serie A title in 2020/21. Meanwhile, the current season is far from over, and Inter have another half of the season to improve their league position. They will be keen to give a string of strong performances going into the second half of Serie A 2022/23 and bridge the gap between them and the league leaders while also ensuring Champions League qualification.
Visuals via TFA data viz engine