After two excellent seasons in Serie A, Inter Milan have struggled to show consistency in the 2022-23 campaign. The Nerazzurri claimed the Scudetto in a rampant manner two seasons ago and ended the previous campaign in the second spot, just two points short of eventual champions AC Milan. This season in Serie A, Inter Milan have slipped to third after a poor run of results in recent weeks. They are two points behind Lazio and 21 points behind league leaders Napoli. One of the reasons behind their struggles is the away form.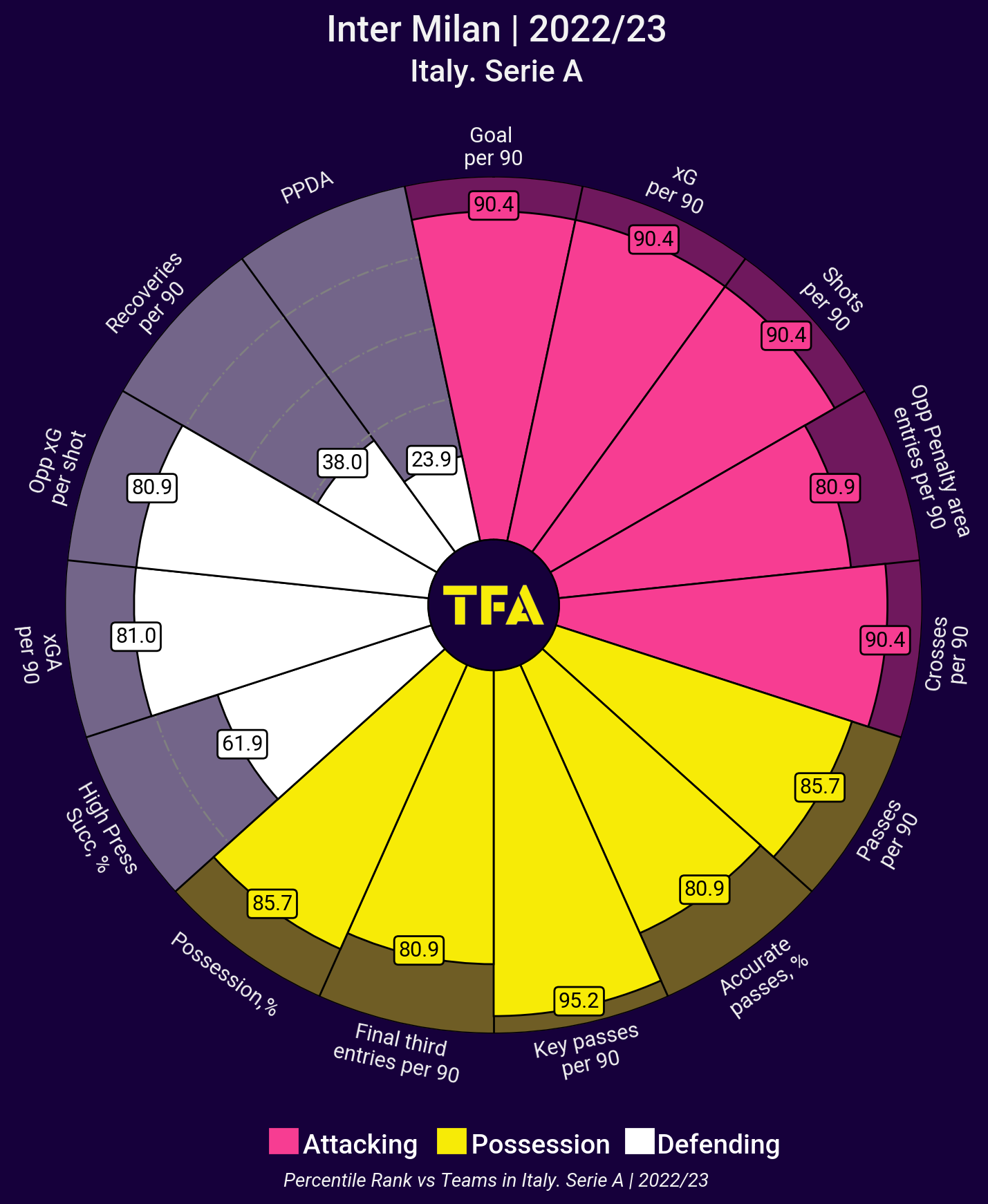 Inter Milan have won 16, drawn two, and lost nine matches in Serie A in 2022-2023. In the last two seasons combined, they had lost only seven times. They have collected 17 points from 13 matches while on the road. These include five wins, two draws, and six losses. Currently, the team is on a three-match winless streak away from home, winning only once in the last five. They suffered two consecutive away defeats to Spezia and Bologna recently. The above pizza chart shows the percentile rank of Inter Milan in comparison to other teams in Serie A. They have a high rank in the attacking and possession departments but a low rank in some of the defending parameters. Now, as the Nerazzurri fight against an outbreak of inconsistency, we look into some of the stats that show the areas of struggle.
Failure to find the back of the net
One of the reasons behind Inter Milan's poor away record is their inability to score goals when required. They have scored 47 goals with an average xG rate of 1.94. A total of 20 goals have been scored in the away matches, at an average of 1.54 goals per match, despite a relatively high xG rate of 2.17. The Nerazzurri create 30 positional attacks per match at home and attempt 14.14 shots (31.3% accuracy rate). During their travels, they create 29.69 positional attacks and attempt 16.54 shots (a 32.5% accuracy rate). This shows that despite taking more shots and attacking with similar intensity in the away matches, Inter Milan's performances in recent weeks have been below par.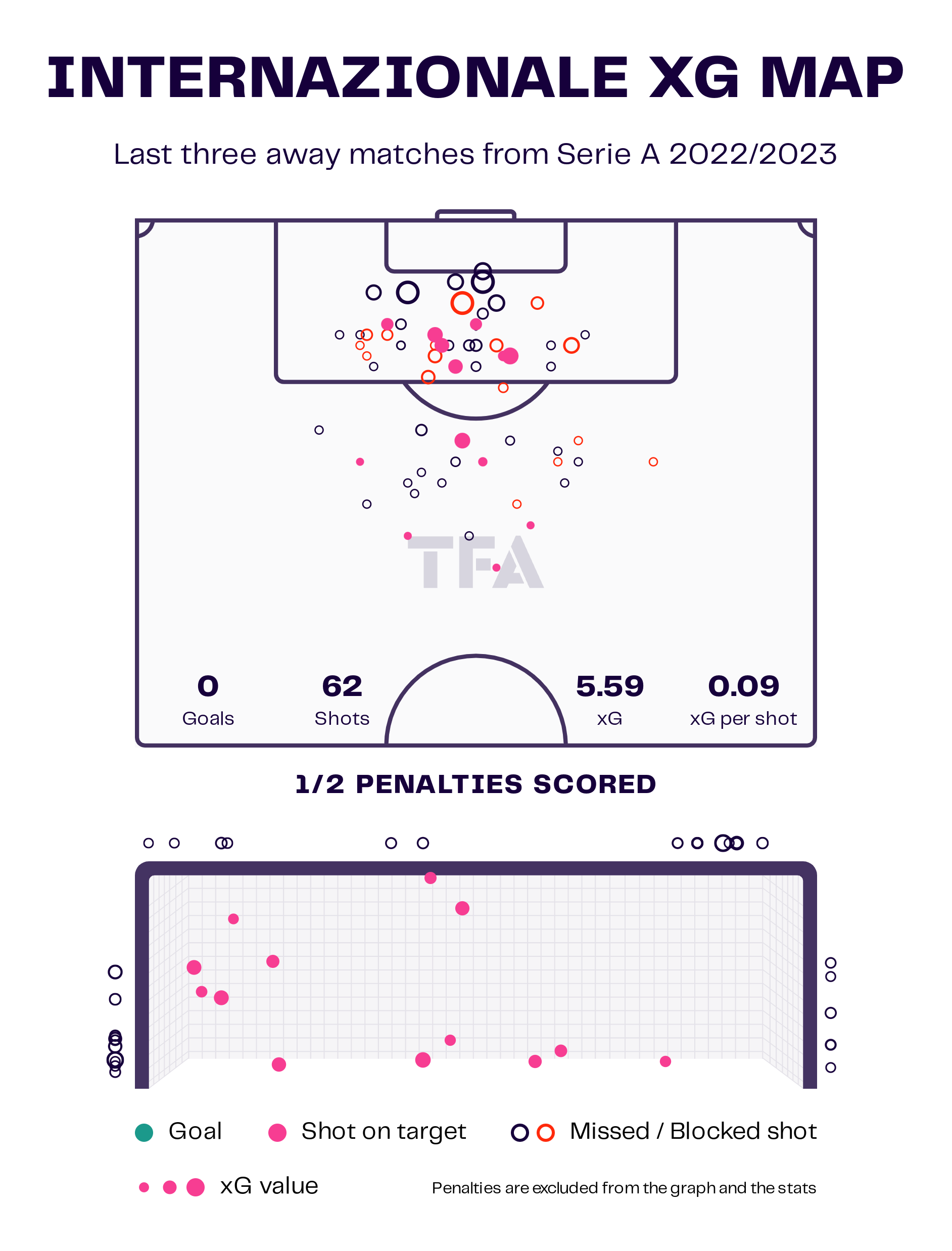 In the last three away matches, Inter Milan have only scored once despite accumulating a non-penalty xG of 5.59. They averaged more than 20 shots in these matches, and the accuracy has gone down to 23.44%. The above xG map shows that the Nerazzurri have struggled to penetrate the six-yard box and have missed the target with most of the attempts. For a turnaround in their fortunes, the team will have to show ruthlessness in front of the goal in the upcoming matches.
Attacking regions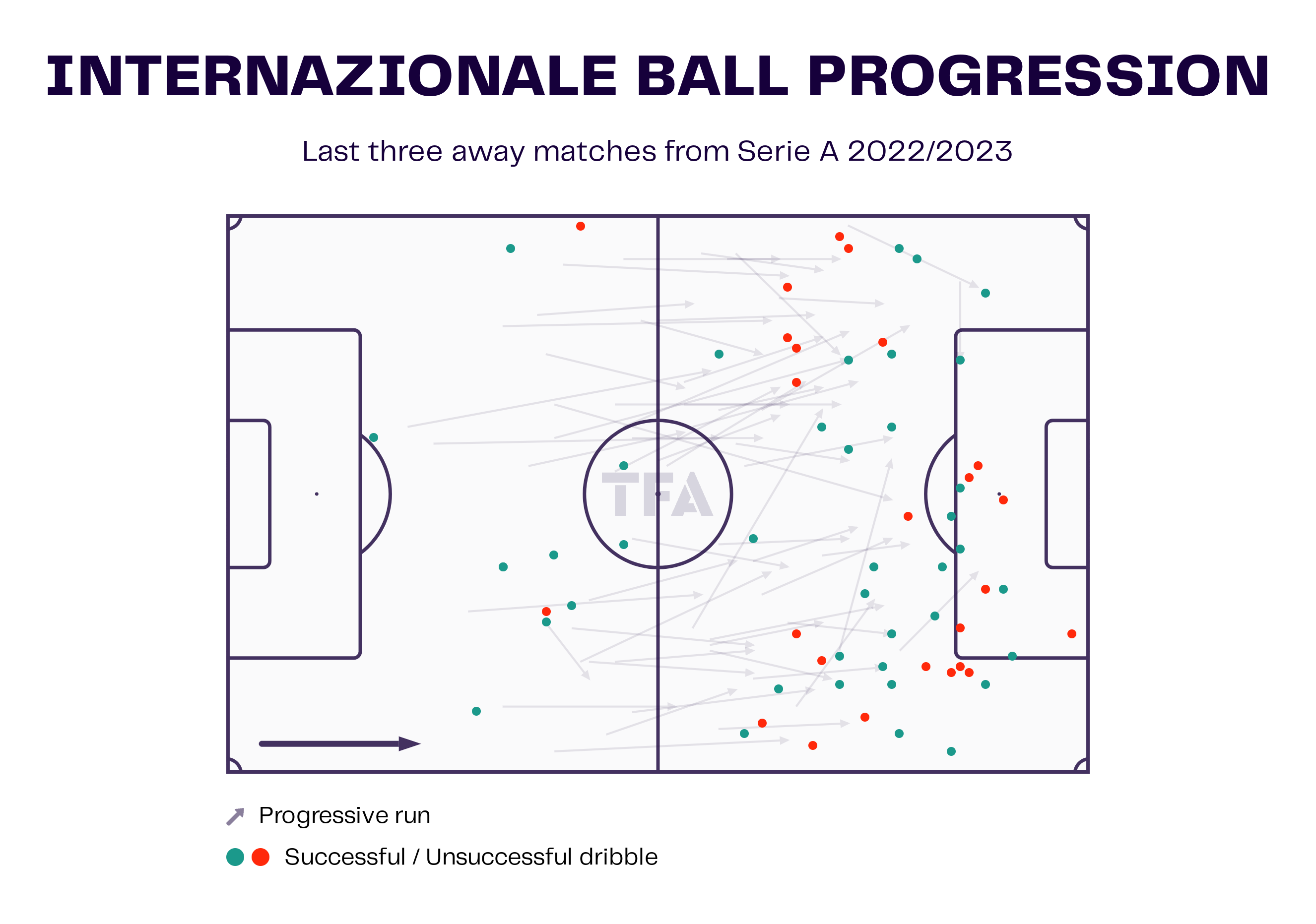 When it comes to playing the ball, Inter Milan are effective and efficient. The team averages a similar share of possession at home and away. In the away fixtures, they average 501.38 passes (85.8% accuracy), and this number is very close to what they average at home. The above viz shows that the ball has progressed from the wide areas as well as through the centre. This shows that Inter Milan uses the spaces well to penetrate the penalty box with some variation. They tried the same tactics in the last three matches but struggled to find the back of the net.
Most recent away performance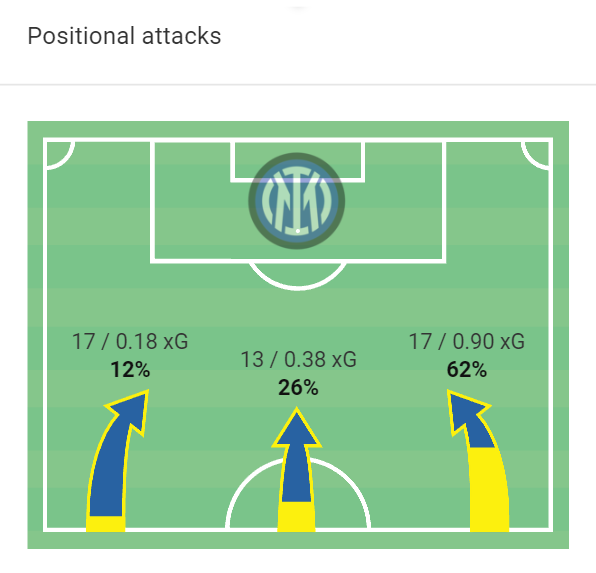 The viz above shows the attacking regions of Inter Milan from their most recent visit to Spezia, which ended in a 1-2 defeat. They created 47 positional attacks in total and took 15 shots from them. They took 27 shots in total, with only six on target. Despite ending the match with 3.84 xG, their only goal came through a penalty converted by Romelu Lukaku. Failure to convert chances has been a common theme for Inter Milan in away games despite being the better team often. This has cost them crucial points and led to their downfall this season.
Shortcomings in defence
The Nerazzurri defence has been shaky, with only one clean sheet in 13 away matches. They have conceded 31 goals thus far, and 24 of them have come in away fixtures. The team concedes 11.54 shots during their travels, which is significantly more than what they do at home. Despite having an xGA of 1.37 in away fixtures, they actually concede 1.85 goals per 90 minutes. At home, they concede only 0.5 goals on average and have a much better xGA rate.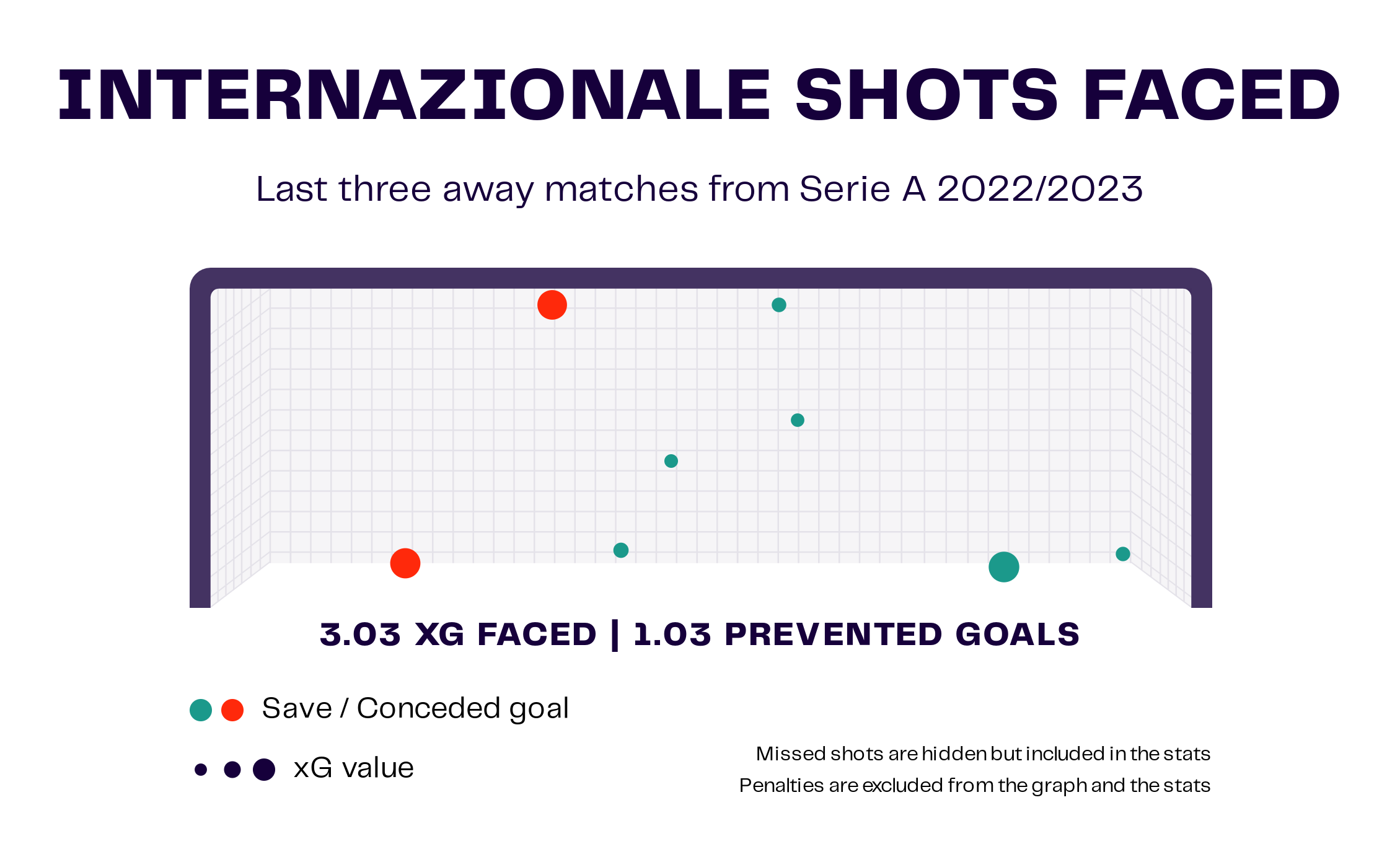 The viz above shows the accurate shots faced by the team in the last three away outings. They conceded three times during this span, including one from the penalty spot. Inter Milan limited their opponents to eight shots on target with 3.03 xG. However, the goals they have allowed show a lack of resilience and a strong mentality in the defence under demanding circumstances.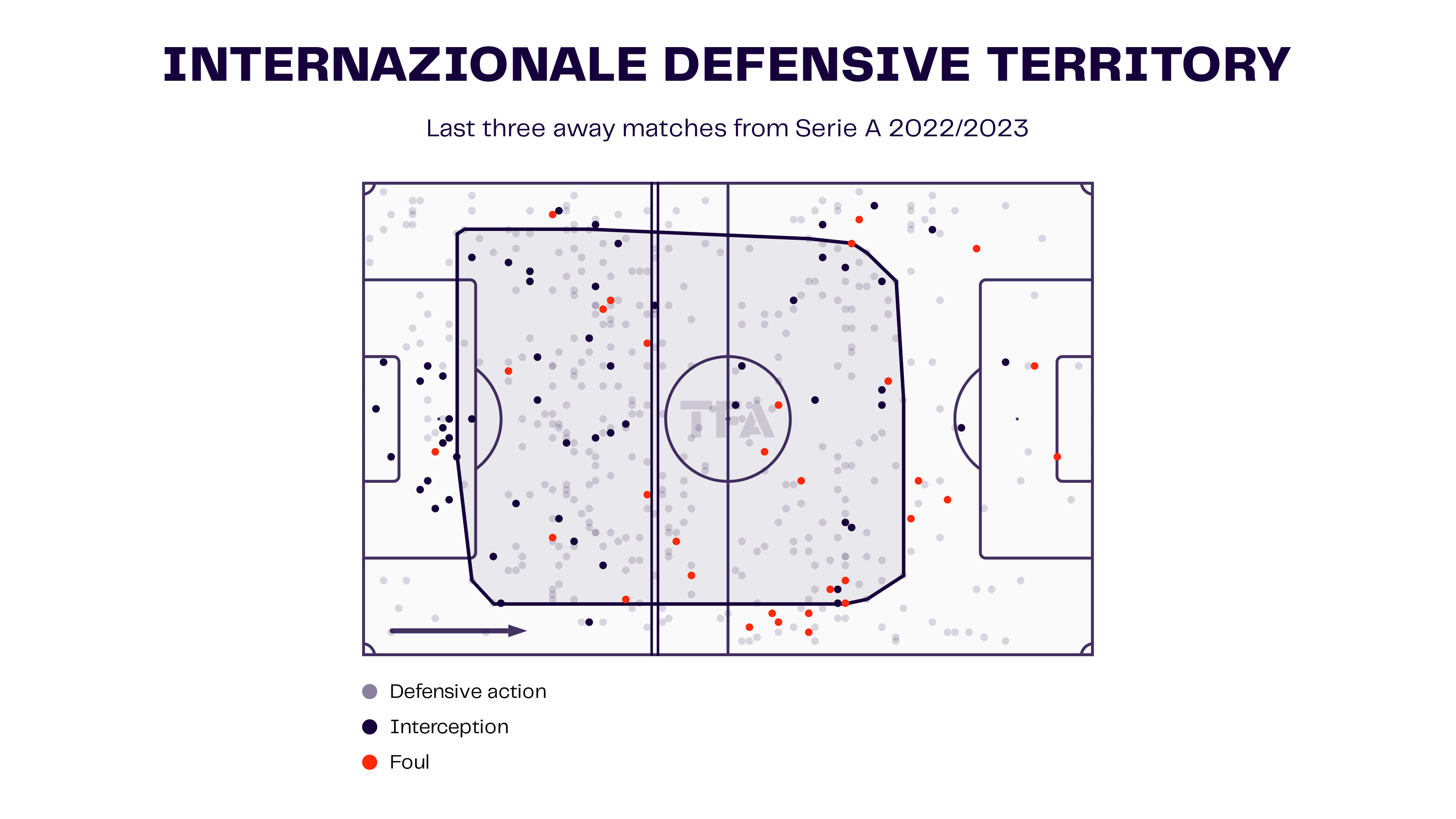 Inter Milan plays with a deeper backline in away matches and defends against more attacking actions than at home. They average 60.62 defensive duels and 33.92 aerial duels per match in the away games and have a lower win rate for these contests compared to at home. The team makes 36.38 interceptions and gives up 13.54 fouls, and once again, they have a better record in these two areas at home. This shows that Inter Milan is more defensively organised at the San Siro and explains their uneasiness when they are away.
Inter Milan's inconsistent away record has damaged their title credentials this season. They have become more vulnerable to inferior opposition, and this has put them in the contest for otherwise guaranteed Champions League qualification. Going forward, the manager will be expecting his team to be more clinical in attack and rigid in defence to come back from the slump.
Visuals via Wyscout and TFA data viz engine