As Serie A 2022/23 action enters matchday 20, Inter Milan will be hosting AC Milan for the second Milan derby of the season. AC Milan turned out victorious three goals to two in a thrilling previous encounter between the two perpetual rivals. Going into the upcoming derby, the hosts are amid a poor run of form having lost two consecutive games by a significant margin. Inter, on the other hand, are the team in better form having won three, drawn one, and lost one of their last five matches. Below we look at some stats of both teams from the current season of Serie A.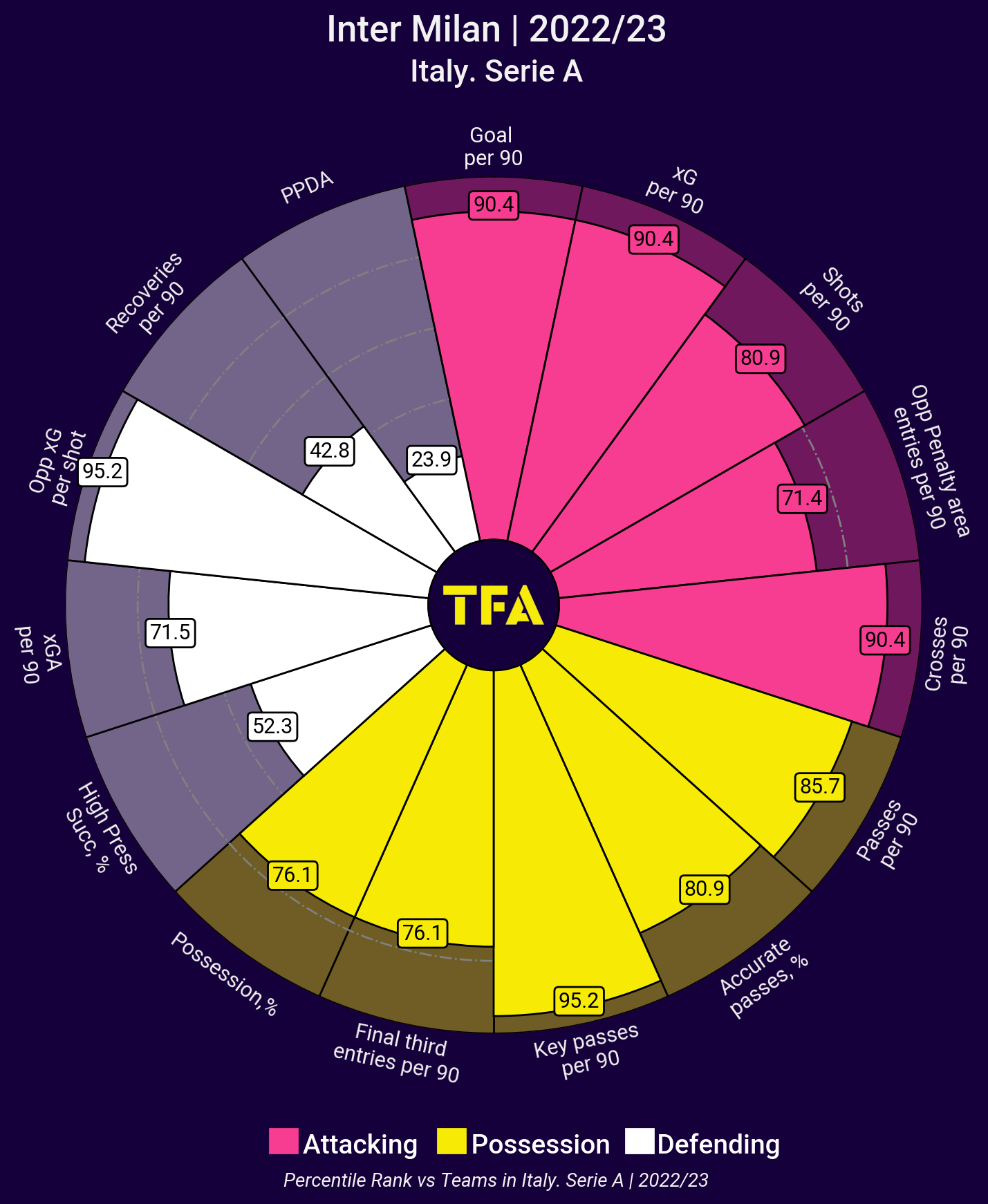 Inter Milan sits second in Serie A, with 13 wins, one draw, and six losses. They have scored 40 goals past the opposition this term and average 1.97 xG per match. The defence has conceded 26 goals in return with an average xGA of 1.19. The above viz shows the percentile rank of the team in comparison to other teams in Serie A. It can be observed that the hosts are ranked highly in the possession department as well as in the attacking department. Simone Inzaghi's side have a strong home form. Inter Milan have won eight and lost two out of the ten played.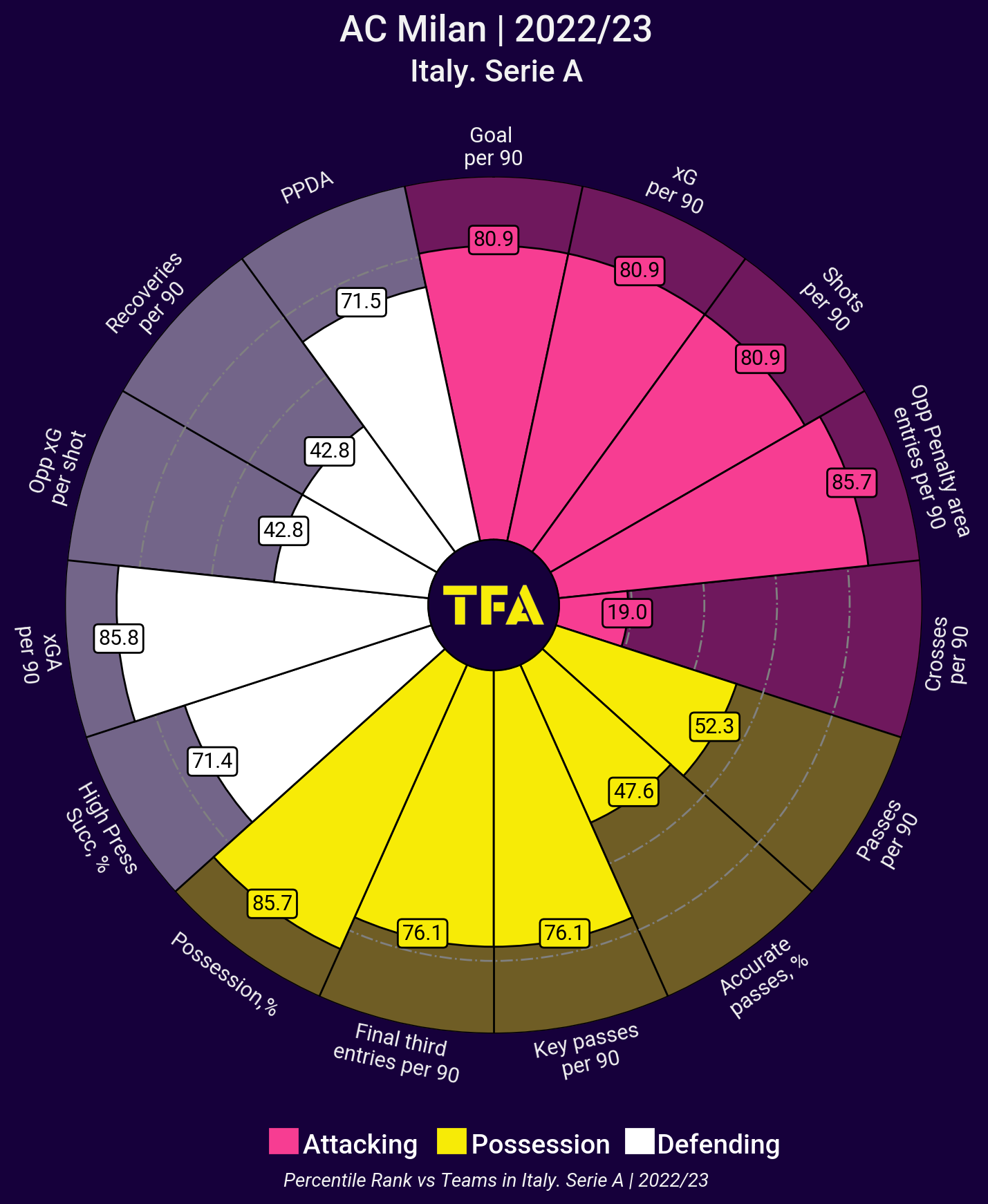 AC Milan, on the other hand, are experiencing a recent slump that now sees them placed fifth in Serie A, two points behind their neighbours. They are on a four-match winless run with two consecutive draws and defeats. Stefano Pioli's side has won 11, drawn five, and lost four matches. They have scored 37 goals in 20 matches played while averaging 1.67 xG per match. The defence has conceded 29 goals with an average xGA of around 1.21. AC Milan have also been similarly dominant in the attack and possession department as their opponents. Their away record has been fairly decent as they have won four, drawn four, and lost two matches on their travels.
Efficient attacks
The two visuals above compare the two teams based on positional play and counter-attacks. Both teams are fairly close in terms of the efficiency of their attacking moves. While the hosts hold the advantage for positional attacks, the visiting team has the upper hand for counterattacks. Inter Milan creates 27.05 positional attacks and 2.5 counterattacks per match on average. Meanwhile, AC Milan creates 31.6 positional attacks per match along with 2.95 counterattacks. The Nerazzurri takes 14.35 shots per match with an accuracy rate of 34.5%. The visitors take 14.55 shots per match and have an accuracy rate of 35.4%. Both teams are quite efficient with the attacks they create.
Genuine passers of the ball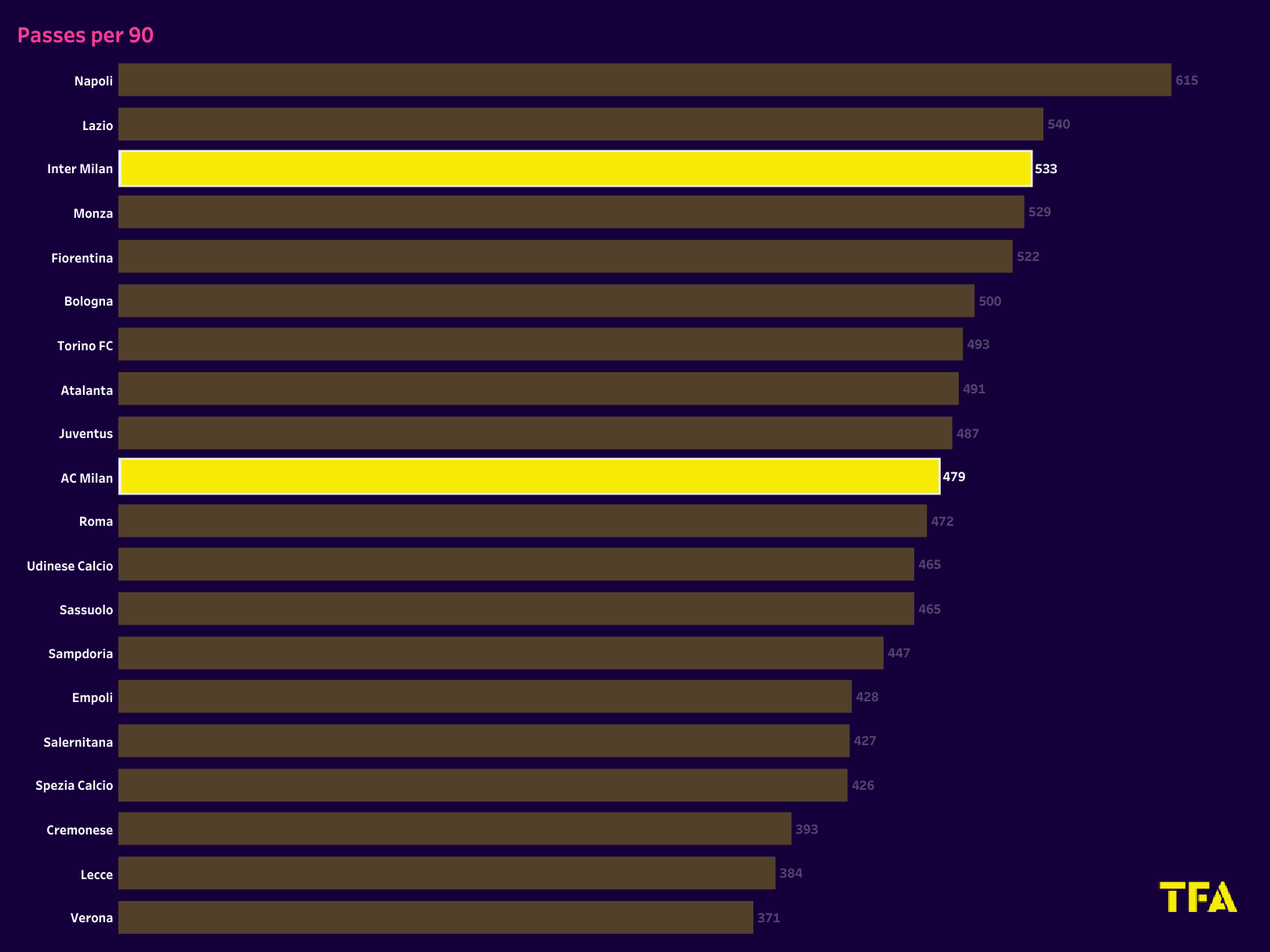 Inter Milan are better passers of the ball compared to AC Milan, but the visitors average more possession per match than the hosts. They average 53.6% possession per match. The average number of passes per 90 minutes is 533, with an 85.8% accuracy rate. Alternatively, the Rossoneri have an overall possession rate of 56.61% per match. They pass the ball 479 times per 90 minutes and have an 84.1% accuracy rate. It will be interesting to see which team keeps the ball in this match.
Key players

Lautaro Martinez has been one of Inter's top performers this season. The Argentine international has scored 11 goals in Serie A this season and also provided three assists. The viz above shows that Lautaro Martinez has scored the majority of his goals from inside the box including a couple from range. AC Milan's defence must remain tight and cannot afford to give him any room inside the penalty area.

Rafael Leao has been one of the best players for the Rossoneri in the forward positions. He has scored eight goals and provided five assists in 19 league appearances this season. He poses a significant threat with his blistering pace, dribbling skills, and crossing ability. If Inter wants to secure maximum points, their defenders will have to ensure the Portuguese attacker does not have a good game.
Team news
Inter are expected to be without Marcelo Brozovic and Samir Handanovic because of injury concerns. Apart from these two players, the remainder of the squad seems fit and ready to play.
Meanwhile, AC Milan are likely to miss the services of Zlatan Ibrahimovic, Alessandro Florenzi, Mike Maignan, Ismael Bennacer, Fikayo Tomori, and Sergino Dest through injury. Other than these absentees, the rest of the Milan players will be available for selection.
The Milan derby will be one of the biggest matches of the weekend in Serie A. Both teams are good in their attacks and also keep the ball. This will be a tight match that might be decided by a one or two-goal margin. The motive for both teams will be to secure maximum points and decrease the wide gap at the top of the table.
Visuals via TFA data viz engine