Match week 23 of Serie A season 2022-23 will see Inter Milan welcome Udinese to the San Siro on Saturday night. Both teams are in the top half of Serie A but are separated by 14 points. The hosts are currently placed second with 44 points, whereas the visitors occupy the eighth spot with 30 points. In the last Serie A meeting between the two sides, Udinese cruised to a comfortable 3-1 victory, and Inter Milan will be looking to return the favour this time on home turf.
In Serie A, Inter Milan have won 14, drawn two, and lost six matches. They have scored 41 goals past the opposition this term and average 1.93 xG per match. The defence has conceded 26 goals in return, with an average xGA of 1.12. Simone Inzaghi's side has won three out of the last five matches and played out a goalless draw against Sampdoria in their last outing.
Udinese, on the other hand, have won seven, drawn nine, and lost six out of 22 matches thus far. They have scored 30 goals and conceded 25 in total. The average xG rate of the team is 1.38, while their average xGA rate is 1.36. The team managed by Andrea Sottil is experiencing a slump in their form. They are winless in the last three league matches and have only one win from their last five fixtures. Below, we look at the stats of both teams from the current season to comprehend how this matchup could play out.
Overall performance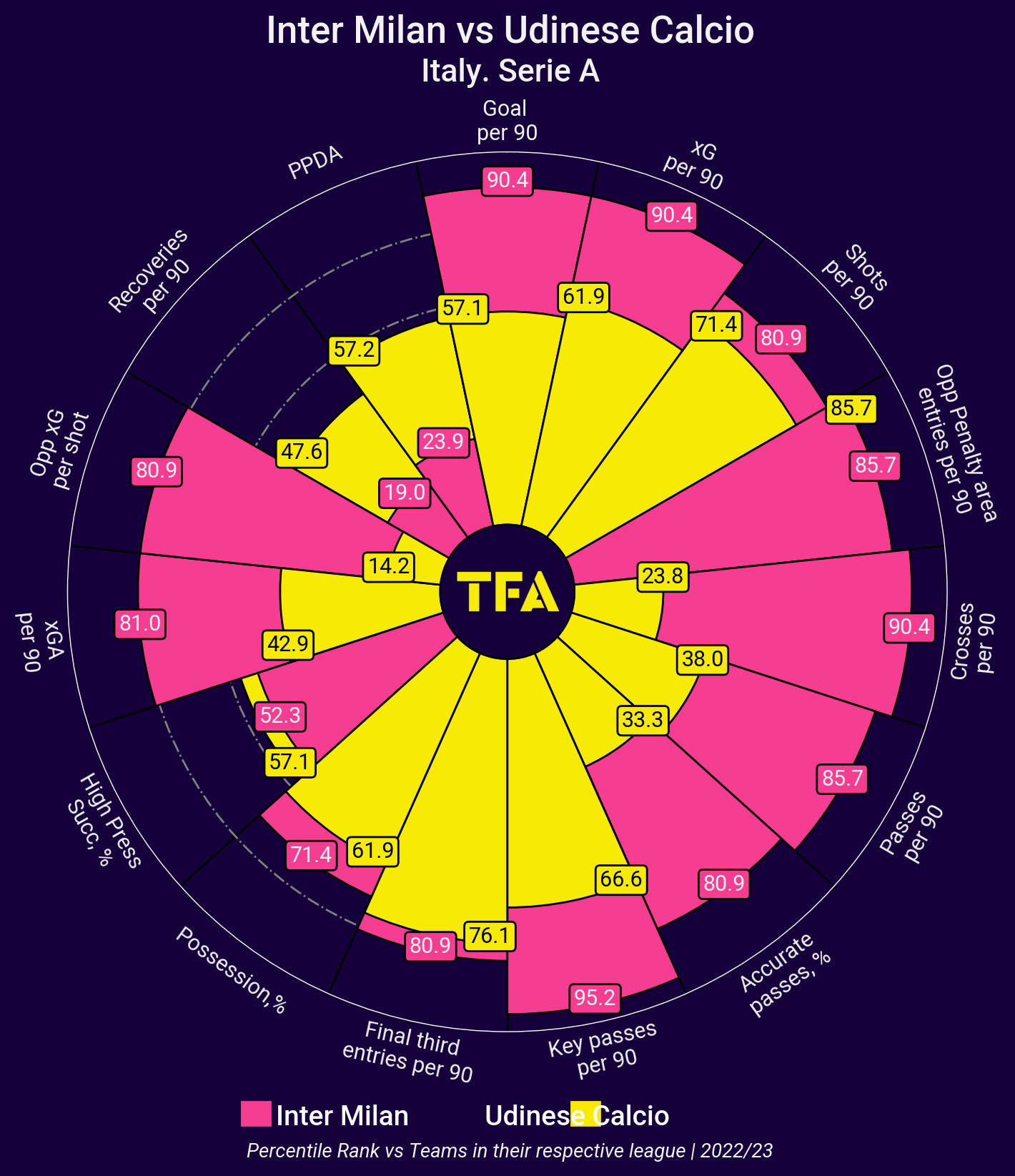 The above viz shows the percentile rank of both teams compared with each other as well as with other teams in Serie A for 2022–203. In most of the indicators, Inter Milan have a substantially higher percentile rank compared to Udinese. A handful of areas where the visitors have a better ranking are recoveries, passes per defensive action, and a high press success rate.
The hosts possess excellent home form. Inter Milan have won nine and lost two of the 11 matches played at the San Siro. They will look to secure maximum points and retain the second spot in the race for a Champions League berth for next season.
Meanwhile, Udinese's away form can be considered average with four wins, three draws, and four losses thus far. They will have to deliver another special performance, as they did in the reverse fixture, to come away with a positive result against an in-form Inter Milan side.
The efficiency of attacking moves
The two visuals above compare the two teams based on positional plays and counter-attacks. Both teams are fairly close in terms of the creation and efficiency of attacking moves. While the hosts hold the advantage for positional attacks, the visiting team has the upper hand for counterattacks. Inter Milan creates 28.23 positional attacks and 2.5 counterattacks per match on average. Meanwhile, Udinese creates 27.18 positional attacks per match along with 2.09 counterattacks. The Nerazzurri take 14.95 shots per match with an accuracy rate of 32.8%, whilst the Friulani attempts 13.45 shots per match with 30.1% accuracy.
Passing gameplay and contesting defensive duels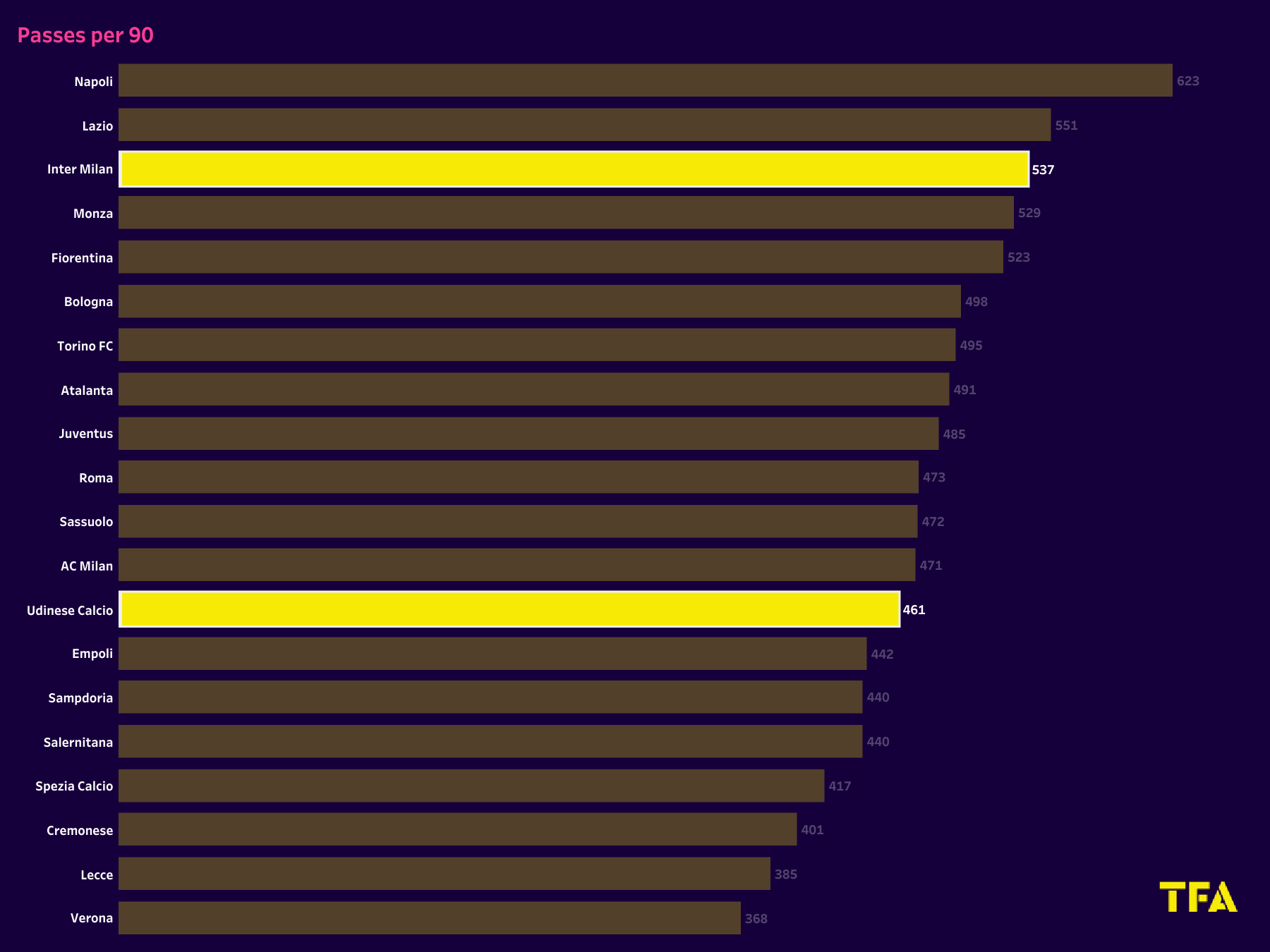 Inter Milan are the better passers of the ball compared to Udinese and also average more possession per match than the visitors. They average 54.58% possession per match. The average number of passes per 90 minutes is 492 with an 85.8% accuracy rate. Alternatively, Udinese have an overall possession rate of 50.75% per match. They pass the ball nearly 400 times per 90 minutes and have an 83.9% accuracy rate. Inter Milan can be expected to retain the ball more, with Udinese trying to maintain compactness in defence.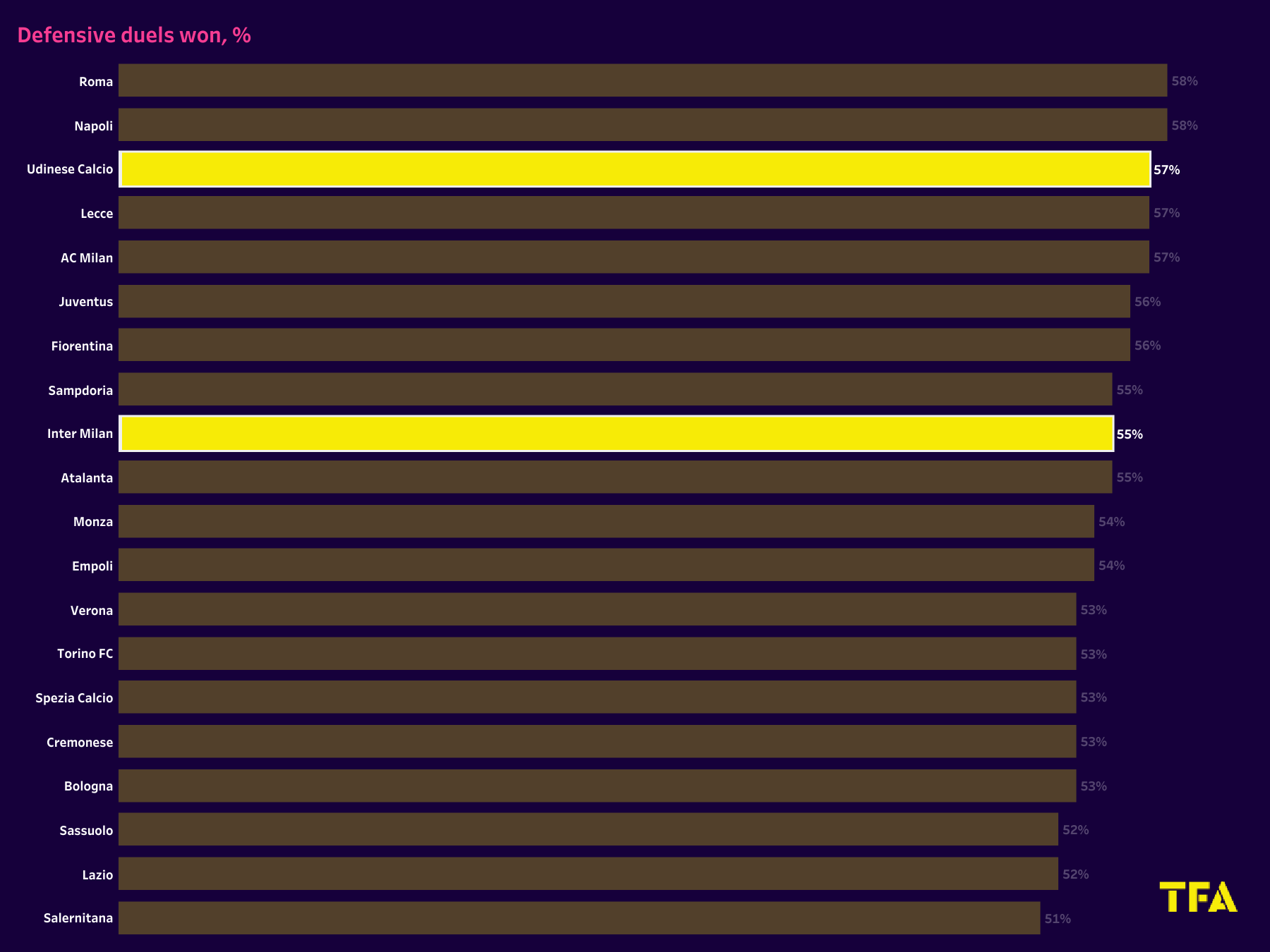 The viz above represents the ranking of teams in Serie A based on their percentage of defensive duels won. There is not much disparity between both teams in terms of winning defensive duels, with Udinese higher on the list with a 57% win rate in defensive duels. Inter Milan, on the other hand, ranks lower on the list by winning 55% of defensive duels. On average, the home team attempts 60.18 defensive duels per 90 versus 66.86 defensive duels per 90 for the visitors.
Key players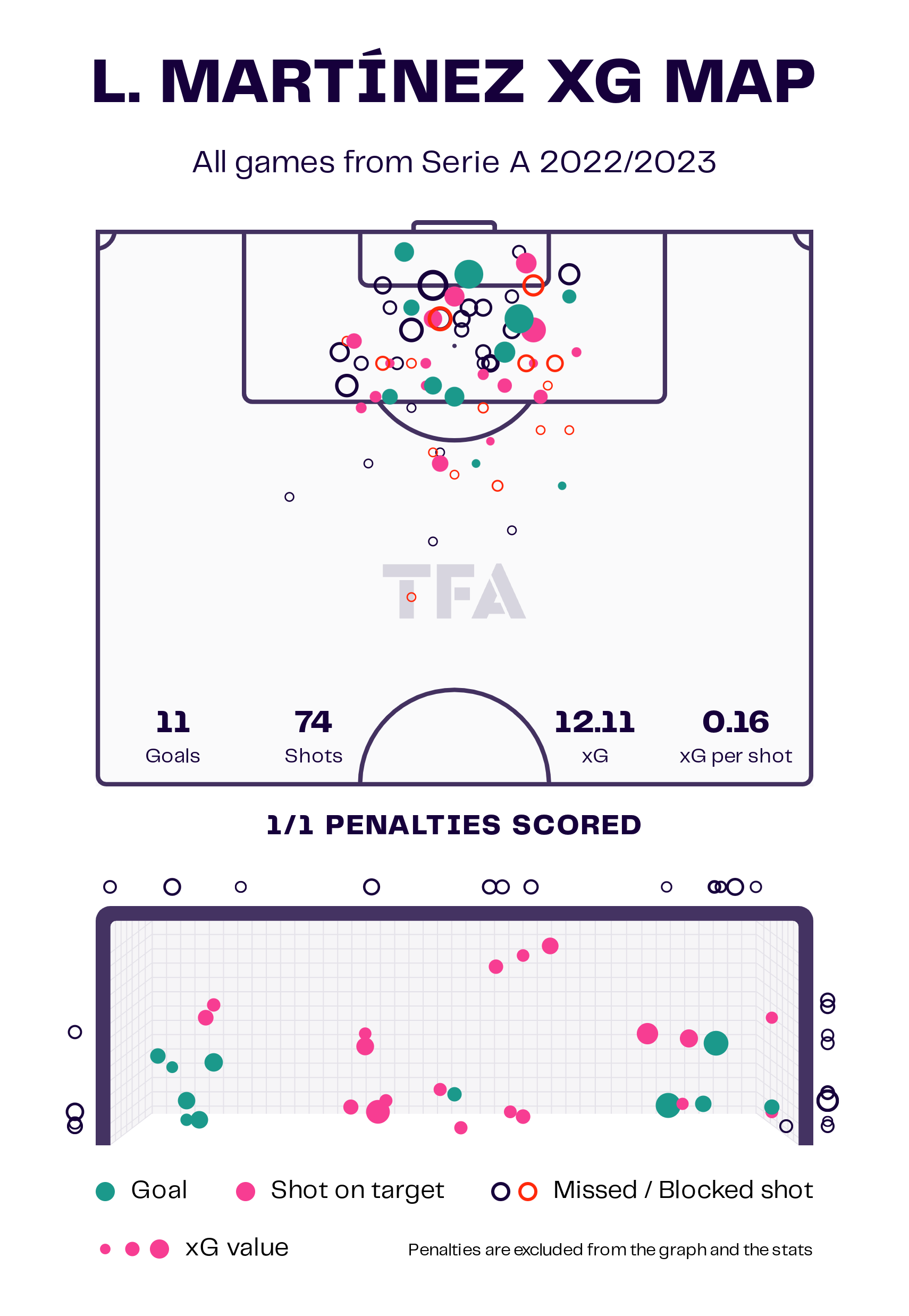 Lautaro Martinez has been one of Inter Milan's best performers this season. The Argentine international has scored 12 goals in Serie A this season and also provided three assists. The viz above shows that Lautaro Martinez has scored the majority of his goals from inside the box and has also found the net twice on long-range efforts. If Udinese is to secure a positive result, the defence must remain tight and cannot afford to give him any room inside the penalty area.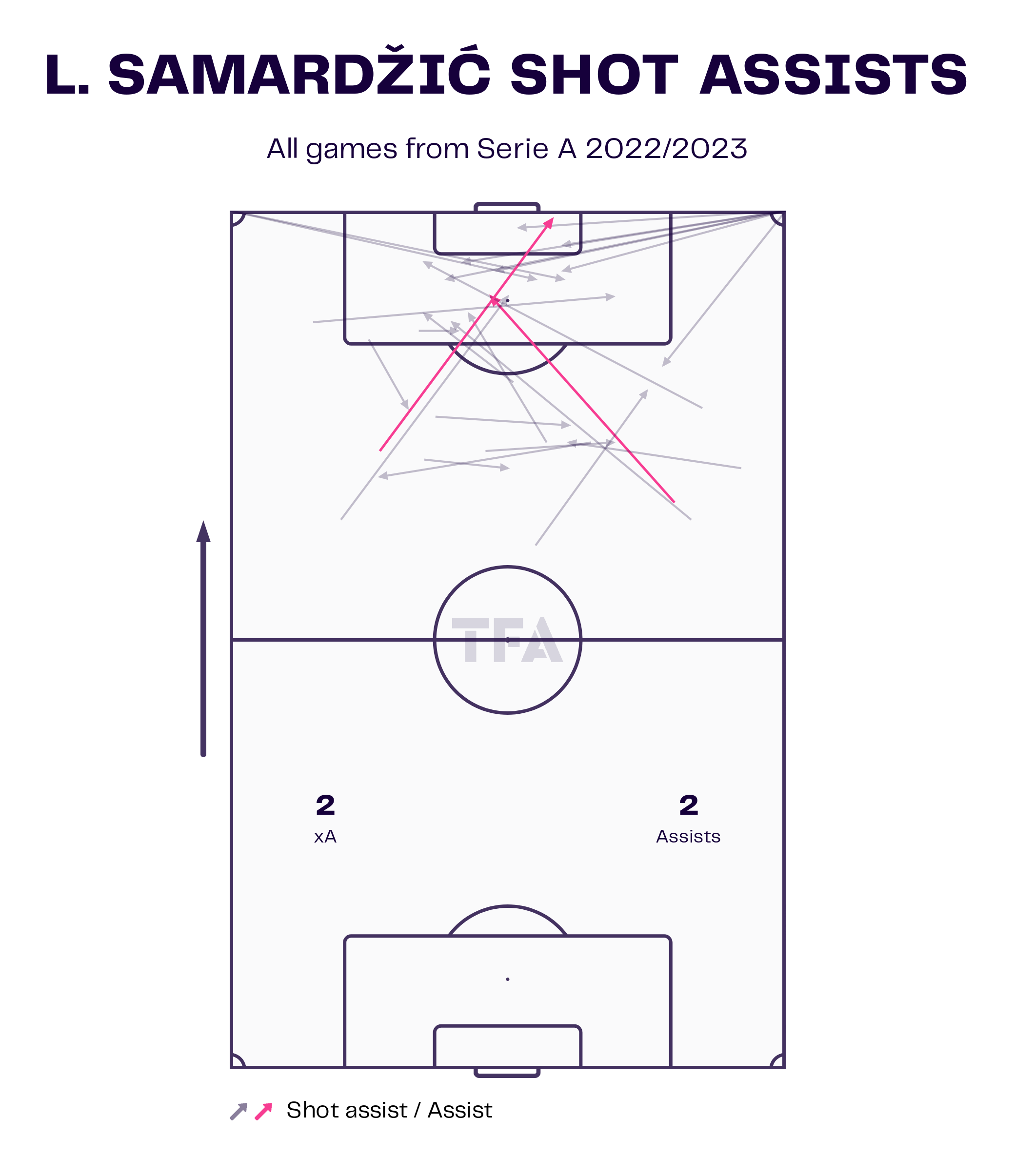 Lazar Samardzic has been one of the top contributors for Udinese this season. The midfielder has scored four goals and provided two assists. The shot assist viz above shows the crucial role performed by Samardzic in setting up goal attempts for his teammates. He has created four big chances and makes 1.4 key passes per match currently. The German youngster will provide a significant threat from midfield for the visiting team in this encounter.
Team news
Inter Milan are expected to be without Joaquin Correa due to a recent injury. Other than the Argentine forward, the rest of the Inter squad seems fit and ready to play.
Meanwhile, missing out on the services of the injured Gerard Deulofeu will be a big blow for Udinese. Apart from that, the rest of the Udinese players will be available for selection.
Inter Milan vs Udinese is going to be an intensely interesting fixture in Serie A over the weekend. The Nerazzuri will be eager to collect maximum points at home and maintain their slim advantage over rivals in the Champions League qualification race. Udinese, on the other hand, will be motivated to provide another shock upset to Simone Inzaghi's side and improve their mid-table position.
Visuals via TFA data viz engine