One of the exciting winter transfer deals to happen in Serie A was the loan transfer of Serbian midfielder Ivan Ilic from Hellas Verona to FC Torino. Ilic was linked with many potential moves this season, with clubs from the French Ligue 1 and Serie A showing interest in the 21-year-old. Ilic was a youth player at Manchester City and is considered a talent for the future. Despite his young age, he has featured regularly in Serie A and for his country and is developing into a quality player. The young defensive midfielder also represented his country, Serbia, at the 2022 FIFA World Cup in Qatar. Despite strong interest from Ligue 1 powerhouse Marseille, Torino were able to convince Ilic to accept a six-month loan deal. Below, we look at some of his stats from Serie A.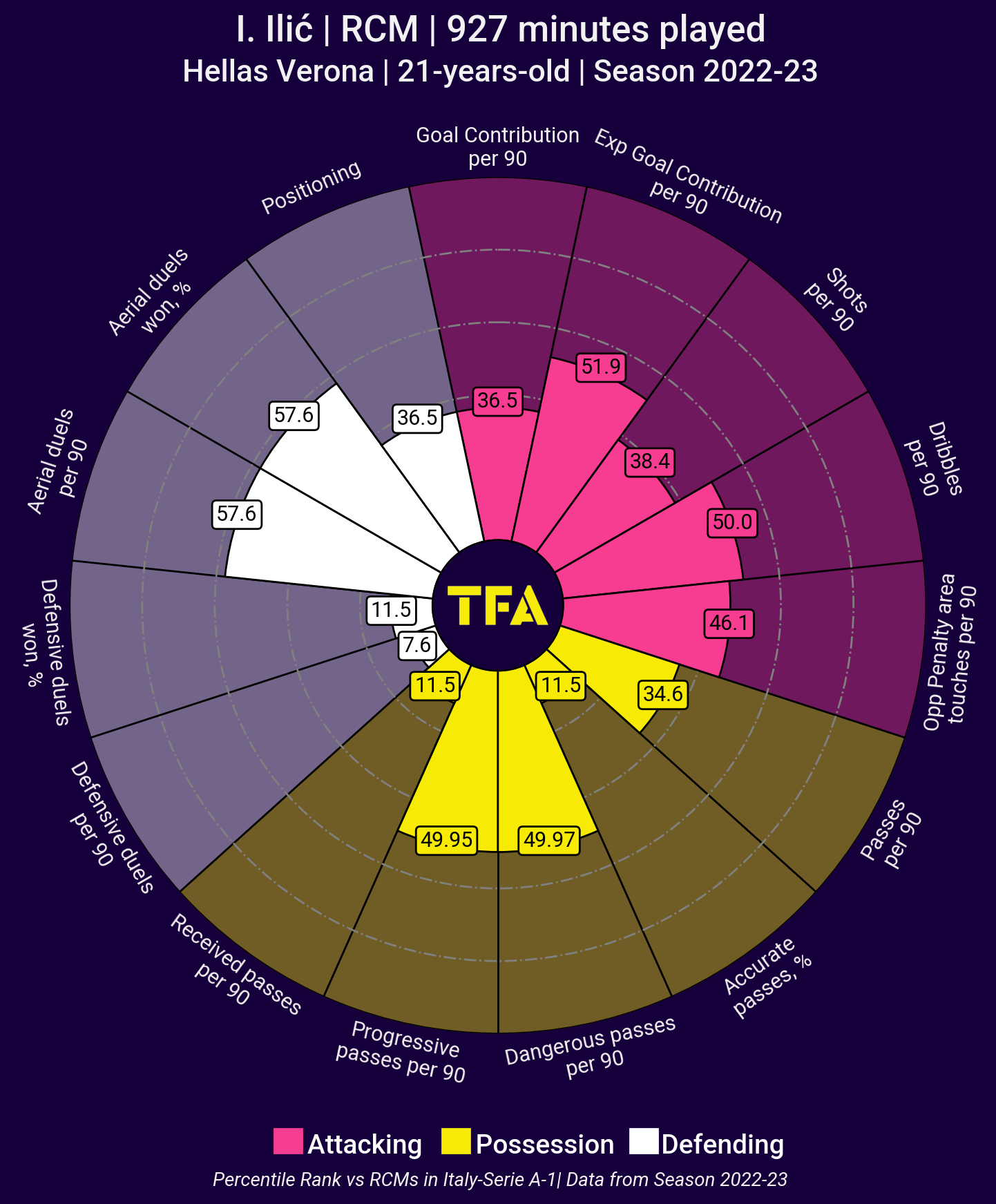 Ivan Ilic can provide the necessary intensity in the middle of the pitch due to his agility. He is mature, and his awareness of how to read the game effectively has been an advantage for him. The above viz shows the percentile rank of the player's stats compared to the other central midfielders in Serie A in 2022/23. Ilic has played 11 matches in the 2022–23 Serie A season. He is ranked highly for contesting aerial duels. The player's ability to attack has been decent, with a fair number of expected goal contributions. He also ranks well in passing ability. Ivan's overall numbers are decent in the league, and he ranks average in most of the stats.
Ilic in midfield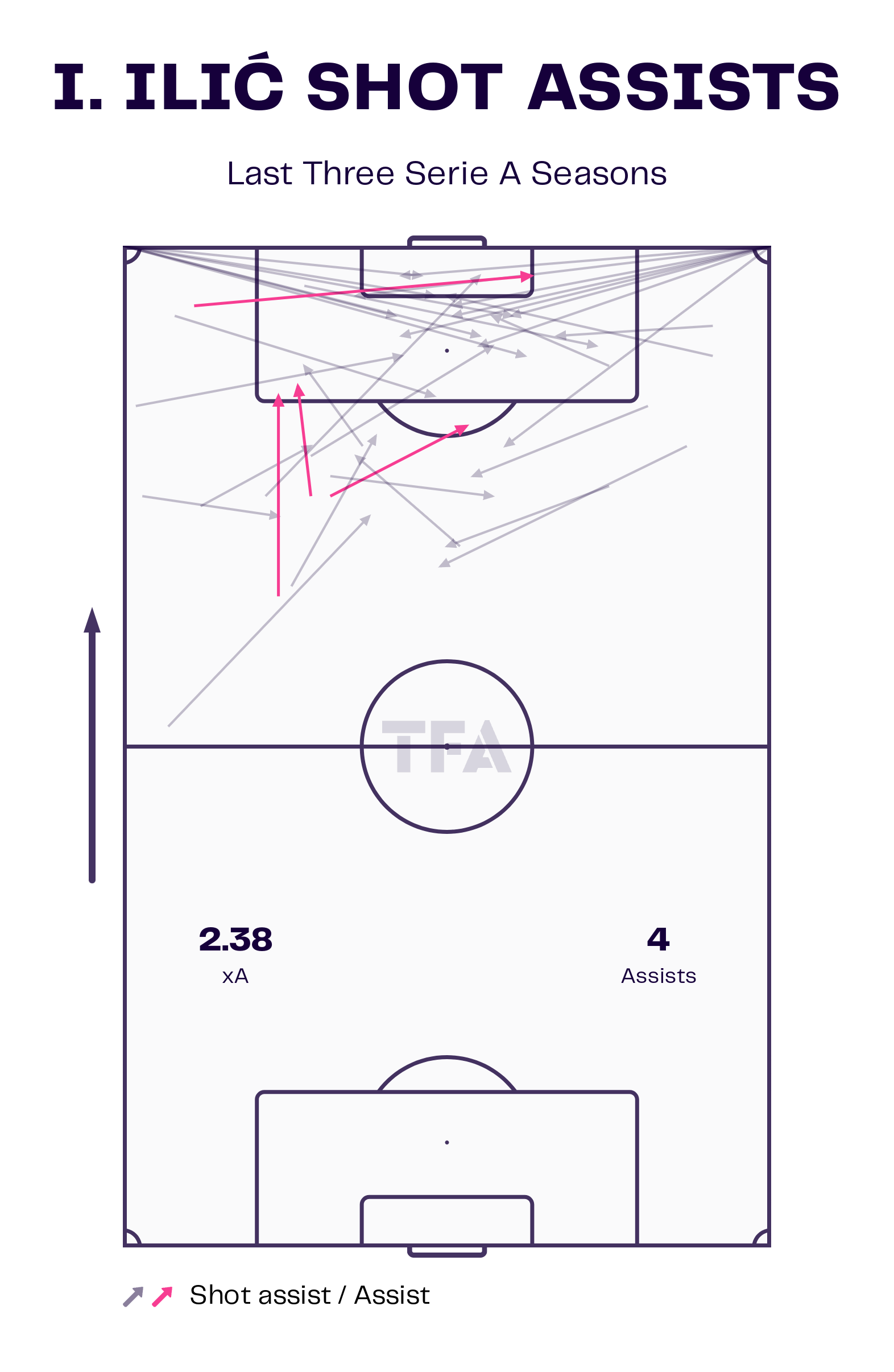 In his three seasons so far in Serie A with Hellas Verona, Ivan Ilic has scored three goals and provided five assists. He has been more of a holding midfielder who plays box-to-box and gives the team support in front of the goal and composure in midfield. Overall, he has accumulated an xG of 3.67 and an xA of 2.38. From the shot assist viz above, it can be observed that his assists have come through progressive passes as well as crosses delivered from wide positions. Ilic has also been on corner delivery duty and provides 1.07 shot assists per match.
As a central midfielder, Ivan Ilic's primary role is to connect defence with the attack in a free-flowing manner. He possesses a range of passing options in his locker with which he can progress the ball forward. The pass map viz above from the 2021/22 Serie A season highlights the player's role in controlling and setting the tempo of the game from central midfield. Ivan Ilic attempts almost 42 passes per game with an accuracy of 85.6%. He also makes around six passes to the final third and 1.25 passes to the penalty area per match.
Defensive attributes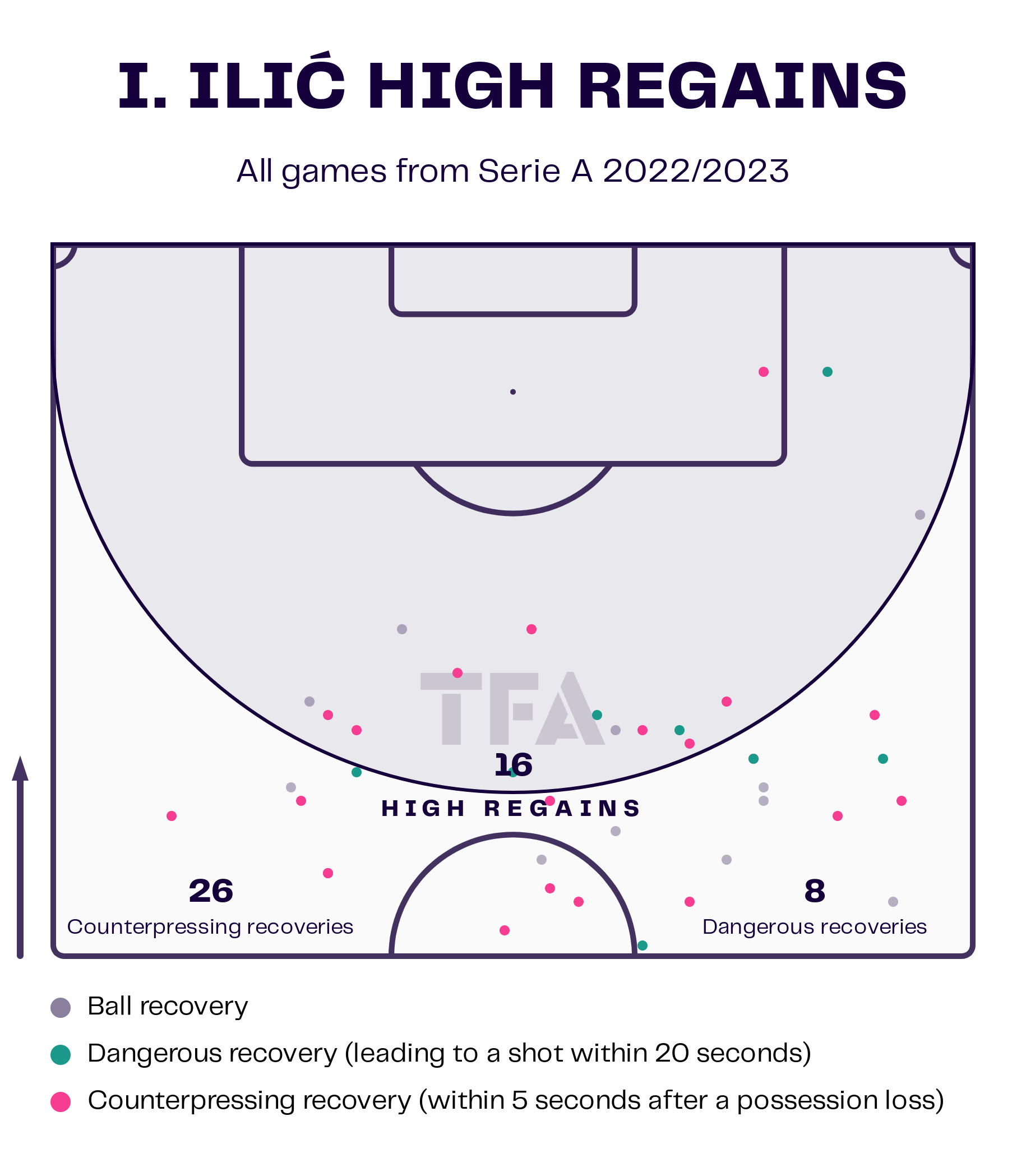 The two visuals above show the defensive territory and various high regains of the player for Hellas Verona in Serie A 2022/23. It indicates that Ilic is involved in a lot of defensive actions in the defensive third and makes interceptions near the defensive third and midfield. It can be observed that the player has not given up many fouls and has averaged only 0.78 fouls in the current season. Overall, he has an average of 14.27 duels per match and a 45.6% win rate. Additionally, Ilic averages 4.56 interceptions per 90 minutes and makes a lot of movement in the opposition's half to put high pressure on the opposition's midfield and final third. He makes 9.13 recoveries per match, and over 51% of them are in the opposition's half.
What will be Ilic's role at Torino?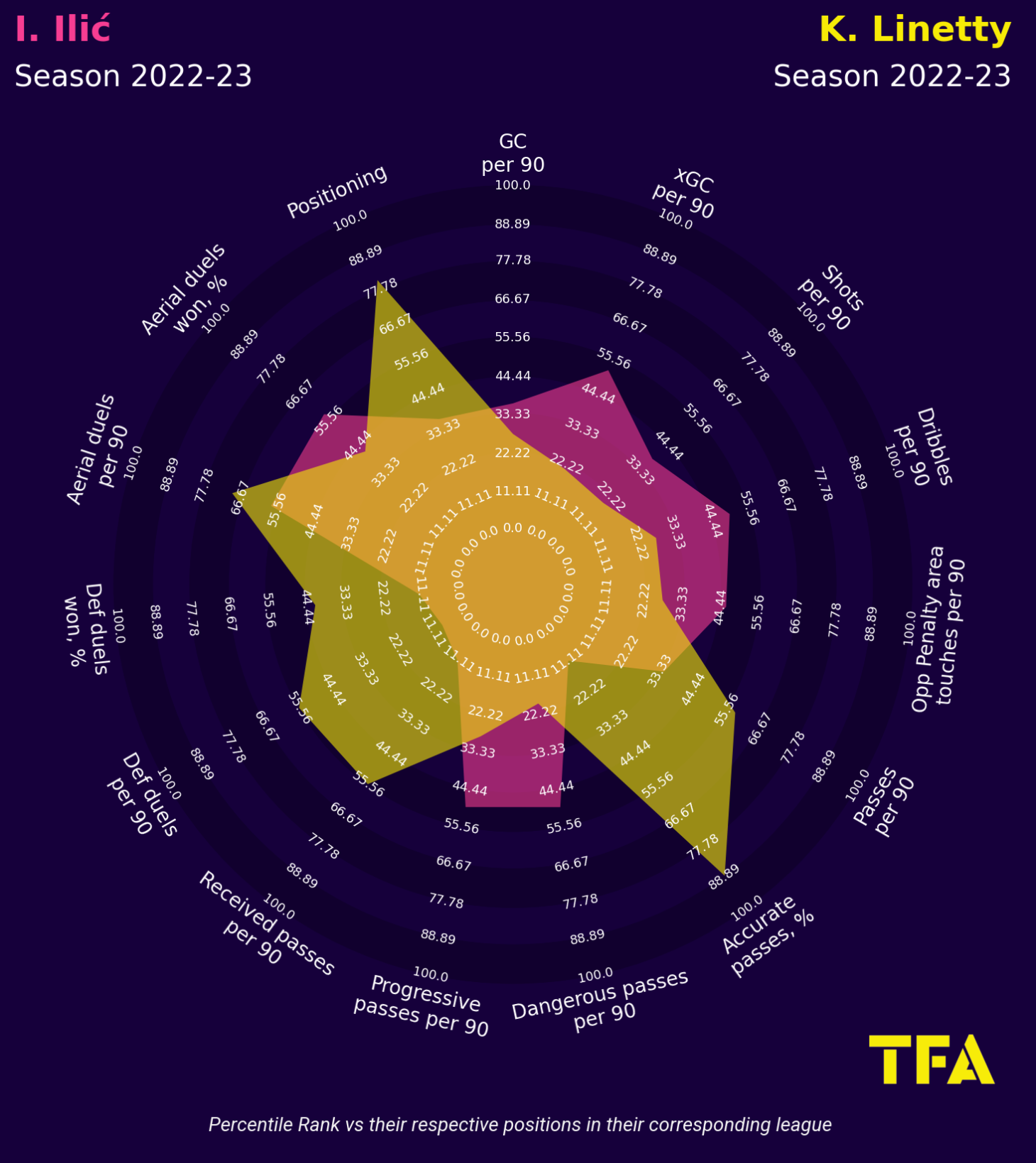 Ilic could most likely replace or provide cover for Polish midfielder Karol Linetty at Torino. The above viz is a comparison between the performances of both players. It can be seen that Ilic is performing better in terms of metrics like expected goal contribution, dribbles, and penalty area touches. The young Serb is also making more progressive and dangerous passes per 90 as compared to Linetty. Overall, Ilic is much younger and provides extra intensity in the middle of the park.
Ivan Ilic has the maturity and a sense of efficiency uncommon among other midfielders of his age. His ability to escape traps and even two-versus-one situations around the centre of the pitch is noteworthy. His strength in duels makes him a valuable asset in any defensive line or situation, and he is comfortable progressing forward to press or retreating to form a middle block. Ivan Ilic has a great set of skills, and his inclusion in Torino's squad will bring more depth, talent, and quality to the midfield.
Visuals via TFA data viz engine