One player who has been a significant performer for Chelsea since his signing is 31-year-old experienced Italian midfield superstar Jorginho. As Chelsea are looking to rebuild under the new owner Todd Boehly and manager Graham Potter and sign youngsters with great potential, there are high chances that Jorginho might leave on a free transfer. The veteran midfielder has been linked with European powerhouses Barcelona as well as Serie A powerhouses Napoli and Juventus. Jorginho was a favourite among Napoli fans during his tenure as a Napoli player, so he might join them again and help them achieve further. Here are some stats that show why the Italian giants want to sign him.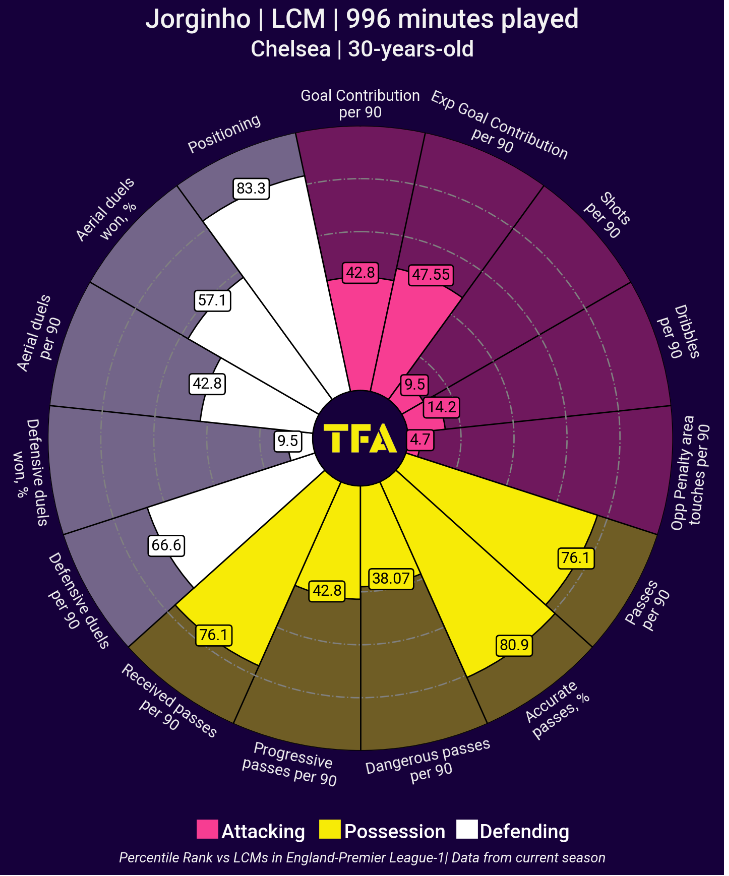 Jorginho is a versatile midfielder; he can play as a right-central midfielder, a left-central midfielder, or even a lone defensive midfielder whenever required by the club. The above viz shows the stats of the player in comparison to the other players featured as left-central midfielders in Serie A this season. Jorginho clearly outperforms in terms of the accurate pass percentage stat. Other statistics in which he excels include positioning, passes per 90 and received passes per 90. Jorginho has made 15 appearances in the English Premier League this season. He has been the main penalty taker for Chelsea and the Italian national team and has a great penalty record.
Midfield Domination
Jorginho has attempted 639 passes in the English Premier League this season. The Italian midfielder has a passing accuracy rate of 88.6%. He makes 52.52 passes per 90 minutes in the league and provides 1.4 passes to the opponent's penalty area per 90. Jorginho makes 8.47 passes to the final third per 90. Jorginho receives 38.55 passes from his teammates per 90. The Italian midfielder can also provide creativity from the deep with his through passes and long balls towards the forwards whenever required by his teammates. Jorginho prefers to sit in front of the centre-backs and make deep passes for his Chelsea and Italy teams. He has made 56 interceptions and attempted 87 defensive duels, which shows that his defensive game is not bad either. Jorginho is a player who has a great understanding of the game.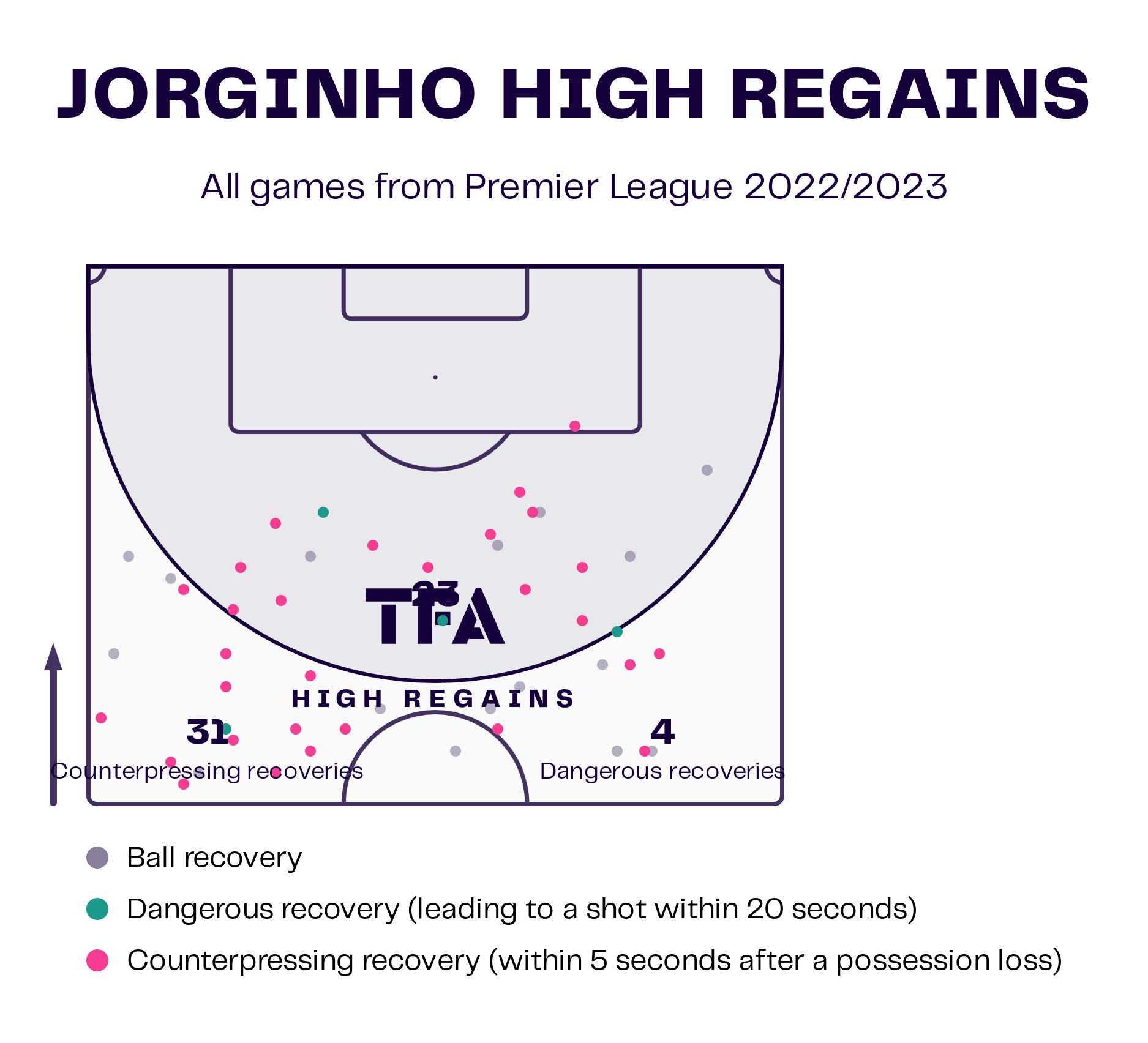 Jorginho has worked hard to recover the ball for Chelsea in dangerous areas. This season, Jorginho has managed 23 regains in the final third. Four of these 23 recoveries have been dangerous and led to a shooting within the next 20 seconds of the recovery. The Italian midfielder has made 31 counter-pressing recoveries in the English Premier League. This season, he has attempted 118 recoveries from Chelsea's midfield.
Whom would Jorginho replace?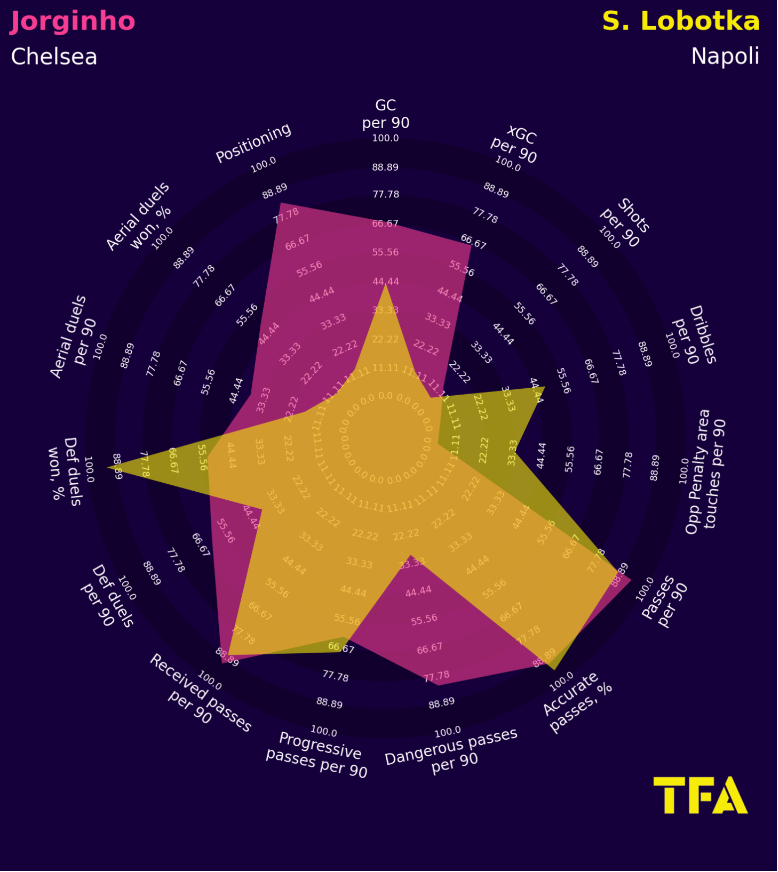 Jorginho might replace the 28-year-old Slovakian midfielder Stanislav Lobotka as a defensive midfielder and another option as a central midfielder for Napoli's midfield. Jorginho outperforms Lobotka in most of the game's stats and departments. Jorginho outperforms Lobotka, especially in terms of positioning and dangerous passes per 90. Jorginho has made 15 appearances for his Chelsea side in the English Premier League and has been impressive as usual. Meanwhile, Lobotka has emerged as a star in the Napoli midfield, playing like a true warrior in 15 Serie A appearances.
Napoli have always relied on their senior players to play continuously and perform. Jorginho is a player that fits perfectly into the Napoli side as he is an experienced player who has achieved lots of success with Chelsea and the Italian national team. Jorginho will provide the much-needed midfield depth and versatility required in the current Napoli side and can also offer some creativity from the midfield. He can be a good backup for the midfield duo of Anguissa and Zielinski. He can also replace Lobotka and start as a defensive midfielder. Hence, the signing of Jorginho makes sense from Napoli's perspective, as they might get a player of Jorginho's calibre on a free transfer.
Visuals via TFA data viz engine