Fiorentina recently concluded a winter transfer deal by signing midfielder Josip Brekalo from VfL Wolfsburg. The Croatian international joins the Serie A outfit for a nominal fee, as his contract with the Bundesliga club was about to run out in June. The 24-year-old arrives in Florence with prior experience playing in Italy, having spent the last season on loan at Torino. He featured regularly for Torino, making 32 league appearances, scoring seven times, and assisting twice.
After returning to Wolfsburg at the start of the current season, Josip Brekalo found game time hard to come by, accumulating 269 minutes across six appearances in the Bundesliga and assisting one goal. With his contract set to run down soon, Fiorentina pounced on the opportunity to bring Brekalo back to the Serie A on a permanent deal as they were aware of his calibre. Below, we look at some stats to understand why Fiorentina were eager to enlist the services of Josip Brekalo.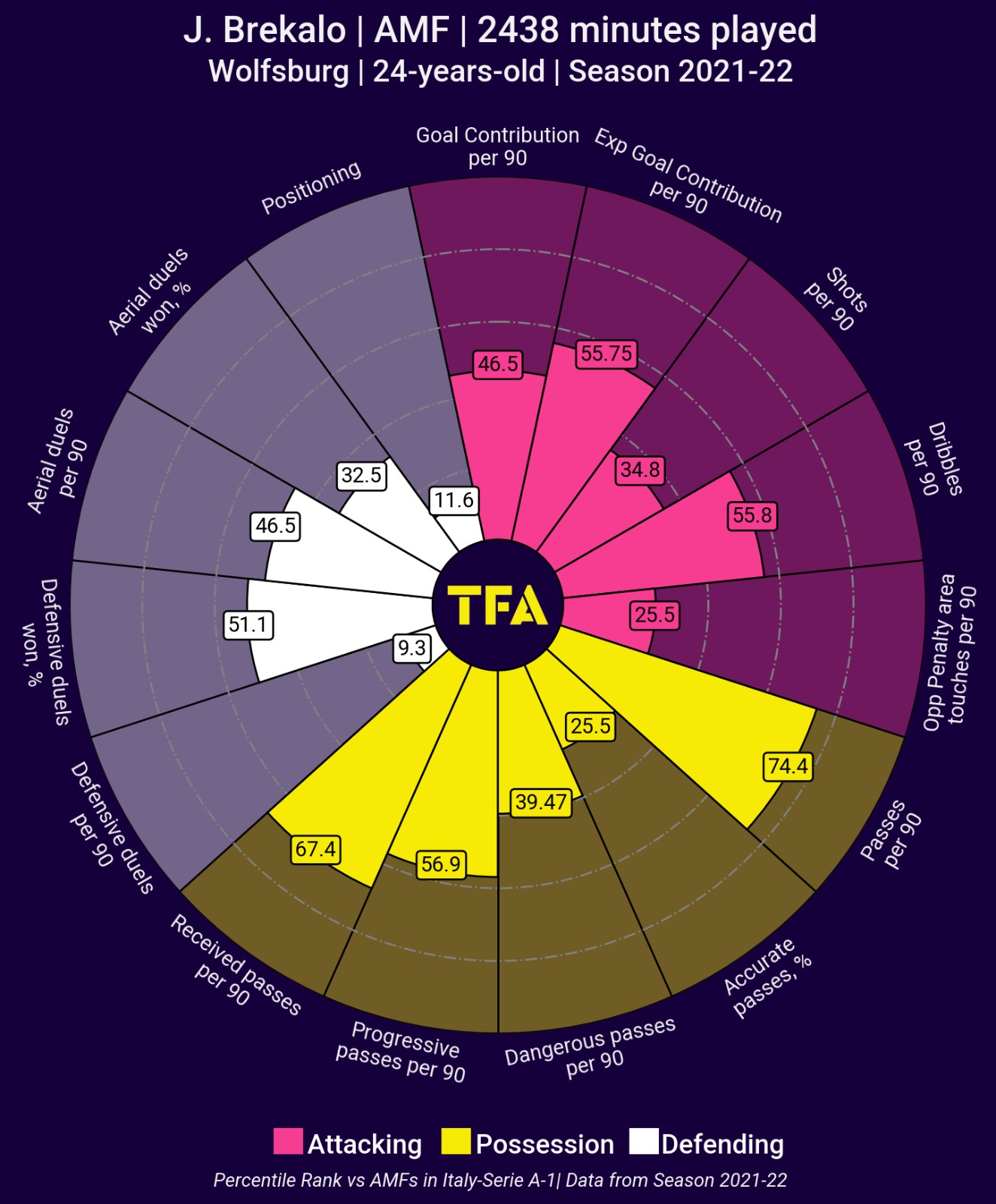 Josip Brekalo usually plays as a left-sided attacking midfielder, but he can also assume the role of a secondary striker or a right-sided attacker based on the team's needs. The viz above shows the percentile rank of the player's stats from the previous Serie A season compared to other attacking midfielders. Brekalo has a decent rank in metrics like pass attempts, received passes, expected goal contribution, dribbles, and progressive passes. Another area where he has an above-average rank is in winning defensive duels.
Josip Brekalo in attack
The above viz depicts the shot map of Josip Brekalo from Serie A 2021/22. The attacking midfielder scored seven times with an xG value of 4.06. He scored at a rate of 0.26 goals per match while averaging an xG rate of 0.15. He took 42 shots and scored six goals from inside the penalty box, with one goal coming from a long range effort. Brekalo averages 1.55 shots per game with a 31.8% accuracy.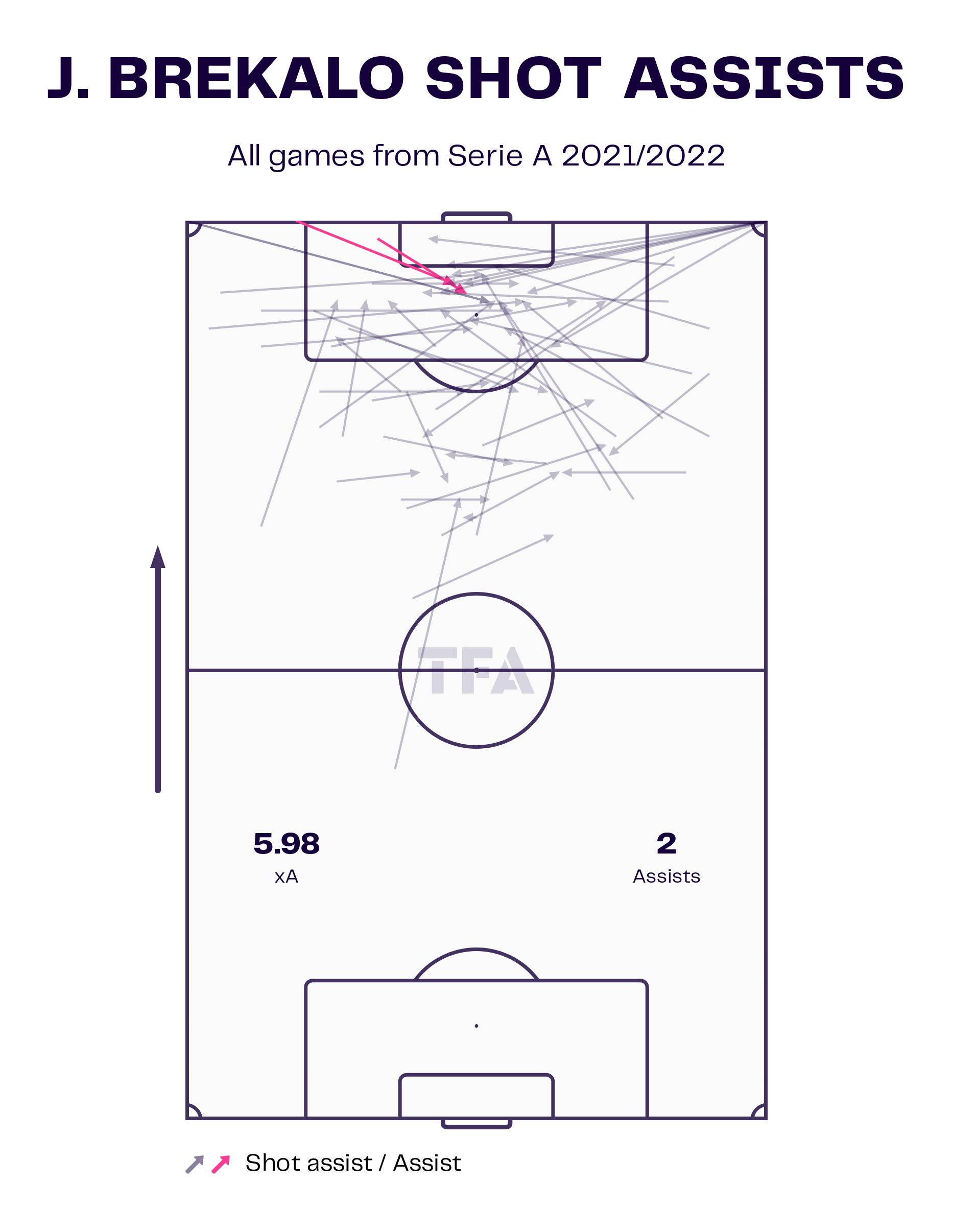 In addition to scoring goals, Josip Brekalo has exhibited the key quality of producing goal-scoring opportunities for others. He provided two assists for his Torino teammates last year, with an xA tally of almost six and an average per-match xA value of 0.22. The Croatian international attempted 38.54 passes per match with 77.7% accuracy. The viz above depicts the numerous shot opportunities created by Brekalo in various positions across the pitch last season, including from corner deliveries. He averaged two key passes and 1.88 shot assists per match last season.
Brekalo with the ball
While Josip Brekalo's prime role is to operate in the final third, he also drops into midfield to help in the possession phase. The above viz shows the player's heat map from Serie A 2021/22. It can be observed that Brekalo has displayed high intensity on the left side of the field, particularly in the final and the middle third. He averages 2.1 touches per match in the opposition's penalty area and makes almost two progressive runs per game. Additionally, the midfielder makes 3.65 passes to the final third and 3.47 passes into the penalty area per match.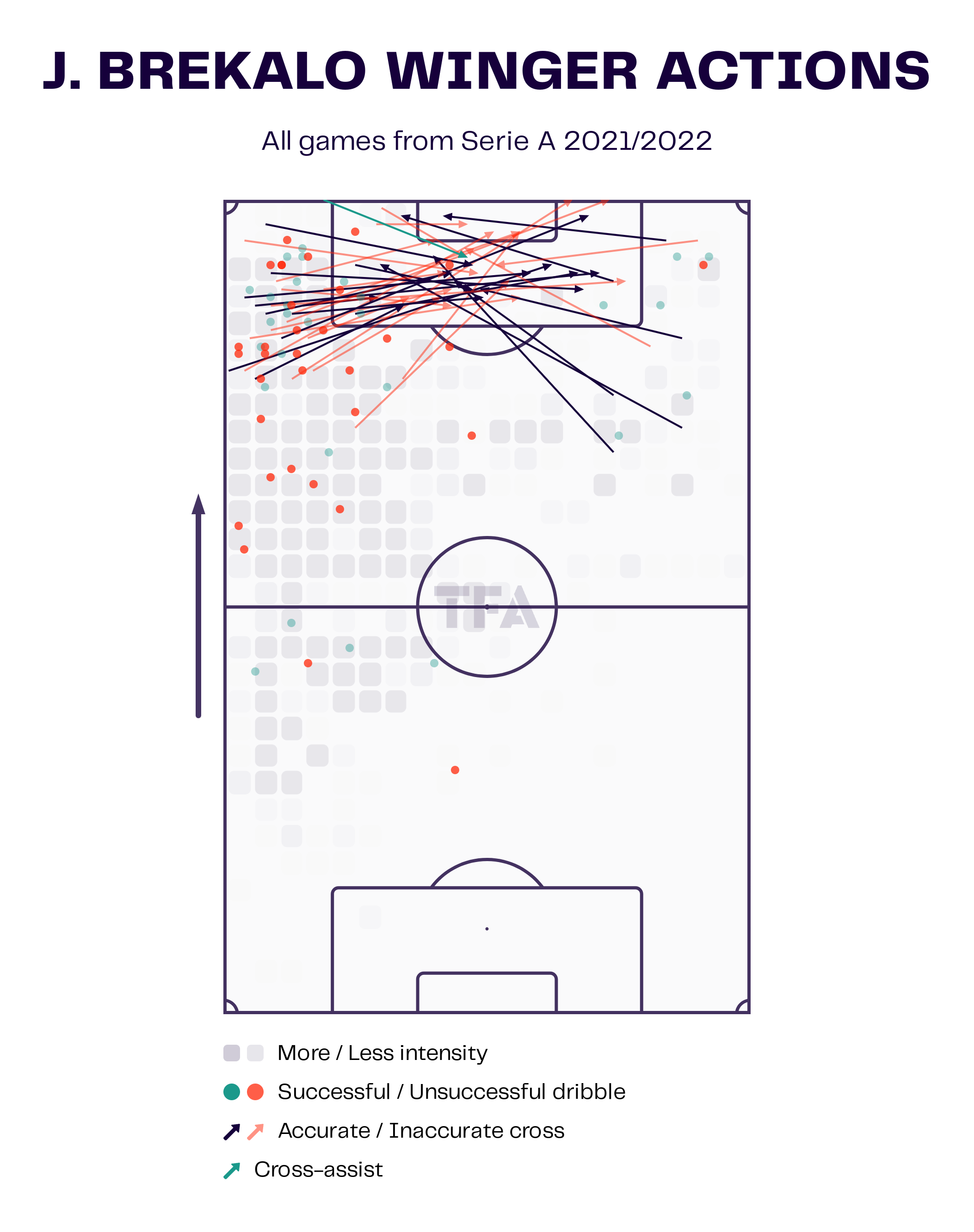 Josip Brekalo operates as a mobile figure in the advanced attacking areas. He possesses the ability to move the ball into dangerous positions by performing winger actions deep in the final third. He often occupies spaces in wide areas and tries to dribble, cross, or pass the ball into the penalty area. As a Torino player last season, he made 113 penetrating carries into the penalty box in Serie A. Additionally, Brekalo attempted 4.21 dribbles per match with 47.4% accuracy and delivered 2.77 crosses with 36% accuracy.
Role at Fiorentina
Fiorentina have struggled to score goals consistently this season. They have registered 22 goals in 20 Serie A games, and the addition of Brekalo will add more quality to Fiorentina's attacking line and improve their overall squad depth. The 24-year-old can serve as a starting option in the absence of the injured Riccardo Sottil, who usually plays on the left wing. Apart from that, Brekalo could also feature in different roles across the attacking positions ahead of players like Riccardo Saponara and Antonin Barak.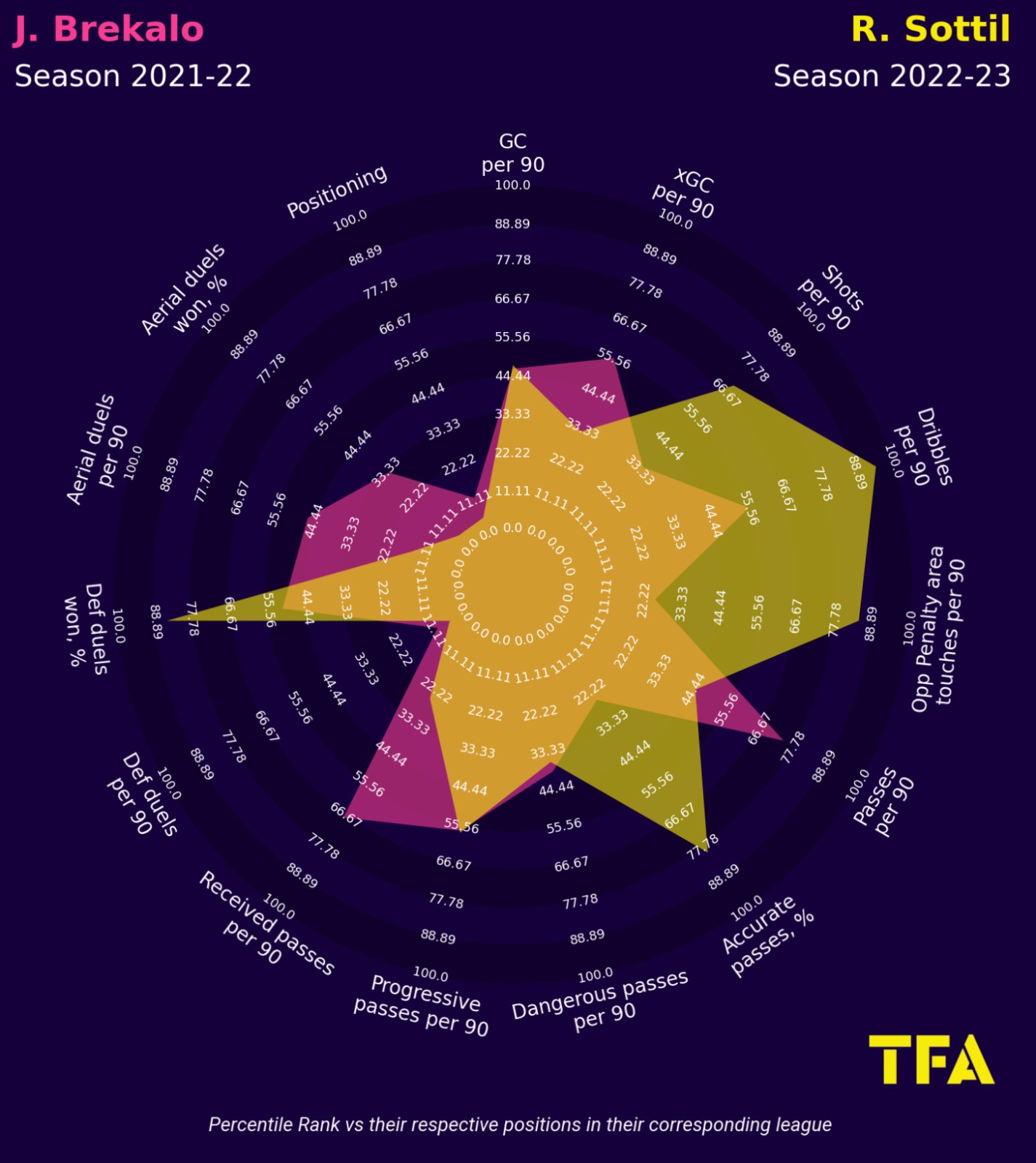 The viz above compares the performances of Josip Brekalo from last season with Riccardo Sottil's performances from the current season in Serie A. It can be observed that both players outperform each other in a few areas. Brekalo has better stats for expected goal contribution, pass attempts, received passes, aerial duels attempted and won, and positioning. The Croatian midfielder's proven track record and experience of playing in Serie A will help him attain a regular role at his new club, Fiorentina.
Josip Brekalo's move to Serie A looks like good business for all parties involved. Fiorentina is a well-suited destination for the budding attacking midfielder, who demonstrates an attacking threat along with a creative mindset. For now, it will be interesting to observe how the 24-year-old performs at his club and reaches his true potential.
Visuals via TFA data viz engine