Juventus will square off against Nantes at the Allianz Stadium on Thursday night for the UEFA Europa League knockout playoff clash. The Serie A giants are having a poor season after losing five of six matches in the UEFA Champions League group stage, which has demoted them to the second-tier European competition. Domestically, Juventus are placed ninth in the league due to a 15-point deduction, which has impaired their challenge for the Serie A title and chances of Champions League football next season. Therefore, winning the UEFA Europa League is Juventus' best shot at lifting silverware this season as well as ensuring a European berth for next season.
Nantes, on the other hand, finished second in their Europa League group to qualify for the knockout playoffs. They won three matches and lost the other three. The Ligue 1 side are currently 13th in the league and have won three of their last five matches. While Nantes are the underdogs on paper, they will be aware of Juventus' struggles this season and will look to mount an upset. Below, we look at the stats of both teams from the current season to comprehend how this matchup could play out.
Comparison of the teams' performances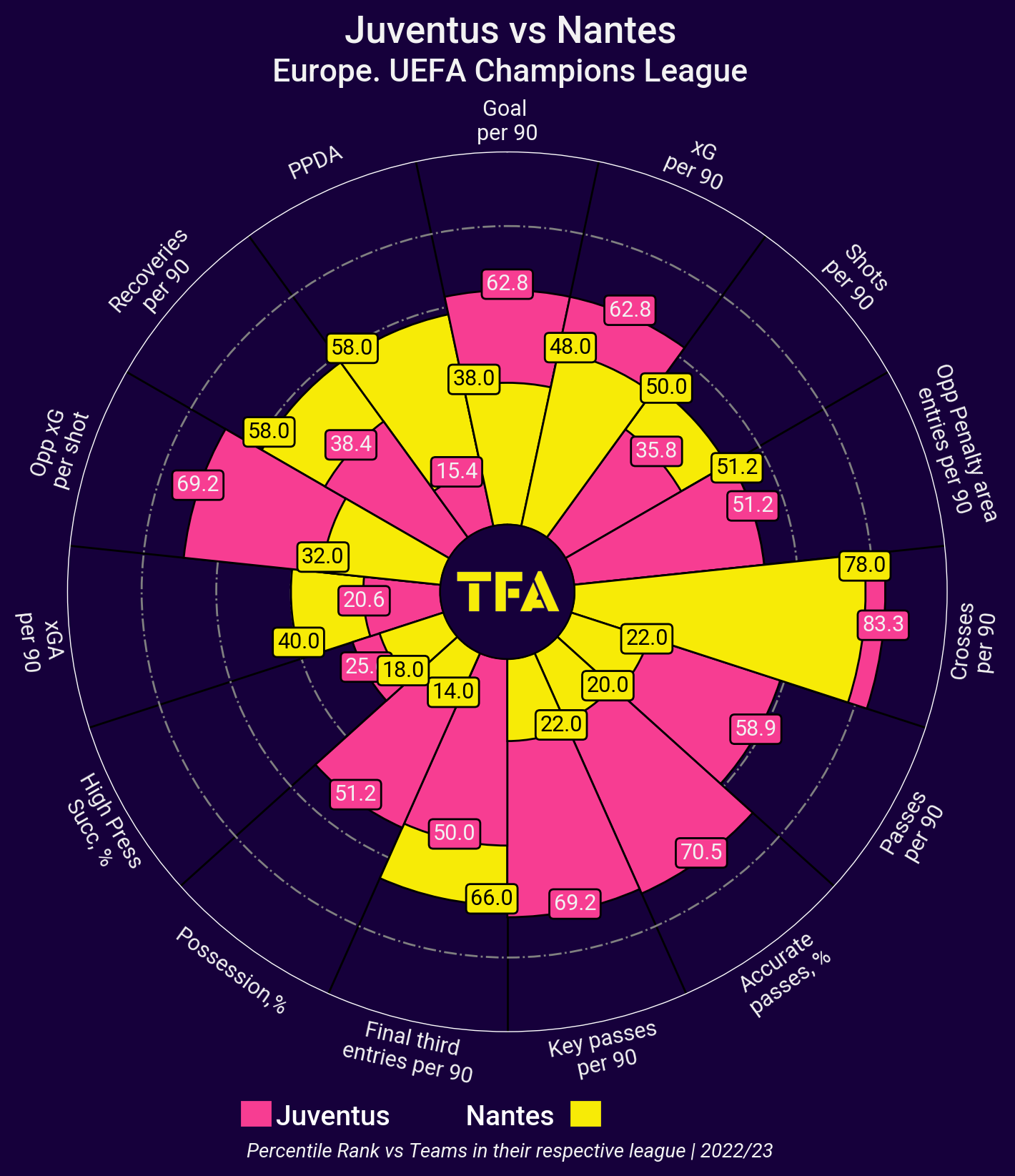 The viz above shows the percentile rank of both teams' stats compared to each other as well as to other teams in the respective European competitions in 2022-23. It can be seen that Juventus has better overall stats than Nantes in most departments. Notably, the hosts have the upper hand in terms of shots, xG, goals, key passes, accurate passes, and possession rate. Alternatively, there are a few departments where the visitors have superior stats, such as xGA, final third entries, and recoveries.
Juventus maintains 50.24% possession and attempts 465 passes on average with an accuracy of 86%. They make 74.67 recoveries per 90 minutes. Whereas, Nantes keeps the ball for 57.33% of the match on average, attempting 563.33 passes with an accuracy of 88.7%. Additionally, Nantes makes 79.67 recoveries per match.
Attacking stats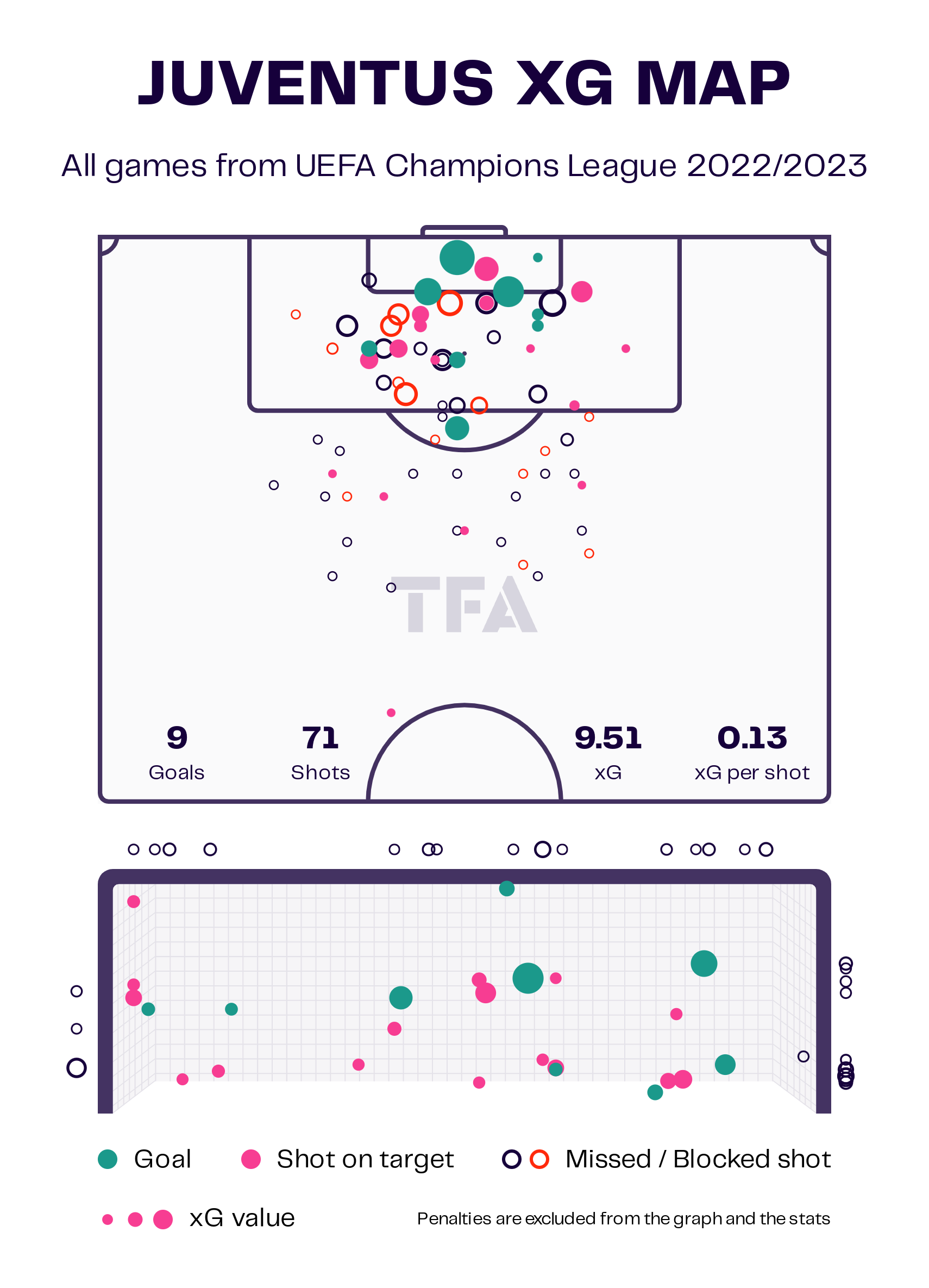 Juventus have taken a total of 73 shots in six UCL matches and scored nine goals. They accumulated 8.89 xG and scored a few goals from inside and near the six-yard box. The xG map above shows that the Serie A side has attempted most of their shots inside the penalty box but has also shown a desire to shoot from distance. Juventus have scored two goals per match, averaging an xG of 1.59. They take 11.83 shots per match with a 35.2% accuracy rate.
Alternatively, Nantes have taken 68 shots in total and scored six goals with an xG tally of 7.4. The Ligue 1 side scored five of the goals from inside the box and one right from the edge of the penalty area. They scored at the rate of one goal per match while averaging 1.23 xG. Furthermore, Nantes averages 11.33 shots per game with a 38.2% accuracy rate.
Gameplay with the ball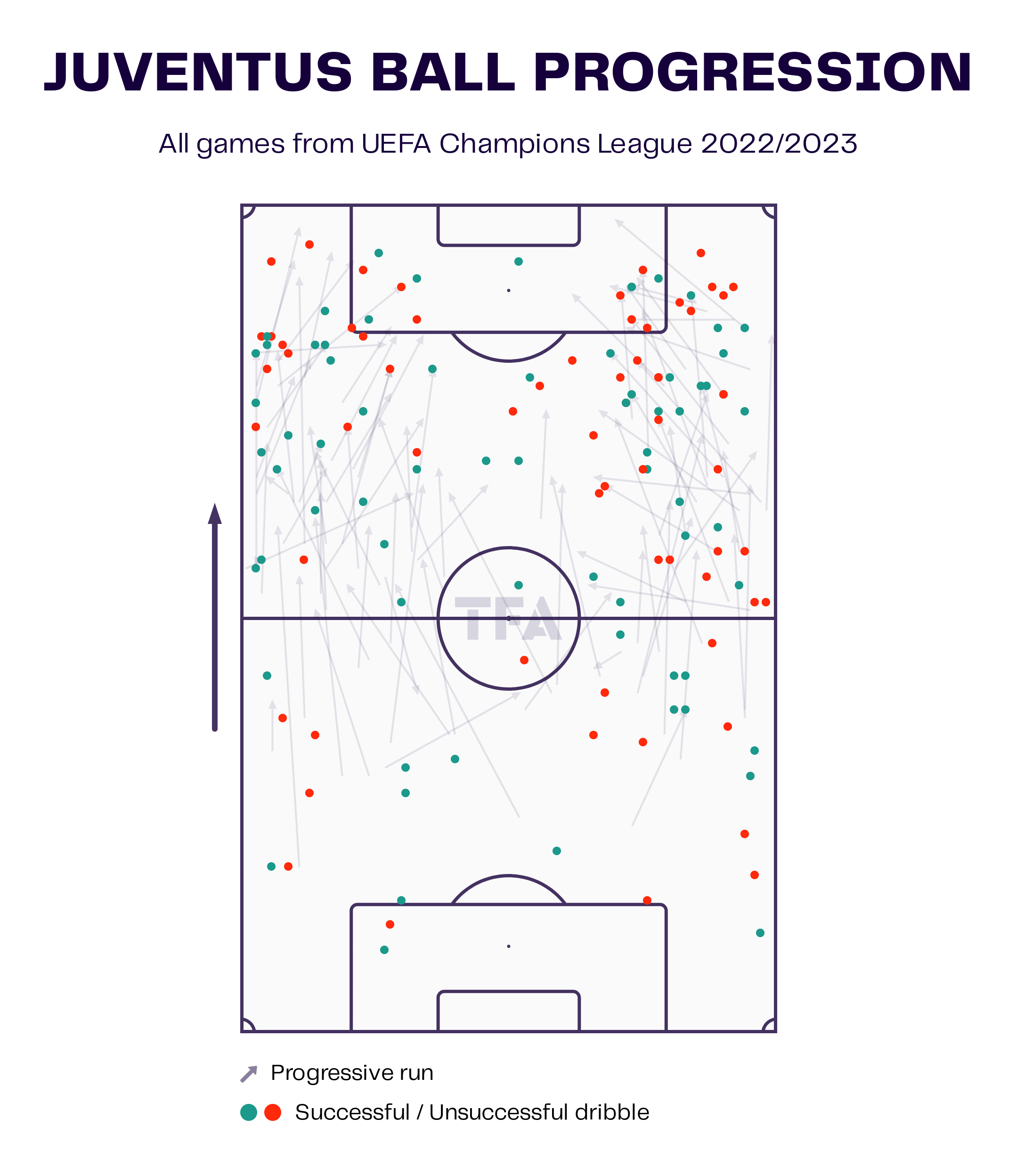 The above viz depicts the ball progression made by Juventus in the UEFA Champions League 2022–23. They generate 2.33 counterattacks per 90, with 35.6% of them ending in shots. They perform 28.83 positional attacks per 90, with 23.7% ending in shots. Additionally, they make 72.67 progressive passes per 90 with 79.4% accuracy. It can be seen that most of their intensity is on either flank, and the team doesn't use the central regions to progress forward as frequently.
In terms of attacking moves, Nantes creates 29.5 positional attacks per 90, with 21.5% ending in shots. The team makes 1.33 counterattacks per 90 minutes, with 12.8% of them ending in shots. Additionally, they made 62.17 progressive passes per 90 with 68.1% accuracy in the 2022–23 UEFA Europa League. It can be seen that the team makes progress up the pitch by using wider areas and also generates attacking moves through the central zones.
Defensive actions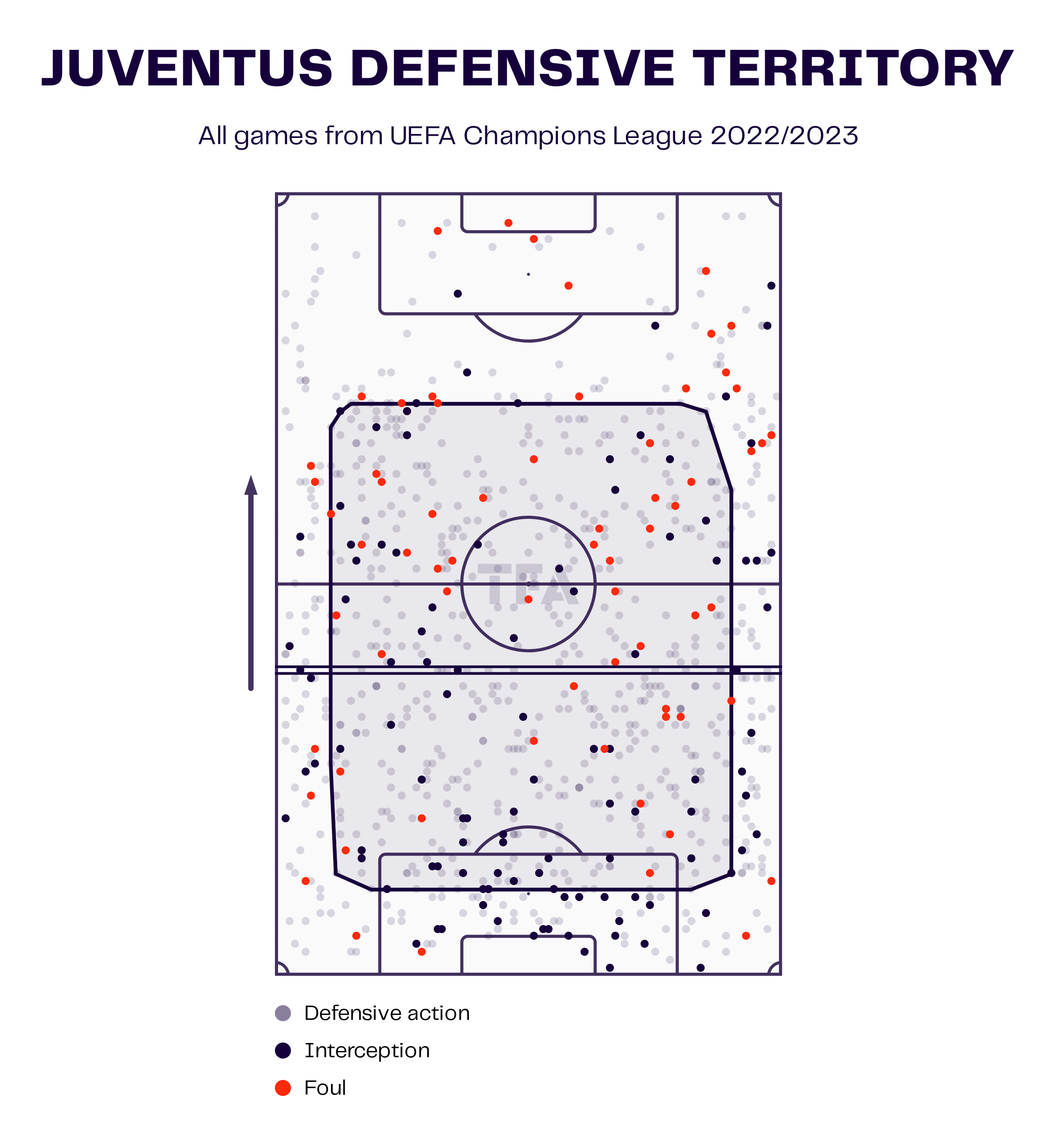 Juventus conceded 13 goals during their Champions League matches, which is an inferior record to most teams. The above viz shows the defensive territory of the team. The average position of their backline is not too deep, and they have made 35.17 interceptions on average, winning 40.2% of the aerial duels and 49.7% of the defensive duels contested per 90. A good chunk of their defensive actions come inside their penalty box, and they have also committed two fouls in the box. They commit 11.33 fouls on average and concede 2.17 goals per 90 minutes.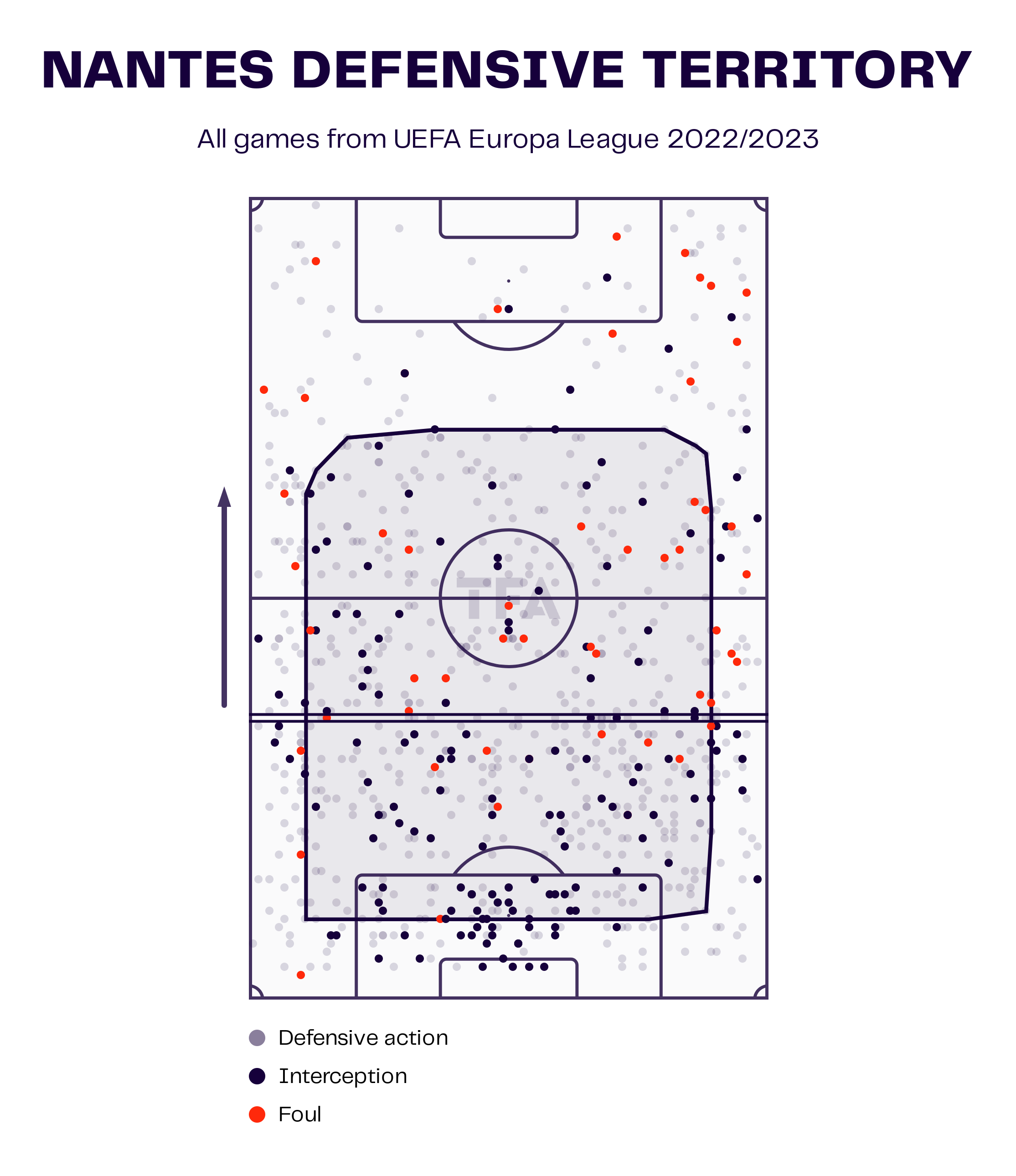 The above viz shows Nantes' defensive territory from their Europa League campaign. Nantes conceded 11 goals in the group stage, averaging 1.83 goals conceded per 90 minutes. The team makes 44.5 interceptions, which is slightly better compared to their opponents this season. They have given away one foul inside their box and average 8.83 fouls per 90 minutes. They won 62% of defensive duels and 50.2% of aerial duels contested. Compared to their upcoming opponent, Nantes players have a deeper backline and are more defensively involved in the defensive and middle thirds.
Key players
Dusan Vlahovic is back from injury and can be expected to lead the attacking line for Juventus. Despite missing out for quite a while, he is the top-scorer for the Turin side in the league and has also scored and assisted once in the Champions League. Vlahovic poses a natural attacking threat, and the Nantes defenders will have the task of keeping him at bay.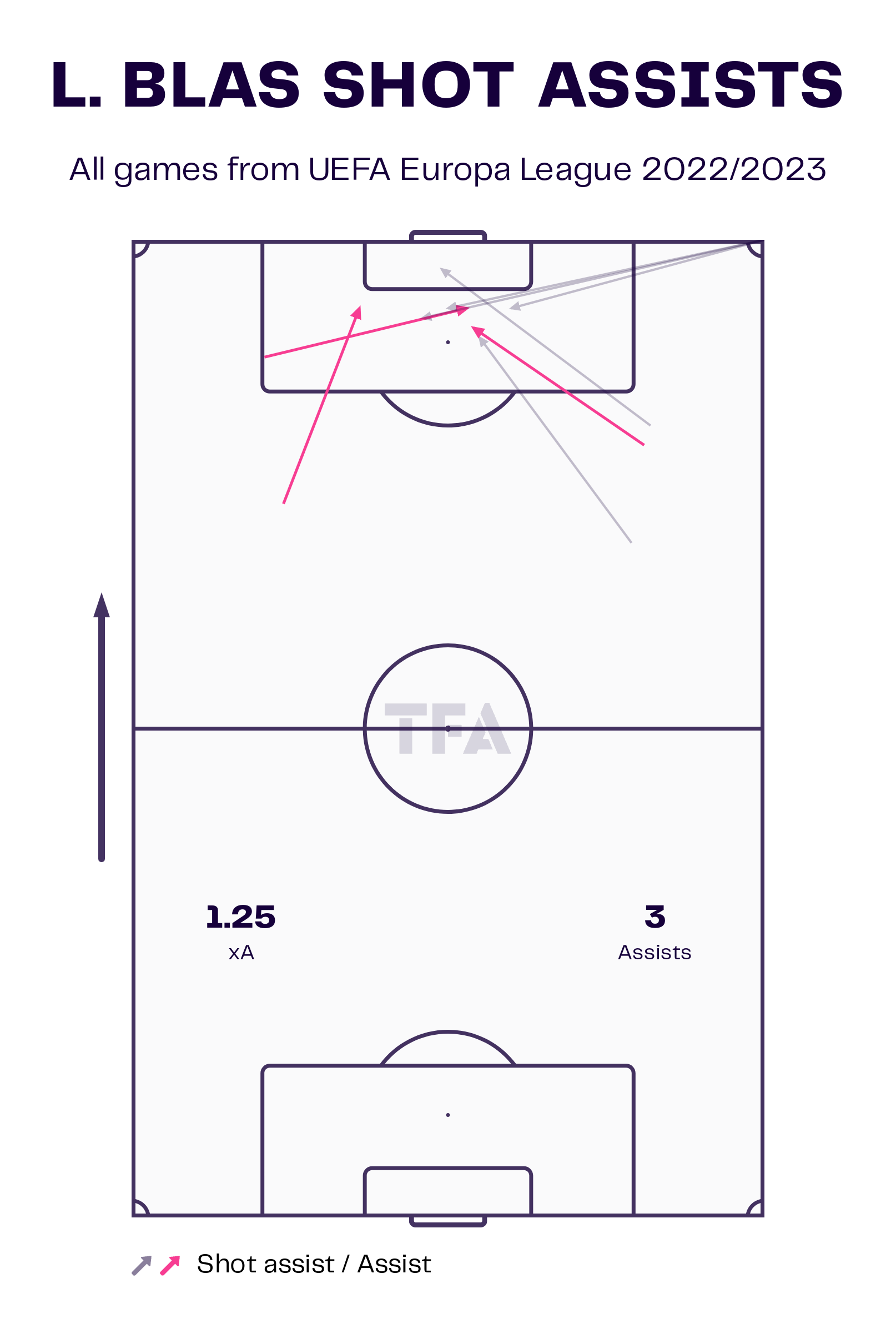 Meanwhile, Ludovic Blas has been one of the top contributors for Nantes this season. He has six goal contributions for the Ligue 1 side in the domestic league and has also scored twice and assisted three times in the Europa League. Juventus players will have the task of nullifying the French midfielder's presence in the final third.
Team news
Juventus are expected to be without Arkadiusz Milik, Fabio Miretti, Paul Pogba, and Juan Cuadrado through injury. Meanwhile, Bremer will miss out due to suspension. Apart from these players, the remainder of the Juventus squad should be ready to go.
Meanwhile, Nantes are expected to name a full-strength starting eleven, with only Quentin Merlin likely to miss out due to injury. Besides that, there shouldn't be any more absentees in their squad.
Juventus vs. Nantes will be one of the more interesting matchups of the UEFA Europa League knockout playoffs. The stats indicate the hosts are the favourites to win this tie over both legs. Juventus will get the advantage of playing at home in this first leg and will be motivated to give their best performance for a positive result. Nantes, on the other hand, will come with its own game plan and look to remain in the tie until the second leg.
Visuals via TFA data viz engine