Juventus will welcome SC Freiburg to the Allianz Stadium on Thursday night for the UEFA Europa League Round of 16 ties. The Bianconeri are one of the favourites to go all the way in the competition, and this is their best chance to secure a piece of silverware this season. This will be a huge test for the German side, and a victory will boost their continental reputation further.
Juventus are having a turbulent season, and a points deduction in Serie A has severely damaged their chances of domestic glory. They crashed out of the Champions League after losing five of their six matches, but have made it to the Europa League knockout stages after winning their playoff against Nantes. Meanwhile, SC Freiburg topped their group to progress automatically and went unbeaten in the group stages. They won four games and drew the other two. The Bundesliga team has given some strong performances and has been consistent.
Below are some stats of both teams from the current season to help foresee how the upcoming meeting between the two could pan out.
Overall performances of the teams
The viz above shows the percentile rank of both teams' stats compared to each other as well as to other teams in the UEFA Europa League 2022–23. It can be seen that both teams outperform each other in a few areas. Notably, Freiburg have better overall stats in areas like goals, xG, shots, key passes, final third entries, and possession rate. Alternatively, there are some indicators in which Juventus have the upper hand or is at par, such as accurate passes, key passes, opposition xG per shot, and penalty area entries.
The teams in front of the goal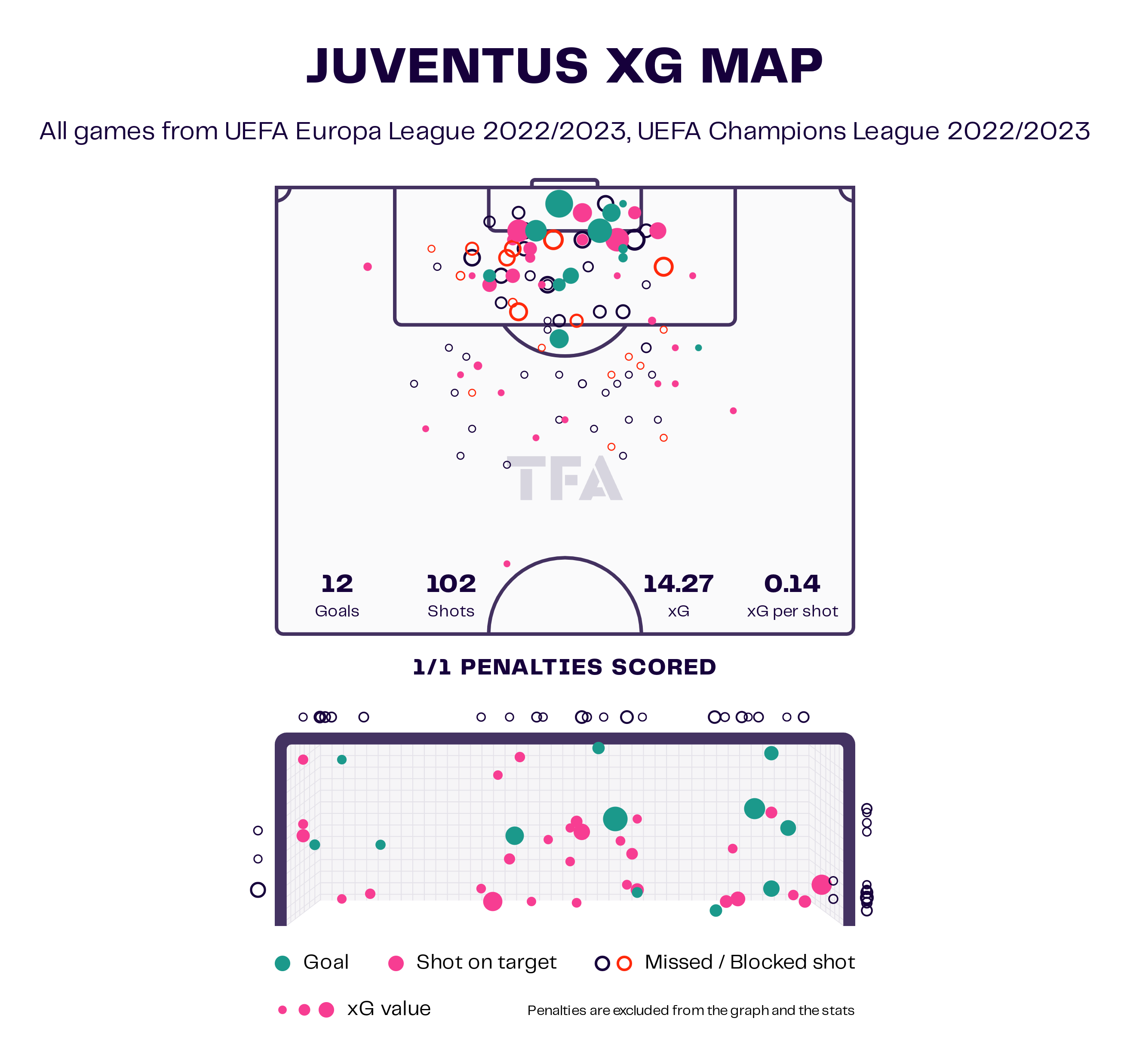 Juventus have taken a total of 102 shots in eight European fixtures and scored 13 goals. They accumulated 14.27 non-penalty xG in total and scored most of the goals from inside the penalty area. The xG map above shows that the Serie A side has been able to penetrate the six-yard box quite frequently, but has also shown the desire to shoot from distance. Juventus have scored 1.44 goals per match, averaging an xG of 1.77. They take 13 shots per match with a 40.2% accuracy rate.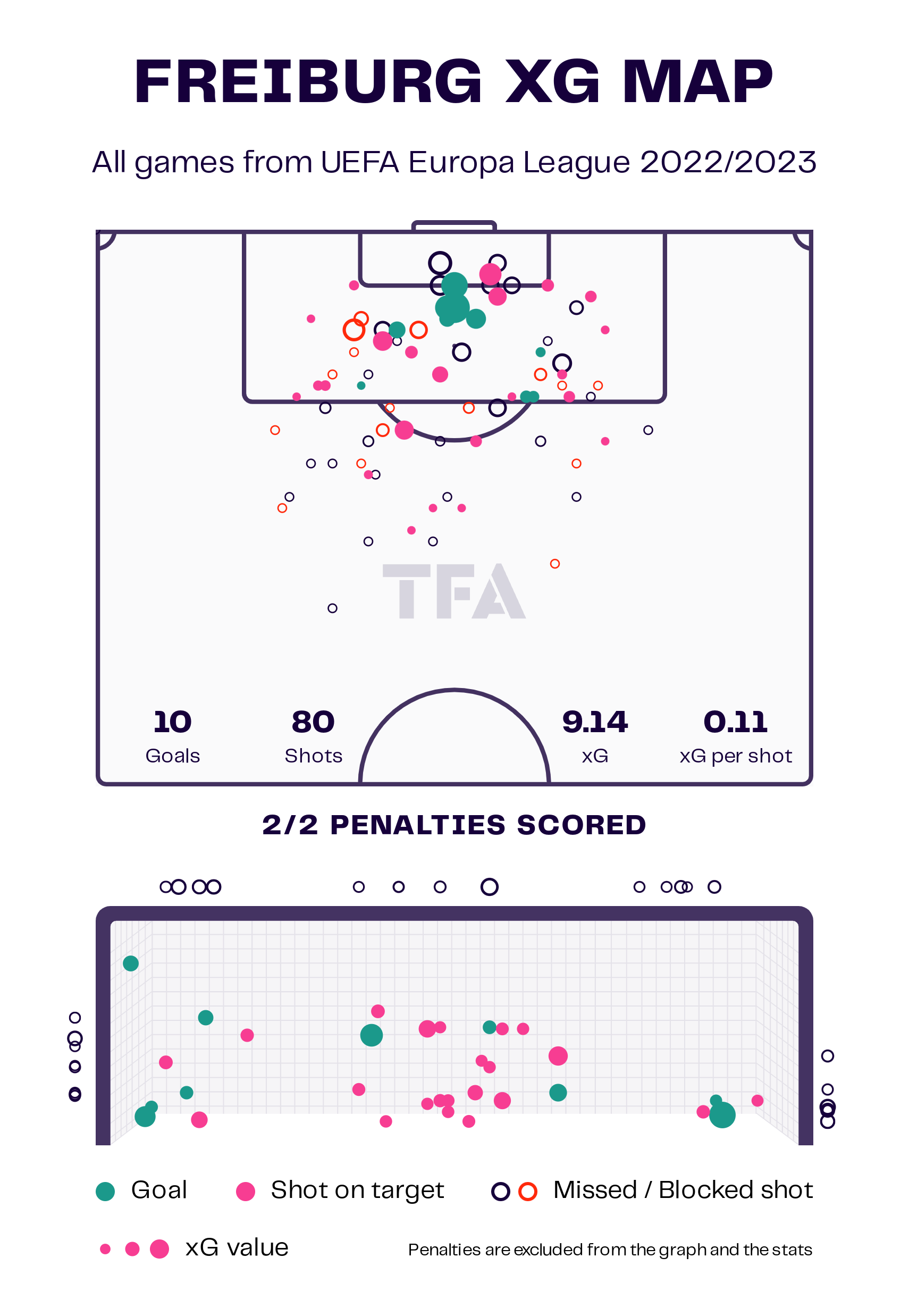 Alternatively, Freiburg have been in excellent form in the current Europa League campaign. They have taken 80 shots in total and scored 12 goals for a non-penalty xG tally of 9.14. The German side has scored all of its goals from inside the penalty area, and half of them have been from very close range. They score at the rate of 2.17 goals per match while averaging 1.78 xG. Furthermore, Freiburg averages 13.67 shots per game with a 42.6% accuracy rate.
Progressing with the ball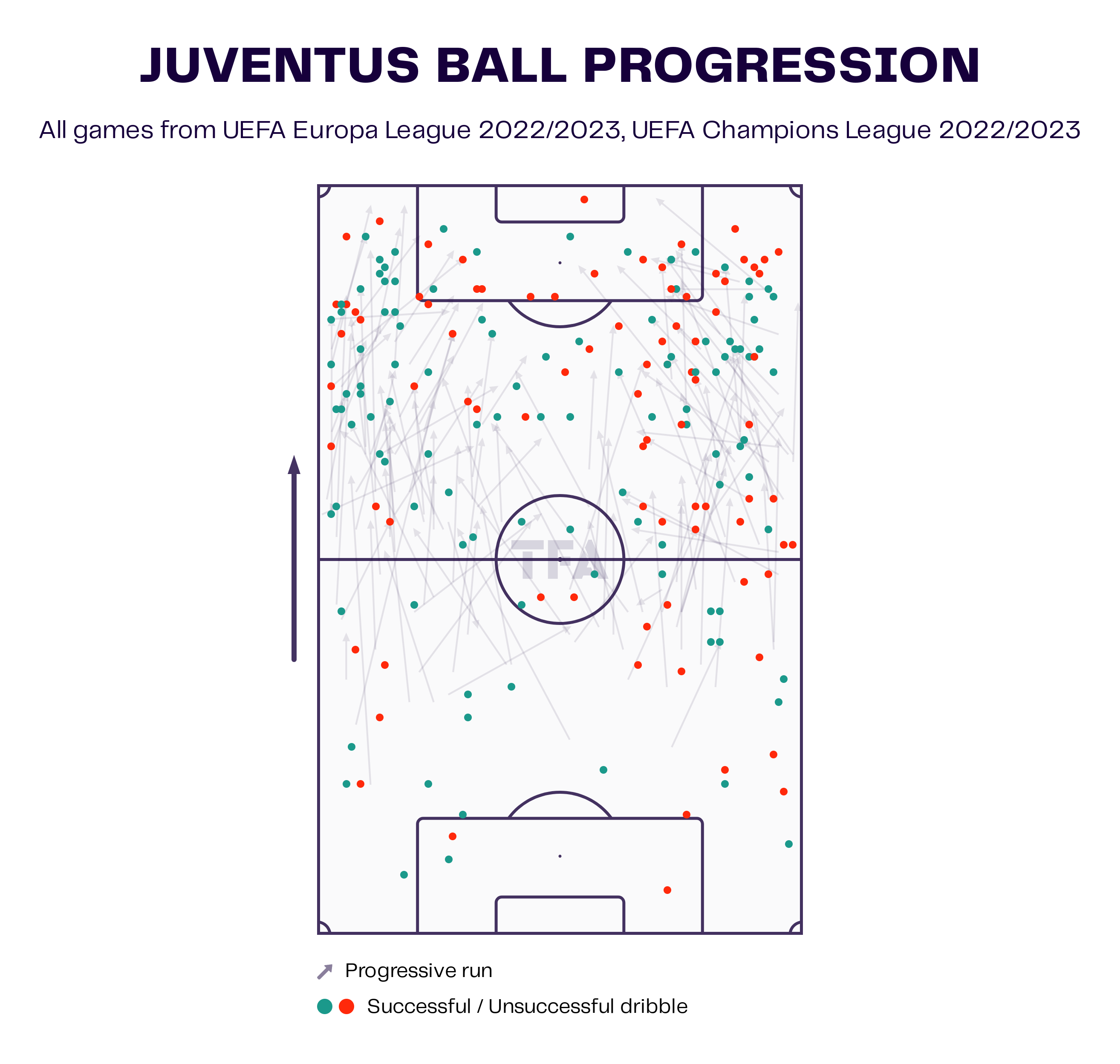 The above viz depicts the ball progression made by Juventus in the European competitions this season. They craft 31.67 positional attacks per 90, with 24% ending in shots. Additionally, they make 73.22 progressive passes per 90 with 80.7% accuracy. It can be seen that most of the intensity of their plays is on either flank, and the team uses the central regions less frequently to progress forward.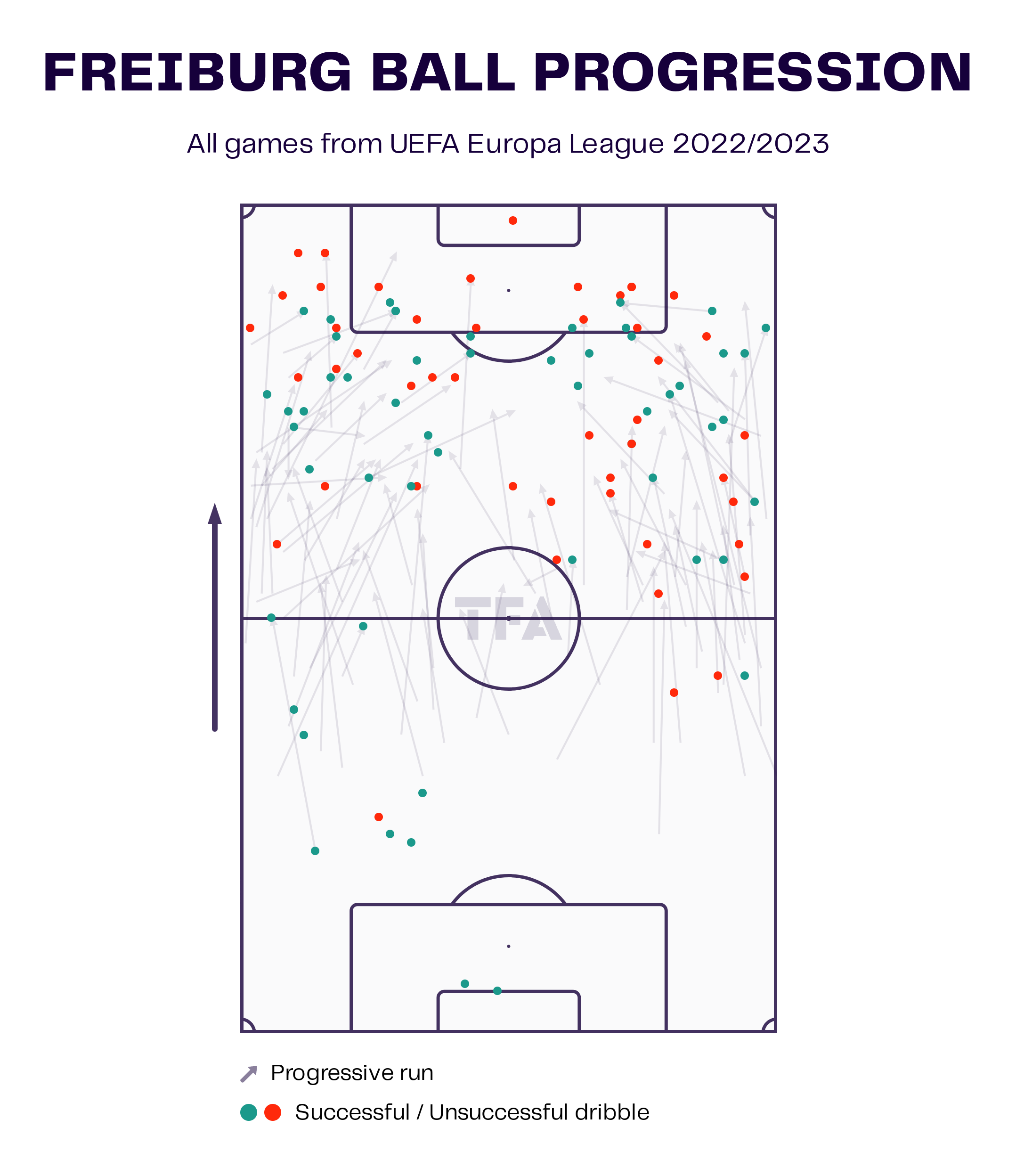 In terms of attacking moves, Freiburg creates 30.5 positional attacks per 90, with 27.3% ending in shots. Additionally, they make 71 progressive passes per 90 with 71.4% accuracy in the 2022–23 UEFA Europa League. There is some similarity between both teams in terms of utilising the flanks to direct their attacking plays into the opposition's penalty box.
Defensive territory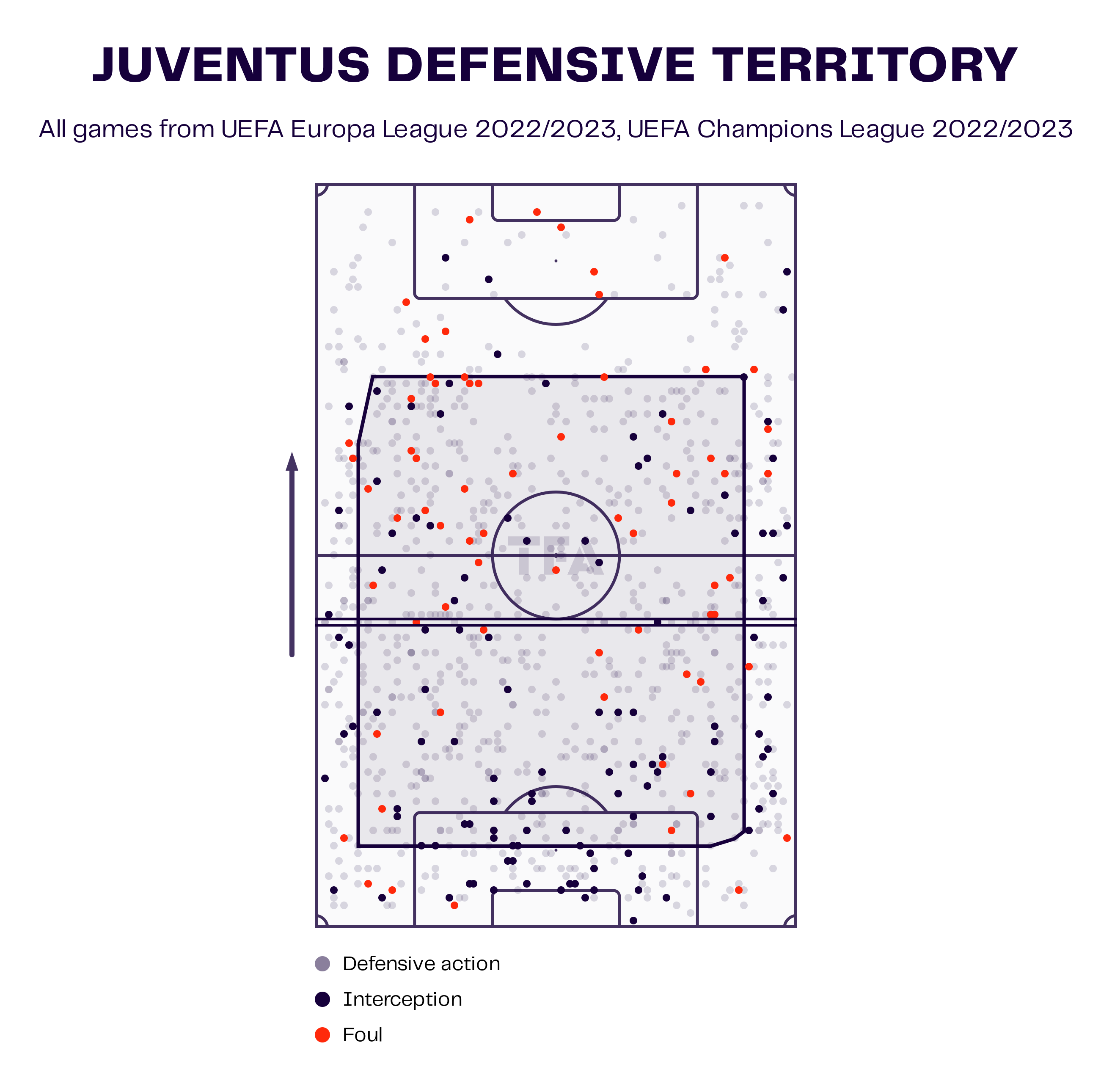 Juventus' defence in the European games has been questionable this season. They conceded 14 goals in the eight matches played, and their only clean sheet came in the most recent match against Nantes. The above viz shows the defensive territory of the team, and their backline is not too deep. Juventus makes 33.33 interceptions on average, winning 43.9% of the aerial duels and 59.7% of the defensive duels contested. A good chunk of their defensive actions come inside their penalty box, and they have also committed two fouls in the box. They have conceded 1.89 goals per 90 minutes with an xGA of 1.5.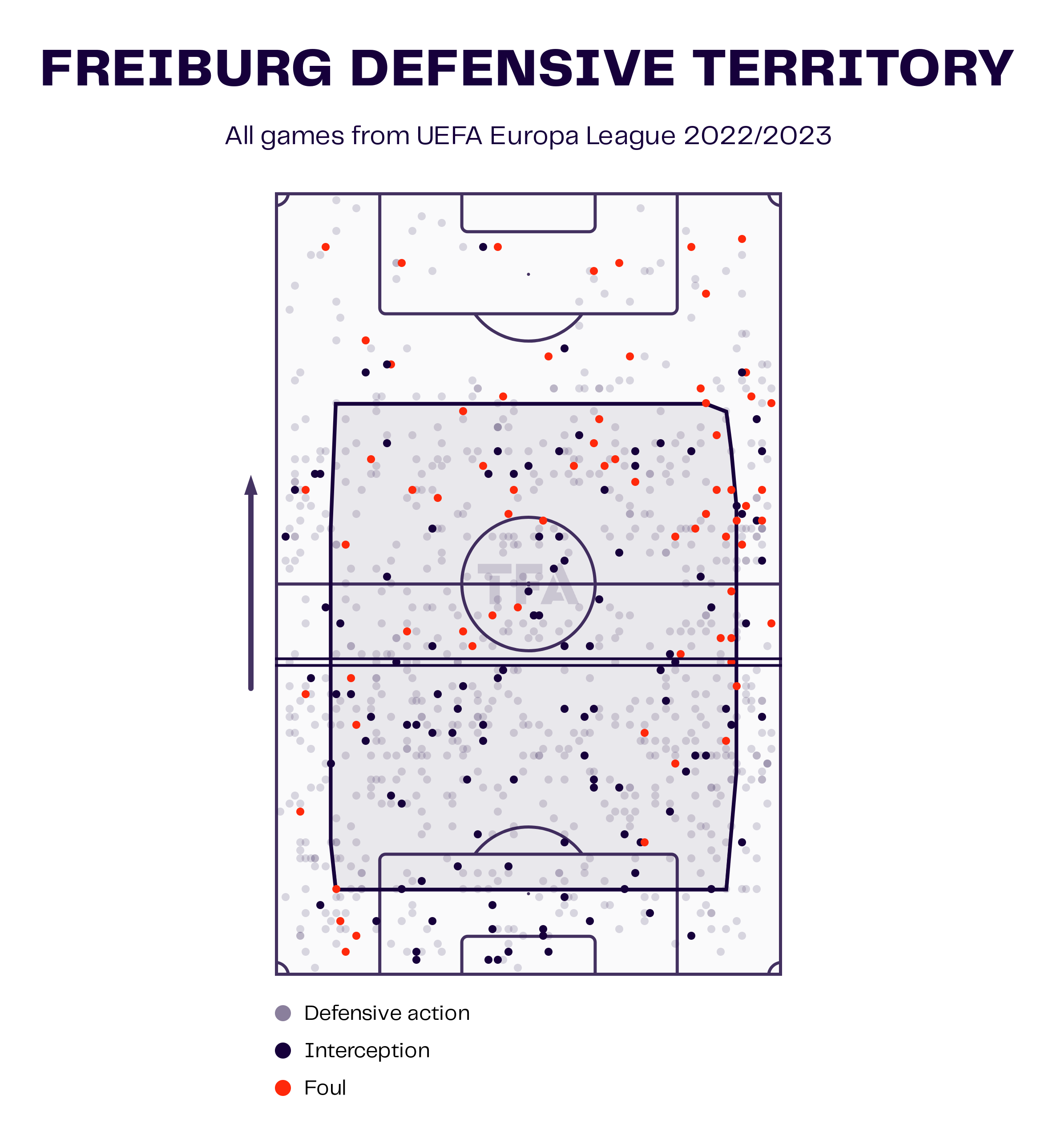 Freiburg had one of the best defensive records in the Europa League group stages, conceding only three goals and keeping three clean sheets. They averaged 0.5 goals conceded per 90 minutes (1.24 xGA). The team remains composed while defending in their half and have given up zero fouls inside the penalty area. Overall, Freiburg makes 36 interceptions and wins 61.7% of defensive duels and 49.2% of aerial duels contested. Compared to their Italian opponent, Freiburg's defensive line's height is similar and they are more involved in defensive actions in the midfield.
Key players
Angel Di Maria has become one of the most essential players for Juventus in the current campaign. He has been in great form of late and netted a hat trick in the most recent match against Nantes, bringing his tally in European competitions to three goals and three assists for the season. Di Maria takes 3.95 shots per match along with 1.97 shot assists, and the Freiburg players will have to keep his attacking and creative prowess in check.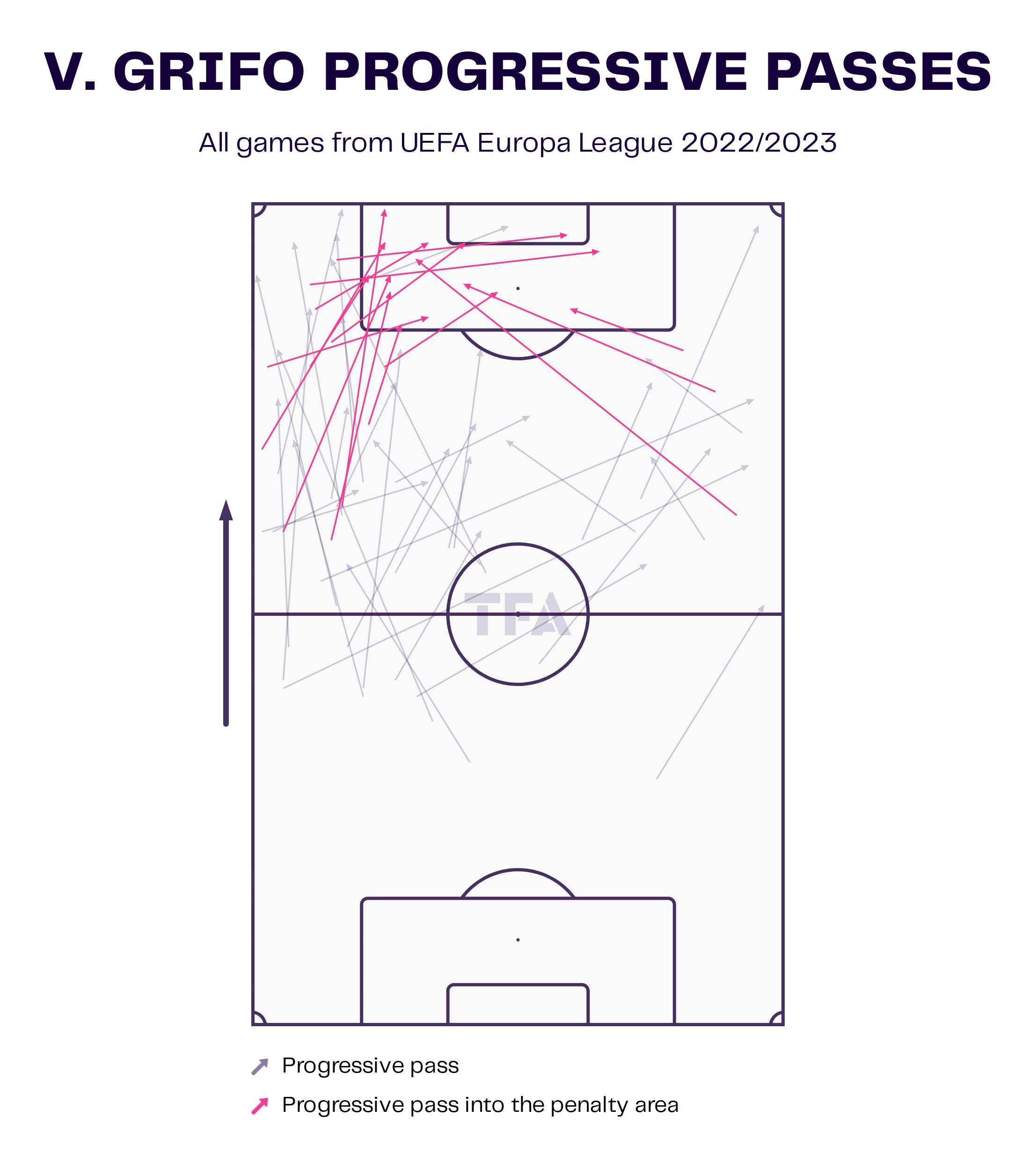 Vincenzo Grifo is having an outstanding season with Freiburg and is proving to be a leading figure for the team with his goal contributions. Thus far, the versatile Italian midfielder has two goals and one assist in the Europa League. The above viz represents his progressive passing numbers from the current season. He makes 6.6 passes into the penalty area per 90, and Freiburg fans will be hoping to see some magic on the pitch at the feet of Grifo.
Team news
Juventus will be without the services of Arkadiusz Milik, Fabio Miretti, and Kaio Jorge due to various injuries. However, the return of Paul Pogba to fitness will serve as a boost for the hosts.
Meanwhile, Freiburg will miss a key player in the form of Daniel-Kofi Kyereh. Michael Gregoritsch is also another doubt to be fit in time to play.
Overall, Juventus progressed after a close contest with Nantes in the playoffs and proved they can deliver under pressure. They will have the advantage of playing the first leg at home and will want to take a decent advantage into the return leg. Meanwhile, Freiburg will come up with their own game plan and try to pull off an upset in hostile territory.
Visuals via TFA data viz engine