One of the noteworthy winter transfer deals to happen in Serie A was the loan move of Italian left-back Luca Pellegrini from Juventus to SS Lazio. Formerly of Roma and a Juventus-owned player since 2019, Pellegrini has spent the last few seasons on loan at Serie A clubs like Cagliari and Genoa. He spent the first half of the 2022/23 season on loan at Eintracht Frankfurt, making 14 appearances in all competitions for the Bundesliga club. Now, the 23-year-old has arrived for a loan spell at Lazio, who will have the option to sign him permanently for €15m. Luca Pellegrini is a physically strong and technically-gifted defender known for his quality, stamina, consistency, and work rate. Below, we look at some of his stats from recent seasons with Juventus and Frankfurt.
Although primarily a left-back, Pellegrini has shown the versatility to feature as a central and left midfielder. This season, he made nine league appearances for Eintracht Frankfurt, starting in seven matches. Whereas, he featured 18 times for Juventus in the last Serie A season, starting in 15 matches. The viz above shows the percentile rank of the player's stats compared to other left-backs from the current Bundesliga season. Pellegrini ranks in the top 95.0 and 90.0 percentiles for shots and dribbles, respectively. He also has a high rank in metrics like passes per 90, progressive passes, positioning, and aerial duels won.
Movement on the left
Luca Pellegrini covers the entire left flank of the pitch as a left-back. The two visuals above portray the player's heat and pass maps from the last two seasons. He provided one assist while playing for Juventus during the 2021–22 season. Looking at the passing aspect of his gameplay, Pellegrini passes the ball roughly 48.45 times per match with a pass completion rate of 72%. He also makes 1.23 key passes each game, which leads to chances being created. Overall, Luca averages two shots per match, and his xA output currently stands at 0.11 per match.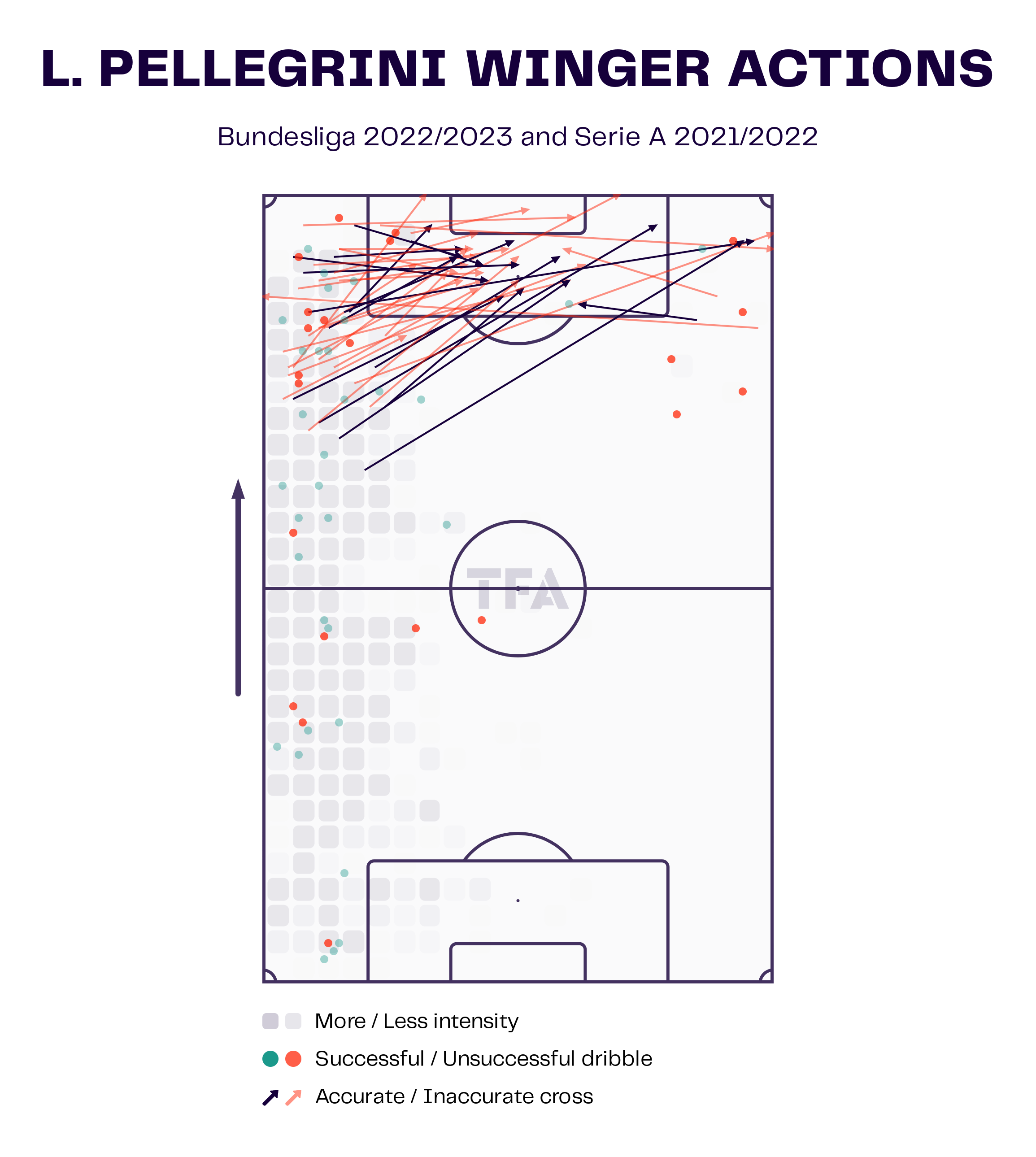 Luca Pellegrini is an offensive-minded left-back, which makes him a very valuable asset for the team. His tendency to attempt dribbles in the final third causes damage to the opponent. The above viz shows the player's winger actions from the past two seasons. It can be observed that most of his intensity is on the left flank of the middle and final third, from where he attempts to dribble or delivers a deep or even short cross into the box. Currently, he attempts 5.37 dribbles per match with a 57.1% success rate, which ranks him among the top percentile. Furthermore, his tendency to take frequent crosses and his ability to deliver them successfully are also demonstrated by the 5.67 crosses he attempts per game with 27% accuracy.
Defensive duties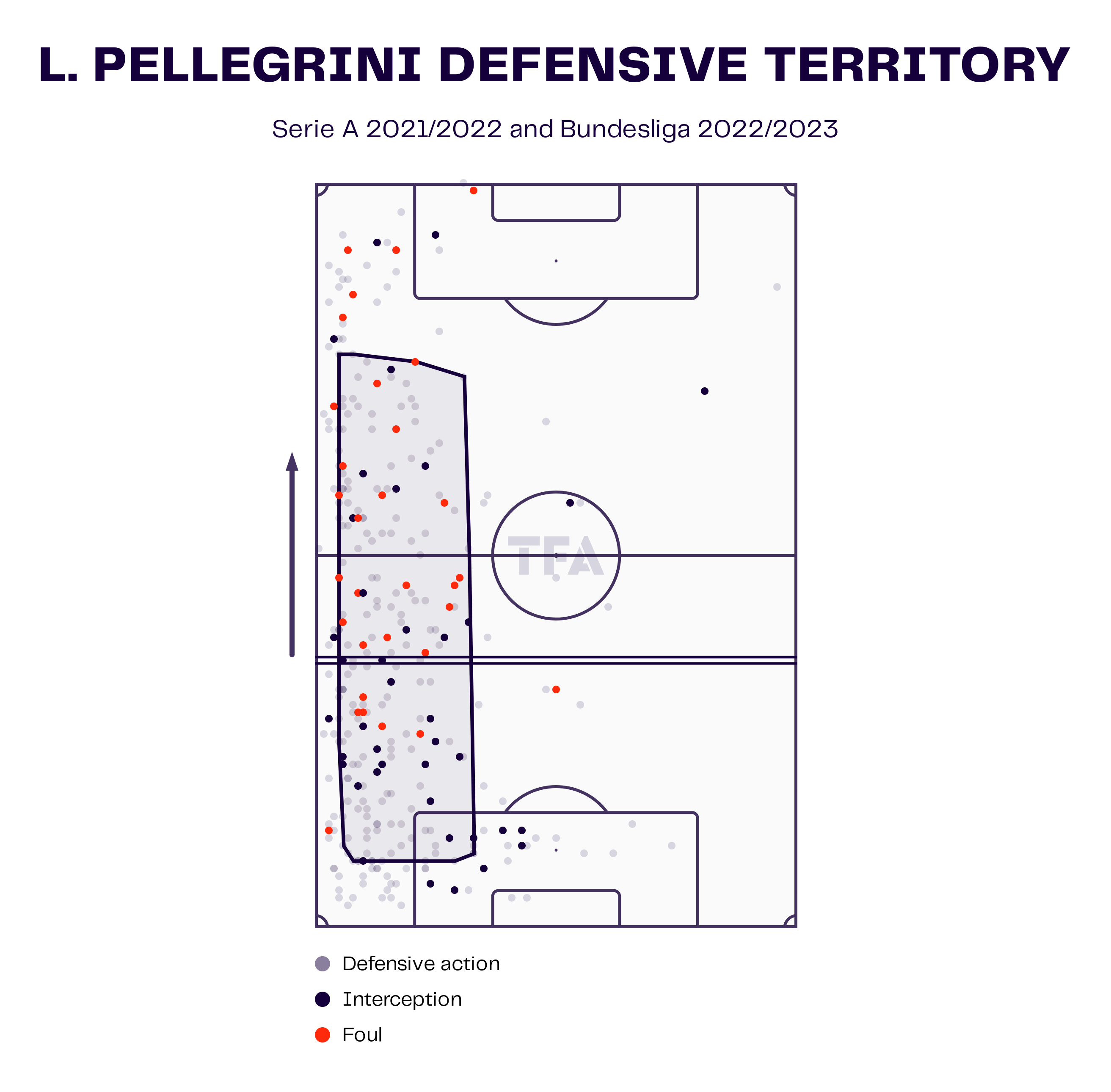 The above viz shows the defensive territory of the 23-year-old Italian left back. It indicates that Pellegrini is involved in a lot of defensive actions in the defensive and middle thirds. Being a fullback, he covers an entire flank of the field in terms of his defensive territory. Overall, he has a win percentage of 63% for defensive duels and 46.2% for aerial duels per 90 minutes. He also makes interceptions inside the box as well as in his defensive third. Luca makes 5.37 interceptions and 11.81 recoveries per match. He is also capable of making high regains and counter-pressing recoveries, as shown above. Furthermore, he has contributed to seven dangerous recoveries in the last two seasons.
Role at Lazio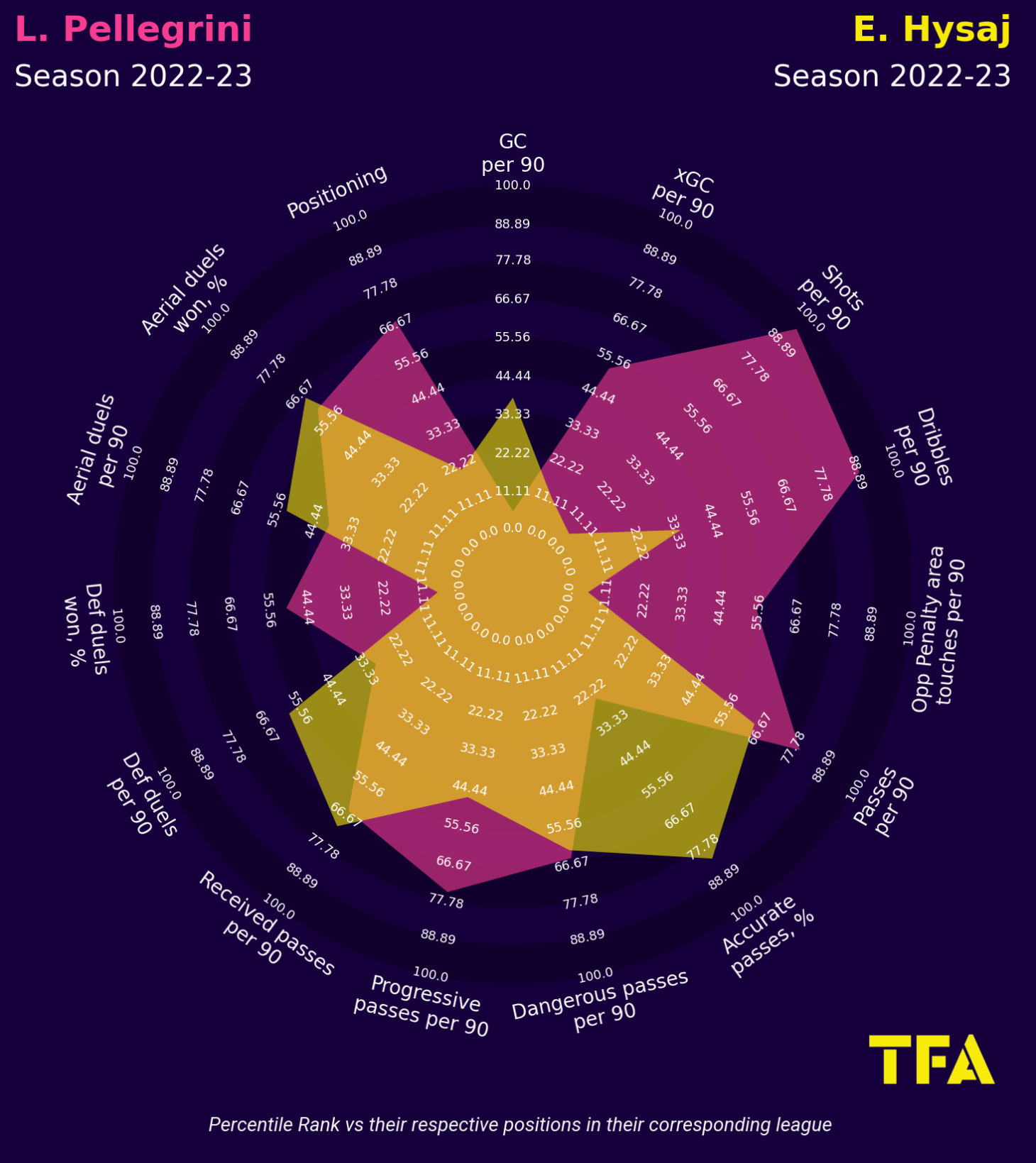 The above viz is a comparison between Pellegrini and Hysaj. Currently, 28-year-old Elseid Hysaj plays as a left-back for Lazio despite being classified as a right-back. It can be seen that Italian has better numbers compared to his Albanian counterpart in most of the stats. Given the age of Pellegrini and the amount of potential he possesses, he will serve as a natural left-back in Lazio's backline while providing serious competition for a starting position. Therefore, having Pellegrini join the team will be a huge boost to their overall defensive structure for Maurizio Sarri's side.
Luca Pellegrini's move to Lazio is the next step in his promising career. Overall, the Italian left-back is astute in his position and has the qualities to develop into a top player. His ability to provide stability in attack as well as stop opponents from penetrating makes him a valuable addition to his new club. With age on his side, Luca Pellegrini could evolve into a regular member of the Lazio team and reach his full potential at such a reputed Serie A club.
Visuals via TFA data viz engine