One of the underrated players in Serie A is M'bala Nzola, who currently plays for Spezia as a centre-forward. The Angolan international joined Spezia in 2020 and has gradually become an integral part of the team's starting line-up. Since joining the Italian side, Nzola has been one of the most consistent performers for his team and has played a key role in keeping the club in the Italian top tier over the past couple of seasons.
The Angolan winger scored two goals and provided one assist in Serie A last season, as Spezia finished two positions above the relegation zone. But his best performance came in his first season with Spezia, where he had 11 goals and three assists. This season, Nzola has proven indispensable once again as Spezia sits in the lower half of Serie A, six points above the drop zone. He has provided key goal contributions that have helped the team achieve important results against Atalanta, Empoli, and most recently, Torino. Below are some stats that capture M'bala Nzola's performances while playing for Spezia in Serie A in 2022/23.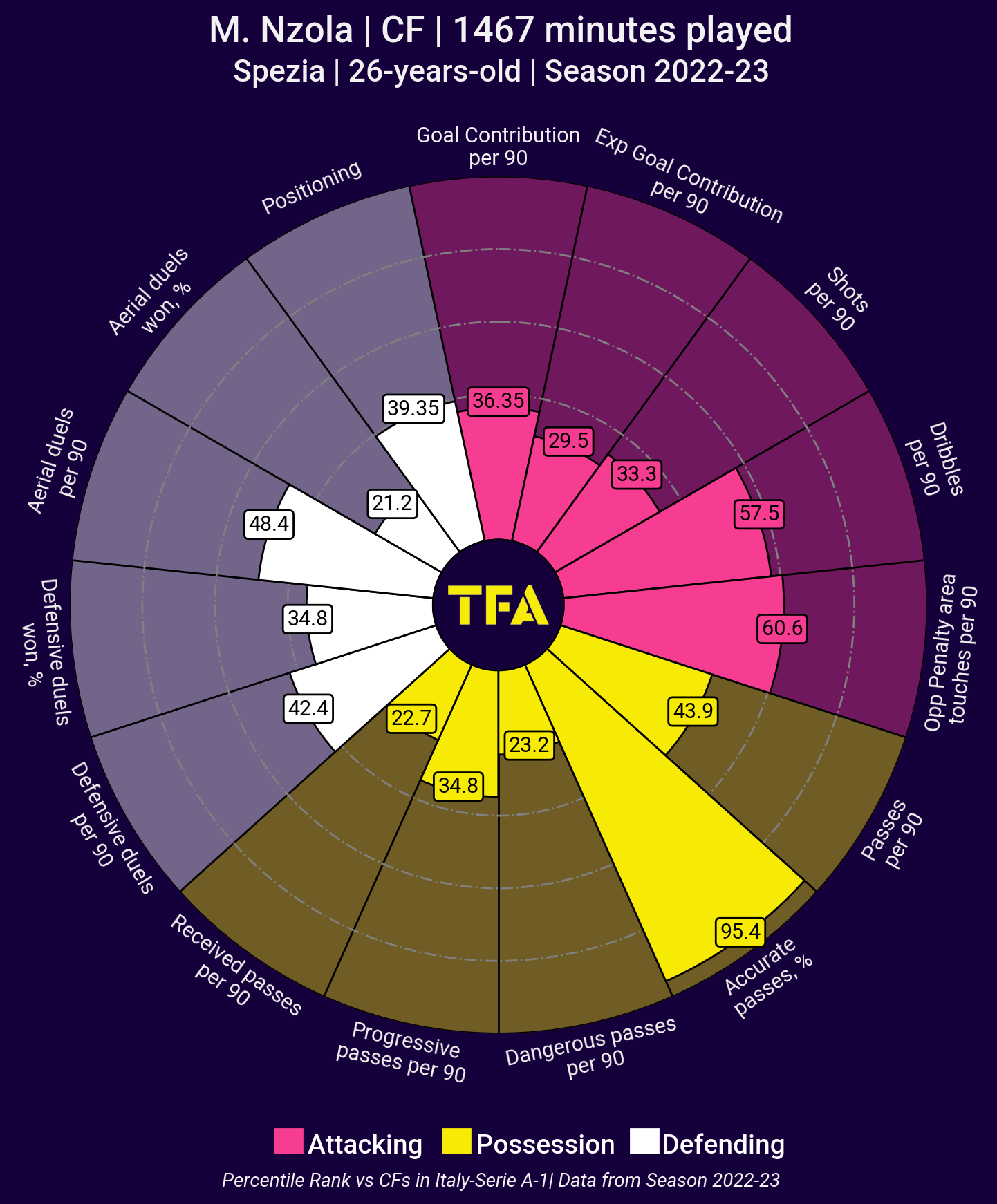 M'Bala Nzola has played in all of Spezia's 18 league matches this season, averaging 89 minutes per game. The above viz shows the percentile rank of the player's stats compared to other centre-forwards in Serie A. It can be observed that Nzola is performing well in terms of metrics like goal contribution, dribbles, penalty area touches, pass attempts, aerial duels, and defensive duels. Most notably, the player ranks in the top 95.4 percentile for accurate passes.
Nzola in attack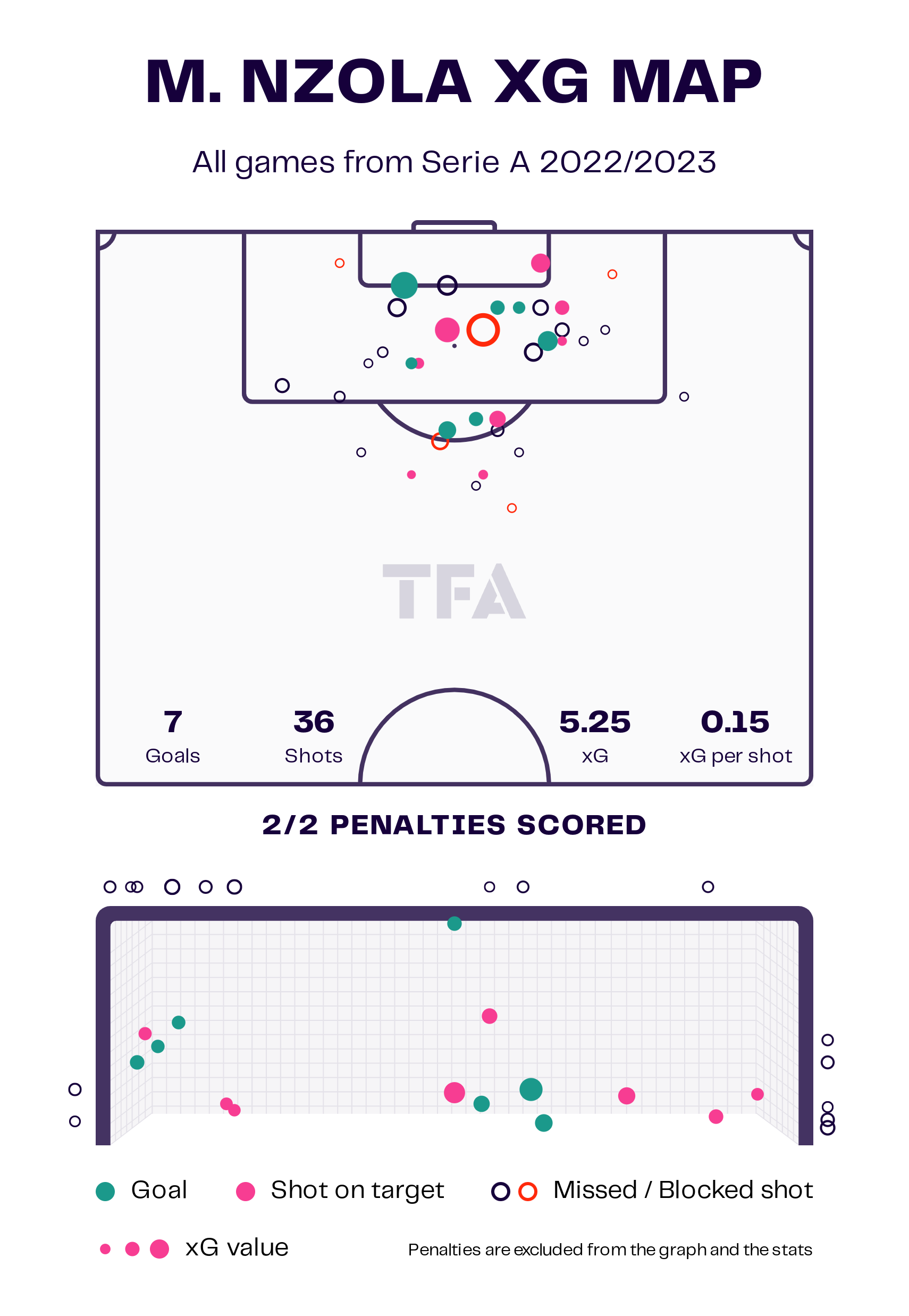 With nine goals this season, M'bala Nzola is Spezia's top goal scorer and joint third in the Serie A scoring charts. With an average of 0.47 goals per match, he is slightly outperforming his xG average of 0.35. The viz above depicts the player's shot map from this season. He has attempted 36 shots, with most of them coming from inside the penalty area. Most of his goals have come from close range, and two have come from the edge of the box. The Angolan international takes almost two shot attempts per match with 44.7% accuracy.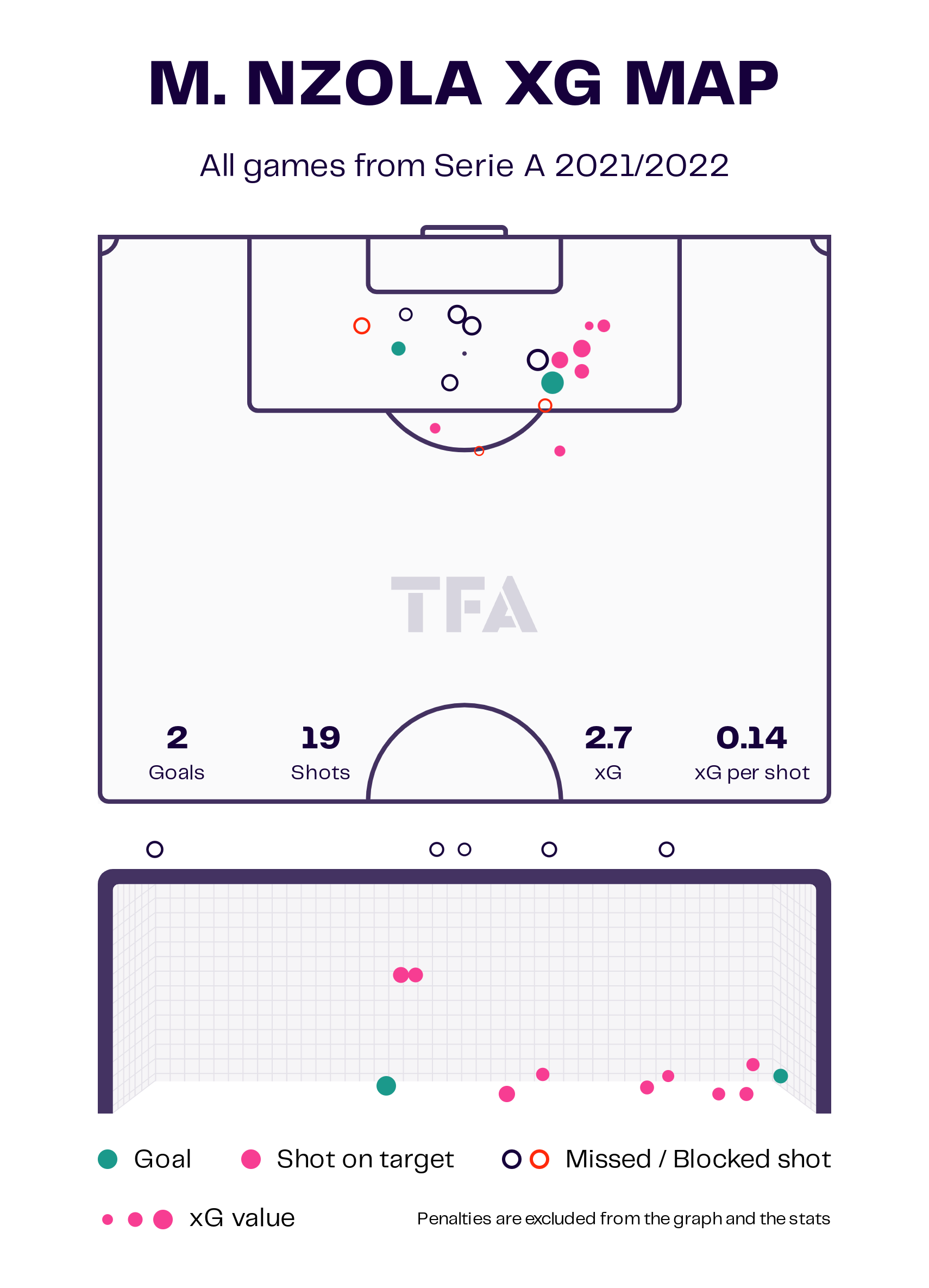 Compared to the 2021/22 Serie A season, Nzola took 19 shots and scored two goals in 21 appearances for Spezia. He averaged 1.46 shots per game with 57.9% accuracy. He is attempting more shots this season, with lesser accuracy, and has already surpassed his goal tally from the previous season in a much shorter time period. This highlights Nzola's finishing ability and composure in front of the goal.
Nzola in possession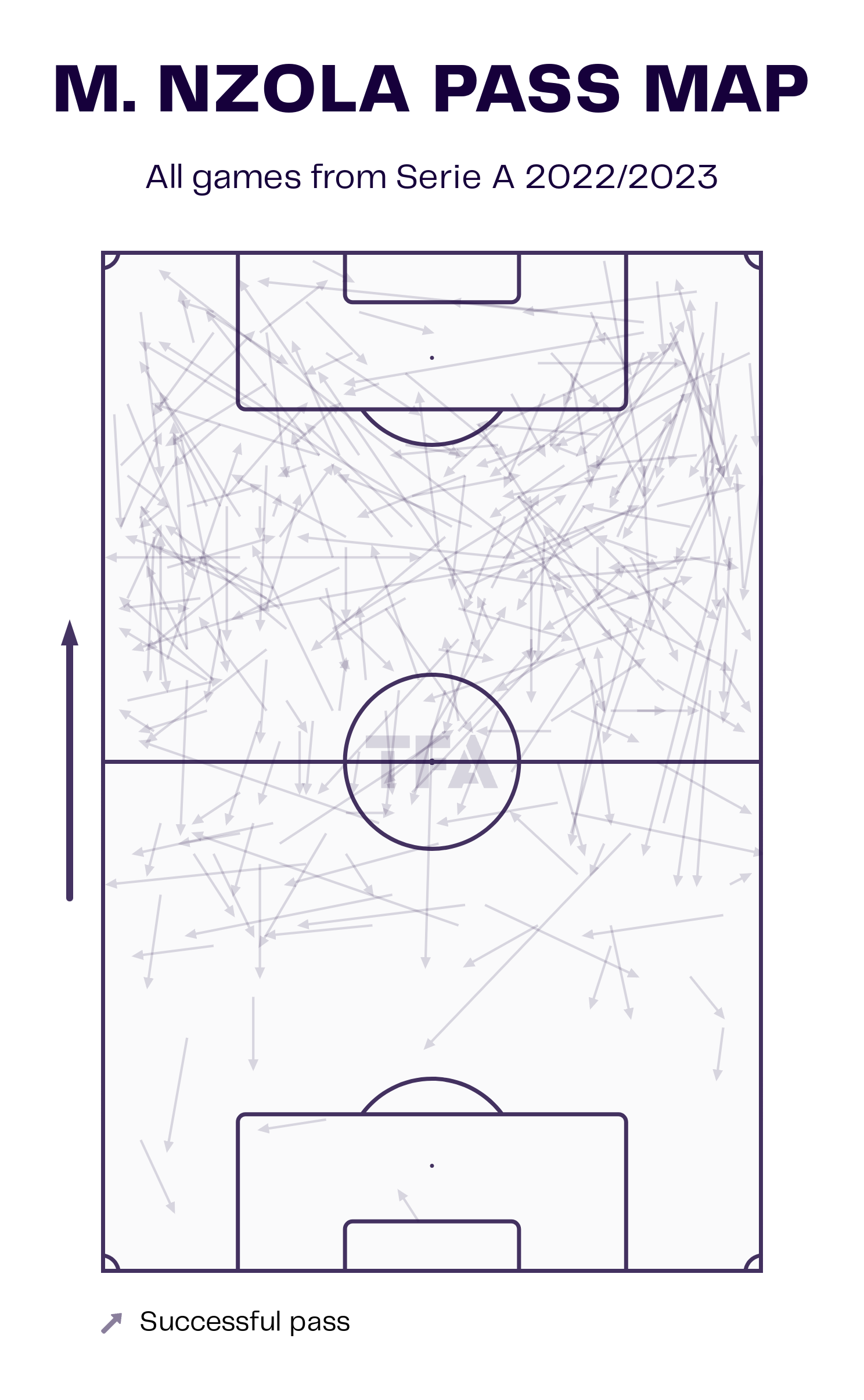 In addition to his goal-scoring prowess, the 26-year-old centre-forward is a sound passer of the ball. He drops into midfield and can hold onto the ball, which can prove vital in setting up counterattacking plays. Nzola attempts around 18 passes per match with an impressive accuracy rate of 84.3%. Additionally, he makes 3.33 progressive passes and 1.25 passes into the penalty box per match. He has also delivered one assist this season and averages 0.7 shot assists per 90 minutes.
M'bala Nzola means business in the penalty box, but he also drifts wide to stretch the play and tries to create chances for his teammates. The two visuals above highlight his creative capabilities with the ball. The Angolan has made 31 penetrating carries into the penalty box during his 18 appearances this season. Sometimes he likes to take on players in wide positions in the final third; other times he puts a few crosses into dangerous areas. Currently, he attempts 2.81 dribbles per match with 44.4% accuracy and 0.8 crosses per match with 28.6% accuracy. Furthermore, Aziz averages 3.75 touches in the penalty area along with close to one progressive per match.
M'bala Nzola has proven his worth for Spezia amid a tough season. Apart from leading the attack as a natural goal scorer, he also helps his team in position with his creative attributes and abilities on the ball. Spezia will expect the same consistency from the 26-year-old striker for the rest of the season as they look to pull themselves further away from the Serie A drop zone.
Visuals via TFA data viz engine