Memphis Depay has been linked with a move away from Barcelona since last summer. With the winter transfer window in full flow, reports have emerged stating Inter Milan and Barcelona are close to agreeing on a swap deal that could see the 28-year-old move to Serie A. Amid a challenging season in Serie A that sees Inter Milan sit fourth in the standings, the Italian club will be keen to bolster their squad in critical areas and deliver a strong second half of the campaign.
The Dutch forward moved from Lyon to Camp Nou in 2021 and experienced an impressive first season in Spain, scoring 13 goals as the Blaugrana finished second. The former Manchester United attacker also played for the Netherlands at the World Cup in Qatar and scored one goal as his nation made the quarterfinals. Below, we look at some stats to understand why Memphis Depay has drawn the interest of European powerhouses like Inter Milan and Atletico Madrid.
Memphis in attack
In his second season with Barcelona, Memphis Depay has found playing time hard to come by, accumulating only 116 minutes across two appearances in La Liga and scoring one goal. Therefore, he has been the subject of a move away from Camp Nou, with potential suitors already aware of the calibre the Dutch attacker possesses.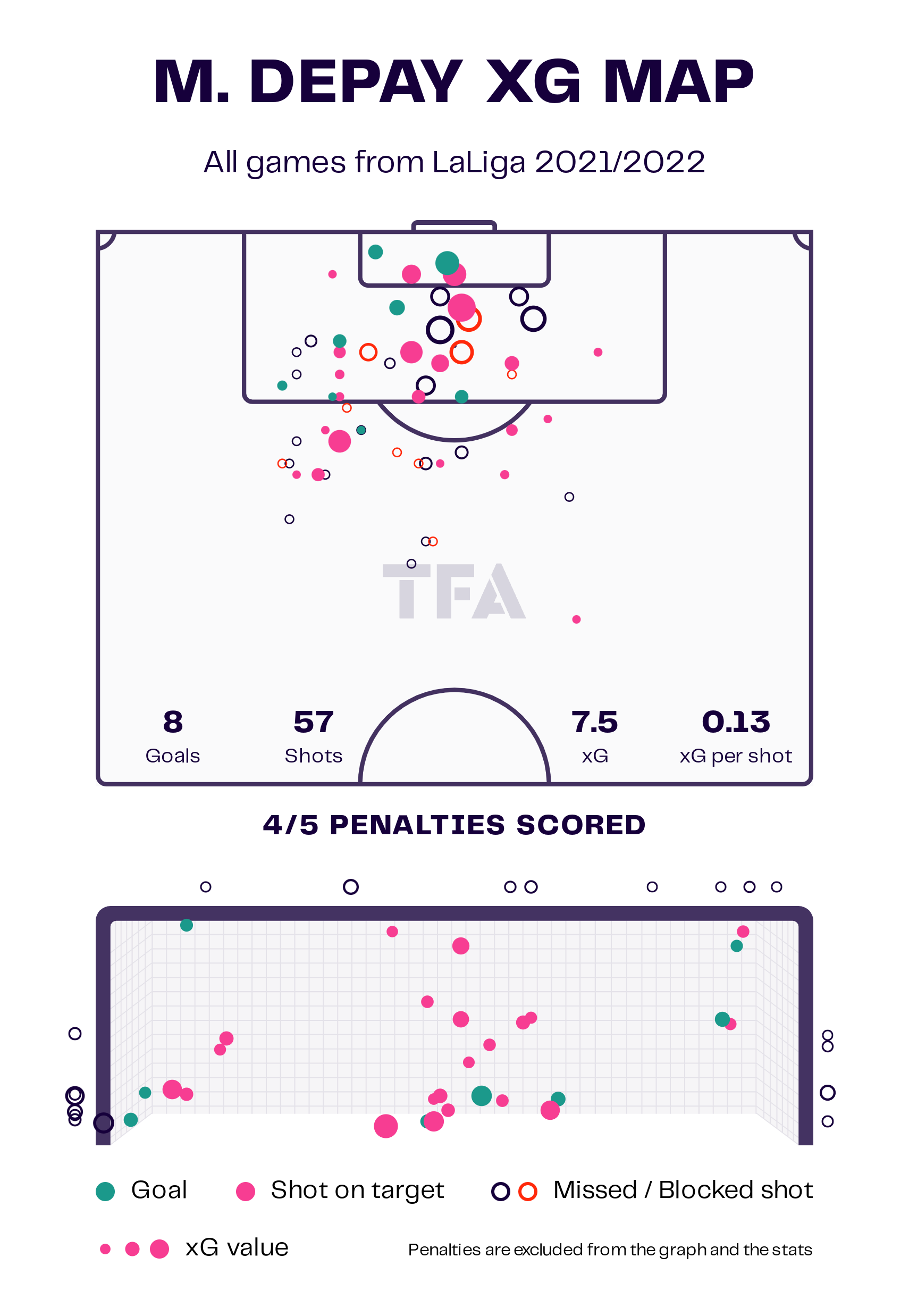 In the 2021/22 La Liga season, Memphis made 28 appearances for Barcelona, averaging 66 minutes while starting in 20 matches. He scored 12 goals with a total xG value of 7.5 (excluding penalties). He scored at a rate of 0.53 goals per match while averaging an xG rate of 0.50. The above viz shows Memphis Depay's shot map from the 2021/22 season with Barcelona. He attempted 57 shots, with most of them coming from inside the penalty area. Two of his goals came from inside the six-yard box, with one coming from the edge of the penalty area. The Dutchman took an average of 2.74 shots per game with an accuracy rate of 54.8%.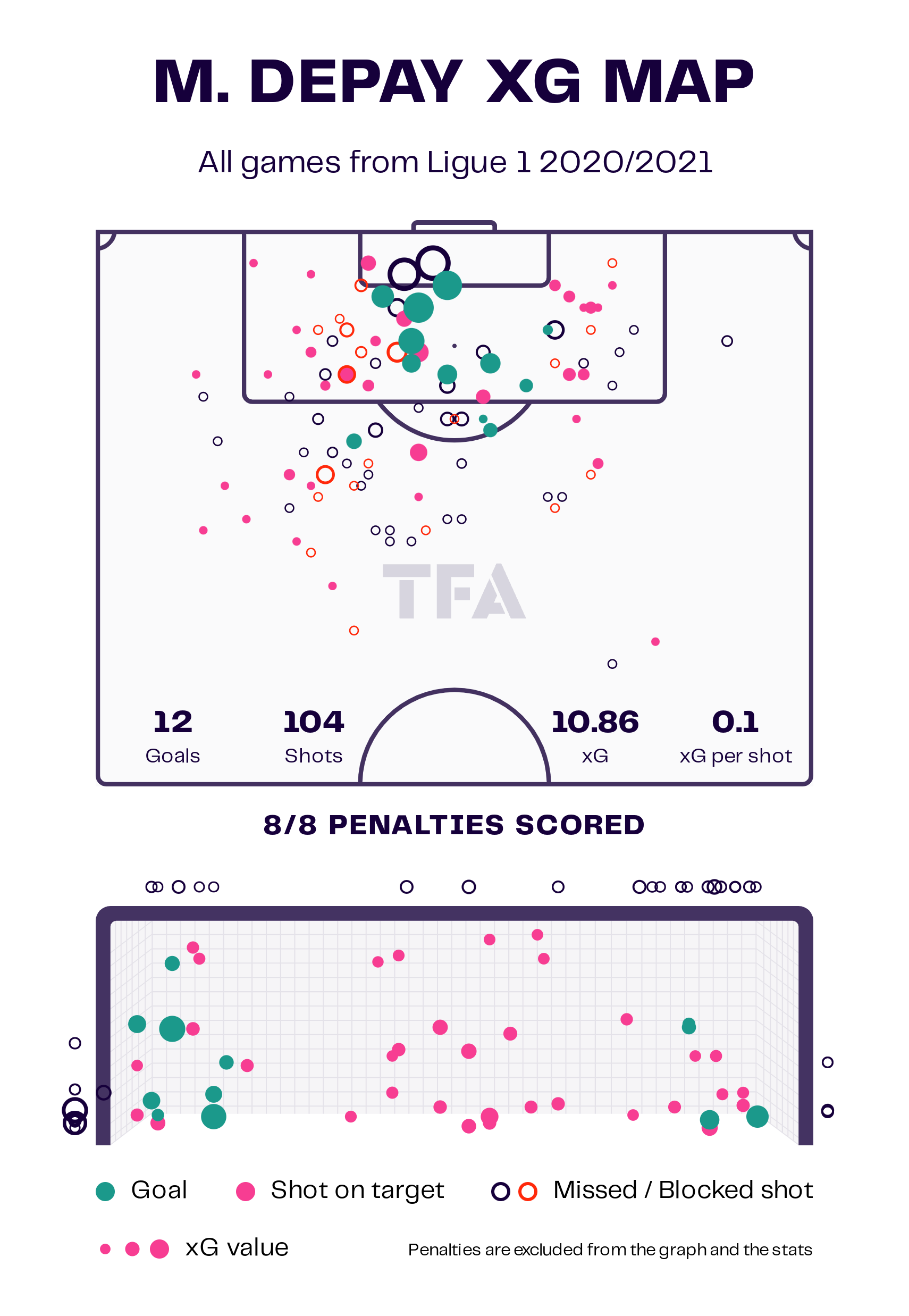 Memphis achieved one of his best goal-scoring figures during the 2020–21 Ligue 1 season with Lyon. He reached the figure of 20 league goals for the second time in his career since his days with PSV in the Eredivisie. As seen in the viz above, he scored the majority of Lyon's goals from inside the box and also attempted a number of long-range shots. He scored at the rate of 0.53 goals per game with an xG rate of 0.49 per 90. Additionally, he averaged 3.27 shots per match with 48.2% accuracy.
Creative gameplay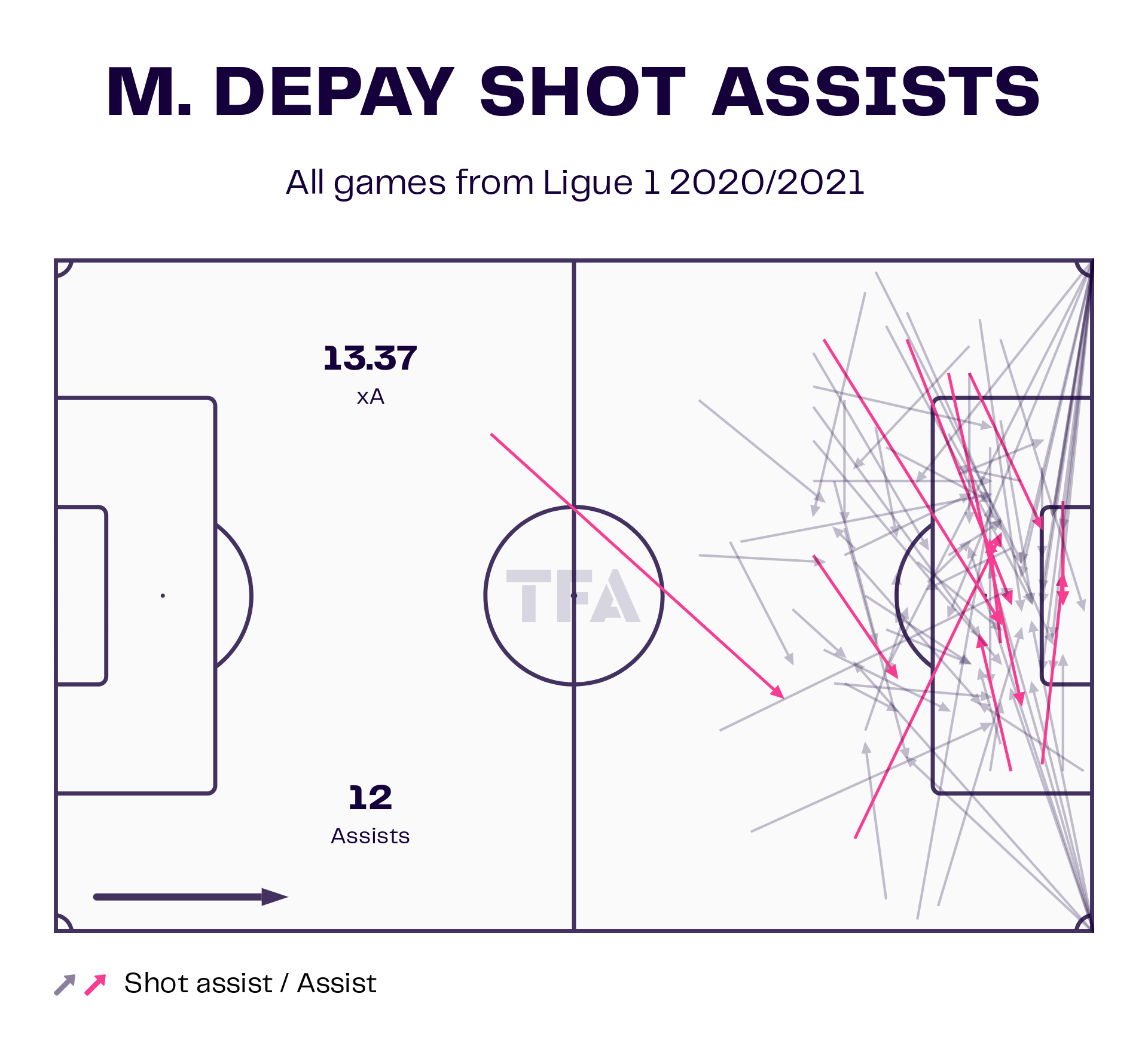 In addition to his commendable goal-scoring records, Memphis Depay has the ability to produce scoring chances for others. During his final season with Lyon, the Dutchman provided 12 assists for his teammates for a total xA tally of 13.37. From the shot assist viz above, it can be observed that most of these assist attempts came through crosses delivered from the wide positions on either flank. Depay averaged 0.35 assists per match while averaging an xA value of 0.39. He created as many as 20 big chances while averaging 2.6 key passes and 2.43 shot assists per match.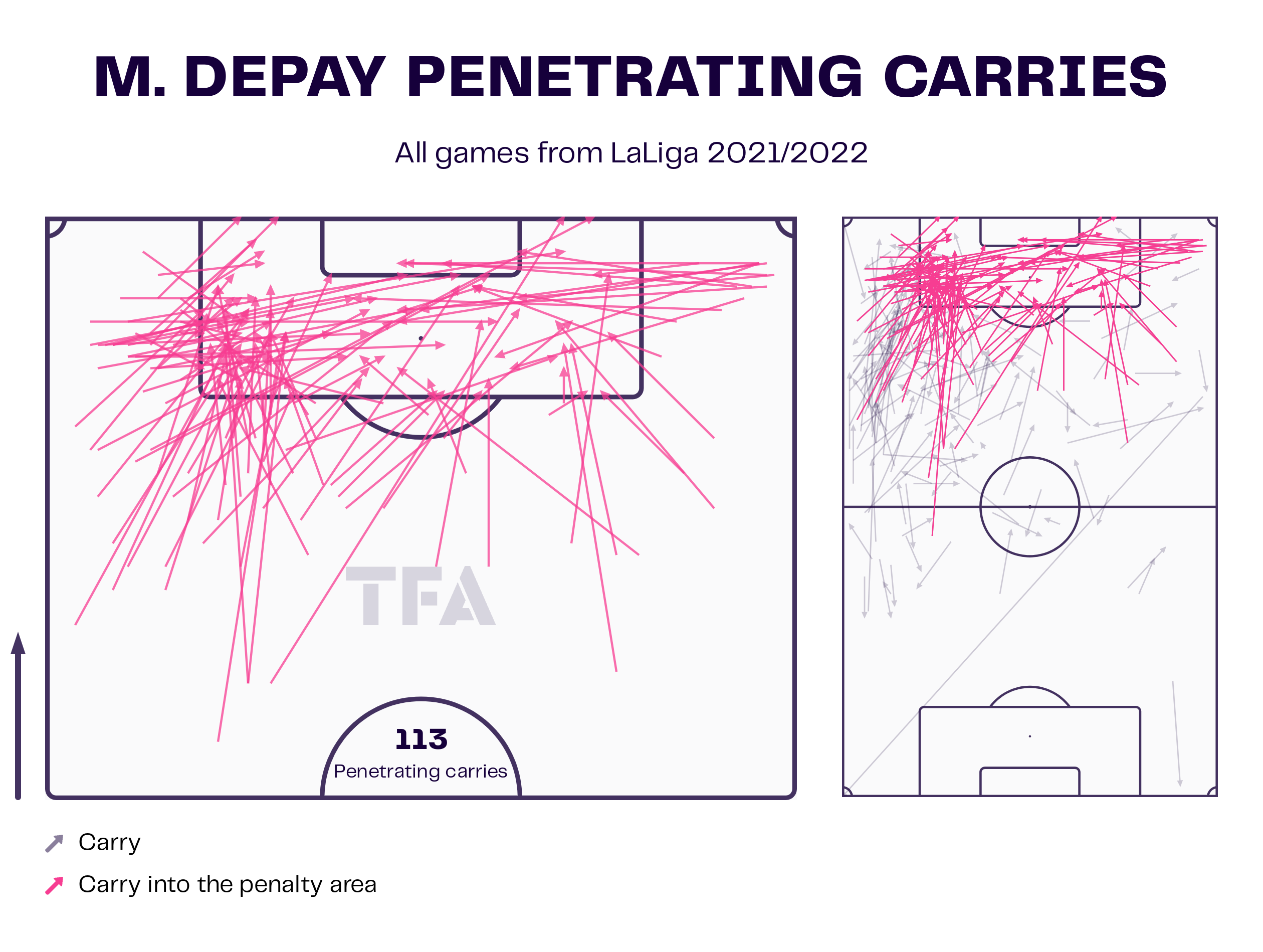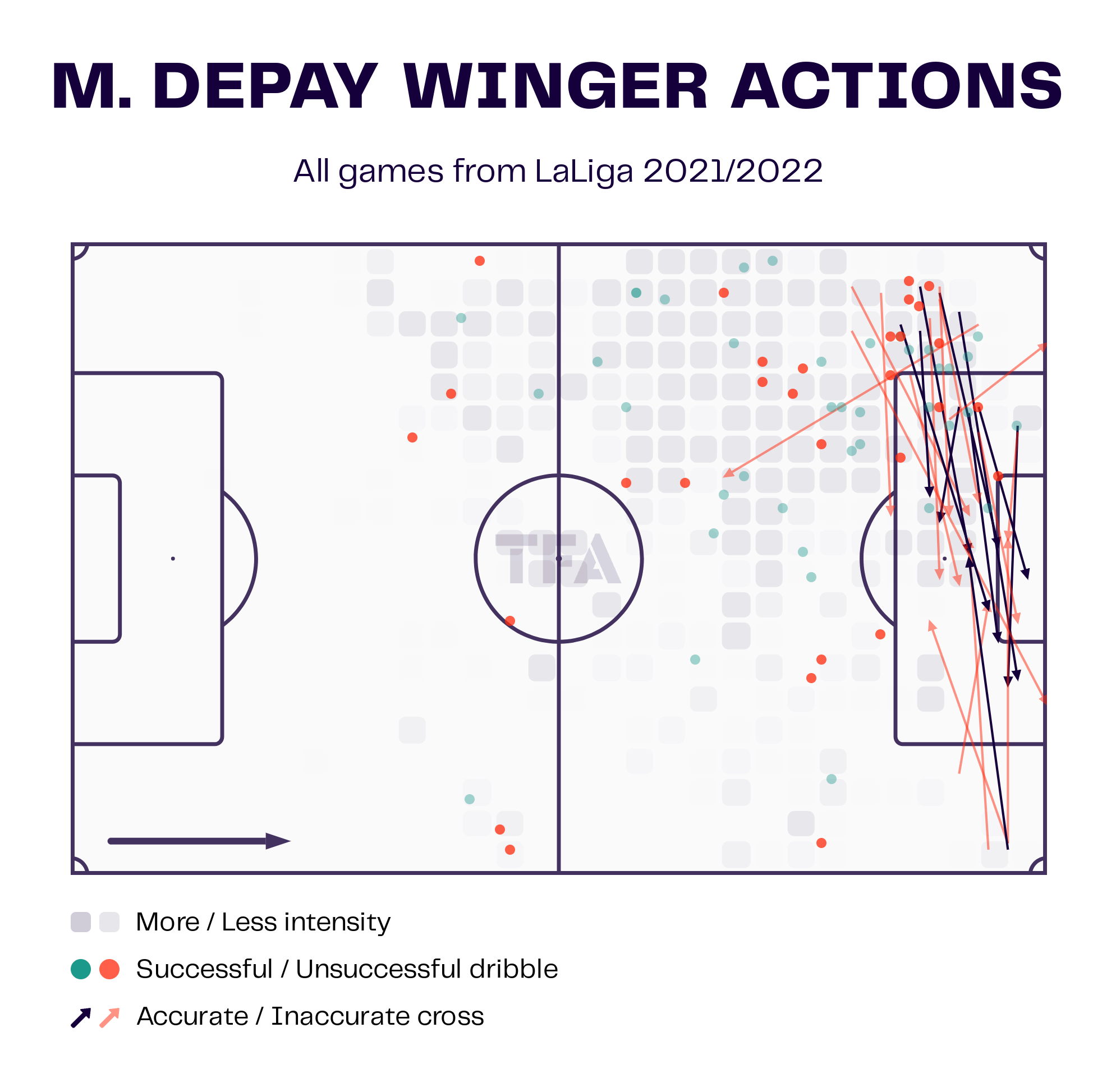 Memphis Depay plays as a mobile forward in the advanced attacking areas. He possesses the ability to move the ball into dangerous positions by performing attacking actions deep in the final third. He often occupies spaces in wide areas and tries to dribble players or cross the ball into the penalty box. Last season with Barcelona, he made 113 penetrating carries into the penalty box. The forward attempted 5.9 dribbles per match with 56.4% accuracy and delivered 2.35 crosses with 39.6% accuracy. He created scoring chances for himself and his teammates by performing creative winger actions.
Who could Memphis replace at Inter Milan?
If Memphis Depay chooses Inter Milan, the Italian team could bring in the Dutchman as a perfect replacement for 28-year-old Argentine forward Joaquin Correa, who might move to Barcelona as part of a swap deal. Depay will serve as a starting option in Inter's attacking positions while also imparting depth and experience to the overall squad.
The viz above compares the performances of Memphis Depay and Joaquin Correa in their respective leagues. It can be observed that both players outperform each other in a few areas. Memphis has better stats for expected goal contribution, shots, penalty area touches, passes, received passes, aerial duels, and positioning. Much like Depay's current season with Barcelona, Correa has also struggled for game time with Inter this season. The Argentine has made 15 Serie A appearances, starting only three and scoring three goals. Memphis' proven attacking prowess and vast experience of playing across Europe could ensure him a starting role at Inter if he decides to join the Italian side in the January transfer window.
Memphis Depay can certainly move to Serie A for the next step in his football career. Inter Milan is one of the potential destinations for the versatile forward, who has demonstrated the abilities of a top goal scorer as well as a provider. For now, the decision for his future remains in Memphis' hands. We'll have to wait and see if the situation with Depay turns into a transfer race between other top European clubs.
Visuals via TFA data viz engine