Monza, who gained promotion to Serie A for the very first time in their history after finishing fourth in Serie B last year, are currently placed 13th in the top tier. So far in Serie A 2022/23, Monza have won six, drawn four, and lost nine matches. They have picked up 22 points at a reasonable rate of 1.16 points per game, considering it's their maiden appearance in the top division. Despite being a newly promoted team, Monza has defeated Juventus and grinded out results against the likes of Fiorentina and Inter Milan this season. The team has shown relatively decent form in their league campaign overall and are unbeaten in their last five matches (2 W, 3 D). They are having a satisfactory season in the top flight and don't seem to be bothered by their status as underdogs. Below are some stats looking at Monza's overall performances in Serie 2022/23.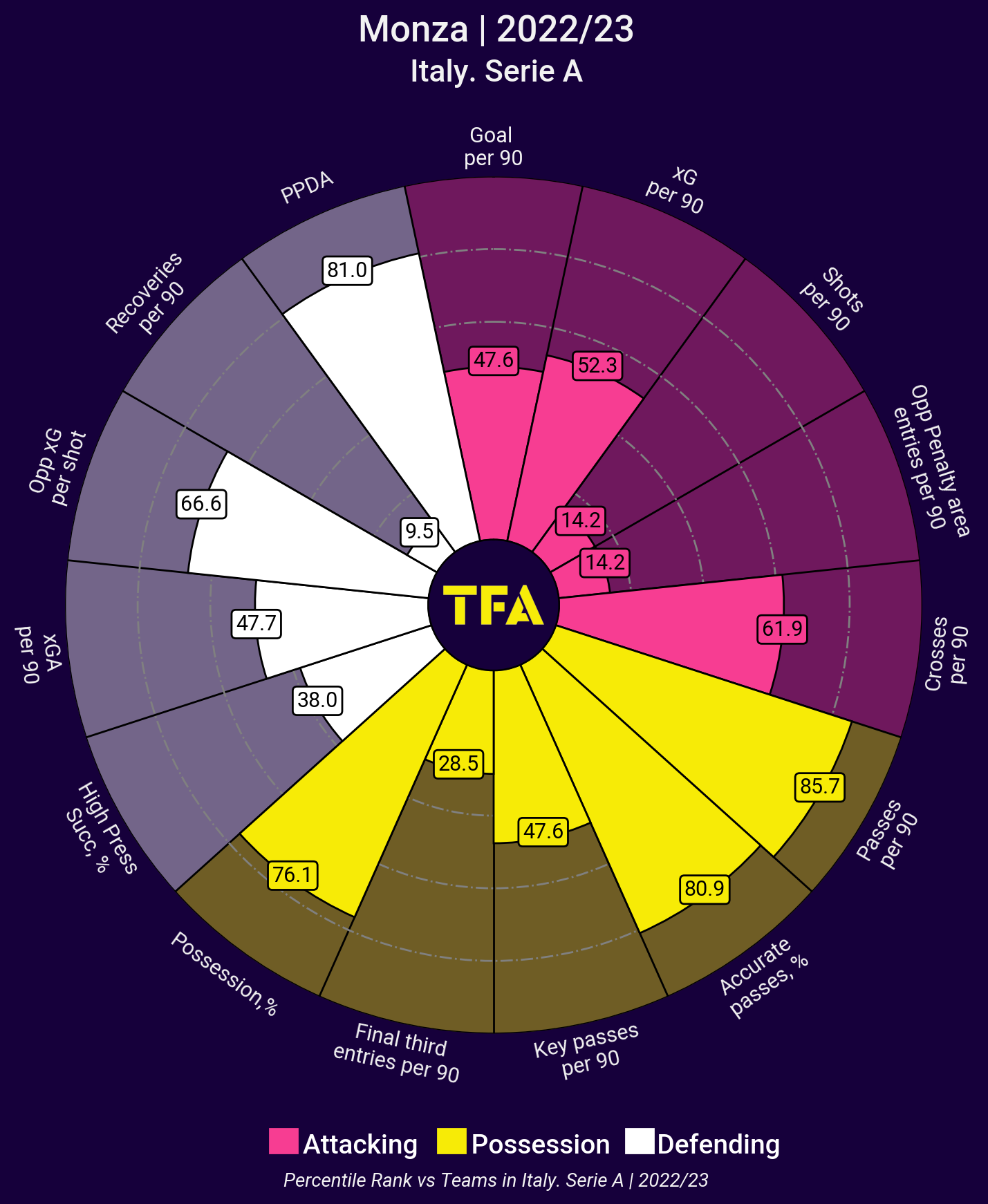 The viz above shows the percentile rank of Monza's stats compared to other teams in Serie A. It can be observed that Monza have a high percentile rank for metrics like passes attempted, accurate passes, possession rate, and passes per defensive action. The team also has a decent rank for metrics like opponent xG per shot, crosses, and xG per 90. Meanwhile, a few areas where the team can improve include shots, penalty area entries, recoveries, and a pressing success rate.
Monza in attack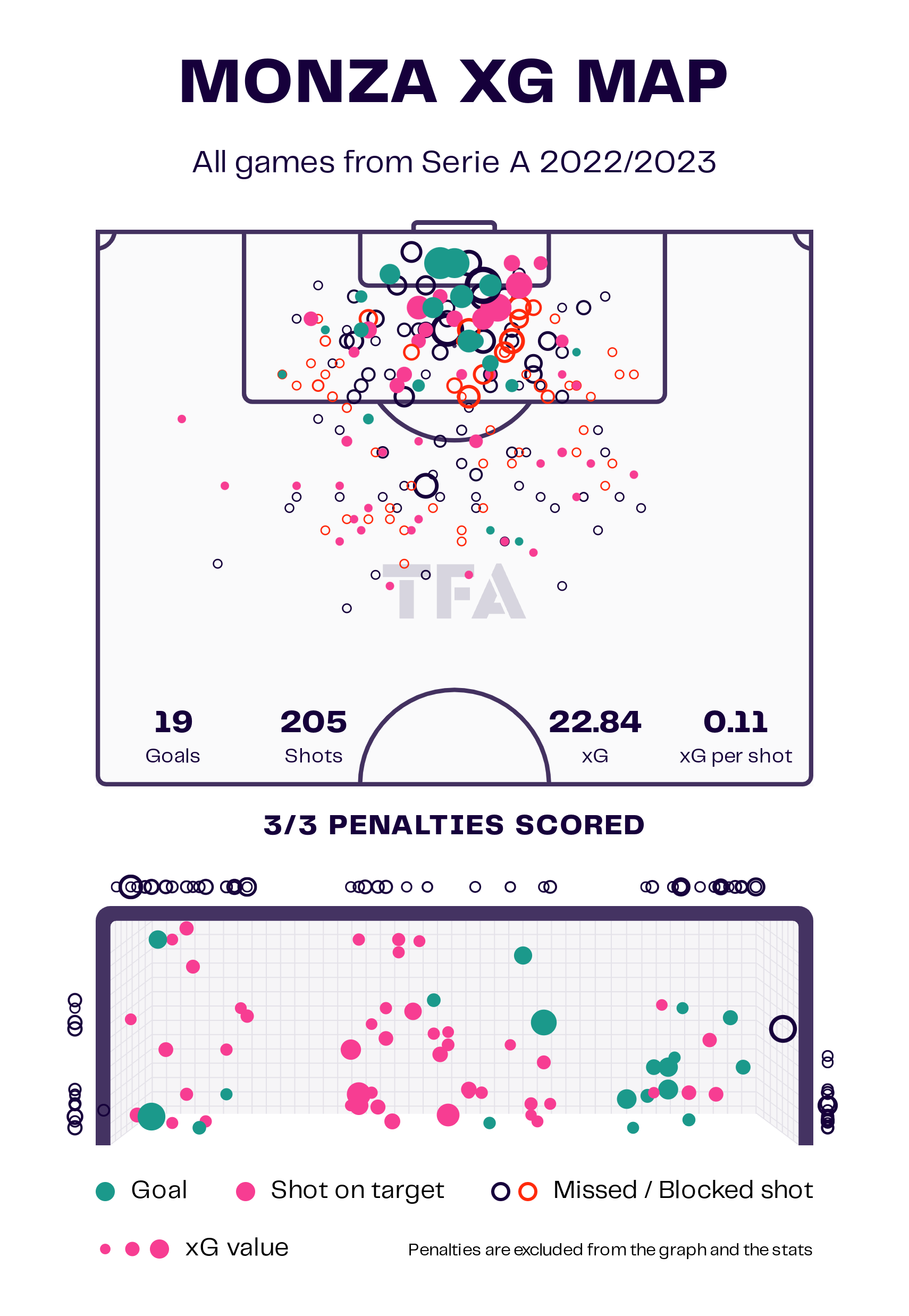 Monza have scored 23 goals this season with an xG count of 22.84 (excluding penalties). They have taken as many as 205 shots at 0.11 xG per shot. The team currently scores at the rate of 1.21 goals per match while averaging 1.33 xG. The viz above shows the shot map of Monza from Serie A 2022/23. They mostly shoot from close range but also try their luck from a distance. All but three of their goals have come from inside the penalty box. The team averages almost 11 shots per match with an accuracy rate of 33%. Considering the number of shots they take, goal conversion is an area where they will want to do better.
The above viz is a representation of ball progression made by Monza in the current season. It can be observed that the team tends to move up the pitch by using wider areas. They also heavily depend on dribbling into the box to generate an attacking threat. Monza makes 19 attacks through central zones on average, which is on par with most teams in the league. The above viz also shows the areas where the team attempts to dribble. Monza attempts 23 dribbles per 90 minutes and has a success rate of 59% for attempted dribbles, which is the third-highest. These numbers are pretty decent compared to most other Serie A teams and are the reason why the team is faring reasonably well in their first-ever season in the top flight.
Defensive territory
Looking at the defensive side of Monza's gameplay, they've given up 28 goals so far and have a goal difference of -5. These numbers are better than many Serie A teams this season. They concede 1.47 goals per match, consistent with their average xGA value of 1.43. Nevertheless, they will be keen to reduce the average number of goals they concede.
The viz above illustrates Monza's defensive territory in Serie A 2022/23. It can be observed that the team's average defensive line is deep within their half. They commit a good amount of their defensive actions in the defensive third and even inside their penalty box but haven't given up any fouls yet. The team makes 76.8 recoveries along with 38.63 interceptions per match and gives up 13.05 fouls on average. Additionally, the team wins 60% of their defensive duels and 49.3% of their aerial duels per match.
This season, Monza's defenders have displayed their determination to make scoring goals tough for the opposition. They have blocked an impressive amount of 54 shots between them, with a total xG of 5.62 on those shots. Most of these blocks were made inside their penalty area, including a few within the six-yard box. These efforts have proven crucial for the team and show the commitment and willingness of the players to work hard and help the team get positive results.
Monza will be keen to continue their momentum in the upcoming fixtures. After giving some impressive performances against better teams, they will be aiming to push for a top-half finish and make it an immensely successful maiden season in Serie A. To achieve this, Monza will need to sharpen their gameplay further in attack and impart more steadiness to their defence.
Visuals via TFA data viz engine