Matchday 20 of Serie A will see Napoli and Atalanta lock horns in a vital clash at the Diego Armando Maradona Stadium. The hosts are the league leaders with 65 points, while the visiting team is sixth with 42 points. In the last league meeting between the two sides, Napoli rallied back through efforts by Victor Osimhen and Elif Elmas to win 2-1 after Ademola Lookman had given Atalanta an early lead.
Napoli will be determined to secure maximum points after losing 0-1 to Lazio last week, which saw their handsome lead at the top reduced to 15 points. It was their second defeat of this campaign and the first one at home in Serie A. Prior to that, Napoli had been on an eight-match winning streak in the league since losing to Inter Milan in January.
Meanwhile, Atalanta faces a tough visit to a rampant Napoli side after being held to a goalless draw by Udinese, extending their winless streak to three matches. The visitors have won only once in the last five matches in Serie A, along with three defeats. As a result of this problematic form, Atalanta has fallen behind in the race for a Champions League spot and is five points off a top-four spot.
Below, we look at the stats of both teams from the current season to comprehend where the upcoming opponents stand.
Overall performance of both teams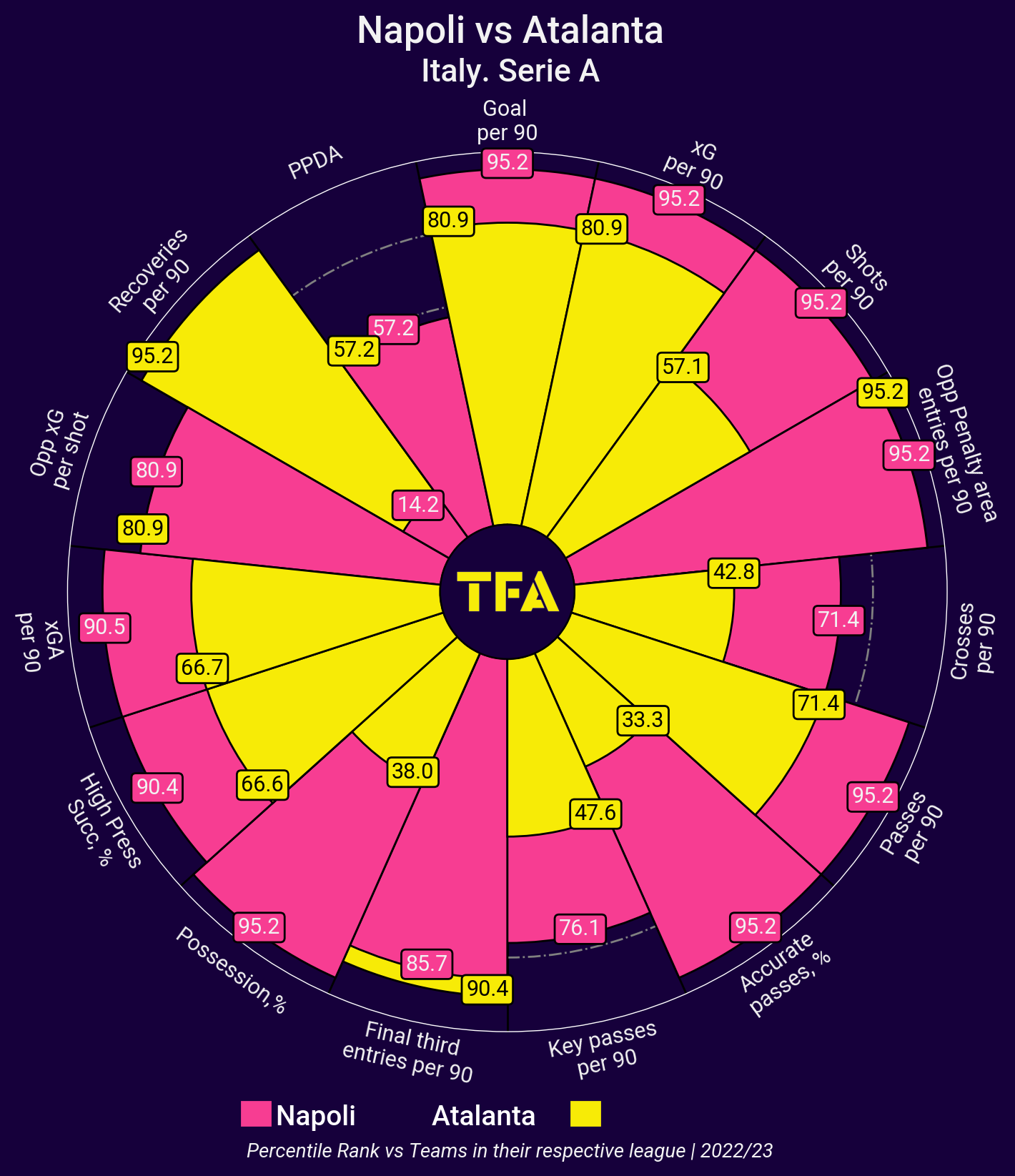 The above viz shows the percentile rank of both teams compared with each other as well as with other teams in Serie A for 2022–23. In most of the indicators, Napoli have a higher percentile rank than Atalanta. Luciano Spaletti's side is arguably the best performer this season, with dominant stats in most of the attacking, passing, and defending indicators. Alternatively, a few areas where the visitors have a better rank or are at par are penalty area touches, final third entries, opposition xG per shot, and recoveries.
xG and attacking efficiency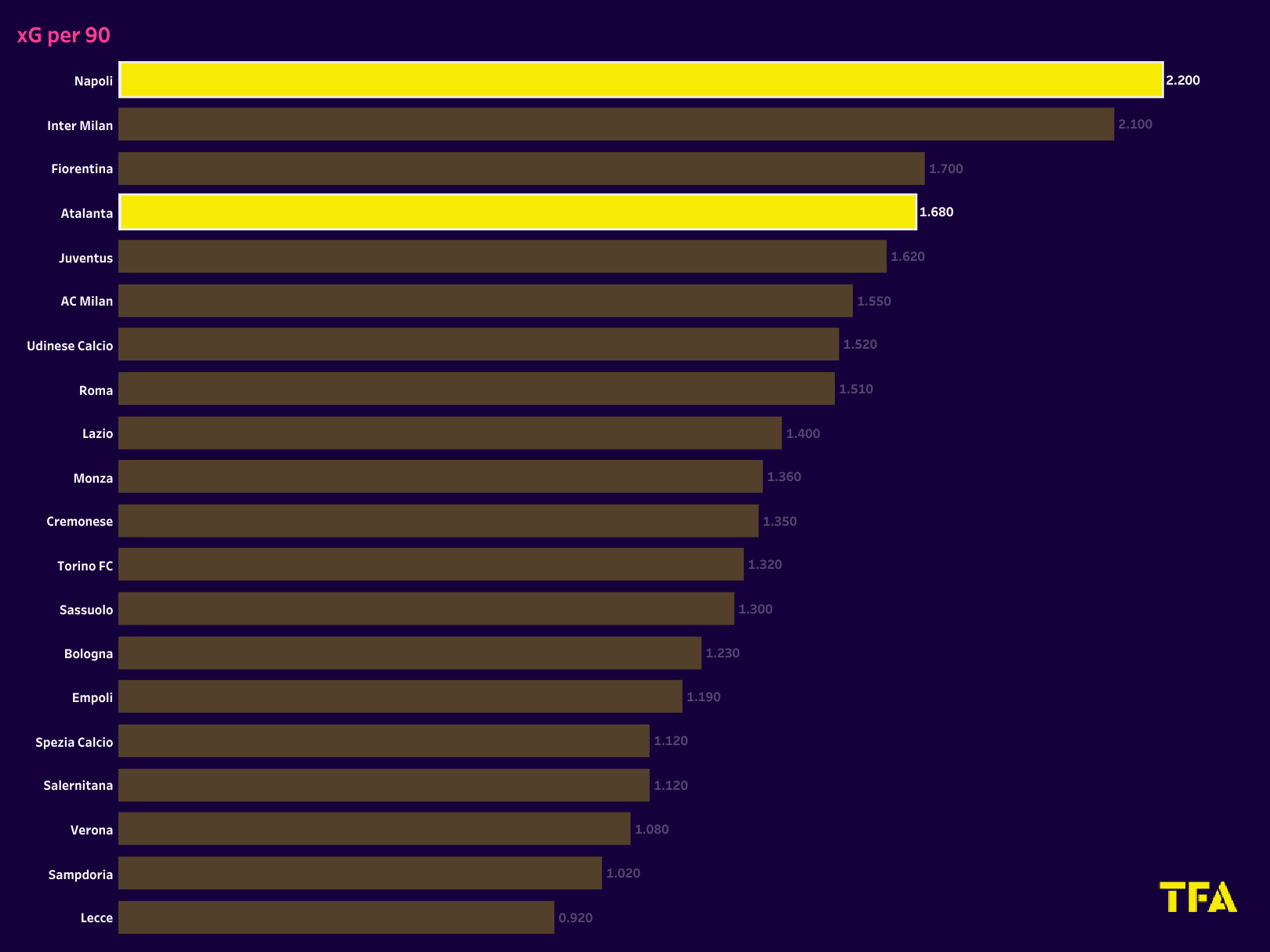 Napoli have scored the most goals this season (58) and have an xG per 90 of 2.20, which is also the highest. They score at a rate of 2.32 goals per match and take 15.44 shots per match with an accuracy of 36.8%.
Alternatively, Atalanta have scored 42 goals in the current Serie A season. On average, they score 1.68 goals per match and have a similar xG value. They take 12.16 shots per match and have an accuracy rate of 36.8%.
The two visuals above compare the two teams based on the efficiency of positional attacks as well as counterattacking plays. A reason for Napoli's success this season is the high efficiency of their attacking moves. The hosts have the highest efficiency rate for positional attacks and the second-highest for counterattacks. On the other hand, Atalanta are among the averagely ranked teams, with a 10% efficiency rate for positional plays and 18% for counterattacks.
Napoli creates 32.8 positional attacks per match, with 26.6% leading to shots. They also launch two counterattacks per match, with 54% ending in shots. In comparison, Gasperini's side creates 32.64 positional attacks per match, with 22.1% resulting in shots, and averages 2.52 counterattacks, with 52.4% ending in shots.
xGA and duels winning rates
Defensively, Napoli have been the strongest side this season. They have conceded 16 goals, which is the lowest, while Atalanta have let in 28 goals. Alternatively, the hosts have the second-best xGA per match value of 0.89, with the visitors coming lower in the list with an xGA value of 1.21.
Atalanta concedes 1.12 goals per match and 11.56 shots to their opponents. Whereas, the league leaders concede 0.64 goals and 9.04 shots per match.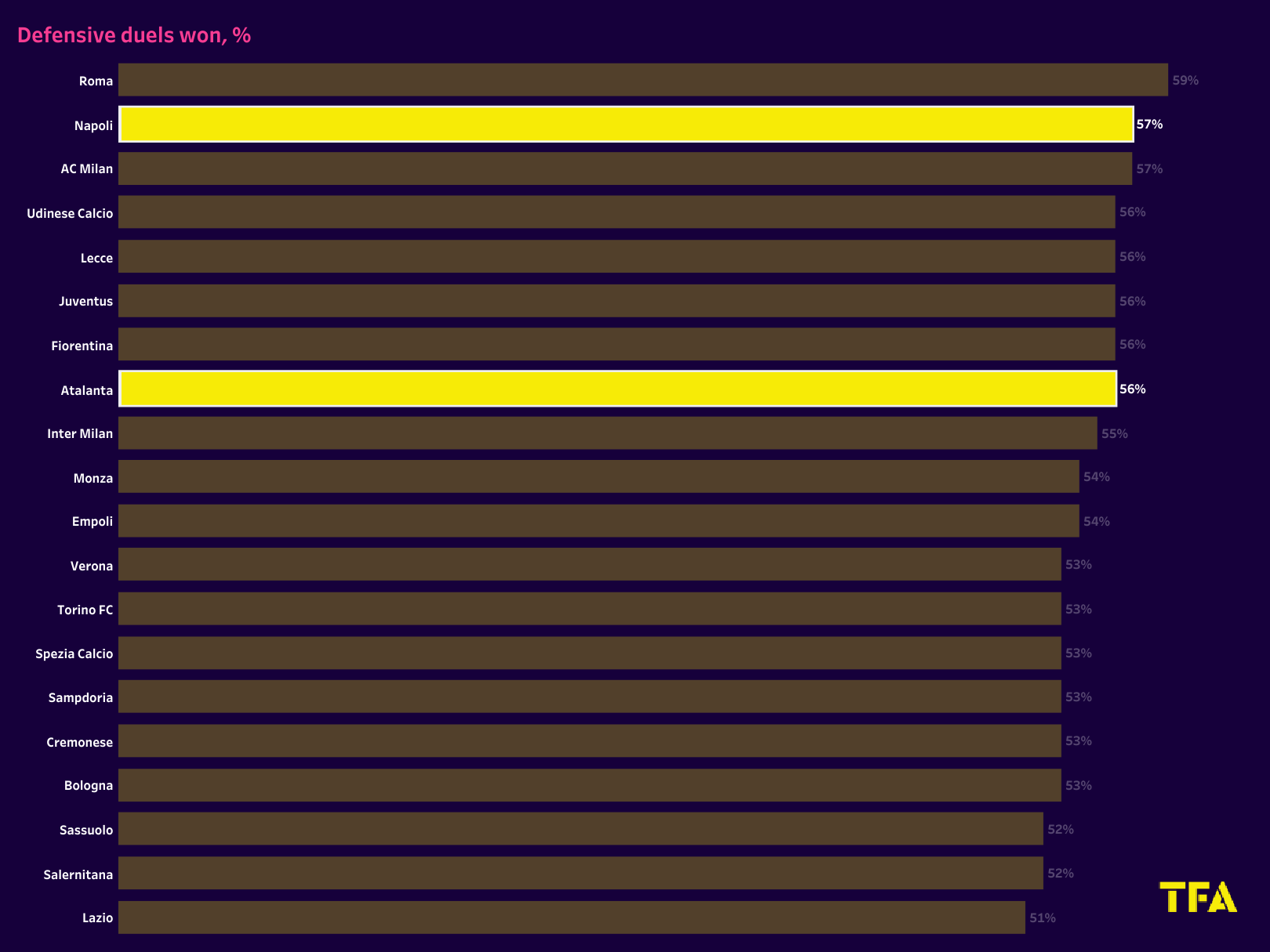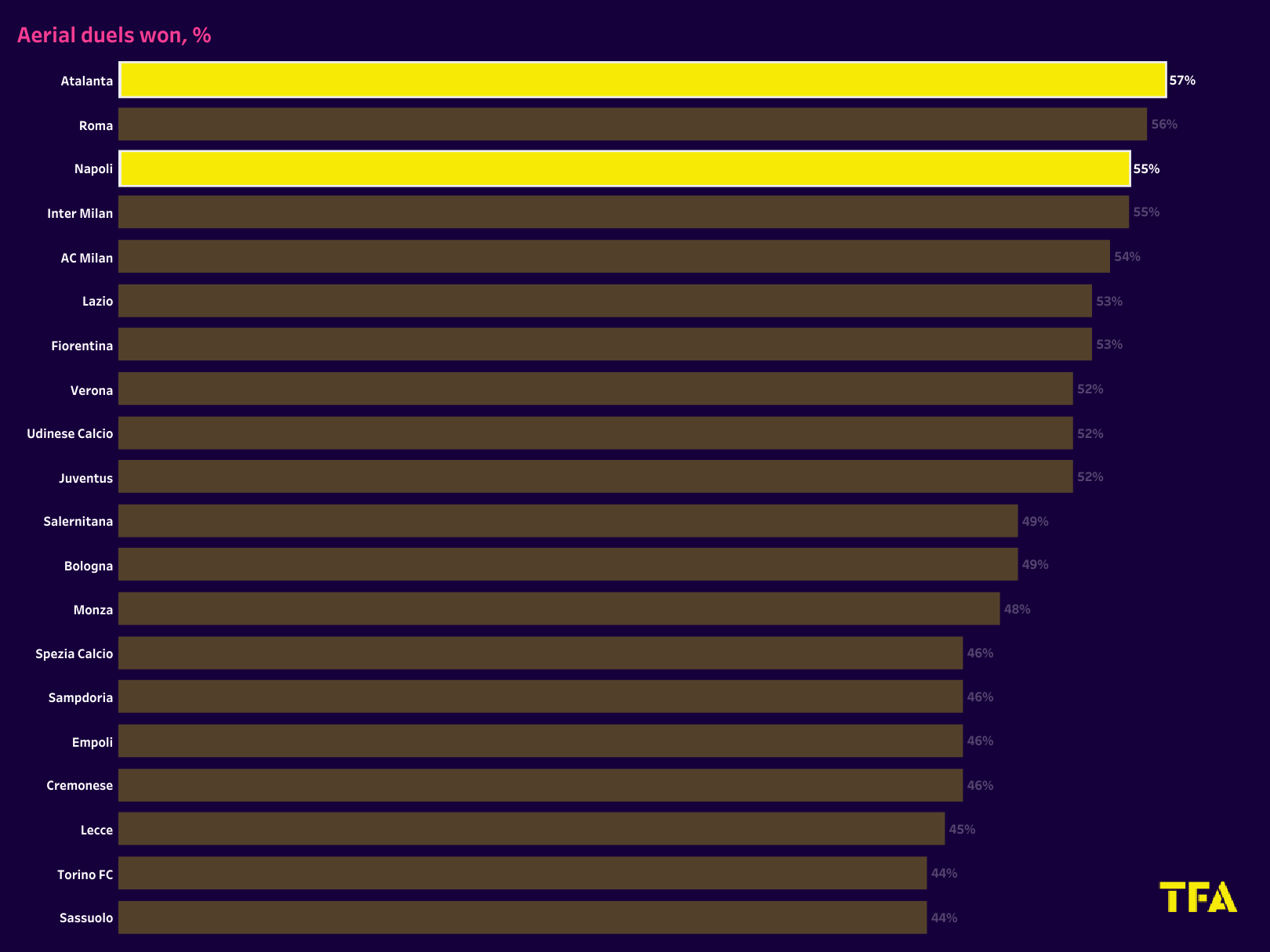 The two visuals above represent the ranking of teams in Serie A based on their percentage of defensive and aerial duel wins. It can be seen that Napoli and Atalanta are ranked more closely in this department, with a 57% and 56% win rate in defensive duels, respectively. Alternatively, Atalanta tops the list for winning aerial duels, with a 57% success rate compared to Napoli's 55%.
Key players

Victor Osimhen has been in the top gear for Napoili this season. The Nigerian striker has scored 19 goals in the league this season and also provided three assists. The viz above shows that Victor Osimhen has scored the majority of his goals from inside and around the 6-yard box. Atalanta's defence must remain tight, and they cannot afford to give him any room inside the penalty area.

Ademola Lookman has been one of the more significant additions for Atalanta in the forward positions. He has scored 12 goals and provided four assists in 24 league appearances this season. Napoli will be aware of Lookman's attacking prowess and finishing ability, and their players will have the task of containing his threats.
Team news
Napoli will have to do without the injured duo of Giacomo Raspadori and Hirving Lozano, along with Mario Rui, who will miss out through red card suspension. Meanwhile, Hans Hateboer, Giorgio Scalvini, Davide Zappacosta, and Teun Koopmeiners will be unavailable to play for Atalanta after picking up various injuries.
Napoli vs Atalanta will be one of the most important matches of the weekend in Serie A. The stats indicate it is going to be an exciting contest, with both teams being good in their attacking plays and defensive gameplay. Napoli will look to bounce back after a defeat last week and continue their aggressive charge for the Serie A title. Meanwhile, Atalanta will be hoping for a positive turnaround themselves but will be wary of the monumental task of facing the best team in the league at home.
Visuals via TFA data viz engine