Torino's summer signing Nikola Vlasic has taken Serie A by storm with his recent performances in the league. The 25-year-old Croatian midfielder Nikola Vlasic is on a mission to rejuvenate his career after having a poor season with West Ham United in the English Premier League. He has consistently been the key performer for Torino, scoring four goals and providing two crucial assists in 16 Serie A appearances. Torino have had an outstanding start to the season, outperforming expectations, and presently lies in ninth place in Serie A. We'll now look at the stats explaining Nikola Vlasic's impressive performance.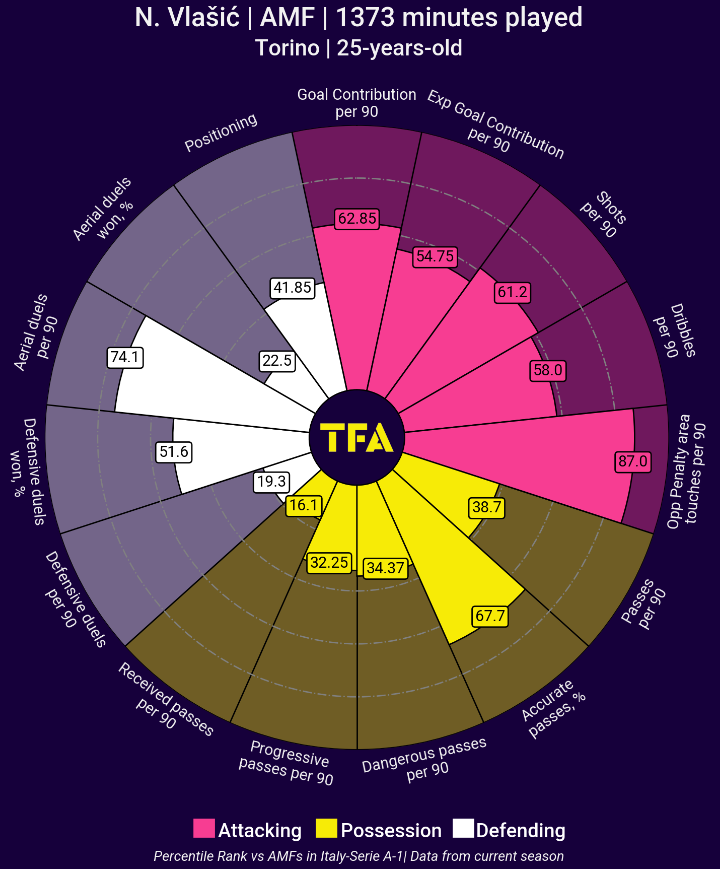 Nikola Vlasic is a versatile midfielder who can play as a central attacking midfielder, false nine, or winger on the left and right sides of the pitch, depending on the team's requirements. The above viz shows the stats of the player in comparison to the other players featured as attacking midfielders in Serie A this season. It can be observed that Vlasic ranks high in opponent penalty area touches per 90. Vlasic has also excelled in aerial duels per 90, goal contribution per 90, accurate passes percentage, and shots per 90.
Valuable addition to goals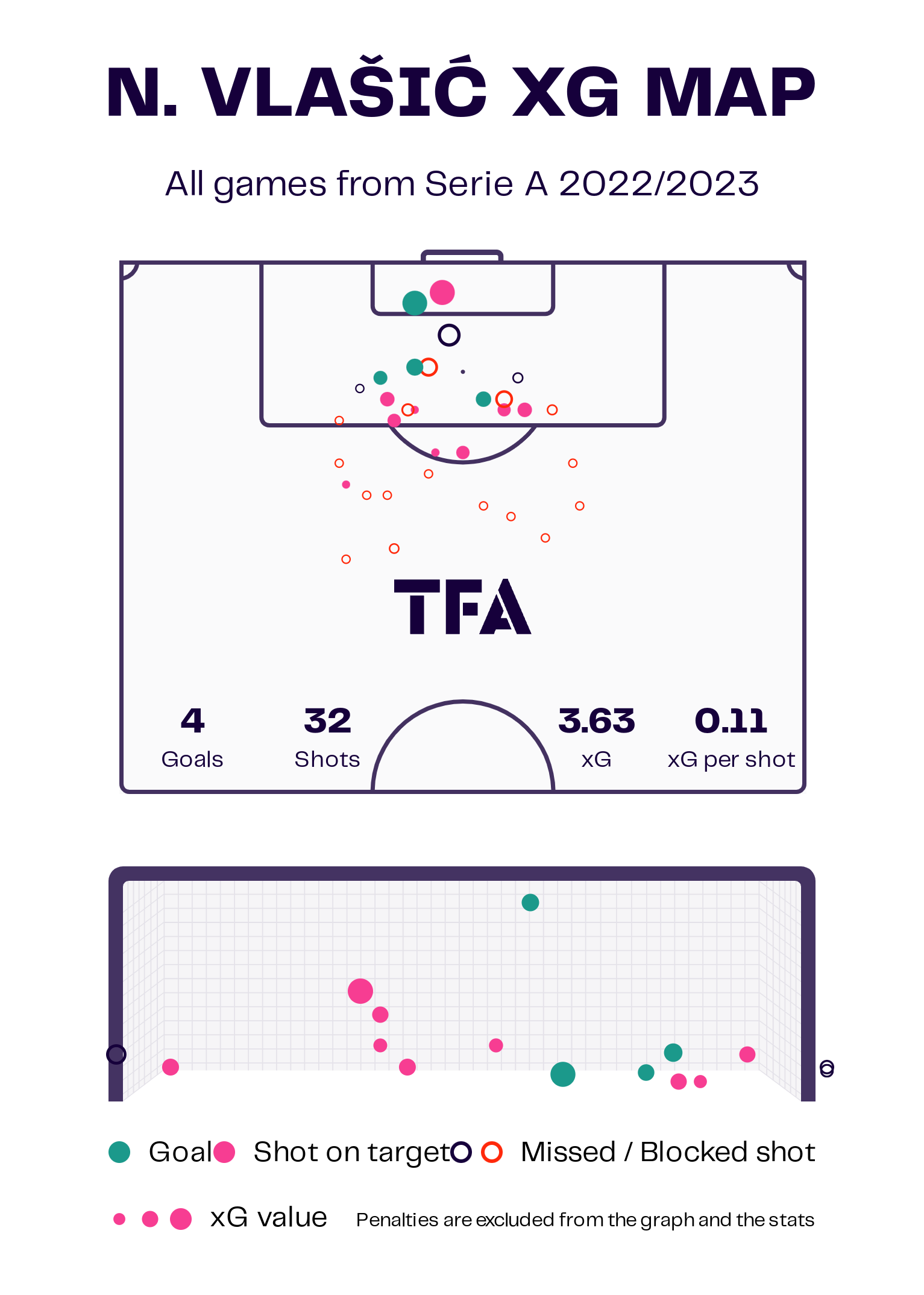 Nikola Vlasic has added four goals to his Torino side in Serie A, proving his worth and showing why Torino signed him on a loan deal in the summer transfer window from West Ham United. The above viz shows the shot map of the midfielder in the Italian Serie A. Vlasic's goal scored per 90 minutes is 0.24, and his goal involvement per 90 minutes is 0.39. Vlasic has taken 32 shots so far this season with a shooting accuracy rate of 40.6%. He takes 1.96 shots per 90 minutes and makes 3.49 touches in the penalty area. His total xG per shot is 0.11.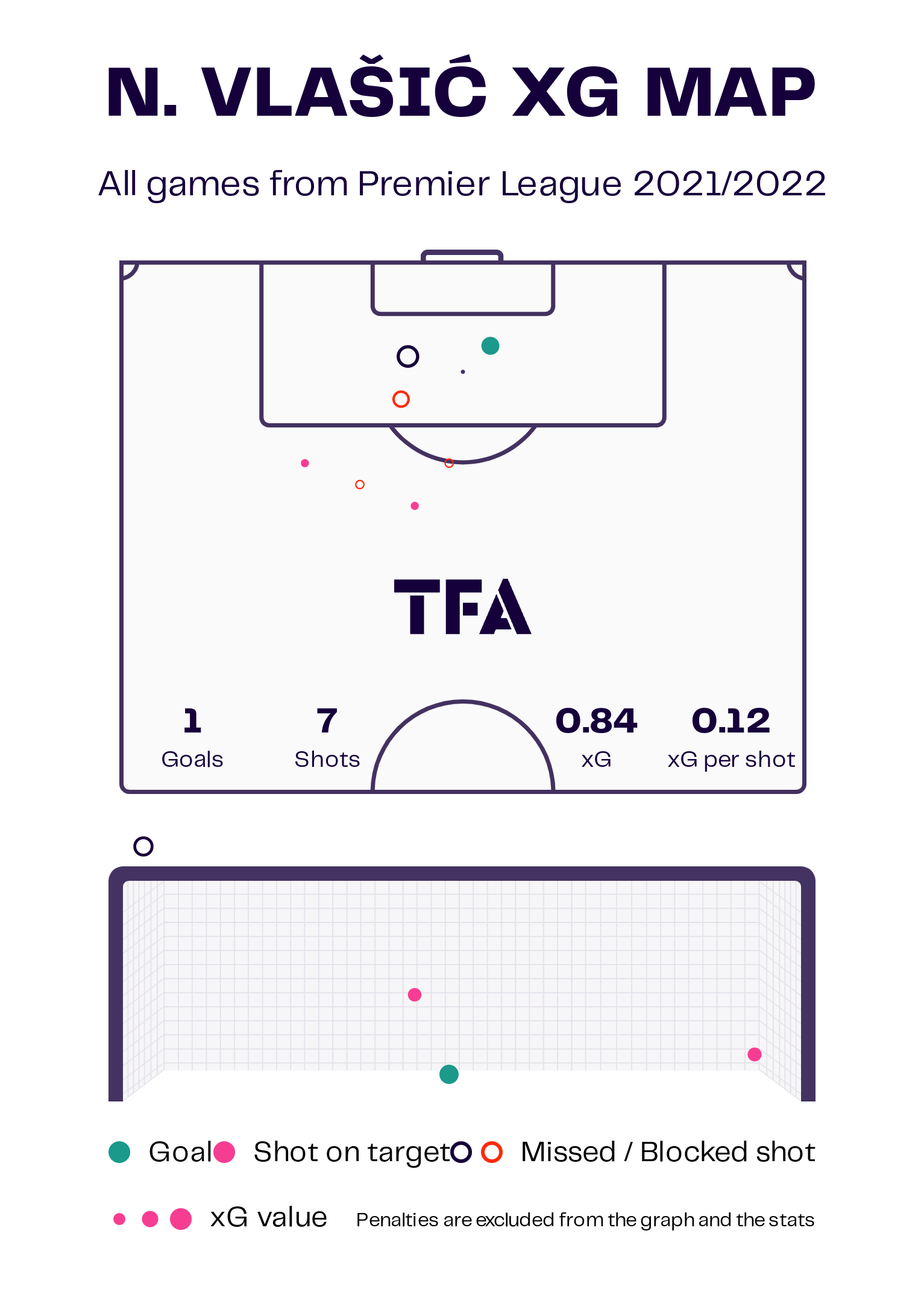 Nikola Vlasic scored just one goal for his West Ham United side in the 2021–22 English Premier League season. Vlasic had only started six games and made a total of 19 appearances in the league last season. This season, he has already broken his last season's goal tally, having scored four goals already for his Torino side.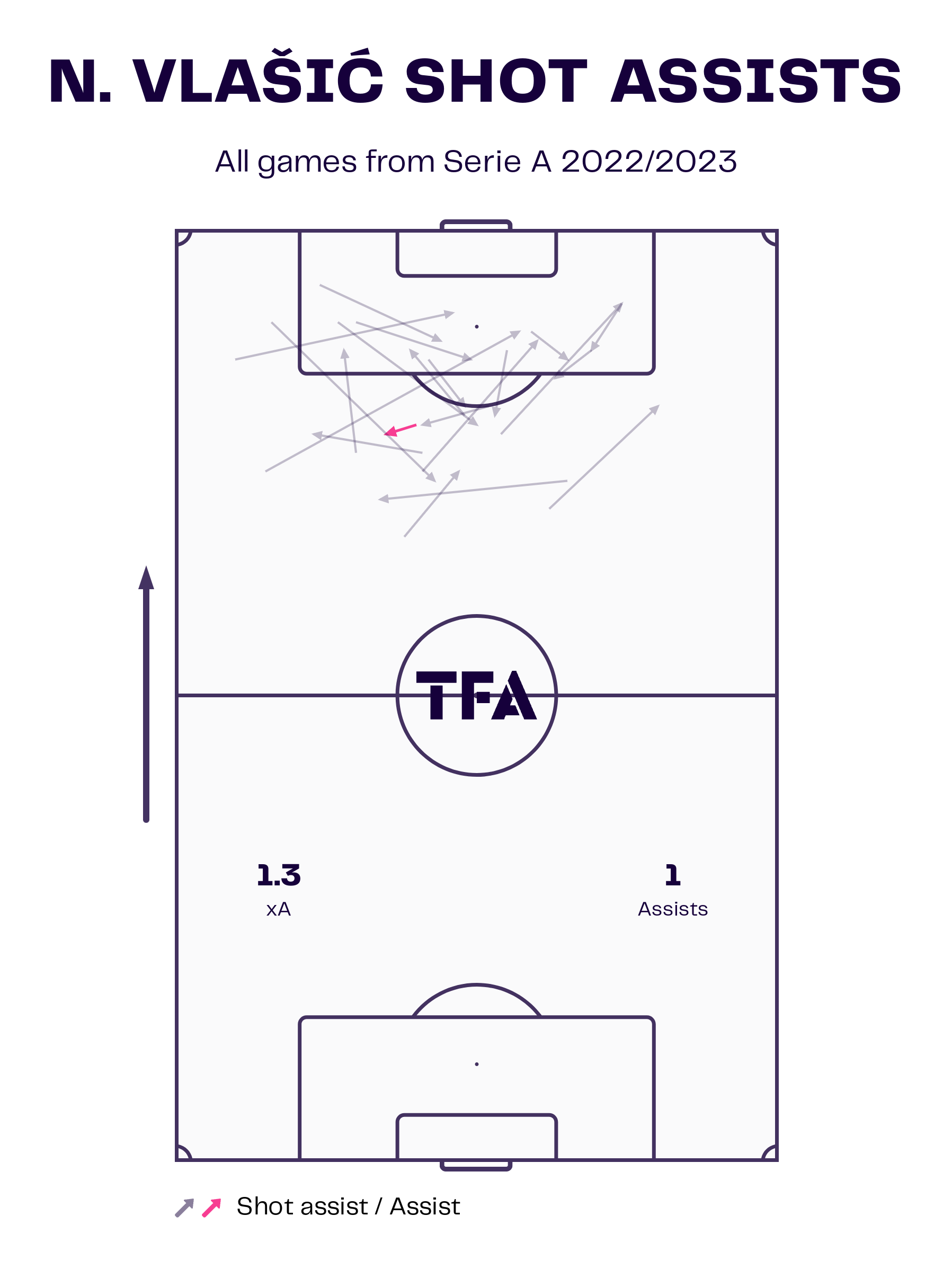 Nikola Vlasic has provided two crucial assists for his teammates this season. Vlasic has made two key passes this season and creates 1.77 key passes per 90 minutes. Vlasic passes the ball around 27.51 times per 90 minutes with a passing accuracy rate of 83.3%. Vlasic's xA per 90 minutes is 0.08. Vlasic provides 1.22 shot assists per 90 minutes. The Croatian midfielder provides 0.06 assists per 90 minutes and makes 2.02 progressive runs per 90 minutes.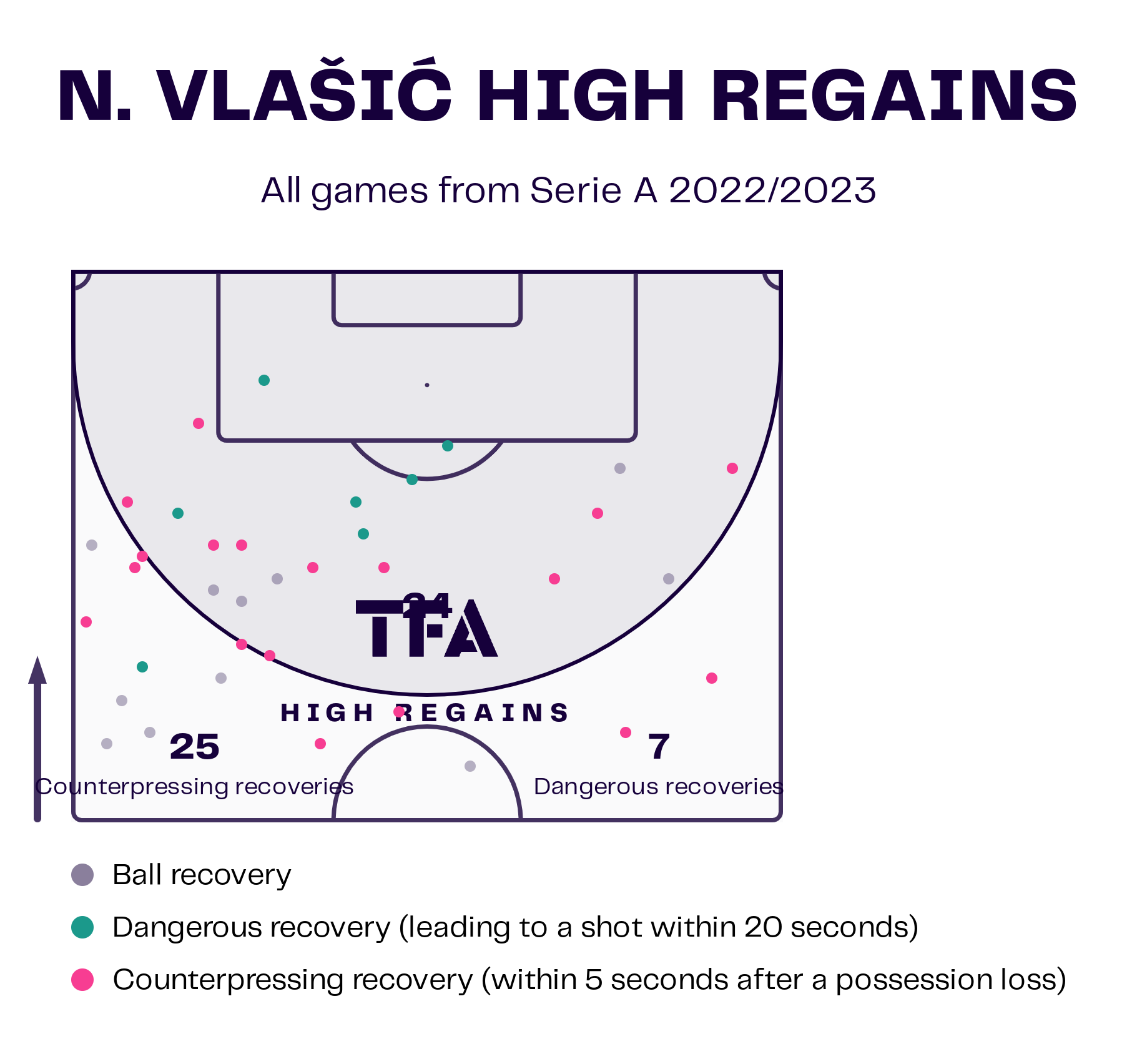 Nikola Vlasic has worked hard to recover the ball for Torino in dangerous areas. This season, Vlasic has managed 24 regains in the final third. Seven of these 24 recoveries have been dangerous and led to a shot within the next 20 seconds of the recovery. The Croatian midfielder has made 25 counter-pressing recoveries in Serie A.
Torino and Ivan Juric will be delighted with the performance of their summer signing, Nikola Vlasic. The Croatian is seen as an essential player for the current Torino side. Vlasic's six-goal contributions have contributed to Torino's impressive start to the Italian Serie A season. The Croatian midfielder will look to continue his form for the whole season, creating and scoring goals for his team and leading from the front to help Torino qualify for European football next season.
Visuals via TFA data viz engine