One of the noteworthy winter transfer deals to go down in Serie A is the signing of defender Przemyslaw Wisniewski from the second division's Venezia to Spezia. Wisniewski, a physical centre-back with great attributes, moved to Italy last summer from Gornik Zabrze in Poland. After a string of solid performances in the second division for half a season, Spezia wasted no time in signing the centre-back as a like-for-like replacement for Jakub Kiwior, who moved to the Premier League.
While in Poland, Wisniewski made over 130 appearances in all competitions for Gornik Zabrze's first team, scoring four goals and assisting seven more. Since joining his new club, the Pole has already made two Serie A appearances for Spezia, indicating he will have a key role to play in the coming weeks and months. Below, we look at some of Przemyslaw Wisniewski's stats from the current season.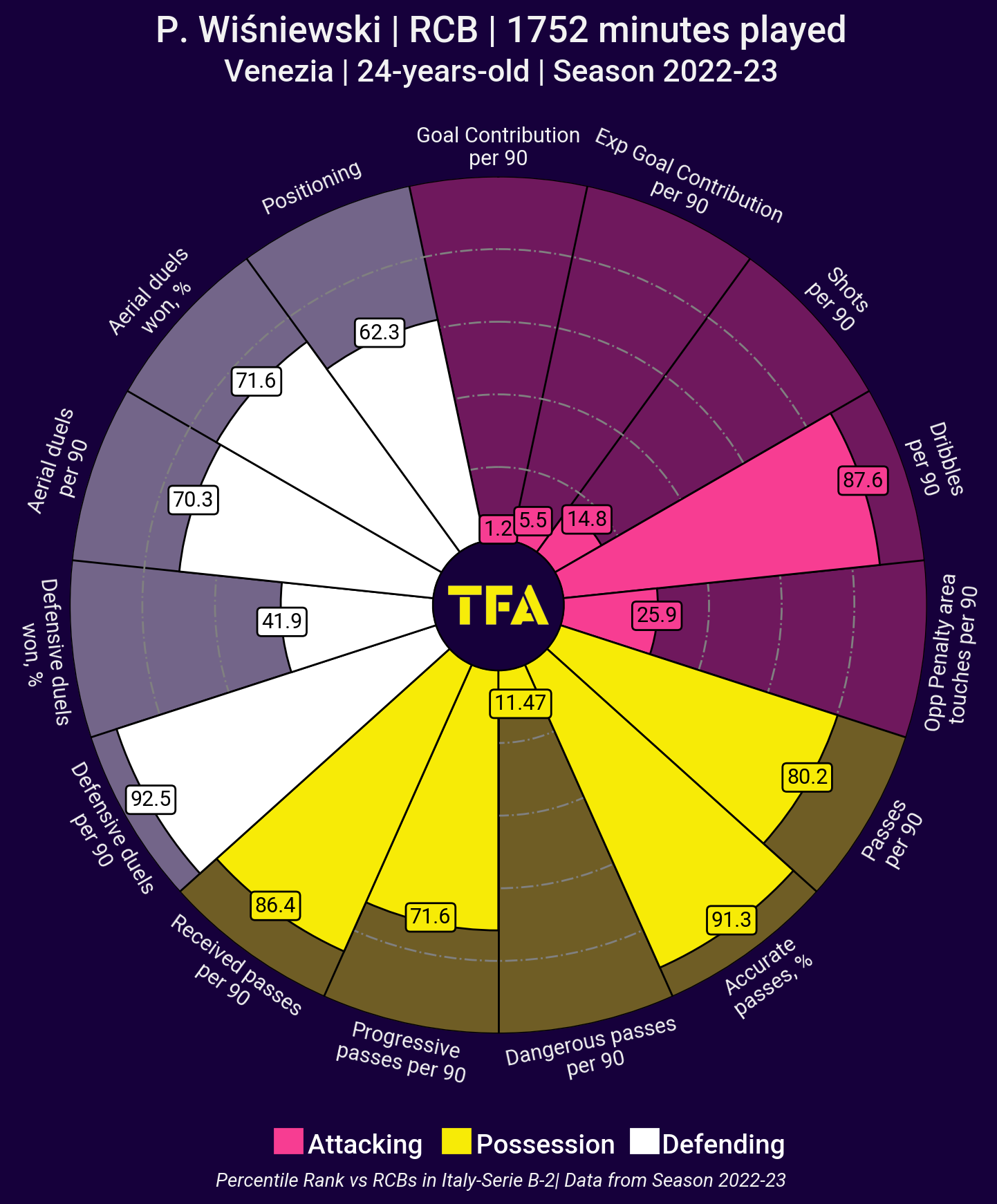 Przemyslaw Wisniewski made 19 appearances in Serie B for Venezia in 2022–23, starting all but one of them. The above viz shows the player's percentile rank in comparison to the other centre-backs in the Italian second division. Wisniewski is ranked at the top for contesting defensive duels. He also ranks highly for challenging and winning aerial duels and for his overall positioning as a defender. Additionally, the Pole has a high rank for most of the possession metrics, particularly accurate passes and received passes. Meanwhile, the player also ranks at the top for dribbles, but apart from that, he doesn't contribute much to the attack.
Defensive stronghold

Przemyslaw Wisniewski takes command of the central defensive area in the defensive and middle thirds for his team. The above viz shows the player's defensive territory from the current Serie B campaign. Wisniewski commits lots of defensive actions inside his own half. He makes many interceptions and some fouls within the defensive third, including the penalty box, and has also given up one foul in the box. He makes 6.11 interceptions per 90, along with 8.42 defensive duels and 5.55 aerial duels. He has a 66.5% win rate for defensive duels and wins 64% of aerial duels. Wisniewski gives up 1.34 fouls per 90, showing his composure while defending, and also averages 2.93 clearances per match.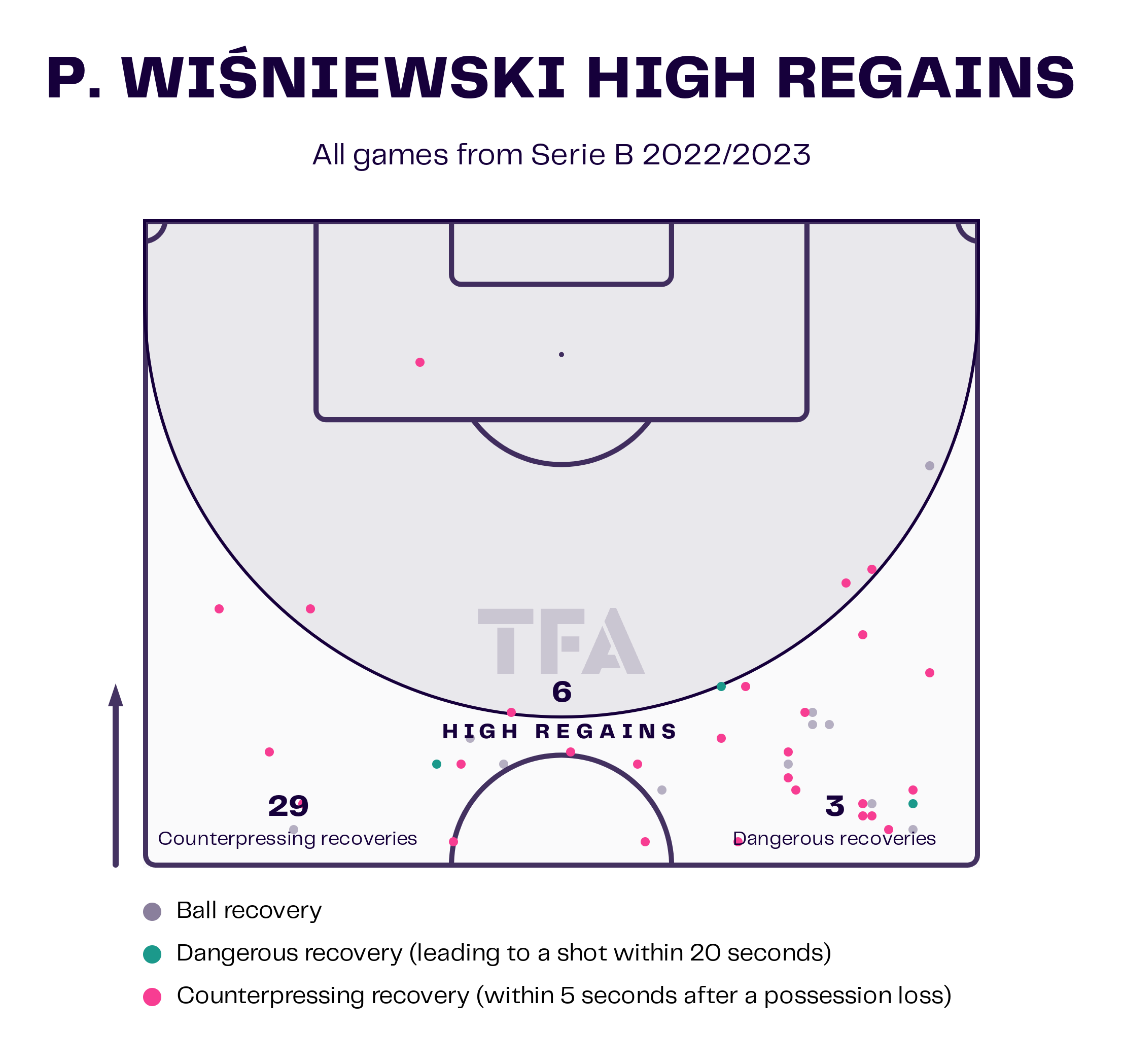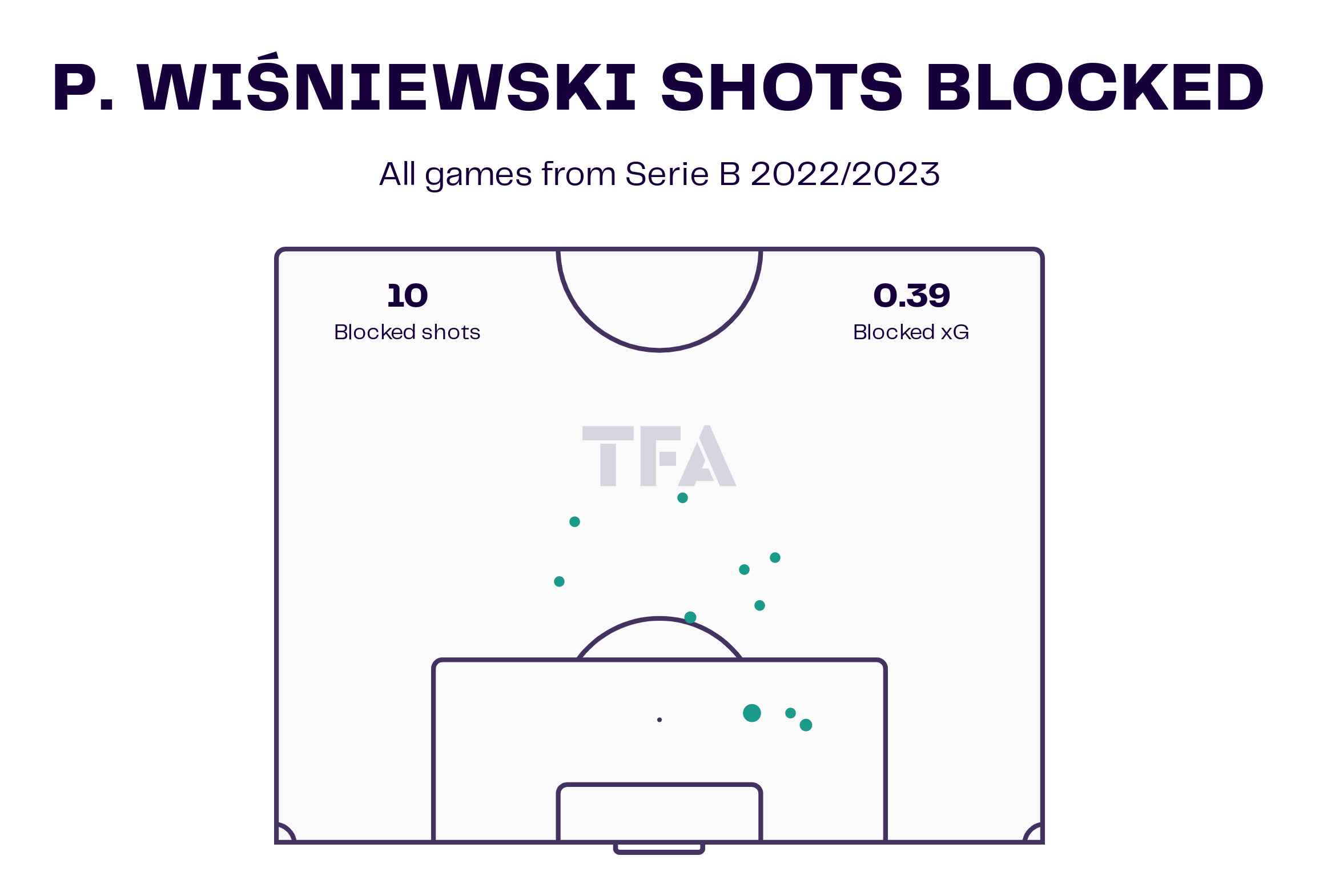 The two visuals above represent the Polish centre-back's important role in restricting the opponent in both halves. He has shown the ability to win back possession in the opposition half, as evidenced by the six high regains he has made this season. The centre-back makes 13.3 recoveries per match, with 17.8% of them occurring in the opposition's half. He is also capable of making dangerous and counter-pressing recoveries, including one in the opposition penalty box. Meanwhile, in his own half, Wisniewski has thwarted the opposition from threatening his goal on multiple occasions. He blocked a total of ten shots, including three inside the box with a combined xG of 0.39.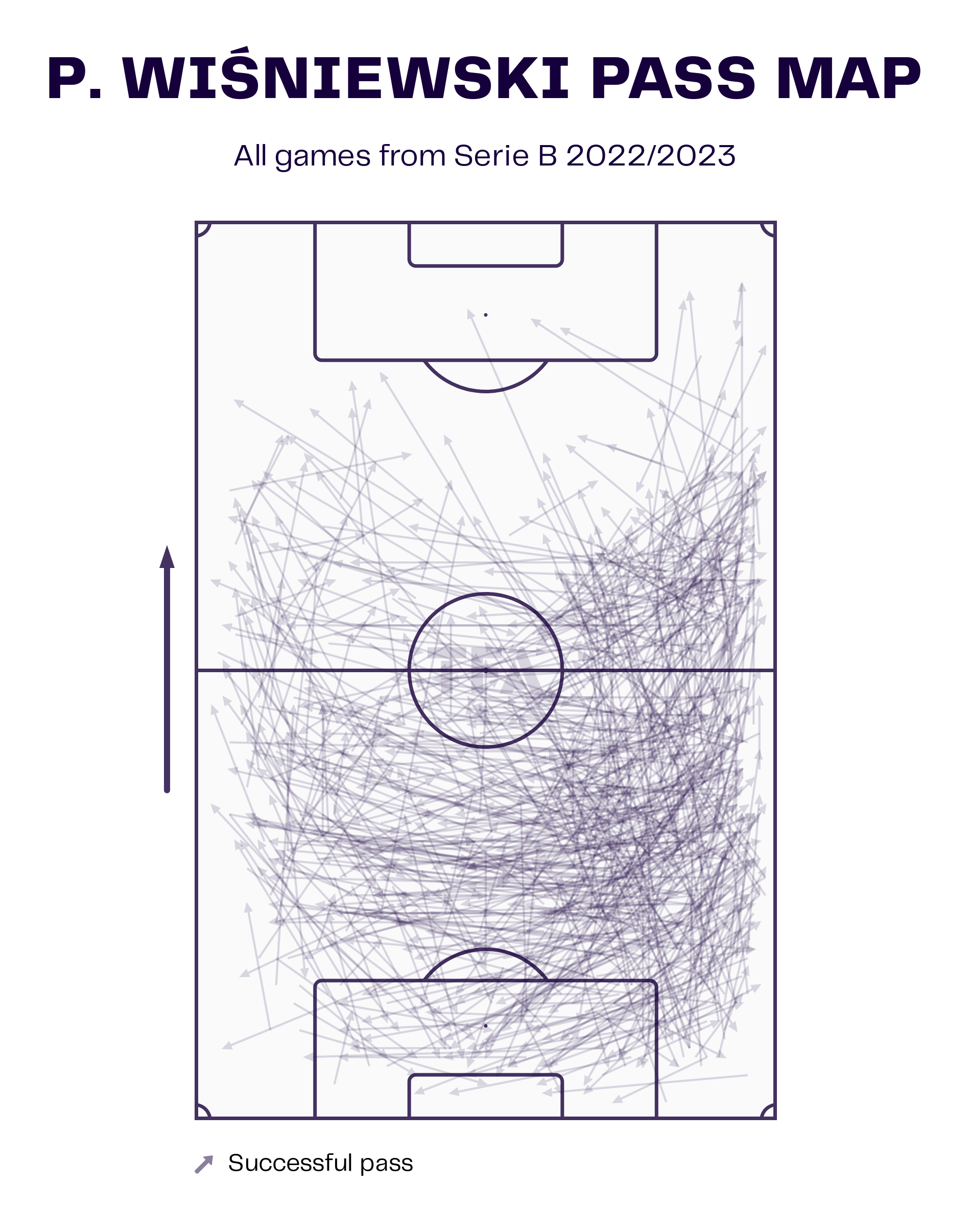 Wisniewski performs the important role of circulating possession and building up play from the centre-back position. The Pole has an excellent passing ability for both short and long passes. Currently, he averages around 47.88 passes per match with a high accuracy of 90.2%. His pass map above shows a network of sideward passes in his own half, but they become more progressive passes into the midfield and wide positions on either flank as he moves towards the other end of the pitch. Wisniewski averages 20.5 forward passes per match with over 83.2% accuracy. Among these, 4.73 of the passes are to the final third, with an accuracy rate of 80.4%.
Role at Spezia
The addition of Przemyslaw Wisniewski has added more depth and quality to Spezia's defensive structure. They usually play with three defenders at the back, and the 24-year-old Pole has slotted into his new team's backline as a replacement for Jakub Kiwior, who joined Arsenal. Wisniewski is already giving competition for a starting role to the likes of Dimitrios Nikolaou, Mattia Caldara, and Ethan Ampadu.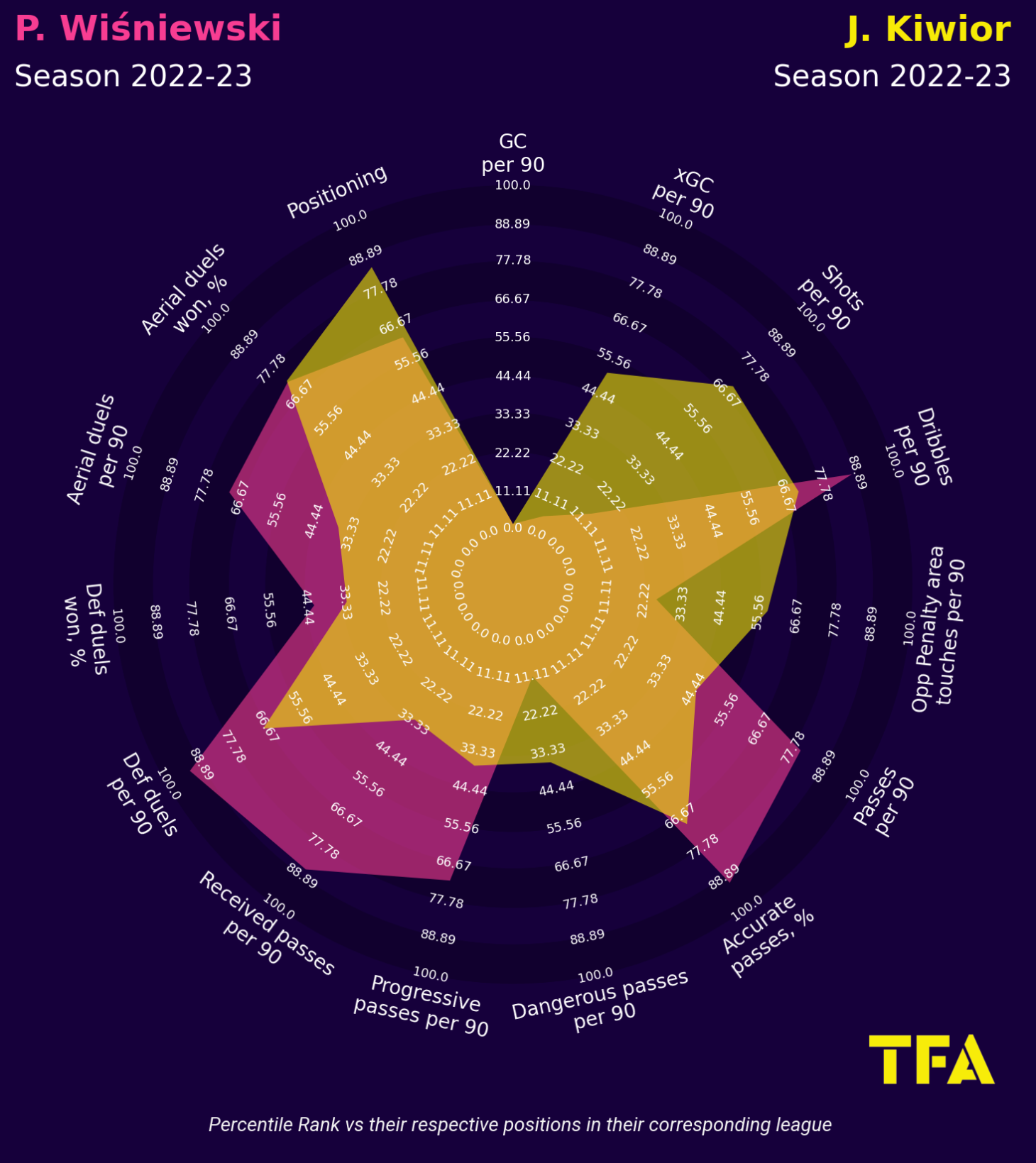 The above viz is a comparison between Prezmyslaw Wisniewski and 22-year-old Jakub Kiwior, who now plays for Arsenal. Both players outperform each other in some of the stats. While Kiwior has a better rank in some of the attacking metrics, Wisniewski fares superiorly in the defensive department and some other parameters, like dribbles and accurate passes.
Overall, Wisniewski is a player with great defensive attributes who can provide additional support to Spezia's backline. He can guide the backline with his physical presence and composed attitude, and he has amassed a good amount of experience in European football. The 24-year-old could warrant himself a starting role in Spezia's line-up for the rest of the season, as they look to survive a relegation scare.
Visuals via TFA data viz engine