Riccardo Orsolini has proven his worth for Bologna in recent weeks. The Italian winger has featured regularly for Bologna since 2018 after arriving on a loan deal first before the club made the move permanent. The 26-year-old usually features as a right winger and has scored four goals and provided two assists in the last five Serie A matches. Orsolini's red-hot form has helped Thiago Motta's side climb to seventh in Serie A, as the team has won all four out of the last five matches when the player has scored. His contributions have helped the team secure some important results, including against Inter Milan and some other teams that are also vying for a top-half finish in Serie A in 2022-23. Below are some stats from the current season to assess the player's contributions to his team.
2022-23 season with Bologna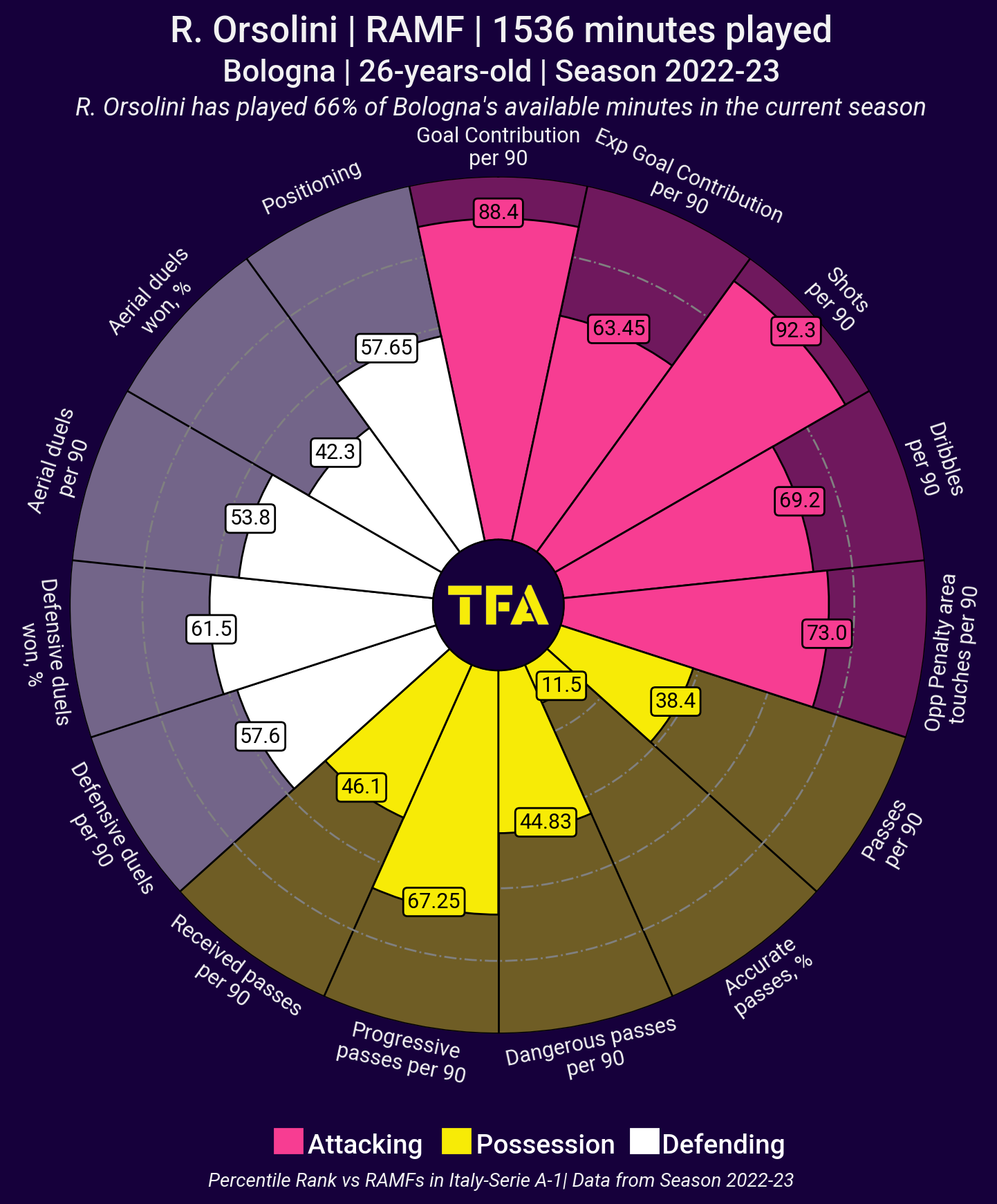 Riccardo Orsolini has made 21 league appearances this season, starting 15 matches. The winger brings a physical presence on the flank and excels in 1v1 situations with his excellent dribbling ability. A left-footed player, he prefers playing on the right flank, from where he likes to cut inside and shoot with his stronger foot. The above viz shows the percentile rank of the player's stats compared to other similar players in Serie A in 2022–2033. His attacking prowess is highlighted by his high ranking for indicators like goal contribution and shots. He has shown the ability to find progressive passes and also contributes well in defensive transitions by contesting defensive and aerial duels.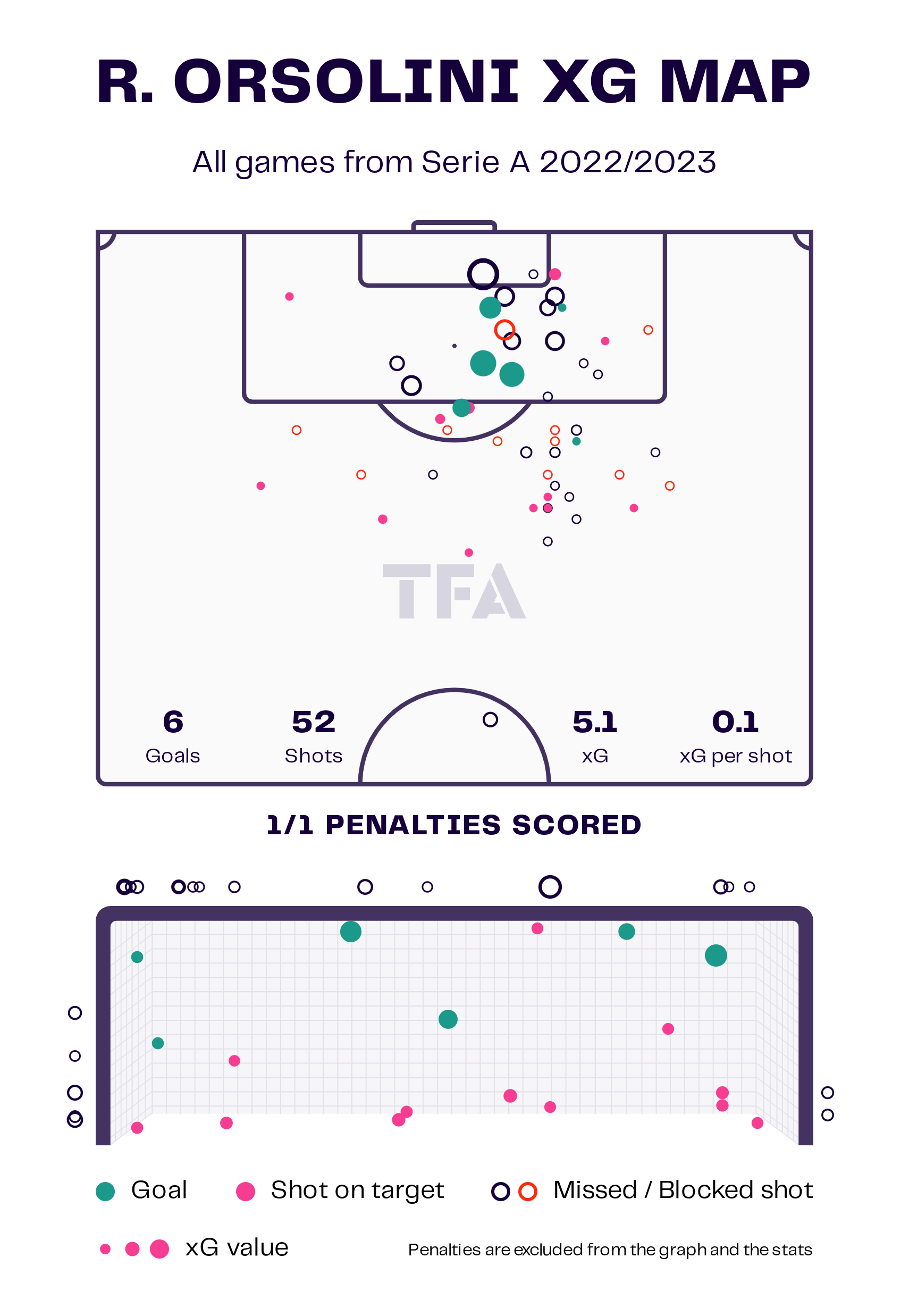 Riccardo Orsolini has netted seven times for Bologna in Serie A 2022-23, with one coming from the penalty spot. He has taken 52 shots thus far and accumulated a total of 5.1xG. Orsolini averages 3.11 shots per 90 minutes with an accuracy rate of 37.7%. The shot map shows that most of the attempts came from the right side of the pitch. He can penetrate the six-yard box and has scored most of his goals from close range, with one coming from the edge of the box. He has kept his attempts on either side of the goal as well as through the centre, showcasing his good finishing ability.
2021-22 season with Bologna
Last season, Riccardo Orsolini made 29 league appearances and started 21 matches. He took 52 shots in total at 0.09 xG per shot and scored six goals as Bologna finished 13th in Serie A. He averaged a lower number of 2.57 shots per match with 37% accuracy. The pizza chart above provides an overview of his performances last season. He was contributing more in the build-up phase, as highlighted by a better rank in terms of dribbles per 90 and the passing indicators. He was also contributing more defensively. This season, his output in the attacking department has increased, and his goal contributions have helped Bologna climb into the top half of Serie A.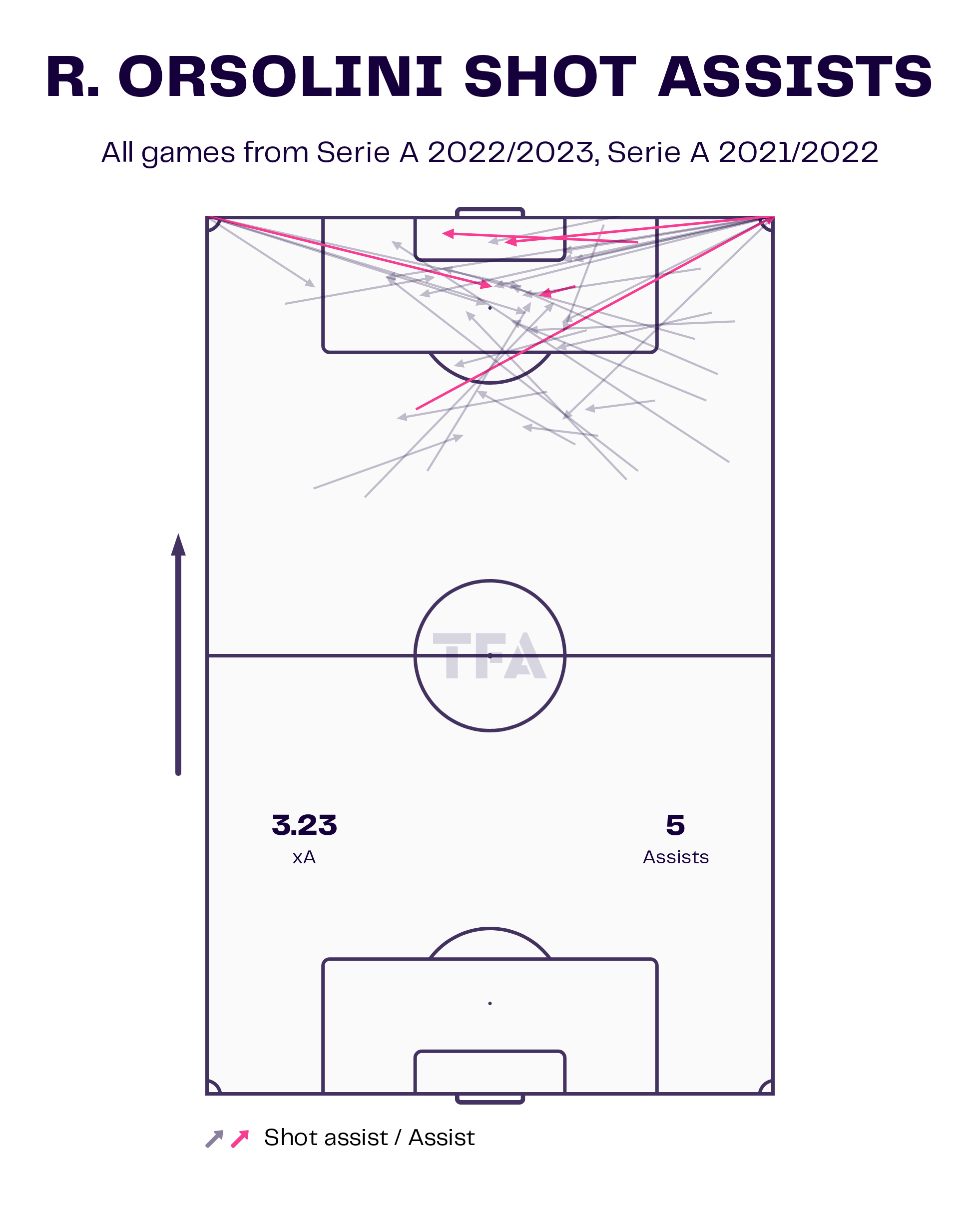 In addition to scoring goals, the Italian winger has the mindset to create opportunities for others. The above viz shows the shot assists delivered by Orsolini in the 2021/22 and 2022/23 seasons combined. This season he has provided three assists already, and last term he had three for the entire campaign. It can be observed that most of the key passes are directed into the penalty box, while the others have been a few cutbacks that the player has made when he is deep in the final third. Orsolini has also been assigned to corner duty at times, and he delivers them with decent accuracy. Last season he averaged 0.86 shot assists per 90, and this season the average currently stands at 0.94.
Creative attributes
As a winger, one of Orsolini's responsibilities is to stretch the opposition to create spaces for his team to attack. He advances with the ball into dangerous areas by performing successful dribbles and making progressive runs from the final and middle thirds, as seen in the two visuals above. On average, he attempts 4.92 dribbles per match (a 56% success rate) along with 2.52 progressive runs. He also does well at delivering crosses into the penalty box (2.05 per match) with a decent accuracy of 43%. By performing these attacking actions, the 26-year-old creates chances for others as well as getting into scoring positions himself.
Defensive contribution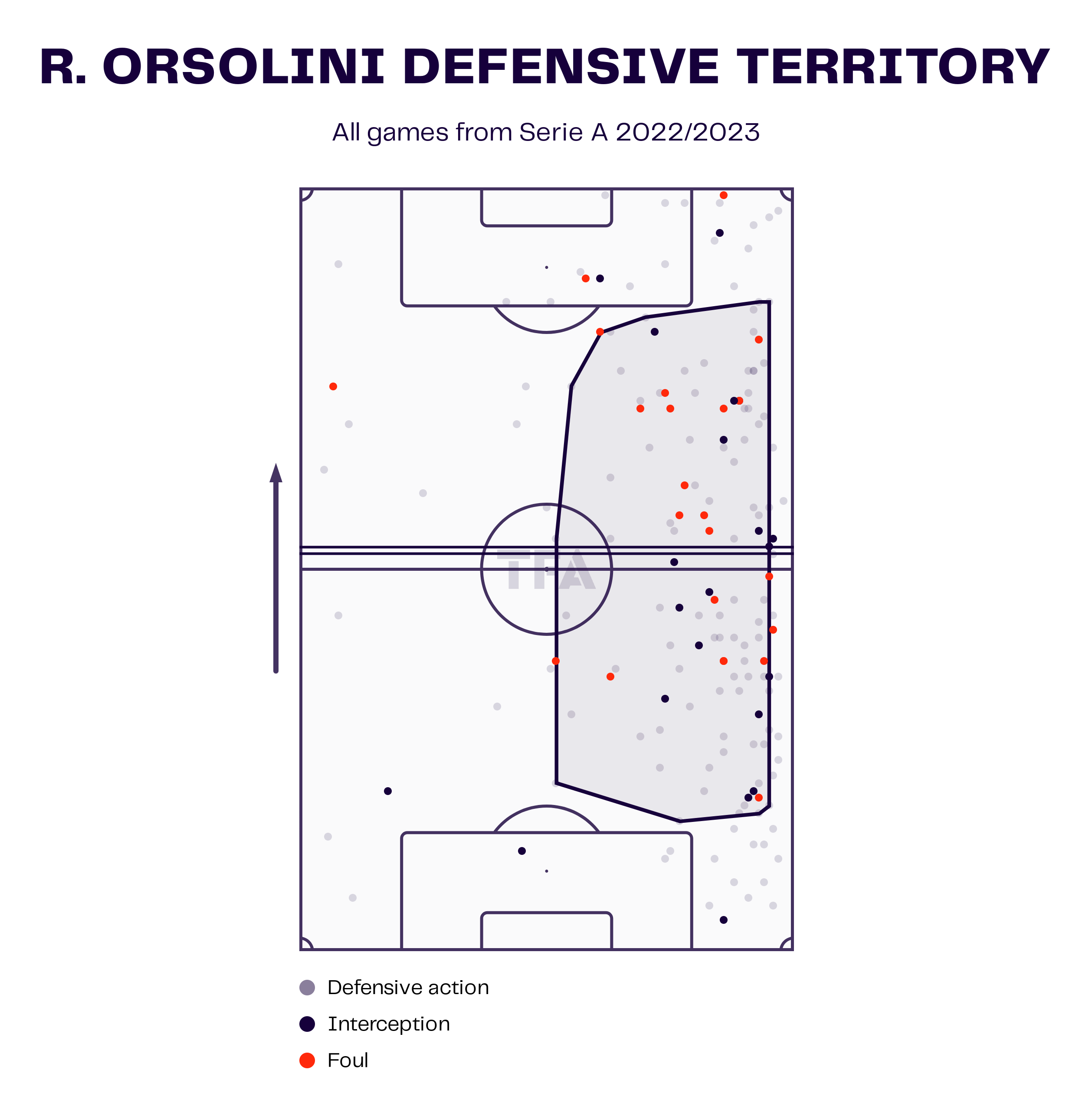 The Italian winger also helps out when the team is out of possession. From the viz above we can see that his average position along the attacking line is close to the half line in the opposition half. He covers almost the entire right flank and contributes defensively. He commits more fouls in the attacking half to restrict the opposition, but he also makes a few interceptions in both halves. Overall, Orsolini makes 3.7 recoveries and 2.58 interceptions per match. Furthermore, he contests 5.68 defensive duels and 2.11 aerial duels per match with win rates of 58.8% and 33.3%, respectively.
Riccardo Orsolini seems to be on course to set a new personal tally for goals scored in a season and is proving to be a significant factor in Bologna's success this season. He has bagged crucial goals and some key assists for the team, helping them rise up to seventh in Serie A. Thiago Motta will expect his winger to continue his consistent displays for the remainder of the season, as securing a top-half finish for Bologna will be his main target for a successful campaign.
Visuals via TFA data viz engine