Serie A has been known for producing and promoting quality defenders over the years, and one of the latest among them is Roger Ibanez, who currently plays for Roma. The Brazilian defender signed for the Serie A side in 2020 and has developed into a leading figure in the team's defensive structure. Since joining Roma, Ibanez has been a consistent performer for his team. This season, he has played a key role in keeping Jose Mourinho's side in contention for a UEFA Champions League berth. Roma are currently third in Serie A 2022-23, and the Brazilian's strong performance in defence has helped the team secure some important results and retain a favourable position in the league. Below are some stats from the current season in order to access his contributions towards his team.
Overall performance in the last two seasons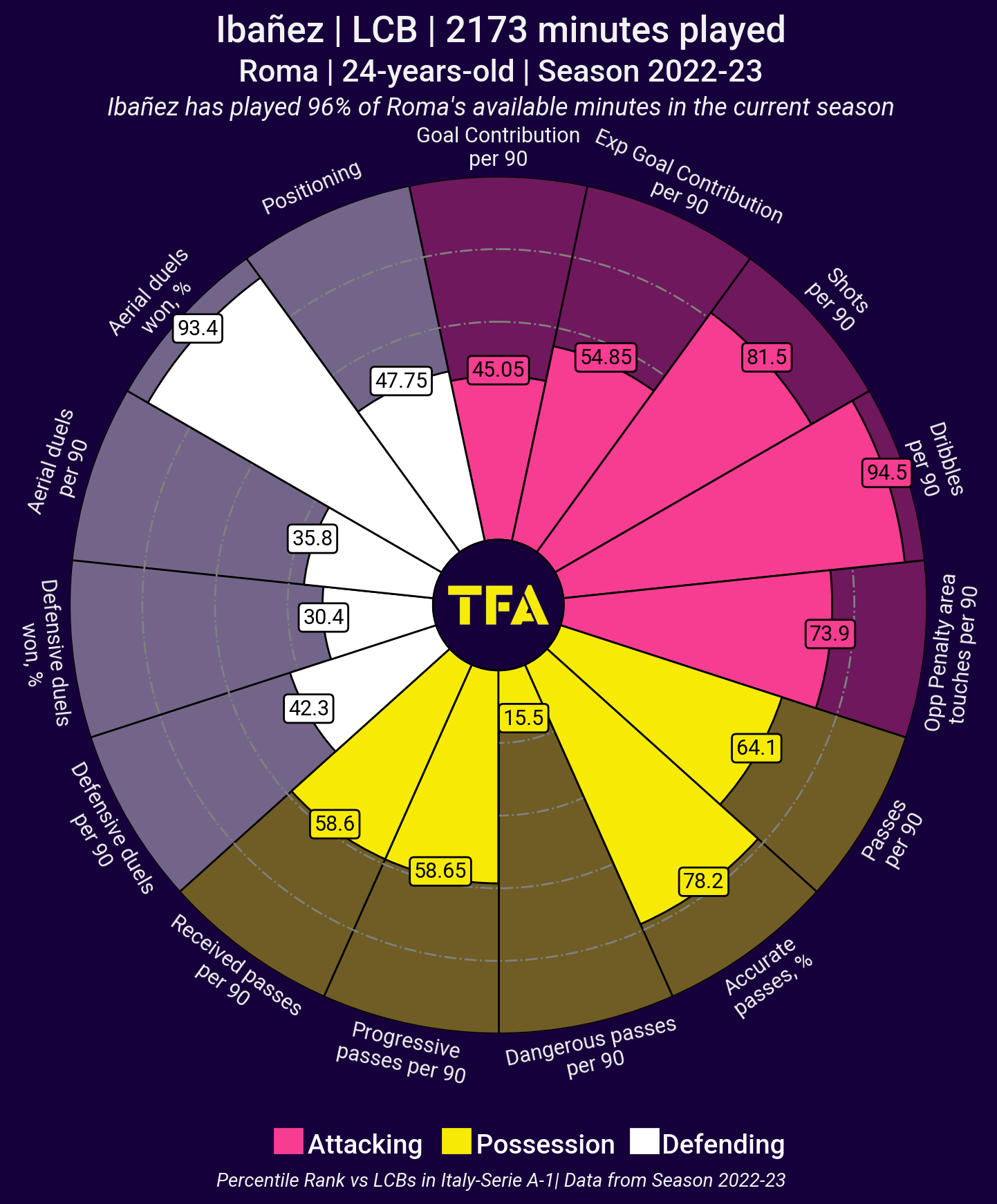 Roger Ibanez usually plays as a left centre-back, but on occasion, he can also slot in as the right-back or the right centre-back. The viz above shows the percentile rank of the player's stats compared to other centre-backs in Serie A in 2022–2033. He has played 22 matches and ranks in the top 93.4 percentile for aerial duels won per 90 minutes and in the top 94.5 percentile for dribbles. Other areas where the defender does well include accurate passes per 90, shots, and opposition penalty area touches. This shows that apart from helping in defence, Ibanez also contributes going forward.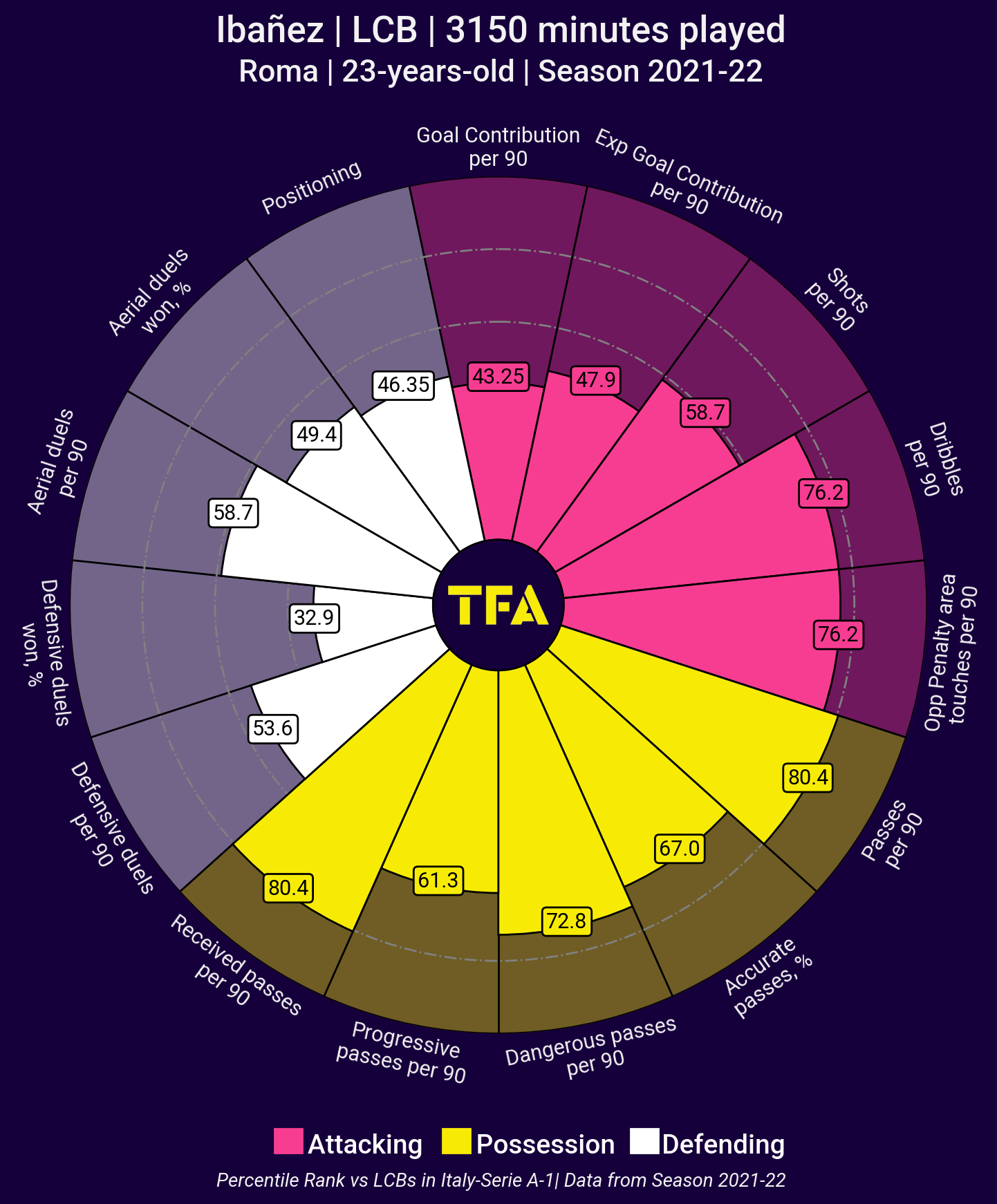 Ibanez played a total of 34 matches for Roma in the previous Serie A campaign. It can be seen that he performed better in the department of maintaining possession as well as contributing well to the attack. He is contributing more in the attacking phase this season, but he had overall better passing and possession stats last term. He has shown some improvement in terms of defensive performance and has improved significantly in terms of winning aerial duels.
Defensive contributions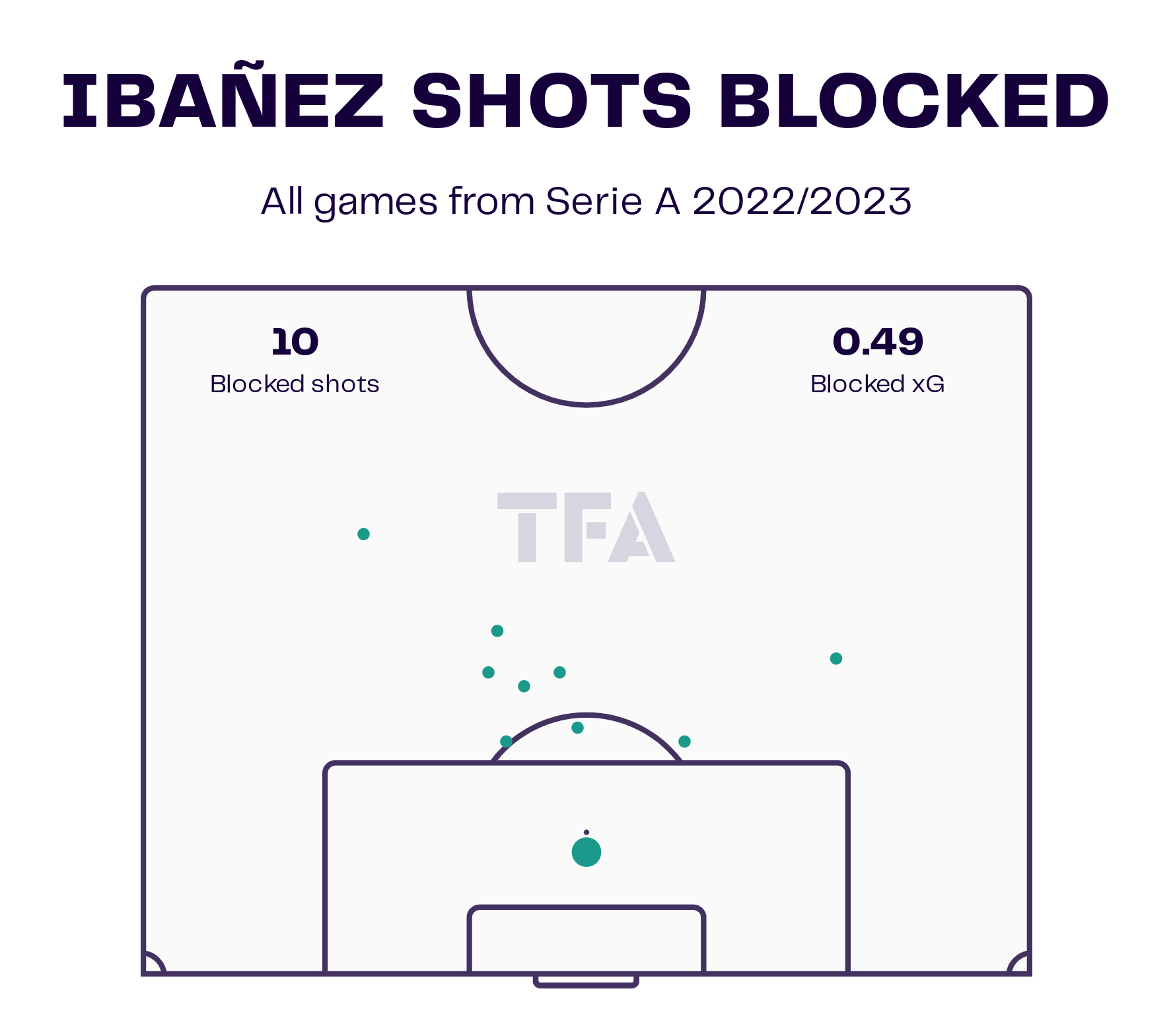 As a centre-back, Ibanez's defensive gameplay is his strongest suit. From the viz above we can see that his average position along the defensive line is well within his own half. He has made most of the interceptions within the defensive third and inside his own box, which has been crucial for his team on numerous occasions. The player makes 11.39 recoveries and 5.18 interceptions per match. Furthermore, he contests 6.71 defensive duels with a win rate of 63.6%. As for aerial duels, the centre-back contests 3.23 per match with a 70.5% win rate.
Ibanez has a shot block xG of 2.04 and has blocked ten shots in total. Most of his blocks have come from outside the box, and one has been inside the box. He averages 2.15 clearances per 90 minutes. The centre-back makes maximum tackles in the defensive third, in and around the box.
High pressing and passing efficiency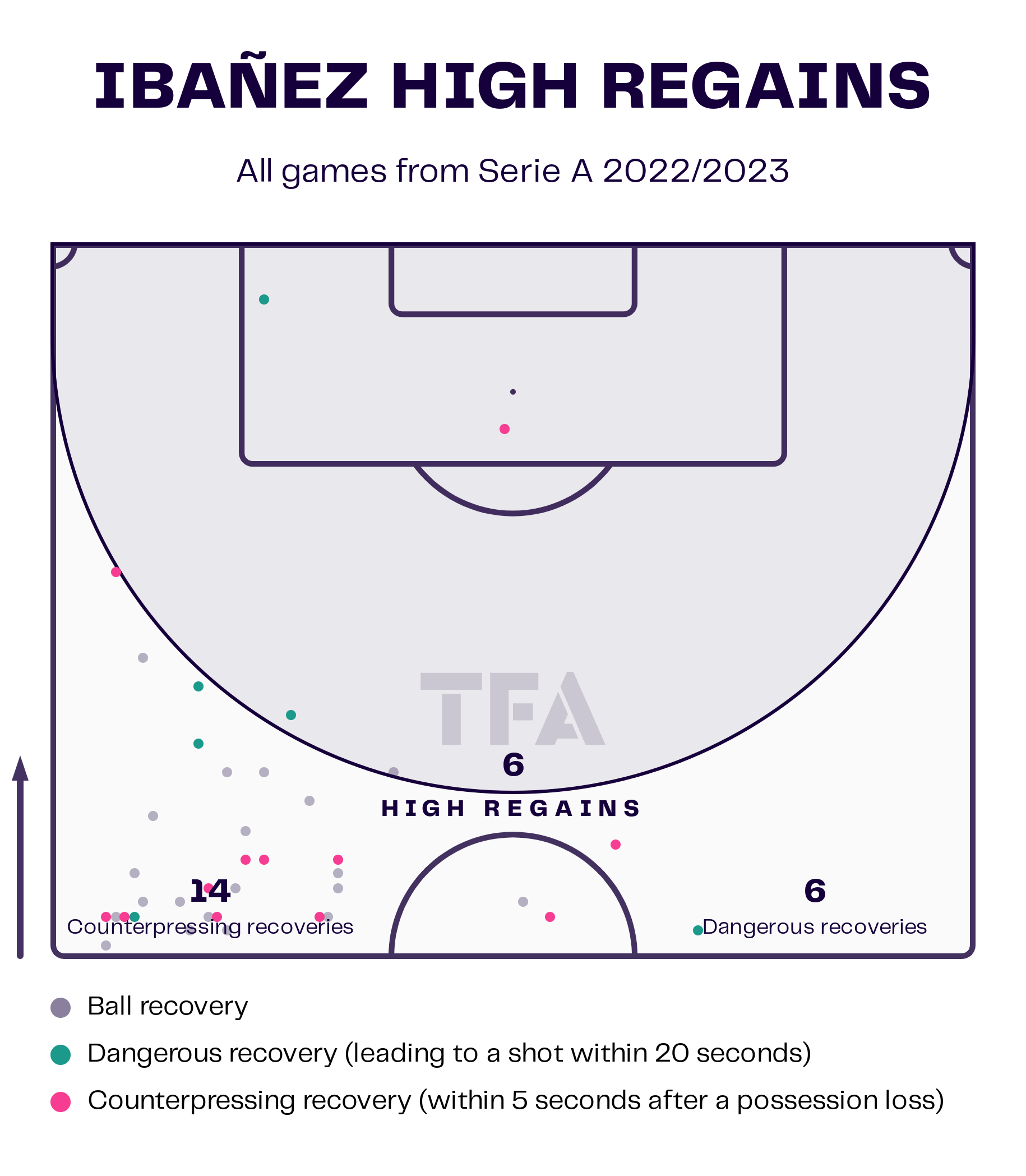 The above viz represents the overall high regains made by Roger Ibanez for Roma in Serie A 2022-23. It can be seen that the player makes movements up the pitch in order to put pressure on the opposition. As a centre-back, the Brazilian has made 14 counter-pressing recoveries in the opposition half. Additionally, he has made six high regains and six dangerous recoveries that have led to a shot.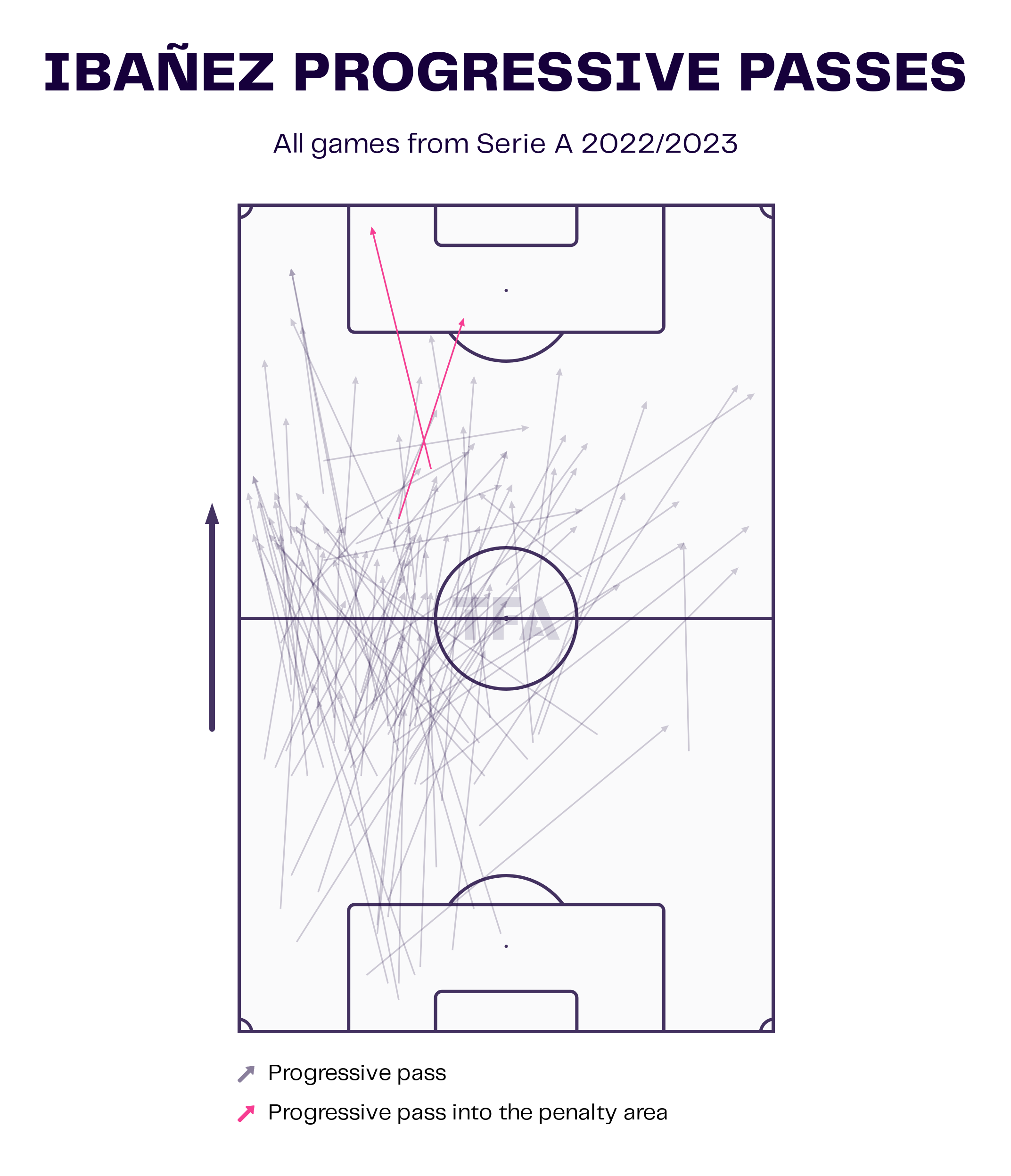 The above viz is a representation of the passes made by the Brazilian defender. It can be seen that most of his work rate is again on the left side of the defence and in the middle third of the pitch. He possesses fine passing ability in terms of passes attempted and pass accuracy. The player makes 46.22 passes per 90 with a high accuracy of 90.1%. Ibanez makes 18.18 forward passes per match with 81.5% accuracy, including 3.27 passes to the final third.
Contributing with goals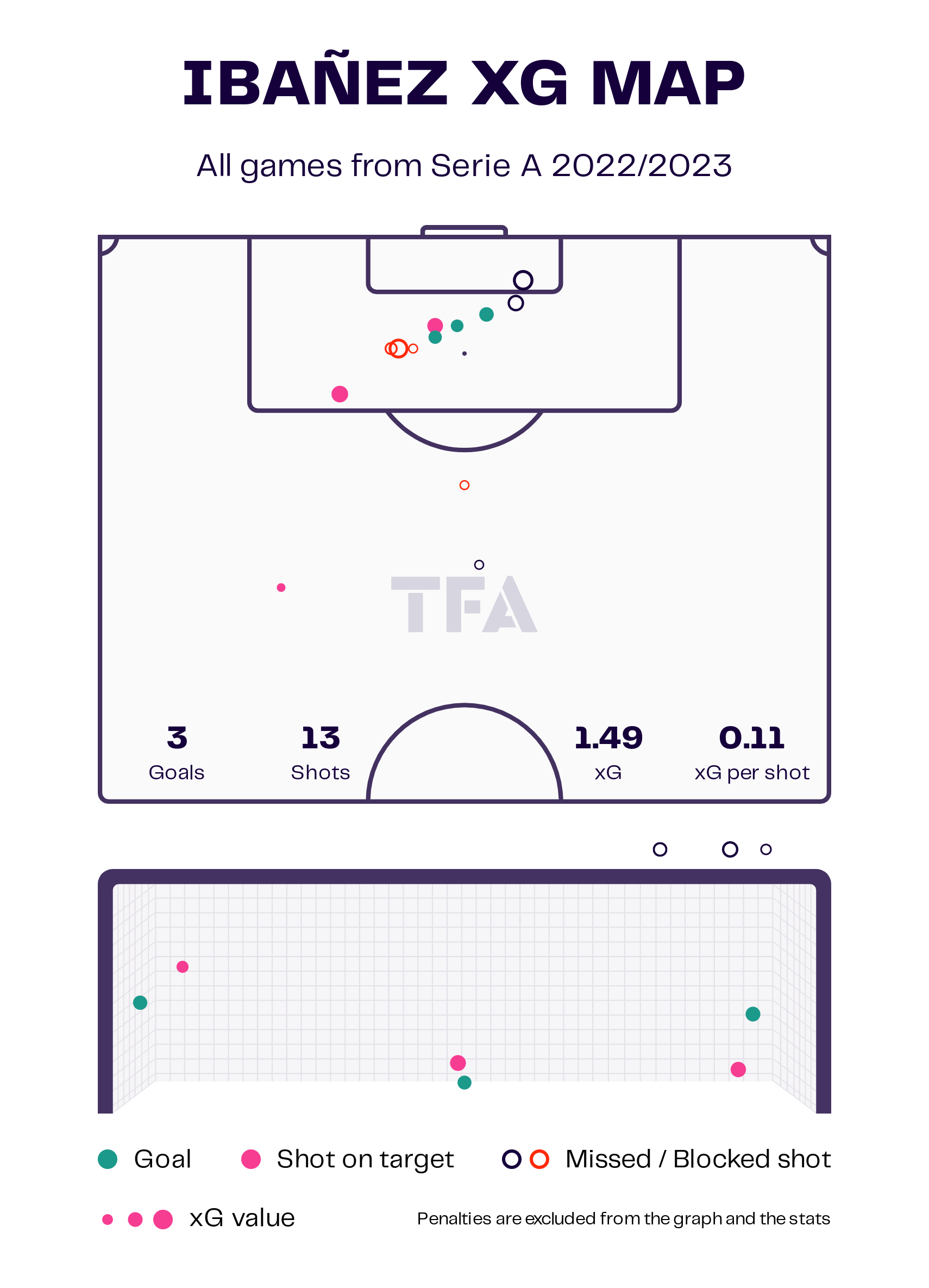 Another aspect of Roger Ibanez's gameplay worth highlighting is his ability to put himself in scoring positions. He is a genuine threat in set-piece situations with his physical presence and aerial ability. The defender has taken 13 shots in total for Roma this season and scored three goals. He has scored all his goals from a central position near the six-yard box, through headers or close-range shots.
Roger Ibanez has emerged as an important player for Roma over the last two seasons. He has a strong set of defensive and passing attributes that help his team build up from the back and when out of possession. He also makes important contributions while moving forward by getting into scoring positions. Roma will expect the same consistency from their Brazilian defender for the rest of the campaign as they look to secure a European berth for next season.
Visuals via TFA data viz engine