Two Italian heavyweights will lock horns on Sunday when Roma hosts Juventus at the Stadio Olimpico. This will be an exciting contest in Serie A, as both teams are in contention for European football next season. Roma slipped out of the top four after losing to Cremonese last week, a result that ended their three-game unbeaten run. Juventus, on the other hand, had their Serie A campaign severely impacted by a 15-point deduction. However, they have now climbed up to seventh after picking up the pace in recent weeks with a run of three consecutive wins. In the last Serie A meeting between the two sides, they played out a 1-1 draw. This time, either team will be eager to get a definitive result and improve their respective positions in the league table. Below, we look at the stats of both teams from this season to comprehend how this matchup could play out.
Overall performance of both teams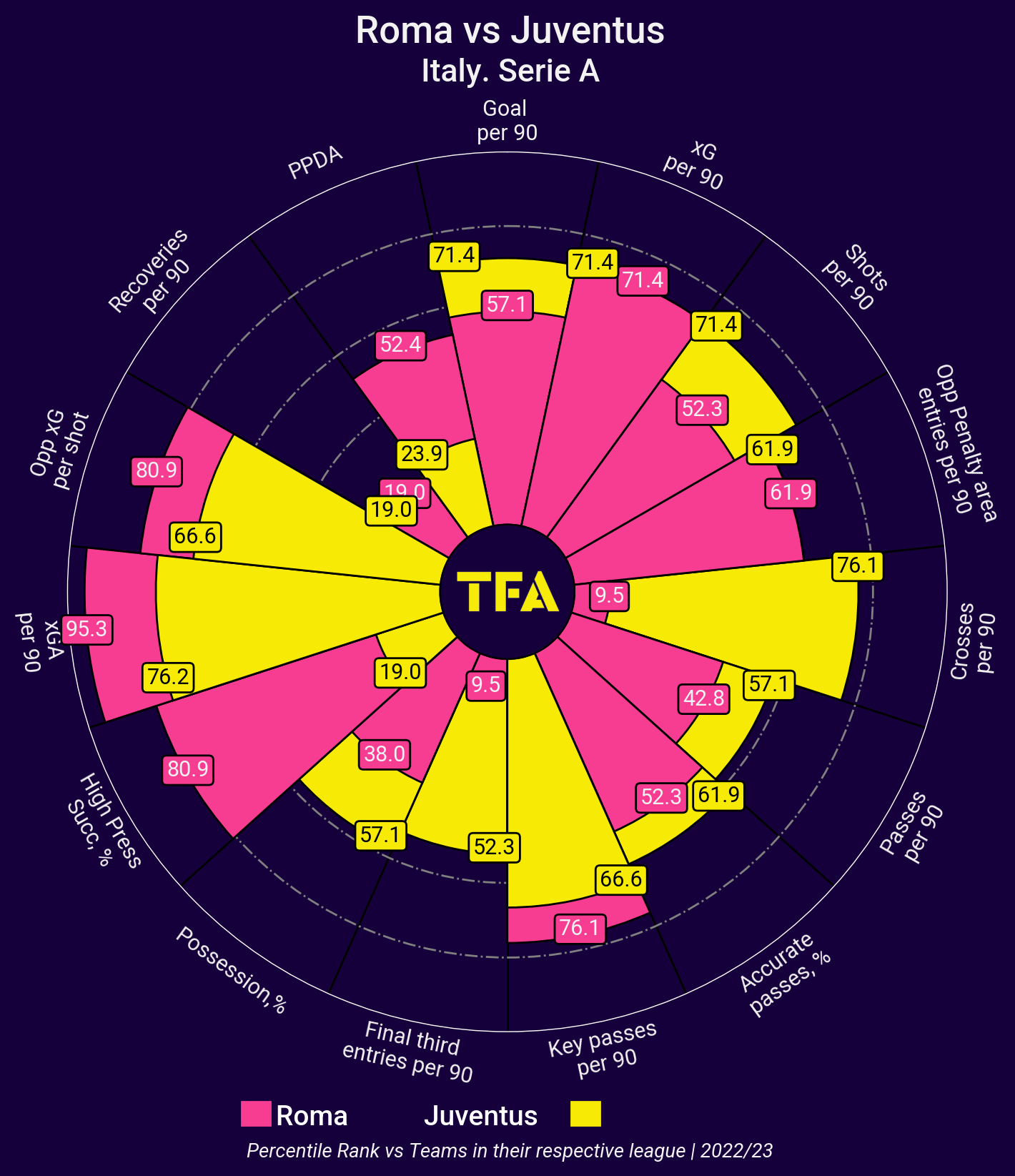 The above viz shows the percentile rank of both teams compared with each other as well as with other teams in Serie A. It can be observed that Juventus have an overall better rank for the attacking and possession indicators. Whereas Roma has better stats to show in the defensive indicators and is neck-and-neck in a few areas like xG, key passes, and penalty area touches.
In Serie A 2022–23, AS Roma have won 15, drawn five, and lost four matches. They have scored 31 goals against their opponents and average 1.63 xG per game. The defence has conceded 21 goals in return, with an average xGA of 0.86. Jose Mourinho's side attempts 423 passes per match and averages 49.81% possession.
Meanwhile, Juventus have won 12, drawn five, and lost six out of 23 matches thus far. They have scored 40 goals and conceded 19 in total. The average xG rate of the team is 1.53, while their average xGA rate is 1.06. Massimiliano Allegri's men pass the ball 430 times on average and maintain 49.14% possession per match. It will be interesting to see which team establishes more control over the ball in this fixture, as they both like to maintain their shape and take a pragmatic approach.
Attacking efficiency
The two visuals above compare the two teams based on positional plays and counter-attacking moves. Juventus hold the upper hand in terms of positional attacks, ranking third in the list with the Giallorossi second from the bottom. Meanwhile, Roma is the more counterattacking team of the two, with higher efficiency in such plays.
Roma creates 30.22 positional attacks and 3.13 counterattacks per match against Juventus' 31.87 positional attacks along with 2.61 counterattacks. Overall, Roma takes 13.7 shots per match with an accuracy rate of 36.5%. Whereas the Bianconeri attempts 12.52 shots per match and have an accuracy rate of 37.5%.
Winning defensive and aerial duels 
The above representations show the ranking of teams in Serie A based on their percentage of defensive and aerial duel wins. Like a true Jose Mourinho team, Roma have the highest rate of winning defensive duels and are second for the percentage of aerial duels won. In contrast, Juventus have a more average ranking compared to the other teams on both lists.
On average, Roma attempts 68.63 defensive duels per match along with 33.17 aerial duels. The hosts also average nearly 39 interceptions and 82 interceptions per match. Meanwhile, Allegri's men contest 63.29 defensive duels and 32.08 aerial duels per 90. As for interceptions and recoveries, these numbers stand at 41.08 and 79 for Juventus.
Key players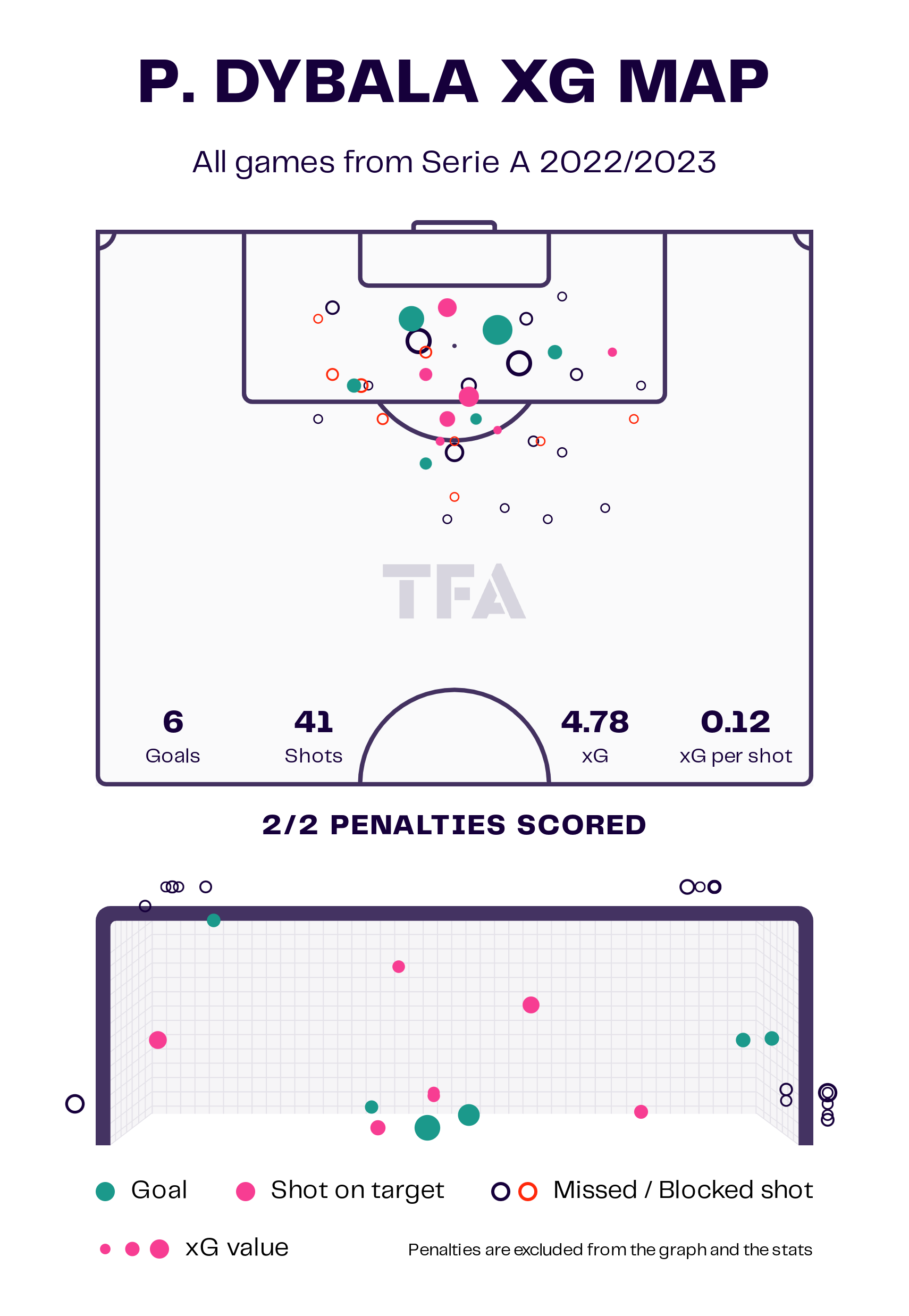 Paulo Dybala is most likely to lead the line for the hosts. With eight goals and six assists, he has been the most crucial player for Roma this season. Dybala will pose the greatest threat for Roma going forward, and the Juventus defenders will have the tough task of limiting the Argentine's clinical ability in and around the penalty box.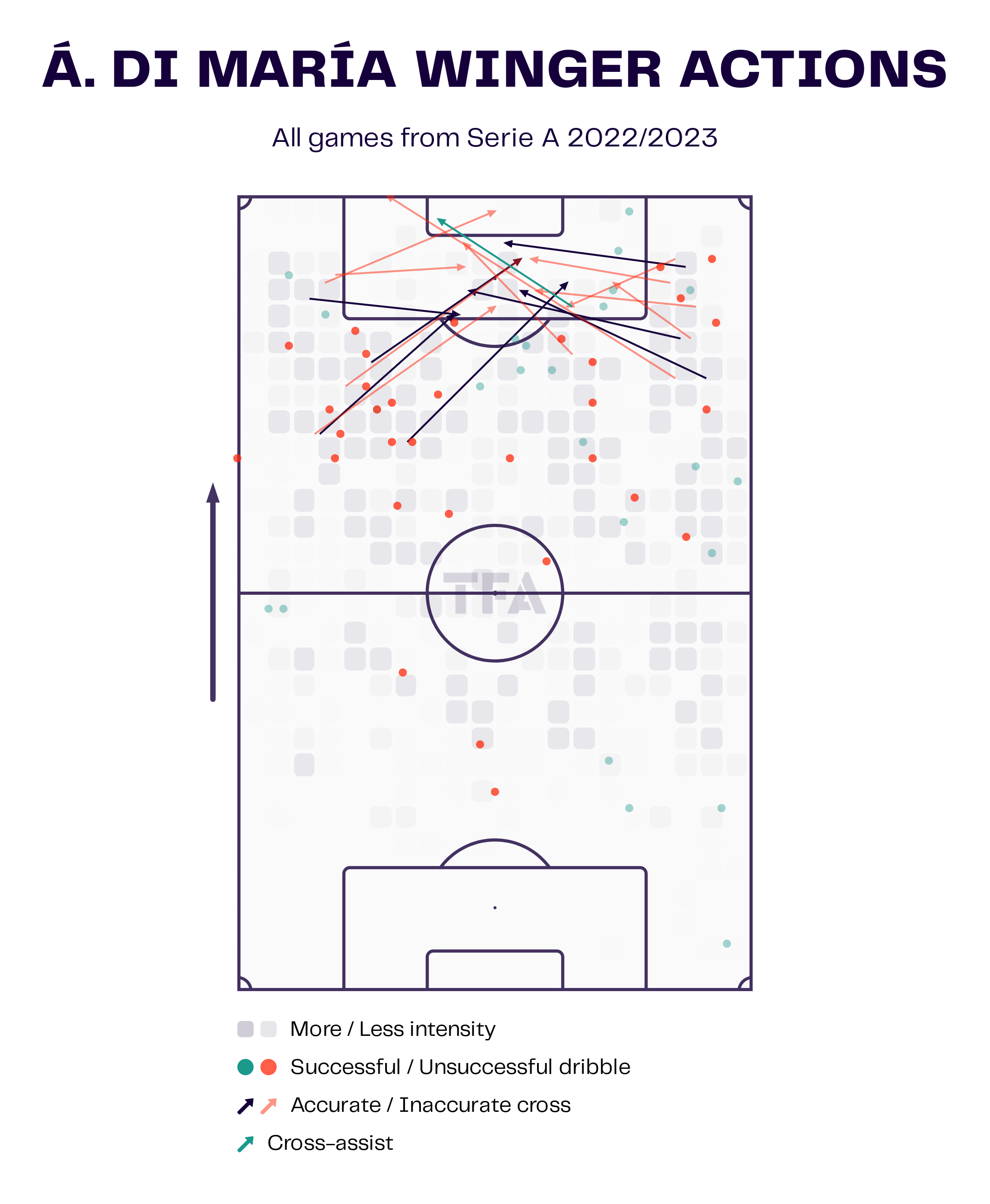 Angel Di Maria has been one of the standout signings of the season for Juventus. He has scored four goals and provided four assists in Serie A in 2022/23 and is in great form of late. Roma's defence will have to stay tight, and they can't afford to give the veteran Argentine attacker space in the final third.
Team news
Roma has no new injuries or suspensions among their first-team players. Their squad is at full strength heading into this fixture. Meanwhile, Juventus will be without the services of Arkadiusz Milik, Fabio Miretti, and Kaio Jorge due to various injuries. However, the return of Paul Pogba to fitness will serve as a boost for the visitors.
Roma vs Juventus will be one of the most important matches of the weekend in Serie A. The stats indicate it is going to be an exciting contest, with both teams being good in their attacking plays and defensive gameplay. The motive for both teams will be to secure maximum points rather than share the spoils. Roma will look to regain the fourth position and a UEFA Champions League spot. Juventus will want to continue their recovery after the points deduction by climbing up the table and taking a European berth of their own.
Visuals via TFA data viz engine