Roma host Real Sociedad at the Stadio Olimpico for the UEFA Europa League Round of 16 ties. Jose Mourinho's side is one of the favourites to progress deep into the competition, but they will face a huge test of their credentials against their La Liga opponent.
Roma progressed to the knockout stages after finishing second in their Europa League group and beating RB Salzburg in the previous playoff round. They have shown good form this season and are coming off an impressive victory against Juventus in their most recent Serie A outing. Meanwhile, Real Sociedad topped their group to progress to the knockout stages losing only once out of six matches. Much like their Italian opponents, they find themselves in similar territory in La Liga as they sit fourth in the standings on the back of strong performances.
Below are some stats from both teams from the current season to help foresee how the upcoming meeting between the two could pan out.
Overall performance of both teams
The viz above shows the percentile rank of both teams' stats compared to each other as well as to other teams in the UEFA Europa League 2022–23. It can be seen that both teams outperform each other in a few areas. Notably, Roma have better overall stats in areas like goals, xG, shots, key passes, and opposition xG per shot. Alternatively, there are some indicators in which Real Sociedad holds the advantage, such as attempted passes, possession rate, xGA, recoveries, and PPDA.
The teams in front of the goal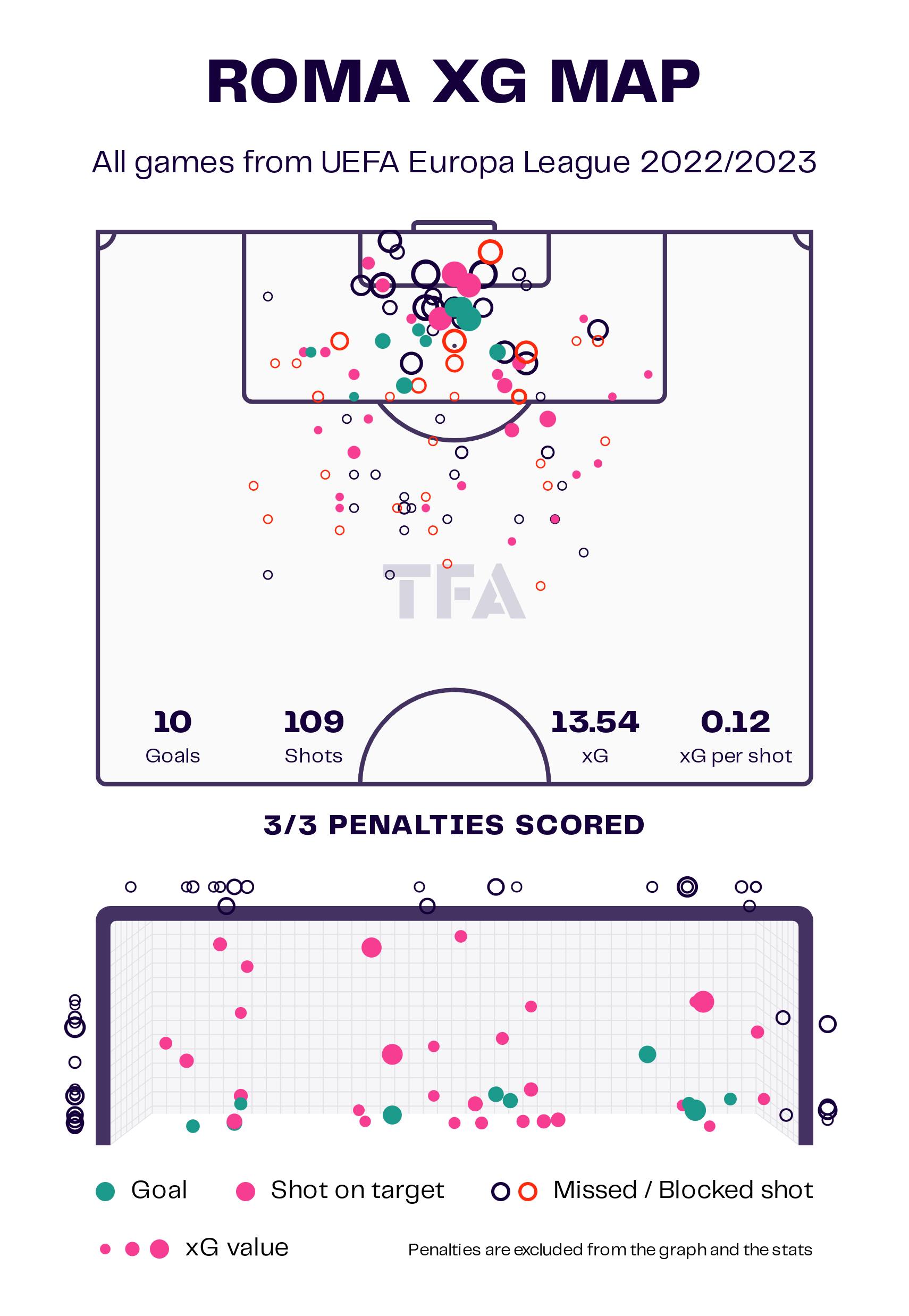 Roma have taken a total of 109 shots in eight Europa League matches and scored 13 goals. They accumulated 13.54 non-penalty xG in total and scored all the goals from inside the penalty area. The xG map above shows that the Serie A side has attempted most of their shots inside the box but has also shown a desire to shoot accurately from distance. Roma have scored 1.63 goals per match, averaging an xG of 1.63. They take 14 shots per match with a 37.5% accuracy rate.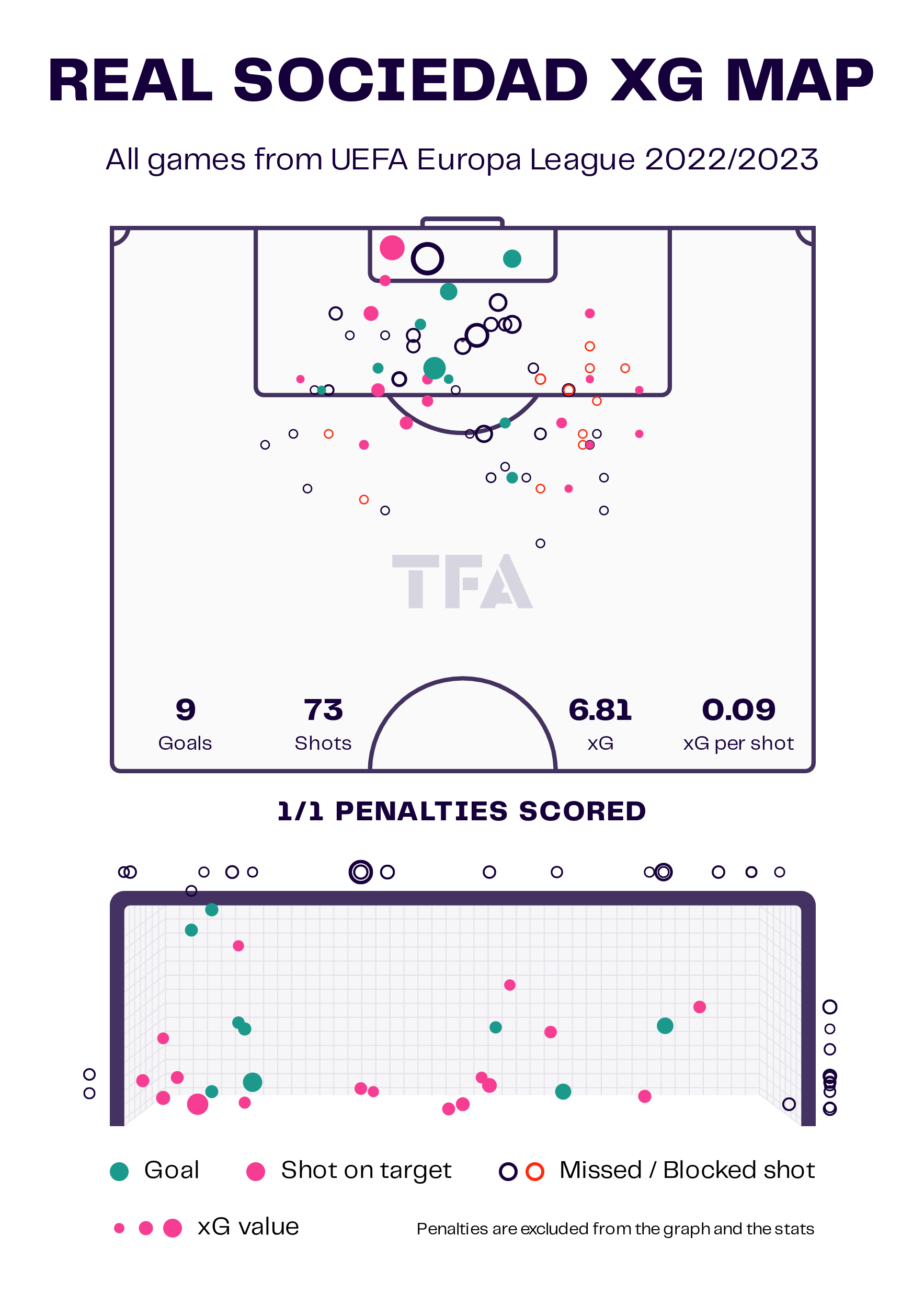 Alternatively, Real Sociedad have been in excellent form in the current Europa League campaign. They have taken 73 shots in total and scored ten goals with a non-penalty xG tally of 6.81. The Spanish side has scored eight goals from outside the box and two from the edge of the box. They scored at the rate of 1.67 goals per match while averaging 1.26 xG. Furthermore, Real Sociedad averages 12.33 shots per game with a 36.5% accuracy rate.
Forward passing ability
The two visuals above compare both teams on the basis of progressive passes. While both teams use the flanks significantly to move the ball forward and attempt a similar amount of progressive passes, Roma delivers more passes and crosses accurately into the box from the wide positions compared to Real Sociedad. The Italian side also uses the central zones in midfield to progress the ball forward. They have an average of 50.13 passes to the final third with 70% accuracy, compared to 56.5 such passes with 69% accuracy by the Spanish side. In terms of possession rate, Real Sociedad sees more of the ball with 60.13% possession compared to Roma's 51.4%.
Winning possession back
The two visuals above compare both teams based on their ability to regain possession high up the pitch. Roma holds the advantage in this department, having made 92 recoveries in the final third compared to the 74 made by Real Sociedad. The Italian side has also had more recoveries in and around the box, with some of these recoveries resulting in eventual shot attempts (dangerous recoveries). Overall, Roma makes 82.13 recoveries per match, compared to 84.17 recoveries made by Real Sociedad.
Key players
Lorenzo Pellegrini has proven himself as one of the absolutely essential players for Roma in the current campaign. In his seven Europa League appearances thus far, he has scored three times and also assisted three times. The Italian midfielder brings a genuine threat going forward with his combination of attacking and creative skill sets. Pellegrini takes 3.47 shots per match along with 2.11 shot assists, and the Real Sociedad players will have to keep his prowess in check, especially at the Stadio Olimpico.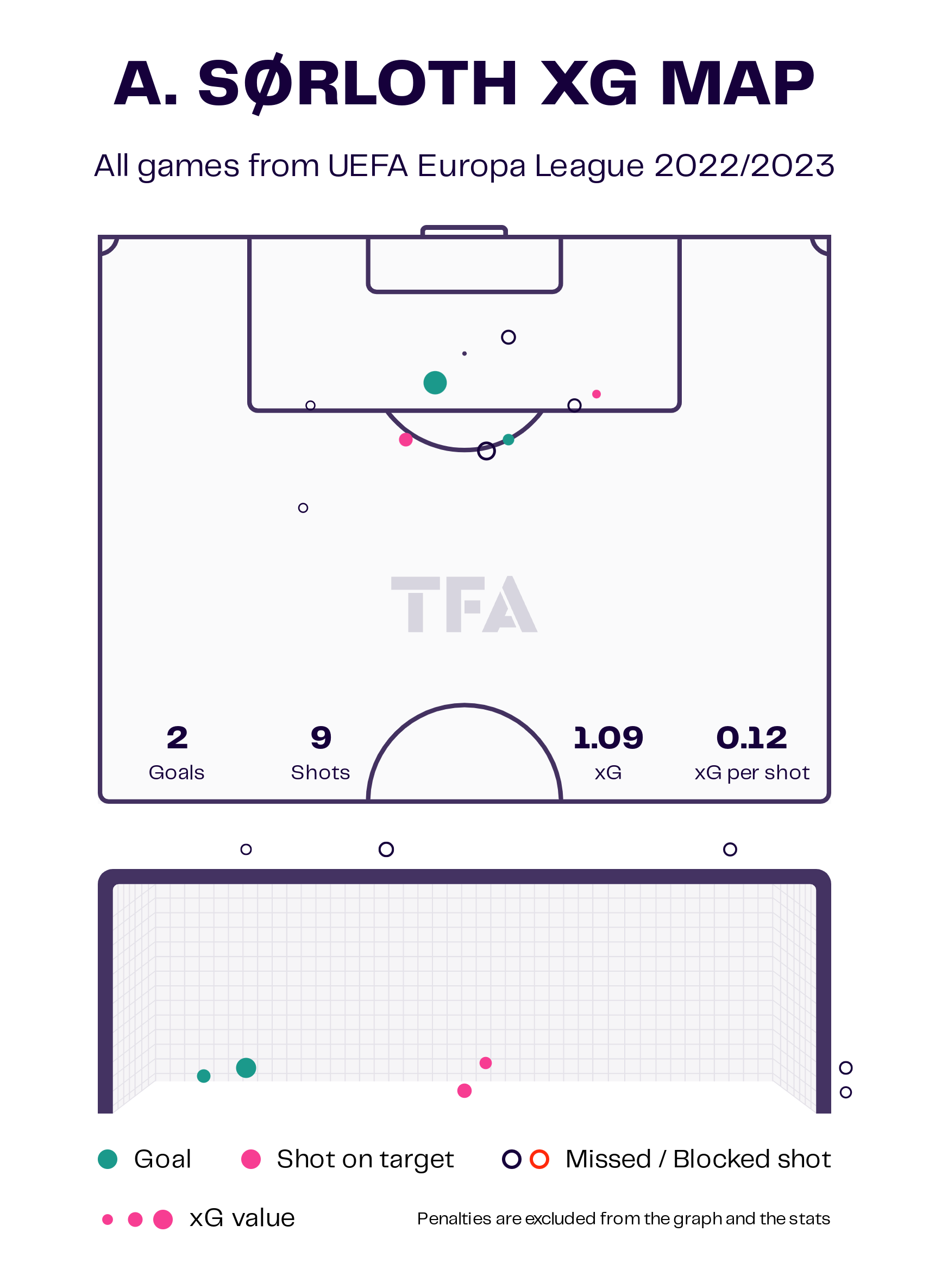 Alexander Sorloth has been in excellent form for Real Sociedad this season. His role in the team is to lead the attacking line and score goals. He is one of Real Sociedad's top performers in Europe and has scored twice from nine shots, accumulating an xG of 1.09. Also, he has one assist under his belt. Sorloth can do some justice for his team on the pitch in Italy if given enough time on the ball.
Team news
For Roma, Ola Solbakken will miss out through injury, and Bryan Cristante will be unavailable through suspension.
Meanwhile, Sociedad boss Imanol Alguacil will miss key players like Umar Sadiq and Artiz Elustondo, who picked up long-term injuries.
Overall, Roma progressed after an intense battle with RB Salzburg in the playoffs and proved that they mean business under the stewardship of Jose Mourinho. They will have the advantage of playing the first leg at home and will want to carry forward a decent advantage into the return leg. Meanwhile, Real Sociedad will come up with their own game plan and try to pull off an upset in hostile territory.
Visuals via TFA data viz engine