Fiorentina and Torino will be looking to return to winning ways in Serie A when they face off at the Stadio Artemio Franchi in game week 19. Both teams are placed neck-to-neck in mid-table, with Torino at the ninth spot with 23 points, followed by Fiorentina in tenth with the same number of points.
The hosts go into this fixture after a 2-0 loss on the road at Roma and will want to bounce back to winning ways in front of their fans. Fiorentina have shown better form over the last five matches (2W, 2D, 1L) compared to their upcoming opponents.
Torino, on the other hand, suffered a 1-0 home loss against Spezia last week. They have struggled in recent weeks and are without a win in four matches (3D, 1L). Below are some stats looking at the likelihood of the outcome of this match.
Comparison of the teams' performances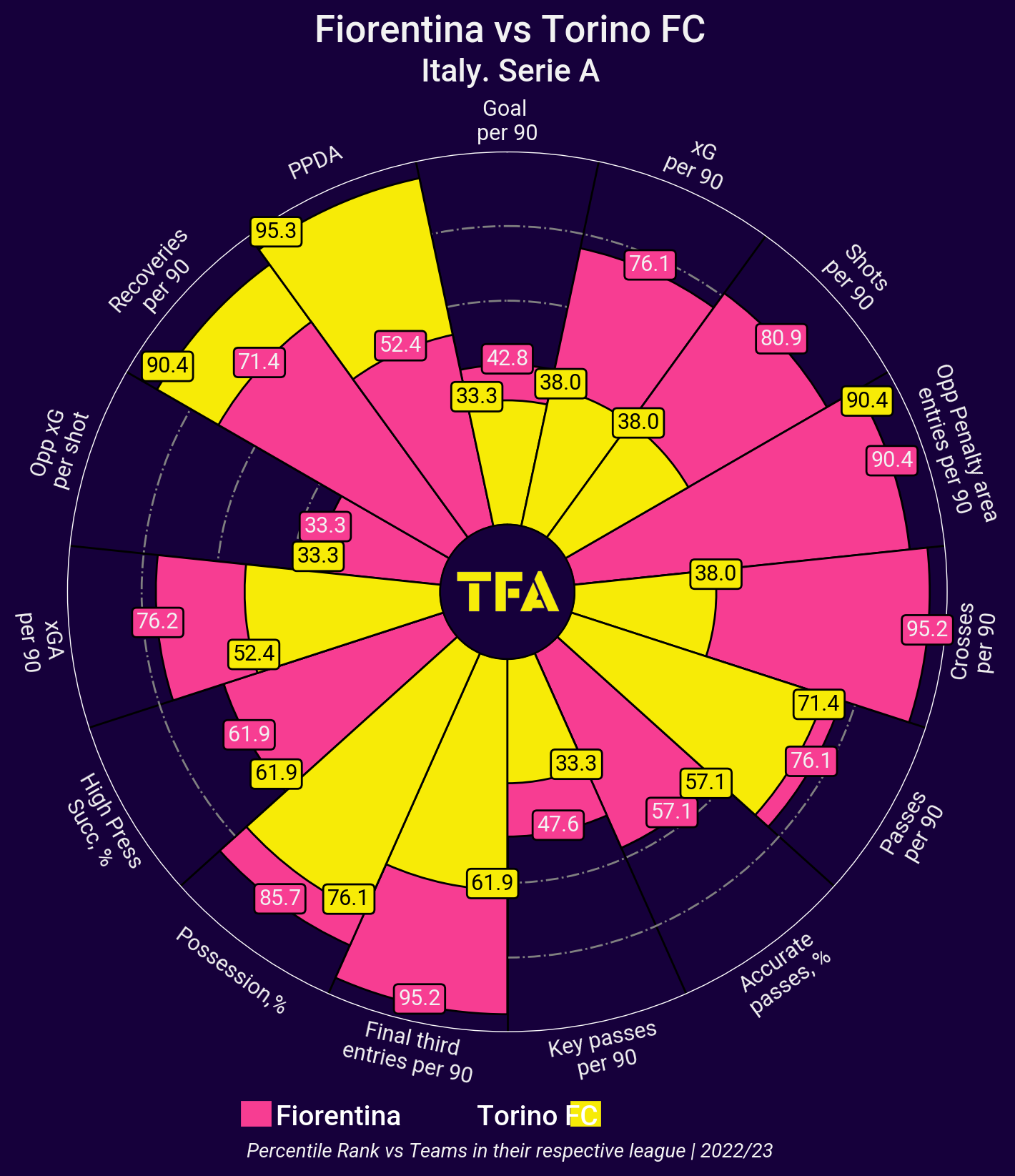 The viz above shows the percentile rank of both teams' stats compared to each other as well as to other teams in Liga Portugal. It can be seen that Fiorentina has better overall stats than Torino in most departments. Notably, the hosts have the upper hand in terms of shots, xG, final third entries, and xGA. Alternatively, there are a couple of departments where the visitors have superior stats, such as recoveries and passes per defensive action.
Fiorentina have won six, drawn five, and lost seven of their 18 Serie A matches thus far. They have scored 21 goals, averaging 1.59 xG per match. Their defence has let in 24 goals with an xGA rate of 1.23. The team averages 14.2 shots per game with a 32.5% accuracy rate. Additionally, the team averages 57.6% possession per match.
Meanwhile, Torino have a similar record of six wins, five draws, and seven losses. They have netted 18 goals, averaging 1.41 xG per match. Their defence has let in 20 goals with an xGA rate of 1.32. Torino's players take 11.5 shots per match with a 36.3% accuracy rate. In terms of possession rate, they keep 53.8% ball possession on average per match.
Attacking efficiency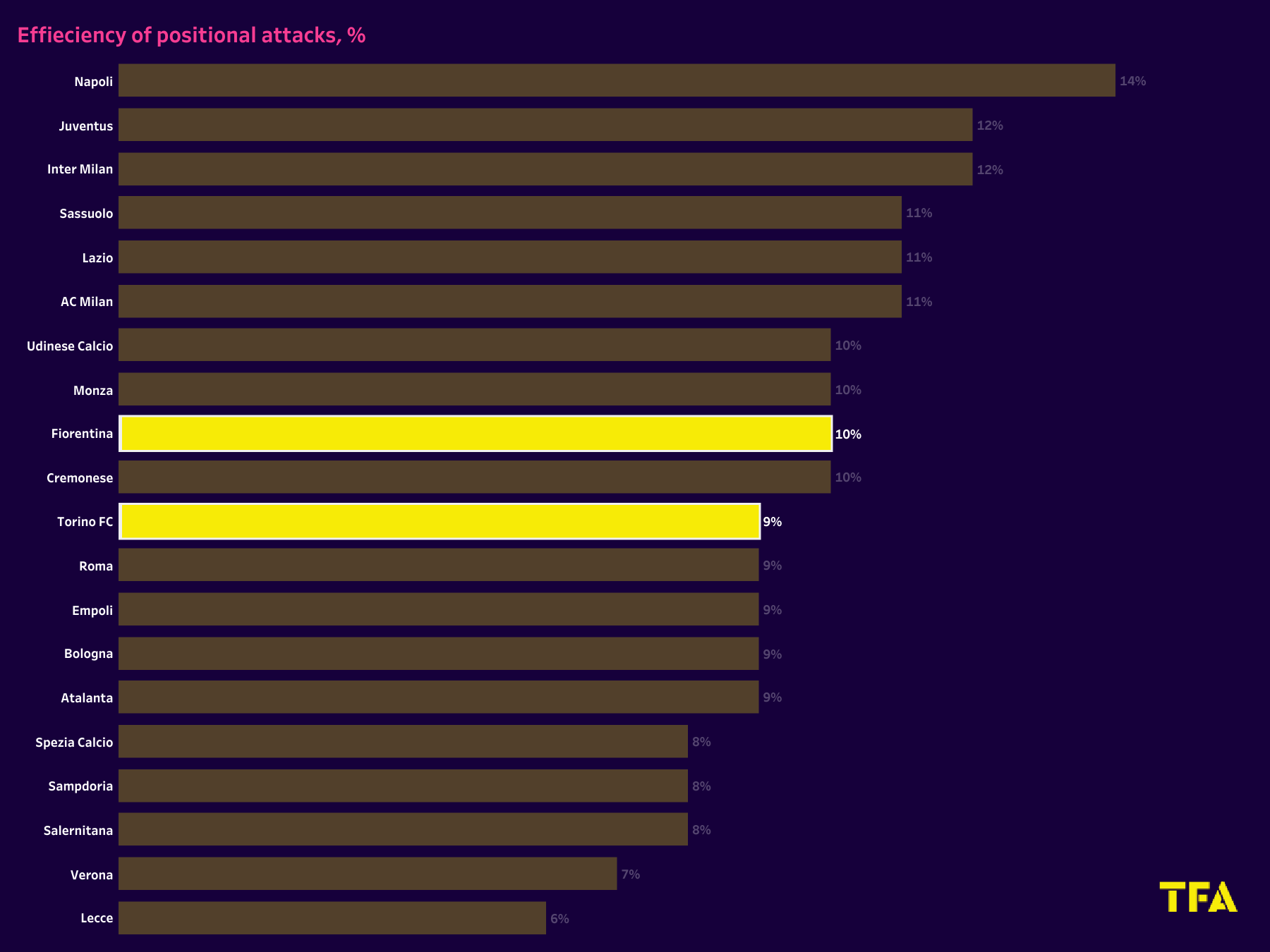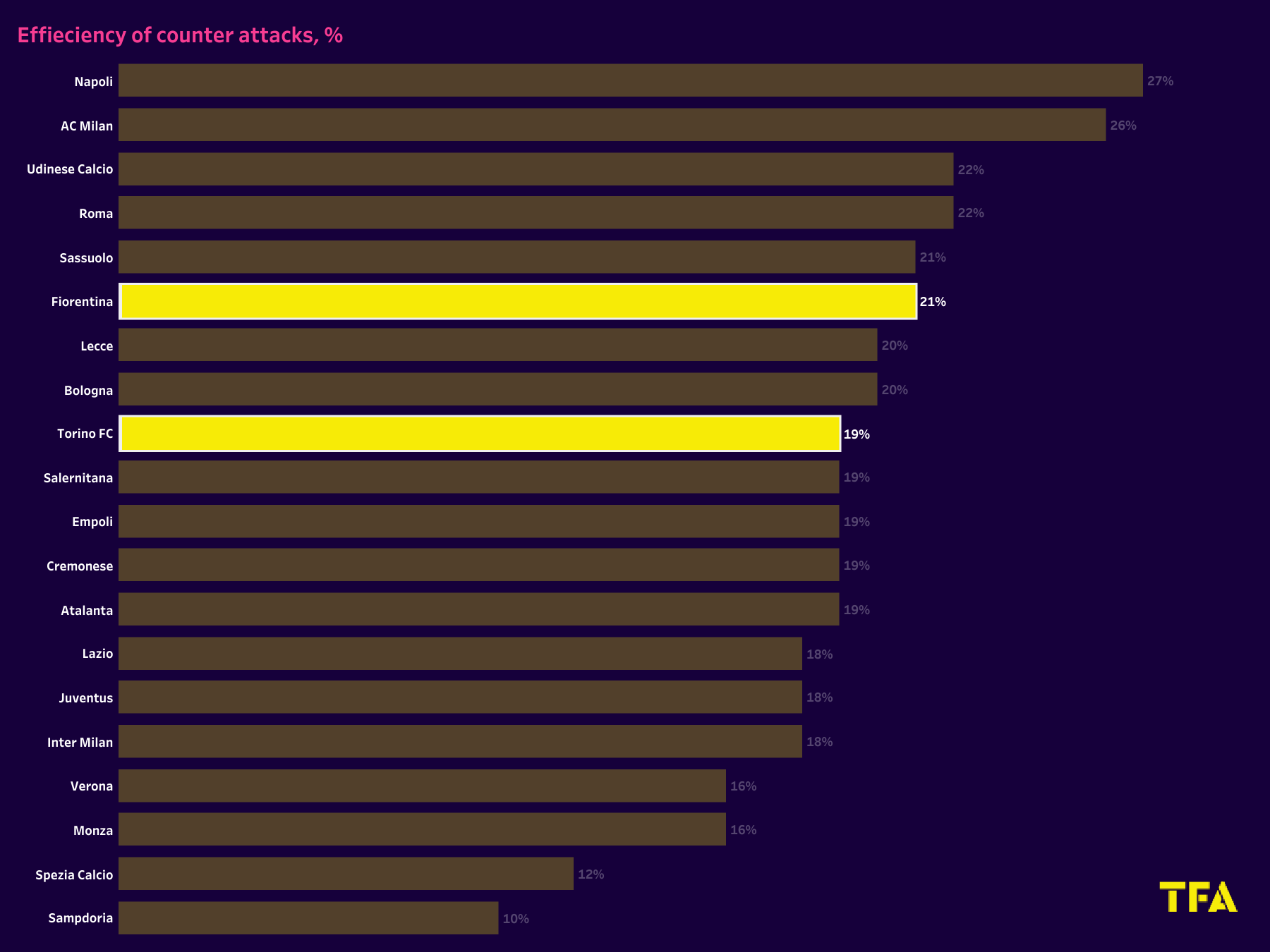 The two visuals above compare the two teams on the basis of positional play and counter-attacks. Both teams fare closely in terms of the efficiency of their positional attacks and counter-attacks, with Fiorentina holding a slight advantage in the rankings. Fiorentina launches 34.39 positional attacks, with 22.8% of them leading to shots. While their opponent launches 30.5 positional attacks, with 23.3% of them leading to shots.
As for counter-attacks, the hosts launch an average of 1.78 counter-attacks, with 37.6% of them ending in shots. On the other hand, Torino launches 1.39 counter-attacks per game, with 48.2% of them ending in shots. Each team will be aware of the threat the other poses in these types of attacks and will play accordingly.
Difference in pressing
The two visuals above compare both teams on the basis of pressing efficiency and recoveries. As we can see from the first visual, Fiorentina are ranked second on the list with 53% pressing efficiency and is ranked in the top 85.7 percentile for a high press success rate. Torino are much lower on the list, with 46% efficiency in pressing, despite ranking in the top 95.3 percentile for passes per defensive action.
The second viz shows that Fiorentina and Torino are the two teams that make recoveries in the attacking half most frequently. The hosts make 80.22 recoveries per match. But with 89.4 recoveries overall, Torino makes more recoveries in other areas of the pitch. Despite not being as effective in pressing as the hosts, Torino makes more recoveries.
Key Players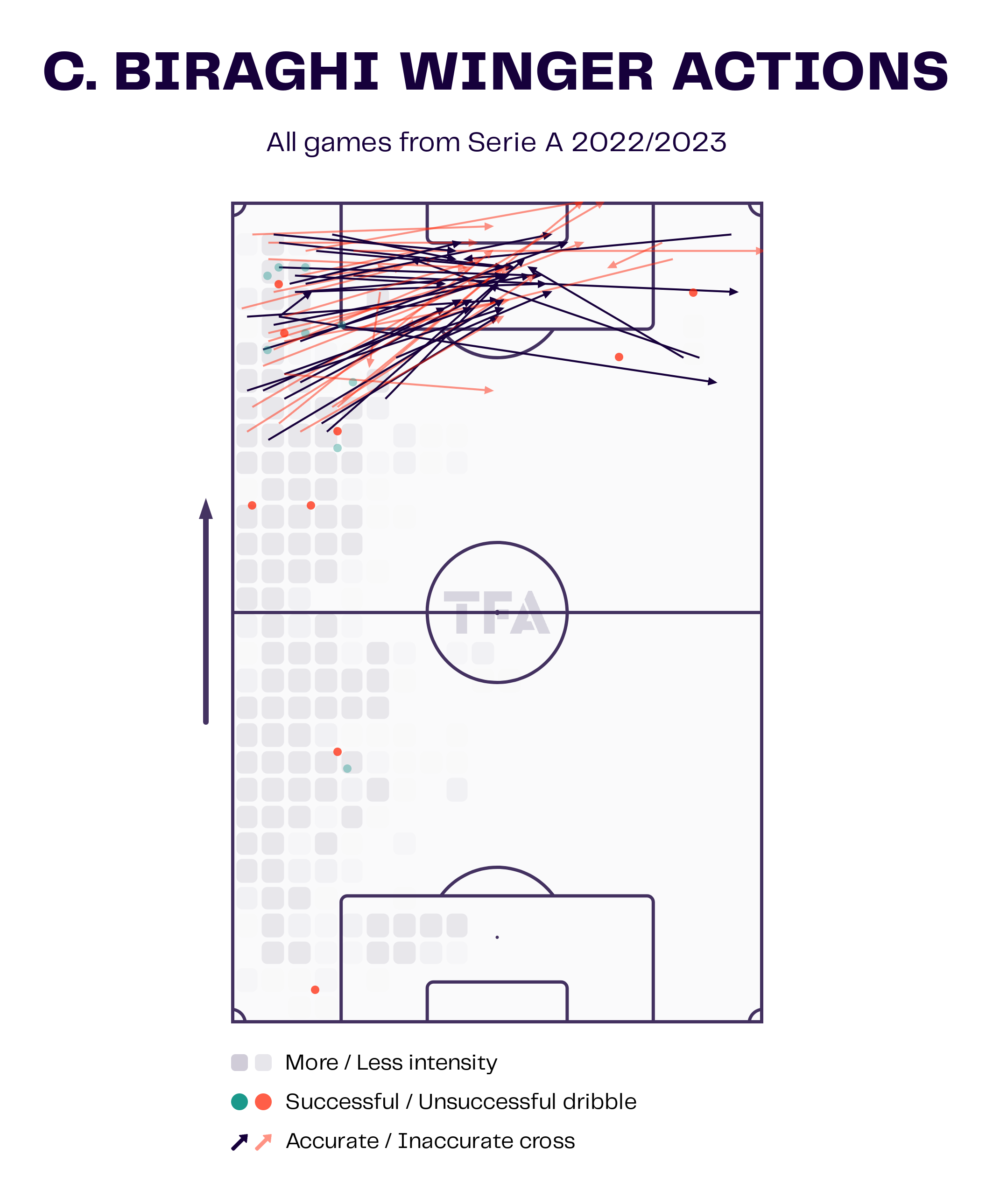 Cristiano Biraghi has been impressive for Fiorentina's defence as a left-back. He plays like a modern attacking full-back who crosses the ball into the 18-yard box. He has provided two crucial assists for his teammates in his 17 Serie A appearances. Biraghi makes 3.44 key passes per 90 minutes and leads the chart for the most key passes (50) in the current Serie A season. His playmaking ability will pose a serious threat to Torino.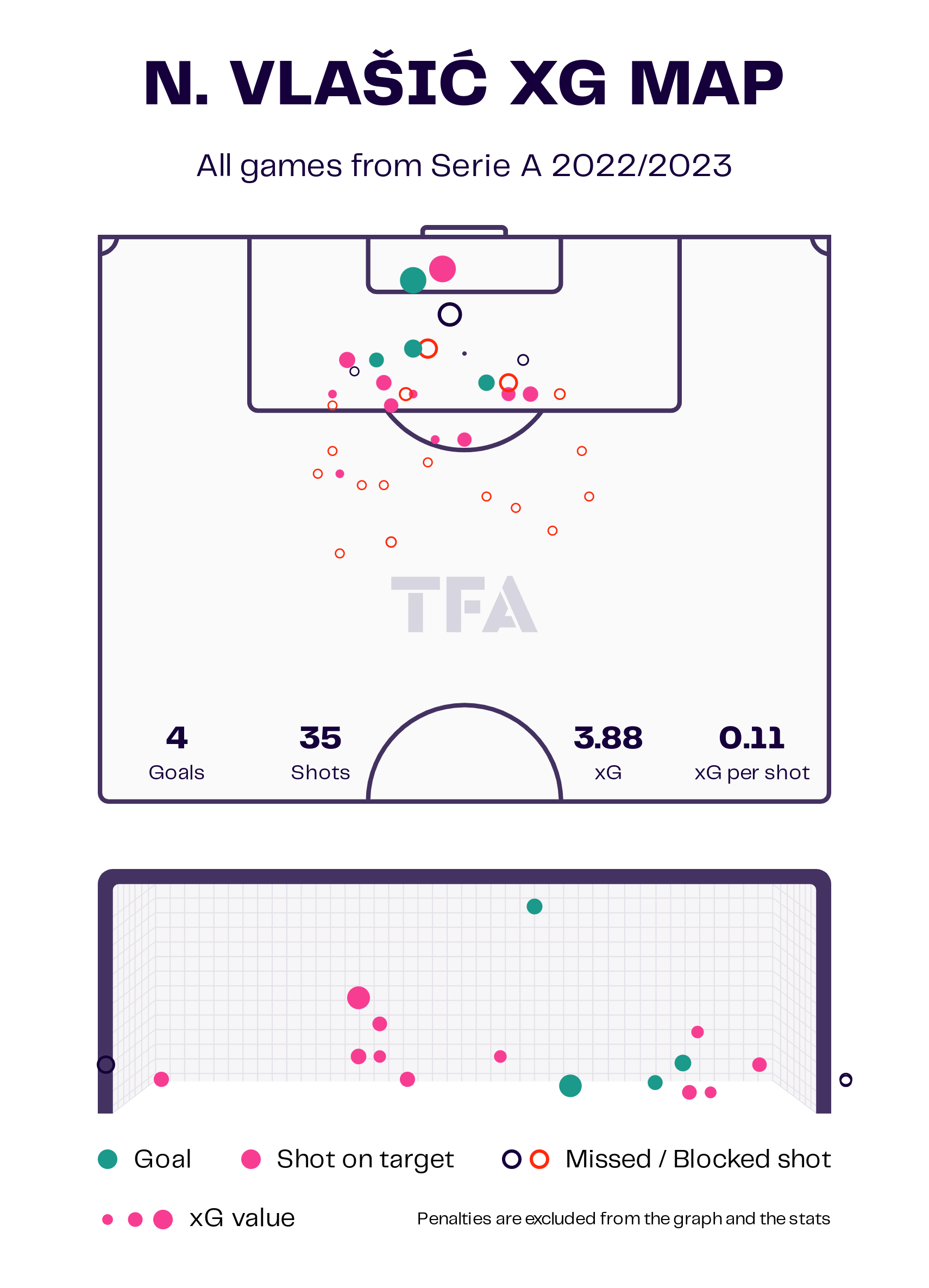 Nikola Vlasic has been one of the best performers for Torino this season. A versatile central attacking midfielder, Vlasic has the ability to score goals as well as find assists. He takes 1.9 shots per match with 43% accuracy and provides 1.51 shot assists on average. Going into the clash against Fiorentina, the Croatian midfielder will be keen to add more contributions to his tally of four goals and two assists.
Team News
The home team is expected to be without the likes of Ricardo Sottil, Arthur Cabral, Rolando Mandragora, Riccardo Saponara, and Lucas Quarta through various injury issues. Apart from these absentees, the rest of the Fiorentina squad looks fit and ready to go.
Meanwhile, the visitors will likely miss the services of Ola Aina, Pietro Pelligri, Valentino Lazaro, Sasa Lukic, and Perr Schuurs because of injuries. Other than these players, the rest of the Torino players will be available for selection.
Fiorentina vs. Torino will be one of the most interesting Serie A matches this weekend, with both teams fighting for a top-half finish and potential European qualification. Fiorentina will have the home advantage, but Torino will give them fierce competition.
Visuals via TFA data viz engine