Juventus will be eager to return to winning ways in Serie A when they host Atalanta at the Allianz Stadium on Sunday. With both teams placed in the top half of Serie A and separated by only three points, this will be an intensely competitive encounter. While Juventus currently sit in third place with 37 points, Atalanta are sixth with 34 points.
The hosts head into this fixture after a 5-1 humbling away at Napoli that ended their incredible eight-game winning streak. Despite the heavy defeat, Juventus have exhibited excellent form in Serie A in recent months and will be optimistic about securing maximum points in front of their fans.
Meanwhile, Atalanta will be looking to continue their robust momentum after humiliating Salernitana 8-2 last weekend. Even though the visitors have not shown as good a form in recent weeks as their upcoming opponent, they will be determined to extend their winning run to three games against the Bianconeri. Below are some stats looking at the performance of both teams compared to each other in Serie A in 2022/23.
How have the teams performed?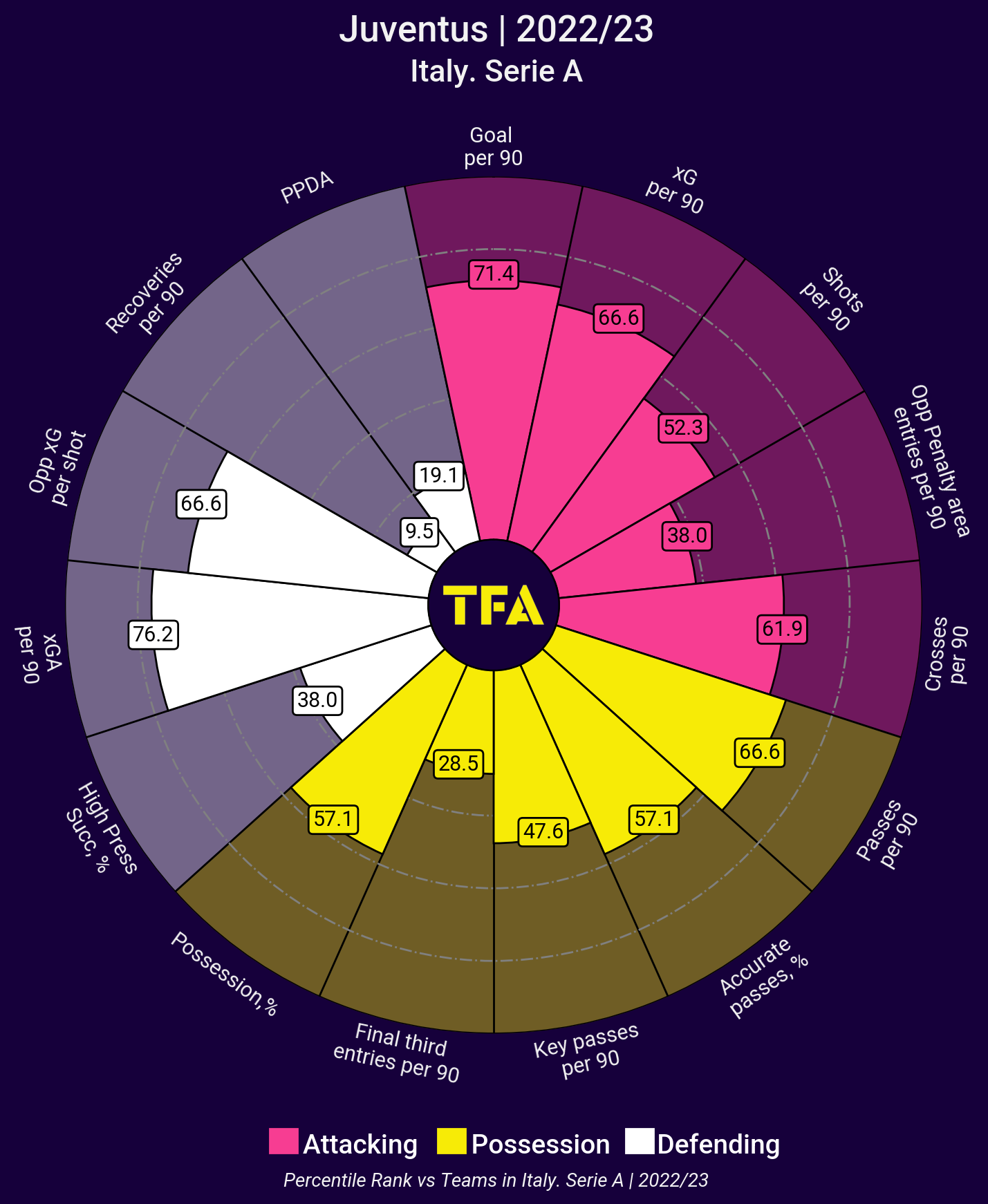 Juventus struggled at the start of the season under Massimiliano Allegri but have crafted an outstanding turnaround since then. The Bianconeri have won 11, drawn four, and lost three out of 18 matches. They have scored 27 goals and conceded the fewest (12), while averaging 1.5 xG and 1.07 xGA per match.
The above viz shows the percentile rank of Juventus' stats compared to other teams in Serie A. They are doing well in terms of metrics like goals, passes, and xGA per 90. However, they have a low rank in areas such as pressing success rate, final third entries, and recoveries. Juventus averages 12.3 shots per game with a 36.6% accuracy rate. Additionally, they enjoy 50.45% possession per match.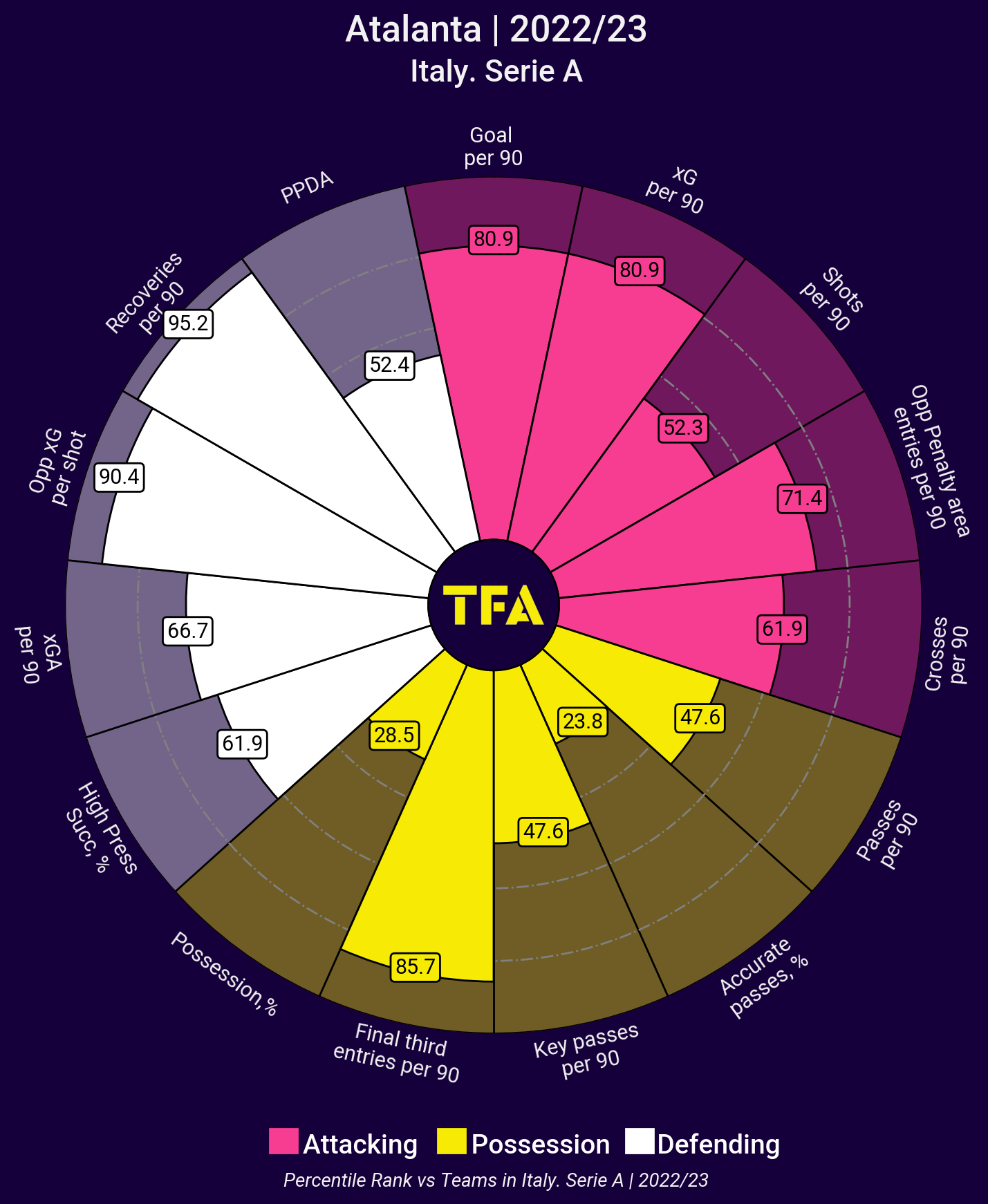 Atalanta, on the other hand, have won ten, drawn four, and lost four matches. Gian Piero Gasperini's side has scored 34 goals, averaging 1.75 xG per match. Their defence has let in 20 goals with an xGA rate of 1.17. The viz above portrays the excellent percentile rank of Atalanta in metrics like xG, final third entries, opponent's xG per shot, and recoveries. However, a couple of areas where the Nerazzurri can improve are accurate passes and possession rate. Atalanta's players take 11.8 shots per match with 37.7% accuracy. In terms of possession rate, they keep 46.41% ball possession per match.
Efficiency of attacks
The two visuals above compare the two teams on the basis of positional play and counter-attacks. While Juventus has the upper hand for positional attacks with 12% efficiency compared to Atalanta's 9%, the visitors have a slight advantage for counterattacks with 19% efficiency against the hosts' 18%. Juventus creates 25.6 positional attacks on average and takes shots from 28% of such plays. Meanwhile, Atalanta creates 31.5 positional attacks per match, with 22.4% of them resulting in shots.
Alternatively, the Bianconeri launch 2.06 counterattacks per match, with 45.6% of these attacks ending in shots. Meanwhile, the Nerazzurri launch 2.56 counterattacks on average, with 52% of them ending in shots. We can expect the hosts to keep more possession and create more chances while the visitors adopt a more agile and efficient approach to their attacking moves in this fixture.
Rate of winning defensive and aerial duels
The two visuals above represent the ranking of teams in Serie A based on their percentage of defensive and aerial duel wins. It can be seen that Juventus have an average ranking with a 56% win rate in defensive duels. Atalanta, on the other hand, are not far behind with a 55% success rate. On average, the home team makes 40.33 interceptions versus 42.17 interceptions per 90 for the Nerazzurri. Alternatively, Atalanta are the best team in terms of winning aerial duels, with a 57% success rate compared to Juventus' 51%.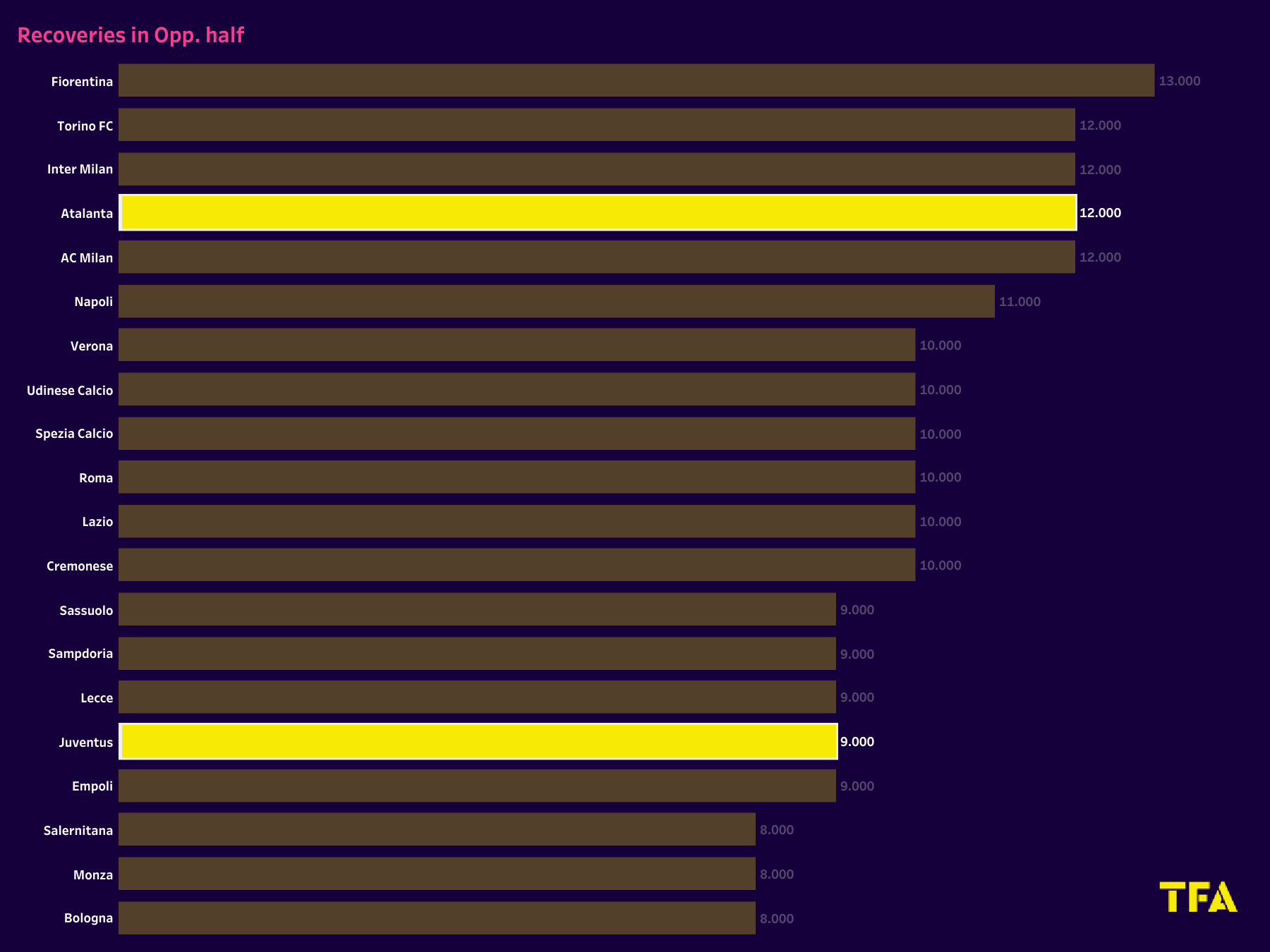 Atalanta's high-pressing style allows them to recover the ball more frequently in the attacking half. Juventus, on the other hand, are comparatively sporadic in terms of recoveries made in the opposition's half. The home team makes almost 76 recoveries per match, compared to Atalanta's average of 90.6 recoveries per 90 minutes.
Key players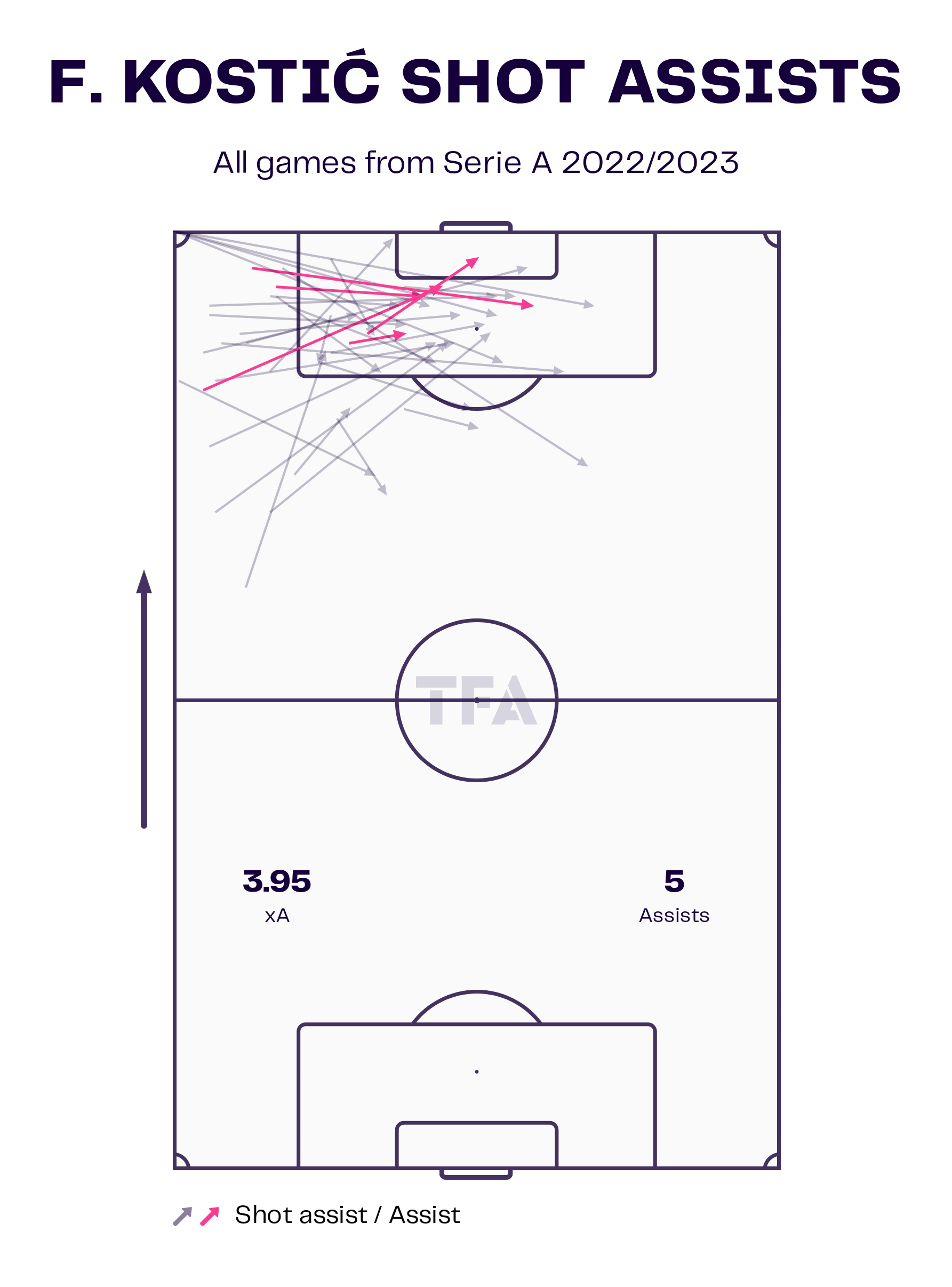 Filip Kostic has been one of the best signings of the season for Juventus on the left wing. He has scored one goal and provided five assists in Serie A in 2022/23. Atalanta's defence will have to stay tight, and they can't afford to give him space in the final third. The Serbian will provide the most attacking threat for the home team in this close contest.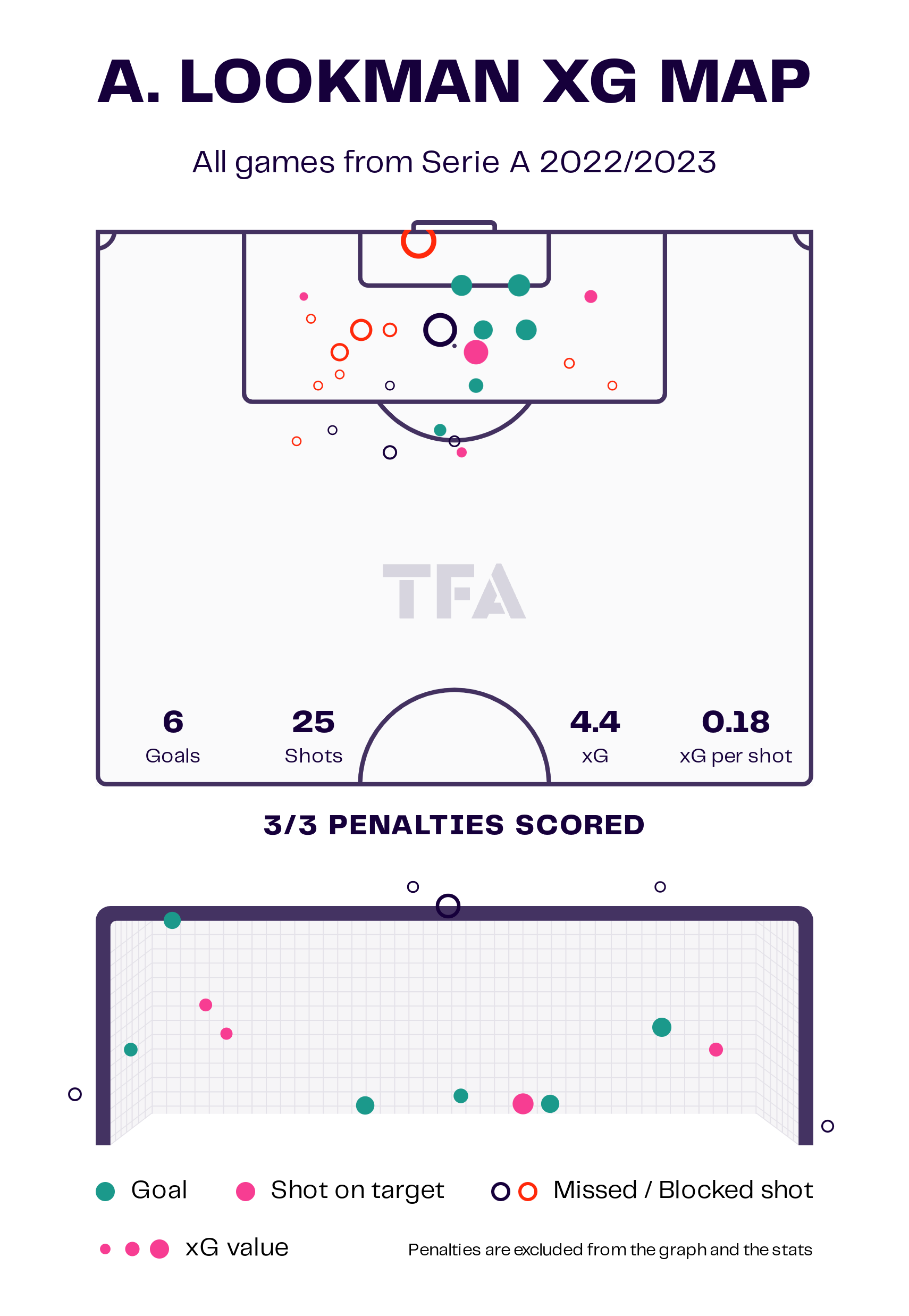 Meanwhile, Ademola Lookman has been one of the best signings for Atalanta in the forward positions. He has scored nine goals and provided two assists in 17 league appearances this season. If Juventus want to secure the maximum points from this fixture, their defenders will have to ensure the Nigerian forward does not have a good game.
Team news
The home team is expected to be without the likes of Paul Pogba, Mattia de Sciglio, Dusan Vlahovic, Leonardo Bonucci, and Kaio Jorge through various injury issues. Apart from these absentees, the rest of the Juventus squad looks fit and ready to go.
Meanwhile, the visitors will miss the services of Davide Zappacosta and Giorgio Scalvini through injury, and Teun Koopmeiners because of suspension. Other than these three, the rest of the Atalanta players will be available for selection.
Juventus vs. Atalanta will be an intensely exciting Serie A match this weekend as two prominent Italian teams clash. Both teams are looking to close the gap at the top of the table and ensure Champions League qualification for next season. Juventus will have the advantage of playing at home, but defeating a strong Atalanta side won't come easy.
Visuals via TFA data viz engine