Lazio will welcome AC Milan to the Stadio Olimpico for the closing fixture of Serie A game week 19. With both teams placed in the top four positions of Serie A and separated by only four points, this will be an intensely competitive encounter. While Lazio currently sits in fourth place with 34 points, AC Milan are second with 38 points.
The hosts head into this fixture after a 2-0 away victory at Sassuolo that ended their three-game winless run (2L, 1D). Lazio have not been in the best form in the last five matches, with two wins, one draw, and two losses.
Meanwhile, AC Milan will be looking to return to winning ways after a 2-2 draw away at Lecce. Even though the visitors drew in their last two games, they have shown better form in their last five matches (2W,3D) compared to their upcoming opponent. Below are some stats looking at the performance of both teams compared to each other in Serie A in 2022/23.
How have the teams performed?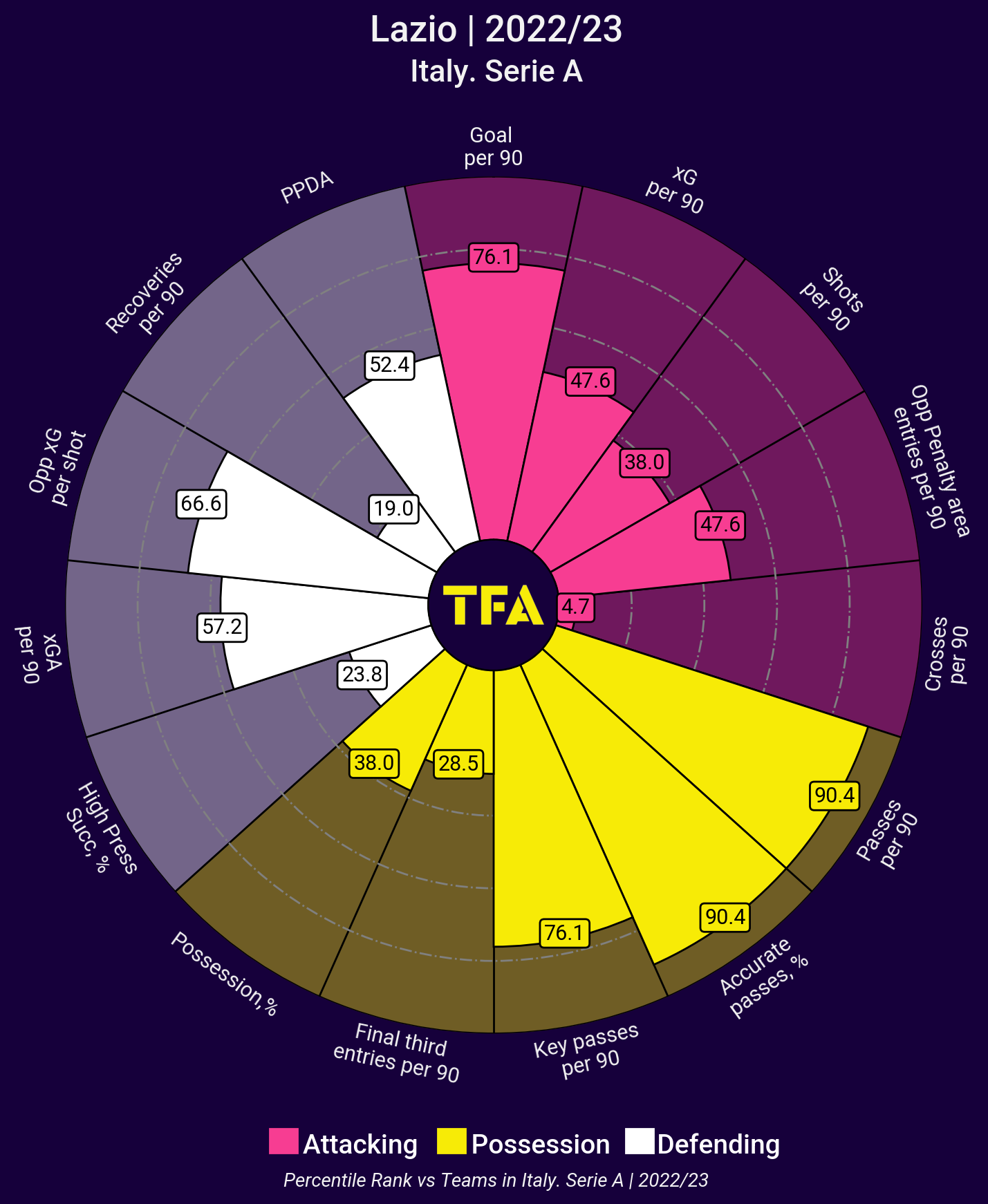 Lazio have won ten, drawn four, and lost four out of 18 matches. They have scored 31 goals and conceded 15, while averaging 1.5 xG and 1.07 xGA per match. The above viz shows the percentile rank of Lazio's stats compared to other teams in Serie A. They are doing well in terms of metrics like goals, accurate passes, key passes, and opponent xG per shot per 90. However, they have a low rank for metrics such as crosses, recoveries, pressing success rate, final third entries, and shots. Maurizio Sarri's team averages 10.67 shots per game with a 40.1% accuracy rate. Additionally, they keep 49.68% possession per match.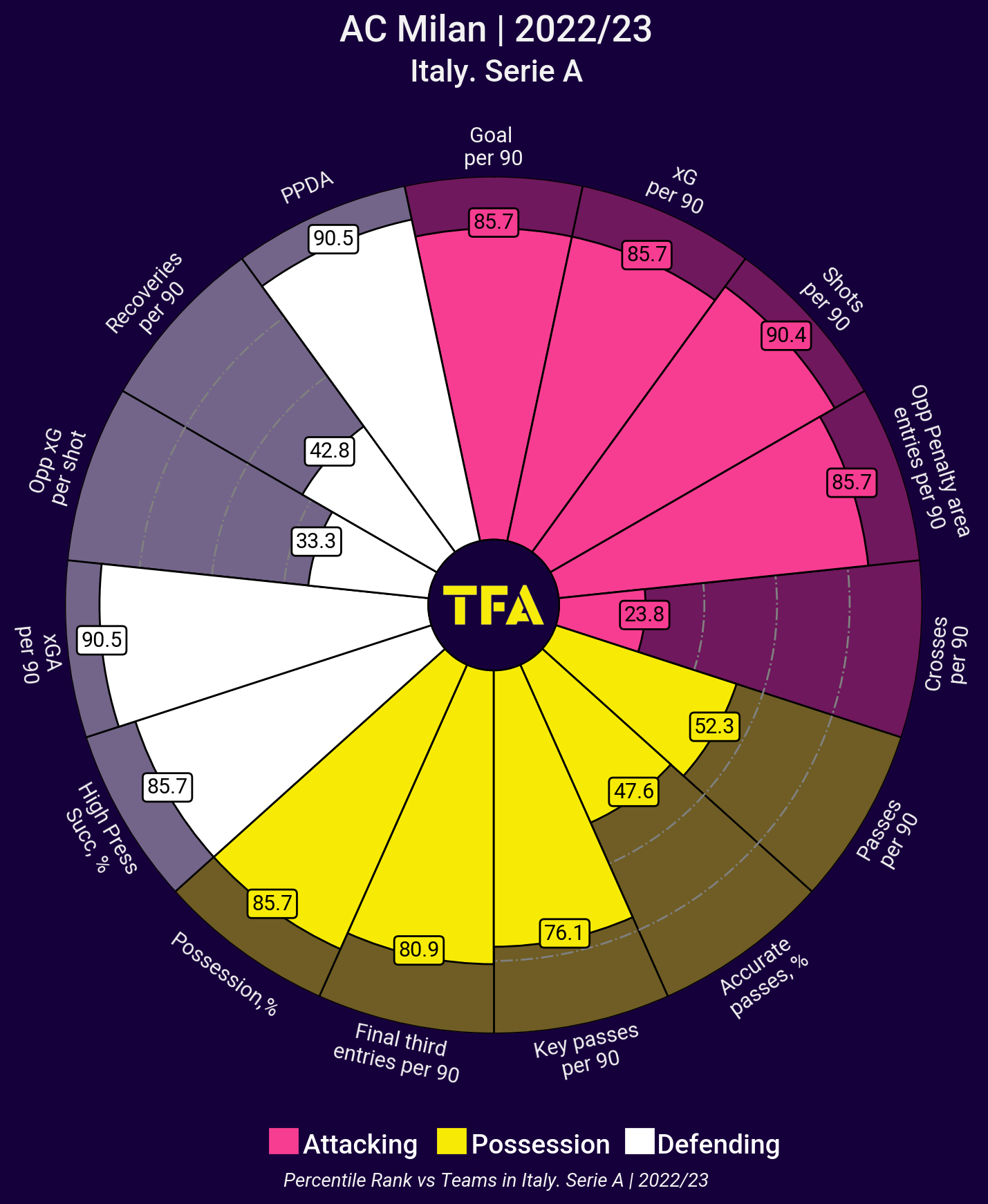 Milan, on the other hand, have won 11, drawn five, and lost two matches. Stefano Pioli's side has scored 35 goals, averaging 1.75 xG per match. Their defence has let in 20 goals with an xGA rate of 1.17. The viz above portrays the excellent percentile rank of Milan in metrics like shots, xG, penalty area entries, possession rate, xGA, and pressing success rate. However, a few areas where the Rossoneri can improve are crosses, opponent xG per shot, and recoveries. Milan's players take 15.06 shots per match with a 35.1% accuracy rate. In terms of possession rate, they keep 56.7% ball possession per match.
Attacking efficiency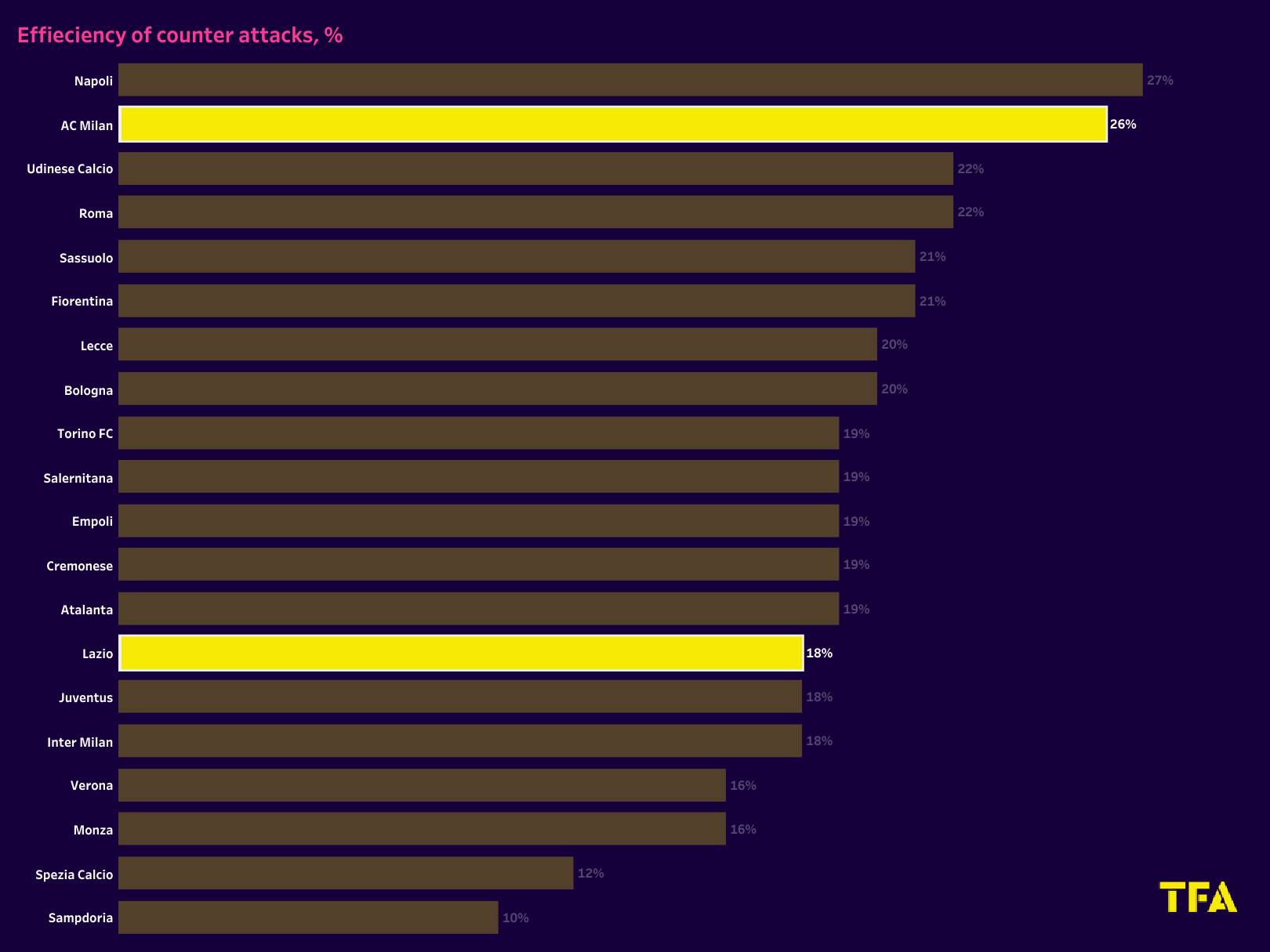 The two visuals above compare both teams on the basis of positional play and counter-attacks. While both teams are neck-and-neck in terms of positional attacks with 11% efficiency each, the visitors hold a significant advantage for counterattacks with 26% efficiency against the hosts' 18%. Lazio creates 24.17 positional attacks on average and takes shots from 24.6% of such plays. Meanwhile, Milan creates 31.72 positional attacks per match, with 27.3% of them resulting in shots.
Alternatively, the Biancocelesti launch 2.11 counterattacks per match, with 39.3% of these attacks ending in shots. Meanwhile, the Rossoneri launch 3.22 counterattacks on average, with 60.2% of them ending in shots. We can expect the visitors to keep more possession and create more chances while the hosts adopt a more agile and efficient approach to their attacking moves in this fixture.
Pressing efficiency and defensive duels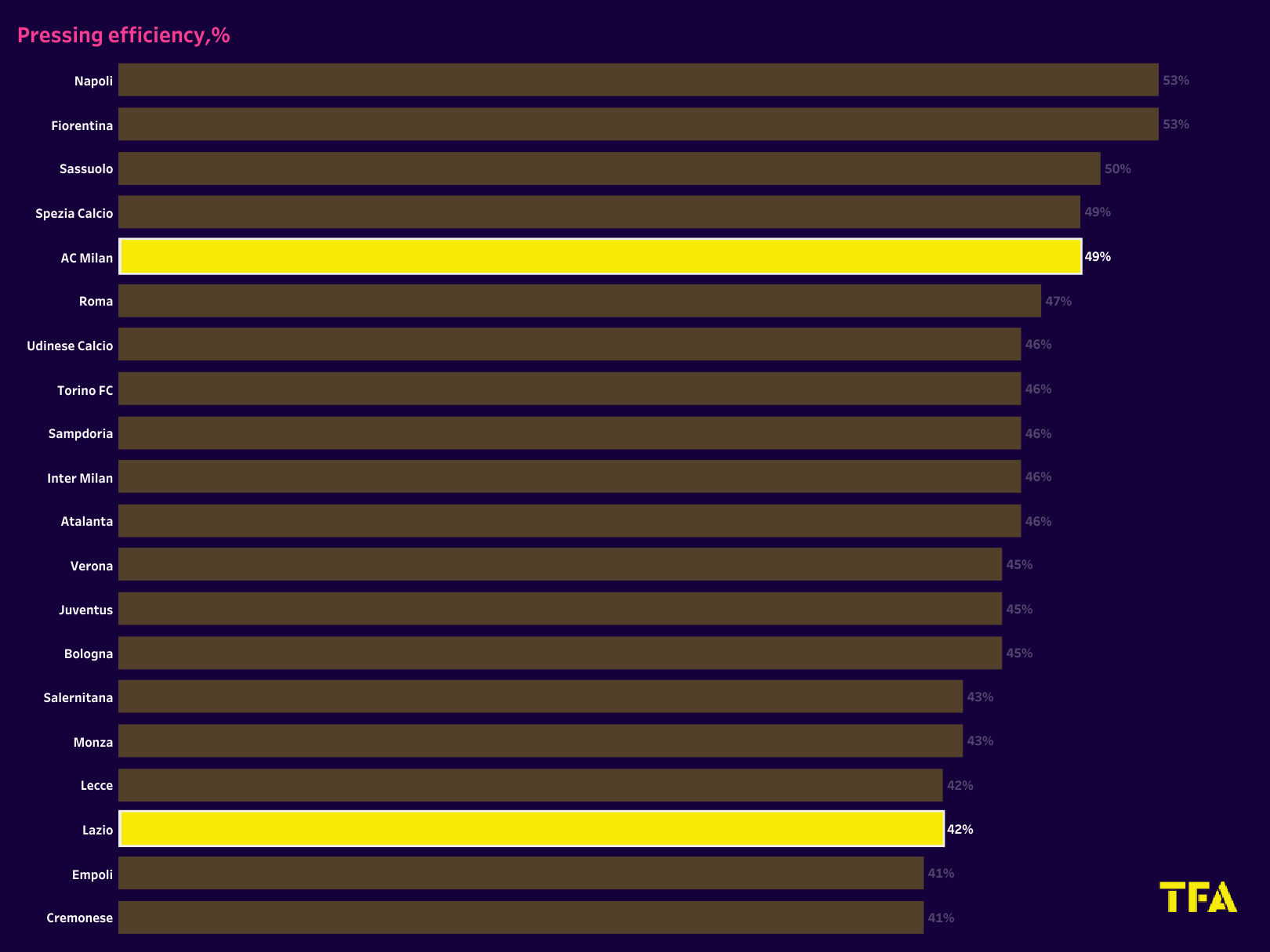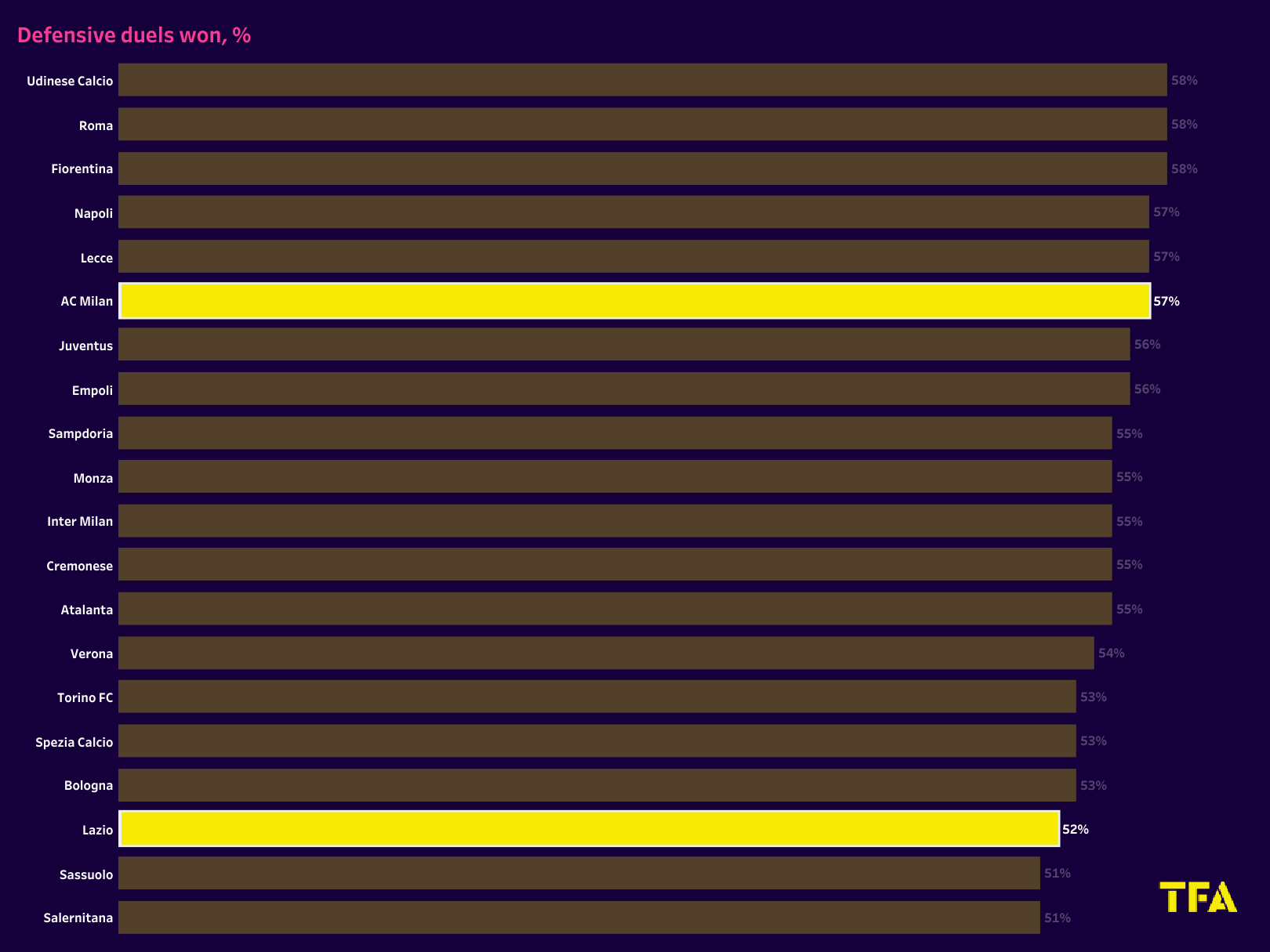 The two visuals above compare both teams on the basis of pressing efficiency and defensive duels. As we can see from the first visual, Milan are ranked fifth on the list with 49% pressing efficiency and is ranked in the top 85.7 percentile for a high press success rate. Meanwhile, Lazio are third from the bottom with 42% efficiency in pressing and have a 23.8 percentile rank for a high press success rate.
The second visual represents the ranking of teams in Serie A based on their percentage of defensive duel wins. It can be seen that Milan have a decent ranking with a 57% win rate in defensive duels. Lazio, on the other hand, are much lower, near the bottom, with a 52% success rate. On average, the home team attempts 63.7 defensive duels and makes 41.9 interceptions versus 68.61 defensive duels and 36.94 interceptions per 90 for the Rossoneri.
Key players

Sergej Milinković-Savić has been one of Lazio's best players in Serie A since 2022/23. The centre midfielder has scored three goals and provided eight assists, which is currently the most. Milan's defence will have to stay tight, and they can't afford to give him space in the final third. The Serbian will provide a significant threat from midfield for the home team in this close contest.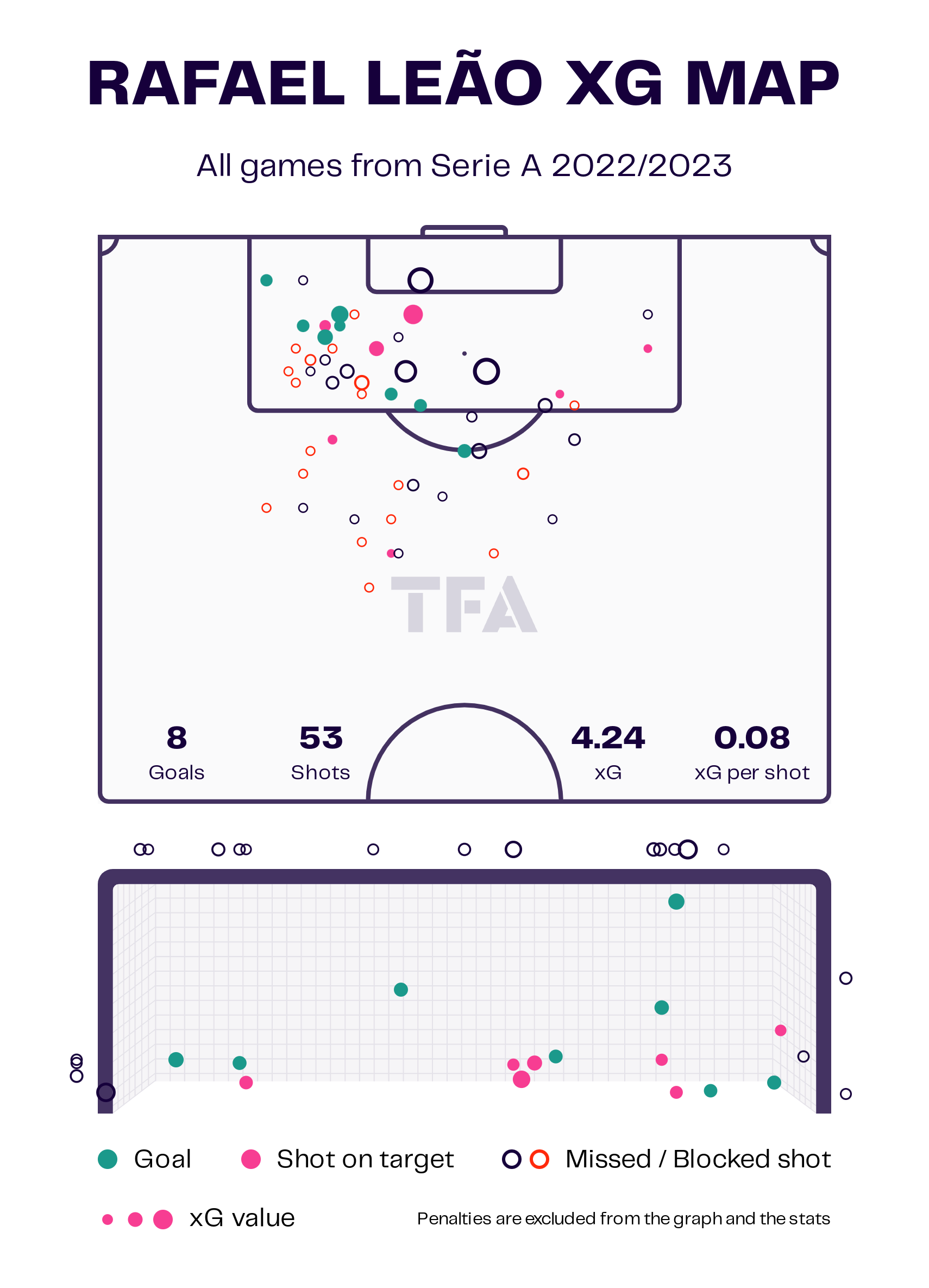 Meanwhile, Rafael Leao has been one of the best players for Milan from the forward position. He has scored eight goals and provided five assists in 17 league appearances this season. If Lazio wants to secure a positive result, their defenders will have to ensure the Portuguese attacker does not have a good game.
Team news
The home team is expected to be without Ciro Immobile through injury and Luka Romero because of suspension. Apart from these two players, the rest of the Lazio squad looks fit and ready to play.
Meanwhile, the visitors will miss the services of Zlatan Ibrahimovic, Alessandro Florenzi, Mike Maignan, Fode Ballo-Toure, and Rade Krunic through injury. Other than these absentees, the rest of the Milan players will be available for selection.
Lazio vs. AC Milan will be an intensely exciting Serie A encounter this weekend as two prominent Italian teams lock horns. Both teams are looking to close the broad gap at the top of the table and ensure Champions League qualification for next season. Lazio will have the advantage of playing at home, but defeating a strong and emerging Milan side won't come easy.
Visuals via TFA data viz engine