Game week 20 of Serie A will see Napoli and Roma lock horns in a heavyweight clash at the Diego Armando Maradona Stadium on Sunday night. With both teams placed in the top six of Serie A, this will be an intensely competitive encounter. While Napoli are the league leader with 50 points, Roma currently sits in fifth place with 37 points.
The hosts head into this fixture after a 2-0 away win at Salernitana and are in impressive form. Napoli have lost only one game all season and are on a three-match winning streak. They will be optimistic about securing maximum points in front of their fans.
Meanwhile, Roma themselves have picked up some momentum of late. They are unbeaten in their last six Serie A games, with three wins and three draws. Against Napoli, the visitors will be motivated to make it three consecutive wins even though it is going to be an extremely tough objective. Below are some stats looking at the performance of both teams compared to each other in Serie A in 2022/23.
Season overview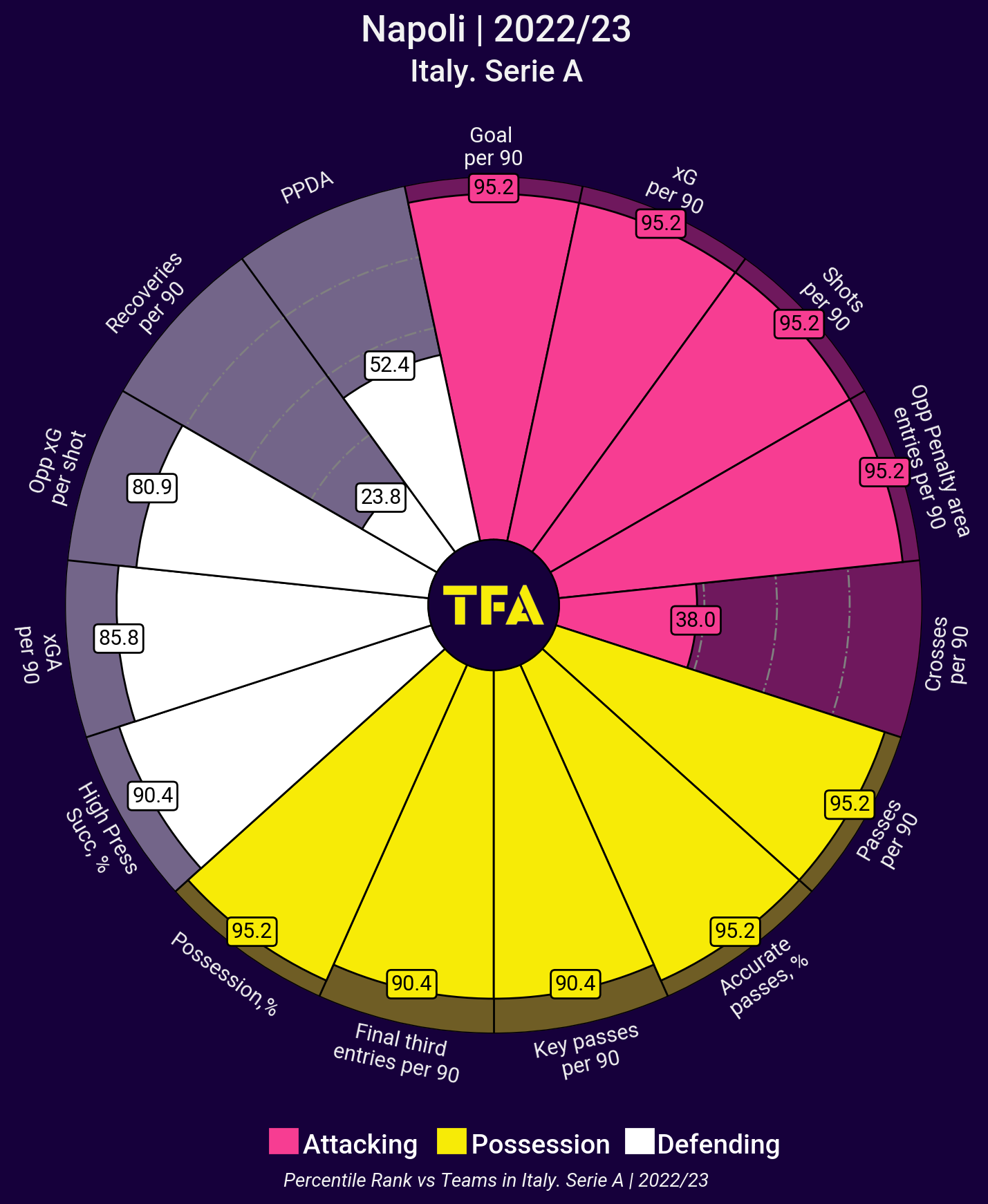 The viz above shows the percentile rank of Napoli in comparison to other Serie A teams. Napoli have been the best performer in the Italian top flight, which is highlighted by their excellent rank in almost all metrics under the attacking, defending, and possession departments. Luciano Spalleti's team is dominant in terms of xG, shots, accurate passes, key passes, high pressing success rate, and xGA, among other stats.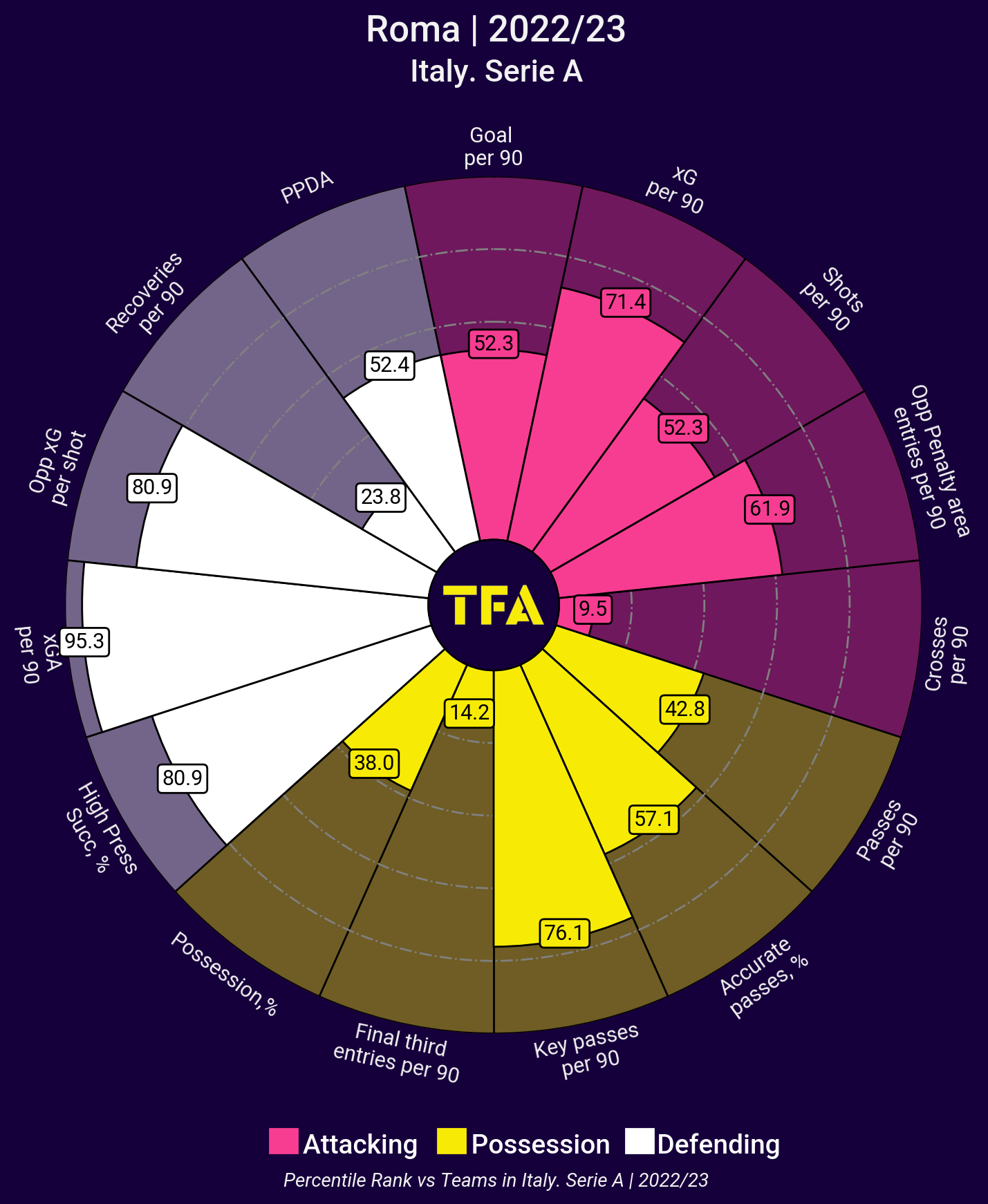 Roma, on the other hand, have been one of the better performers in the league. Jose Mourinho's side shows a high rank in the defence department, especially for metrics like xGA, opponent xG per shot, and a high pressing success rate. The team also has a good rank in some attacking and possession indicators like xG, penalty area entries, and key passes.
xG and attacking efficiency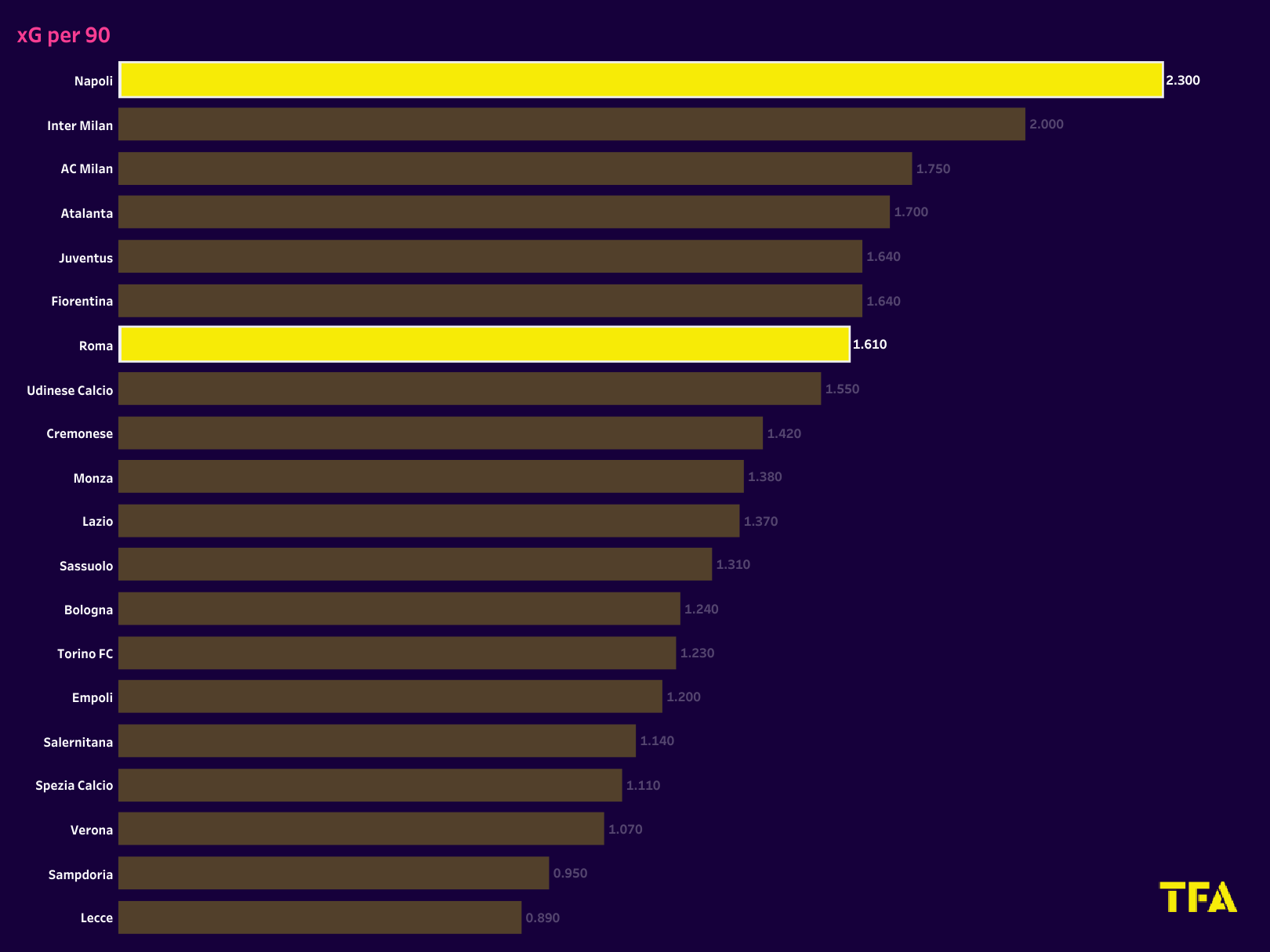 Napoli have scored the most goals this season (46) and have an xG per 90 of 2.30, which is also the highest. They score at a rate of 2.42 goals per match and take 16.1 shots per match with an accuracy of 36.6%.
Alternatively, Roma have scored 25 goals in the current Serie A season. On average, they score 1.32 goals per match and have an xG per 90 value of 1.68. They take 12.2 shots per match and have an accuracy rate of 34.5%.
The two visuals above compare the two teams based on positional play and counter-attacks. While Napoli has the upper hand in positional attacks with 14% efficiency compared to Roma's 9%, it is a much closer fight in terms of counter-attacks. The home team has a slight advantage in counter-attacks, with 26% efficiency against the visitor's 22%. Napoli creates 32.6 positional attacks on average and takes shots from 27.6% of such plays. Meanwhile, Roma creates 25.16 positional attacks per match, with 25.1% of them resulting in shots.
Alternatively, Luciano Spalleti's side launches 2.16 counterattacks per match, with 56% of these attacks ending in shots. Meanwhile, Jose Mourinho's team launches 2.68 counterattacks on average, with 45.1% of them ending in shots. We can expect the hosts to keep more possession and create more chances while the visitors adopt a solid defensive shape and take an efficient approach to their attacking moves in this fixture.
xGA and duels winning rates
Defensively, Napoli and Roma have been two of the strongest sides this season. While Napoli have conceded only 14 goals, which is the lowest, Roma have conceded 16 goals. Alternatively, Roma have the best xGA per match value of 0.86, followed by Napoli with an xGA value of 0.95. The visitors concede 0.84 goals per match and 10.16 shots to their opponents. Whereas, the hosts concede 0.74 goals and 9.21 shots per match.
The two visuals above represent the ranking of teams in Serie A based on their percentage of defensive and aerial duel wins. It can be seen that Roma and Napoli are two of the top-ranked teams on the list with a 58% and 57% win rate in defensive duels, respectively. On average, the home team makes 37.5 interceptions per 90 versus 39 interceptions per 90 for Roma. Alternatively, Roma are third in terms of winning aerial duels, with a 55% success rate compared to Napoli's 54%.
Key players
Victor Osimhen has been one of Napoli's best players this season. The Nigerian striker has scored 13 goals in the league this season and also provided three assists. The viz above shows that Victor Osimhen has scored the majority of his goals from inside and around the 6-yard box. Roma's defence must remain tight and cannot afford to give him any room inside the penalty area.
Paulo Dybala is most likely to lead the line for the visitors. With seven goals and four assists, he has been the most crucial player for Roma this season. Dybala will pose the greatest threat for the visitors while going forward, and Napoli's defenders will have the tough task of limiting the Argentine's prowess in the final third.
Team news
The home team is expected to name a full-strength starting eleven with no known injuries or suspensions in their squad.
Meanwhile, the visitors will be without Ebrima Darboe and Georginio Wijnaldum due to long-term injuries. They will also miss the services of Zeki Celik and Rick Karsdorp through suspension. Apart from these players, the rest of the Roma squad will be fit and ready to go.
Napoli vs. Roma will be a closely contested Serie A match this weekend as two prominent Italian teams clash. Napoli will look to maintain their handsome lead at the top of the table as they aggressively head towards the Serie A title. Roma, on the other hand, will be keen to give a strong performance and take maximum points to maintain their claim for one of those Champions League spots.
Visuals via TFA data viz engine