Spezia indulged in some sensible transfer business in the 2023 winter transfer window. One of the new arrivals is Slovenian midfielder Tio Cipot, who joins the Serie A side from NS Mura on a long-term deal until 2027. A dynamic midfielder with great attributes and physicality, the 19-year-old has featured regularly in the Slovenian top flight over the past couple of seasons. After gaining prominence for his impressive performances, Tio Cipot has earned a move to a top European league, which will aid the further development of his talent.
Since signing for his new club, Cipot has already made three appearances as a substitute for Spezia. The Slovenian youngster will provide Luca Gotti's side with much-needed reinforcement in the middle of the park amid injury concerns to some key players and as the team looks to survive the relegation battle in Serie A. Below, we look at some stats to understand why Spezia decided to bring in the 19-year-old Slovenian footballer.
Tio Cipot is a central midfielder by trade but can also operate in an advanced role and on the left flank. The viz above shows the percentile rank of the player's stats compared to other similar midfielders from the 2022–23 season of the Slovenian PrvaLiga. He played 19 matches for NS Mura, starting in seven games and scoring twice along with two assists. Beni's high percentile rank for metrics such as opposition penalty area touches, dribbles, expected goal contribution, and aerial duels won The 19-year-old has also fared well in other areas like defensive duels contests, progressive passes, and shots per 90.
Attacking gameplay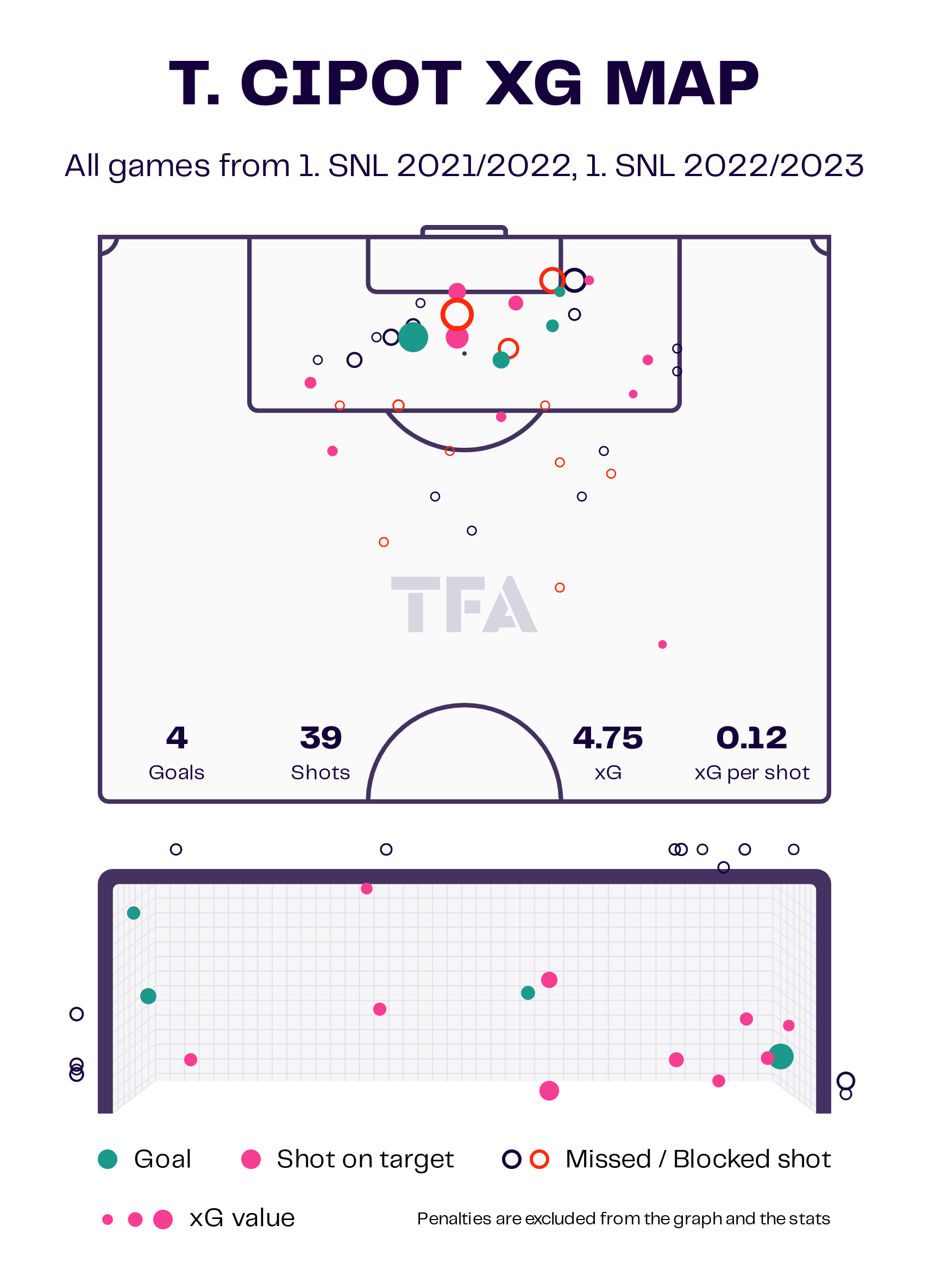 In the last two seasons with NS Mura, Tio Cipot has scored four goals and provided two assists. He is a central midfielder who plays box-to-box and gives the team support in front of the goal and composure in midfield. Overall, he has accumulated an xG of 4.75 and an xA of 2.66. From the player's shot map above, we can observe 39 attempted shots, with most of them coming from inside the penalty area. All of his goals have also come inside the box. Tio averages 1.32 shots per match with an accuracy of 43%.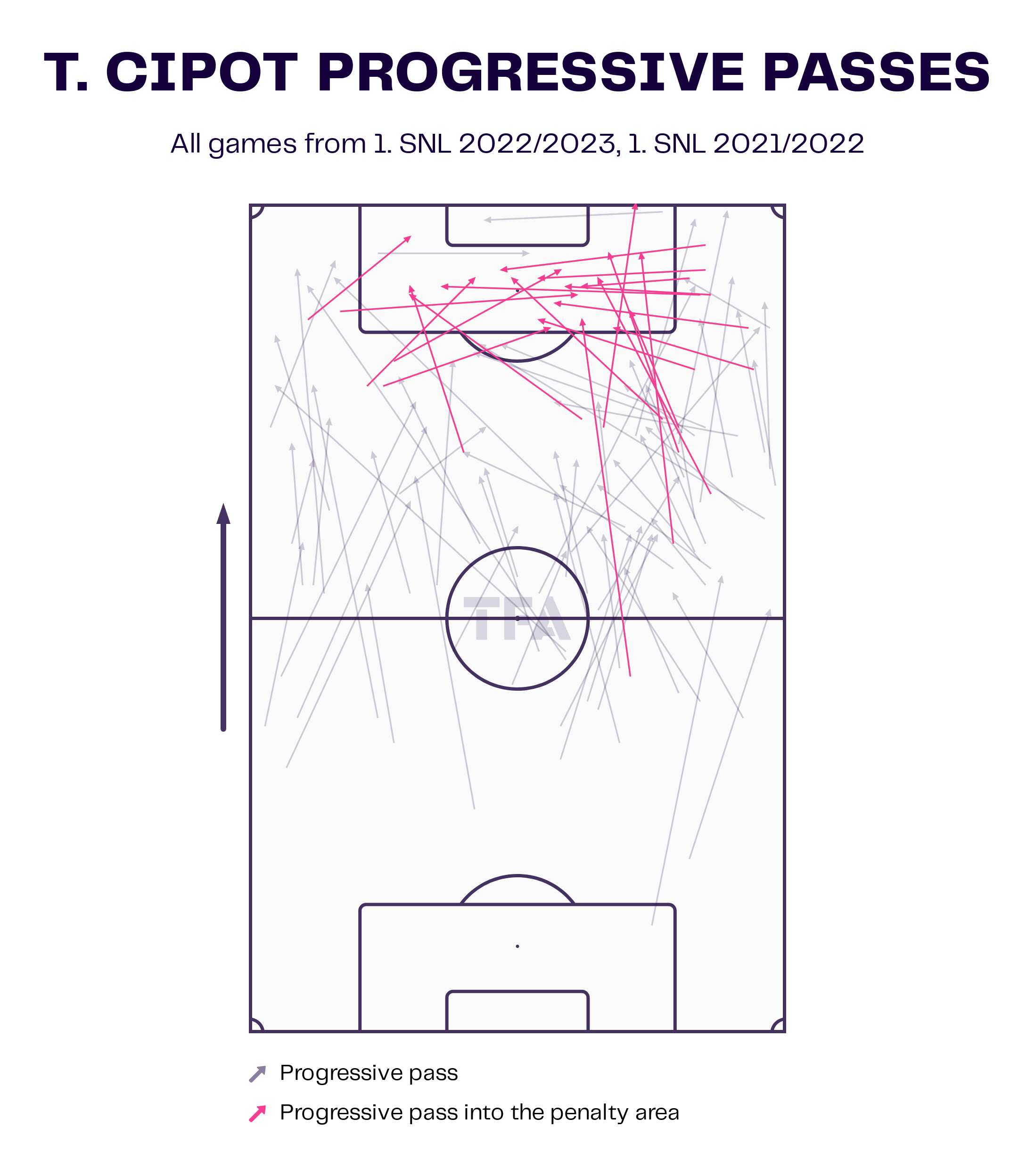 As a central midfielder, Tio Cipot's role is to connect defence with the attack in a free-flowing manner. He makes crucial contributions in the final third and midfield by releasing progressive passes down the wide channels and into the penalty box, as seen in the viz above. Cipot averages 10.27 forward passes per 90 minutes and has a 70% accuracy rate. These include 4.79 passes to the final third with a 71.1% accuracy rate and 2.08 passes to the opposition's penalty box with a 48.5% accuracy rate.
Defensive attributes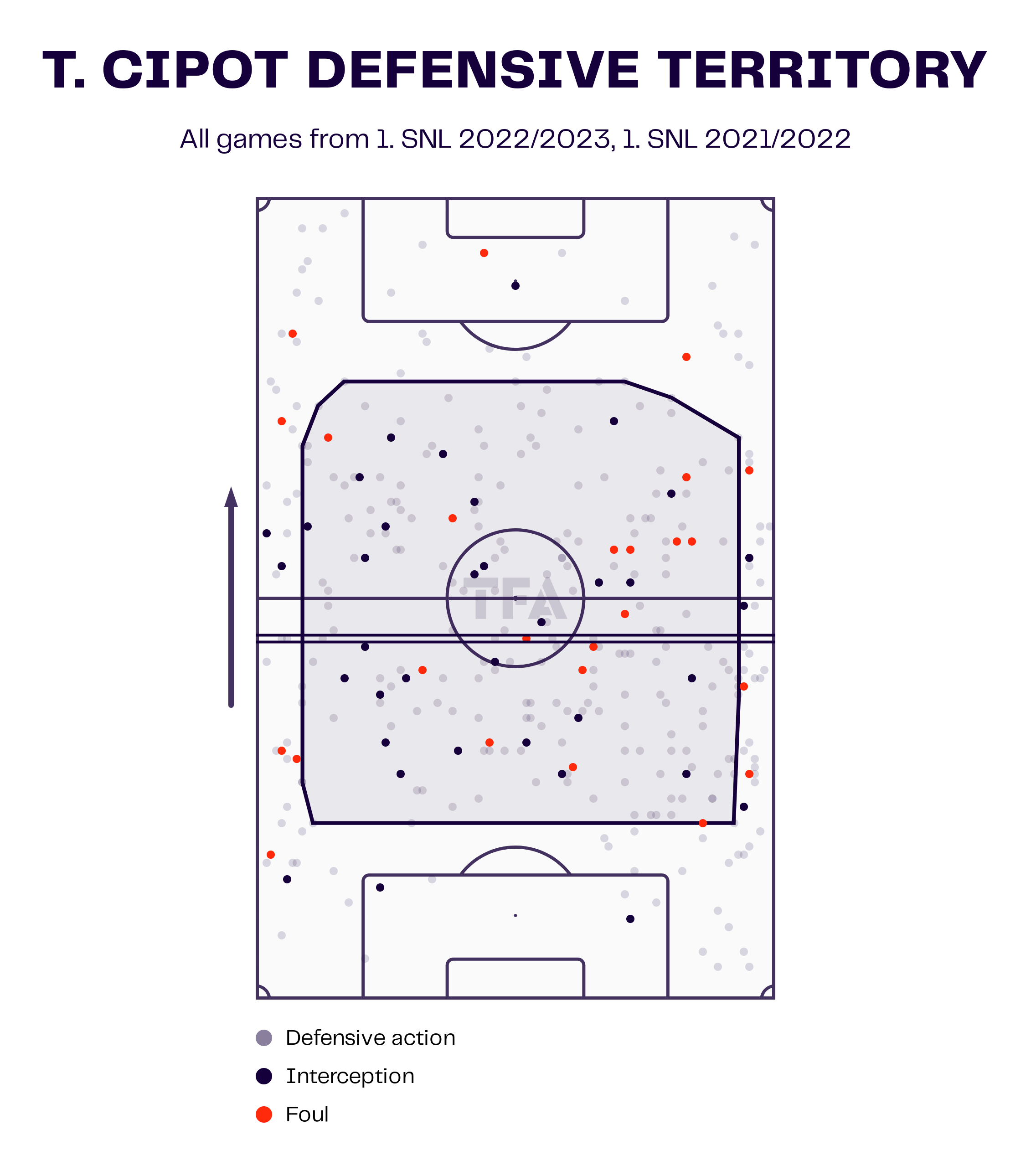 Apart from his contributions while advancing forward, Tio Cipot also makes a significant contribution when his team is out of possession. The viz above shows the player's average defensive territory from the last two seasons. He positions himself near the half-line and covers a lot of ground, as evidenced by the numerous defensive actions and interceptions performed all over the pitch.
Tio Cipot has also committed a few fouls and currently gives up 0.79 fouls per match. The 19-year-old averages 20.92 duels per 90, along with a 48% win rate. He averages 2.77 interceptions per match and puts high pressure on the opposition's midfield region and the final third. Furthermore, the player contests 7.82 defensive duels and 1.64 aerial duels per match.
Another way the Slovenian youngster makes his contribution to the team is by recovering the ball in the attacking half. On average, the 19-year-old makes 7.12 recoveries per 90 minutes. He has made 60.2% of these recoveries in the attacking half, including two inside the opposition penalty box that have resulted in shots being taken.
Role at Spezia
The addition of Tio Cipot has added more depth and talent to Spezia's midfield. They usually play with three midfielders at the centre, and the 19-year-old Slovenian can slot into his new team's midfield as a replacement for injured players like Simone Bastoni and Syzmon Zurkowski. On the other hand, Cipot is also giving competition for a starting role to the likes of Kevin Agudalo and Viktor Kovalenko.
The above viz is a comparison between Tio Cipot and 26-year-old Simone Bastoni, who plays as a centre midfielder. Bastoni outperforms his young counterpart in most departments, but Cipot has better stats in a few areas like penalty area touches, accurate and progressive passes, and winning aerial duels.
Overall, Tio Cipot is a young talent with great attributes who can provide additional reinforcement to Spezia in the middle of the park. He can slot into the midfield with his physical presence and composed attitude while also contributing during the offensive phase. The 19-year-old could warrant himself an important role in Spezia's squad for the rest of the season as they look to survive a relegation scare in Serie A.
Visuals via TFA data viz engine