Only seven points separate sixth-place Roma and tenth-place Torino in the Serie A competition for the top-half finish. Ivan Juric's Torino are on the verge of yet another top-half finish in Serie A. They have won six, drawn five, and lost six games and have 23 points after 17 games. Torino have drawn their last three Serie A games 1-1 against Roma, Hellas Verona, and Salernitana. This start to the season has strengthened their expectations of another top-half finish. We will now look at stats demonstrating how Torino have performed in the current Serie A season.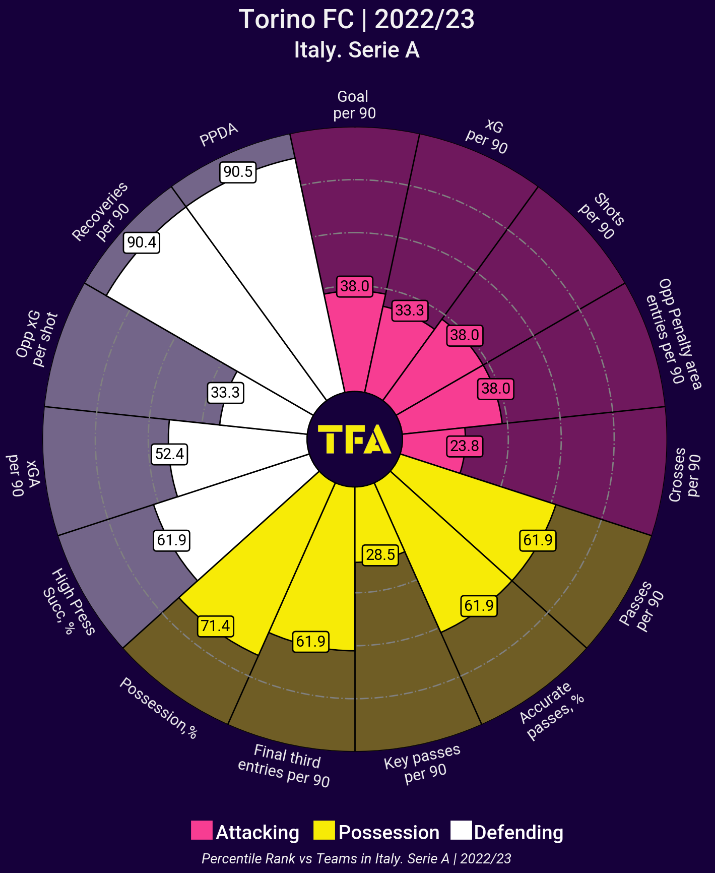 Torino have scored 18 goals and conceded 19 in the 17 Serie A games this season. The above viz shows the team's percentile rank in attacking, defensive, and possession stats compared to other teams in the Italian Serie A. Torino are having difficulty putting up numbers in the attack. We can observe that Torino are ranked below average in the attacking and defence departments. Torino are dominant in recoveries per 90 stats. Other stats where they have done well are possession percentage, passes per 90, final third entries per 90, and high press success percentage.
Sturdy Defence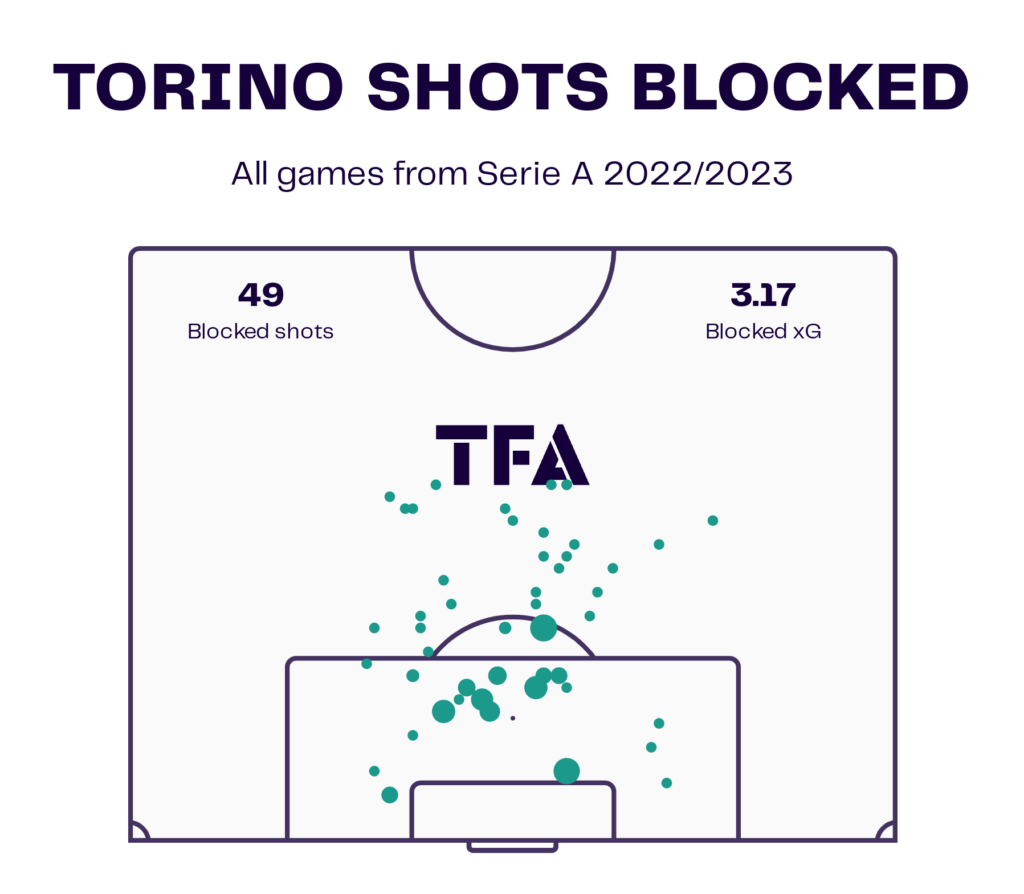 The Torino defenders have put their bodies on the line and blocked 49 shots. These blocks have been crucial and were made inside their 18-yard box. One of the players who has been consistent at the back is their Dutch defender, Perr Schuurs. He has made 1.8 tackles per game, 2.9 clearances per game, and 1.2 interceptions per game this season in 12 Serie A appearances. This shows the players' assurance and commitment to the Torino side.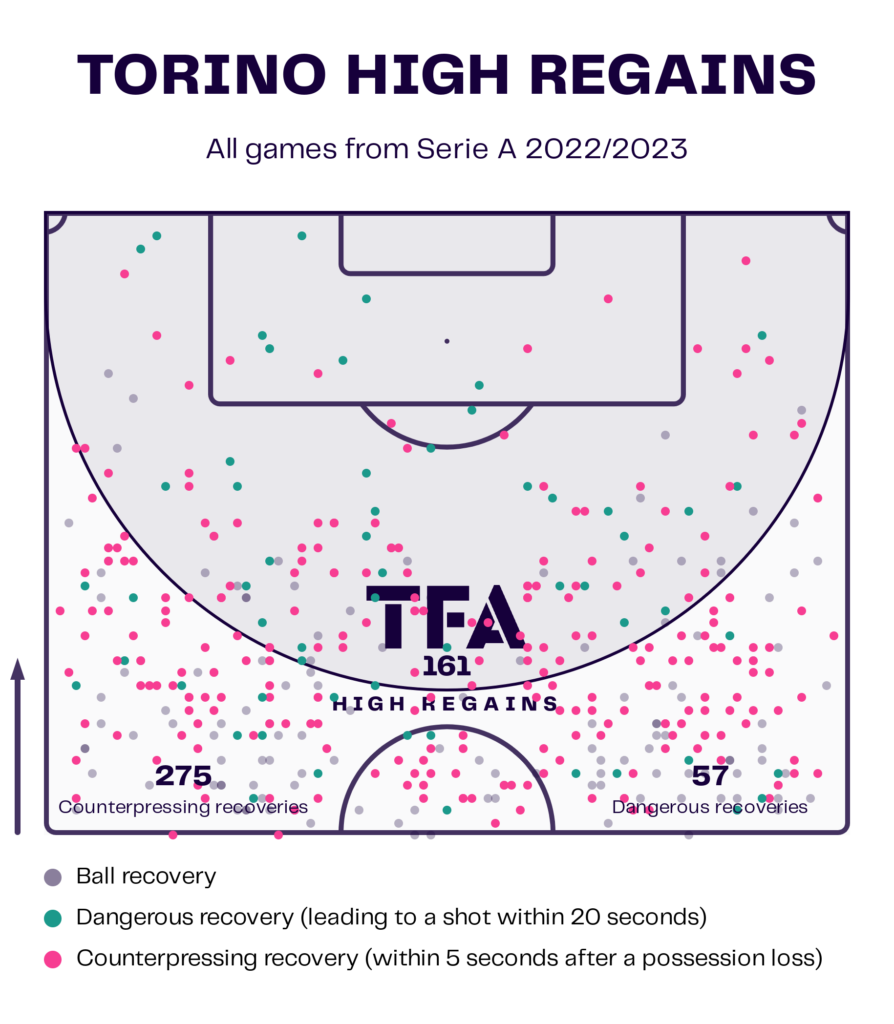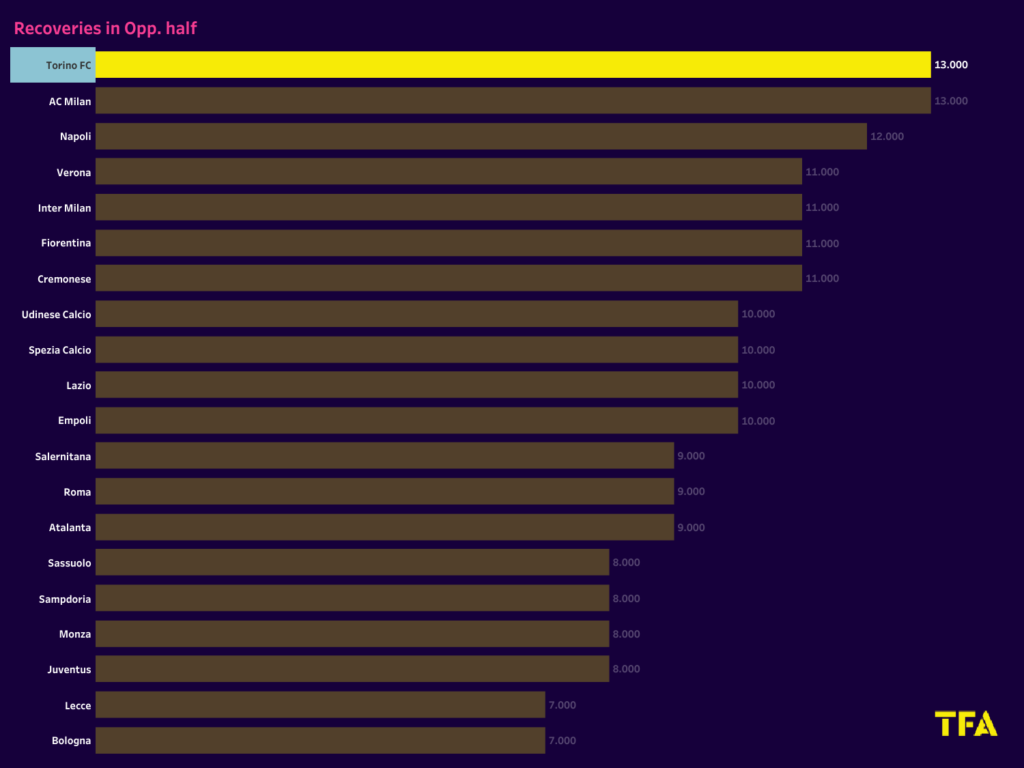 The Torino players have worked hard to recover the ball for them in the dangerous areas. Torino players have managed 161 high regains this season in the final third. 57 of these 161 recoveries have been dangerous and led to a shooting within the next 20 seconds of the recovery. They have also made 275 counter-pressing recoveries in the current Serie A campaign. Torino players make 13 recoveries in the opponent's half per game. Torino are ranked first in Serie A for recoveries in the opponent's half per game.
Struggles in the attack
Torino have scored 18 goals with an average of 1.05 goals per match, which is comparatively less than the other big Serie A clubs this season. The above viz shows the shot map of the team in the current season. We can observe from the above viz that the team has scored most of its goals from inside the box. Torino players have massively underperformed their xG this season. They have already missed 21 big chances this season. Torino have an xG of 1.31 per 90 and an average of 11 shots per 90. The xG is relatively high because Torino players have taken most of the shots from the dangerous area inside the 18-yard box.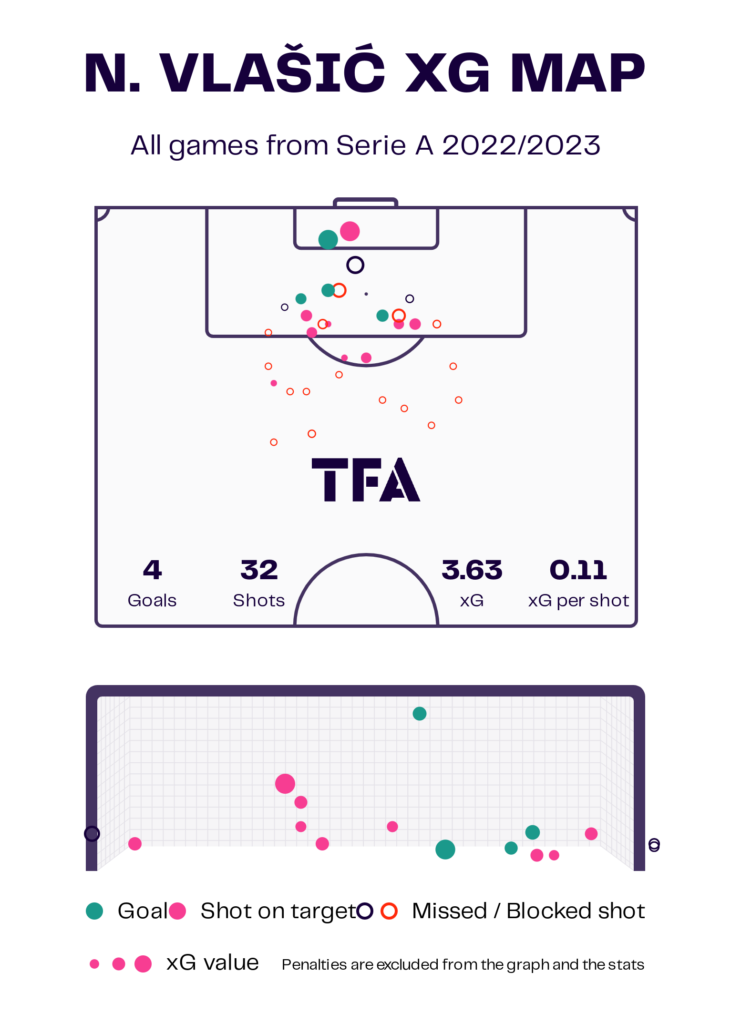 Nikola Vlasic has added four goals and provided two assists to his Torino side in Serie A, proving his worth and showing why Torino signed him on a loan deal in the summer transfer window from West Ham United. The above viz shows the shot map of the midfielder in the Italian Serie A. Vlasic's goal scored per 90 minutes is 0.24, and his goal involvement per 90 minutes is 0.39. Vlasic has taken 32 shots so far this season with a shooting accuracy rate of 40.6%. He takes 1.96 shots per 90 minutes and makes 3.49 touches in the penalty area. His total xG per shot is 0.11.
Torino have been a pretty inconsistent side in Serie A this season. Torino's defence is led by the experienced Swiss defenders Ricardo Rodriguez and Perr Schuurs; meanwhile, Torino's midfield and attack are steered by the duo of Sasa Lukic and Nikola Vlasic. The biggest worry for this Torino side is the poor performance of their attacking players. Ivan Juric will hope these players stay at the top of their game, perform consistently, and finish in the top half.
Visuals via TFA data viz engine